It doesn't matter if you are a lover of F1, MotoGP, WSBK, AMA Superbike, Nascar, Soccer, NFL, Rugby, or Lawn Tennis, you need a sports streaming site to watch your favorite matches. Our curated list of best free sports streaming sites is the most relevant in 2022, and it would come in handy if you have exceeded the budget for subscribing to any streaming service and cannot miss delay watching it even by 5 minutes.
Best Free Sports Streaming Sites
FirstRowSports
| Viewers | Ads Intervention | VPN | Rating |
| --- | --- | --- | --- |
| 56,000+ | 8/10 | ✅ | |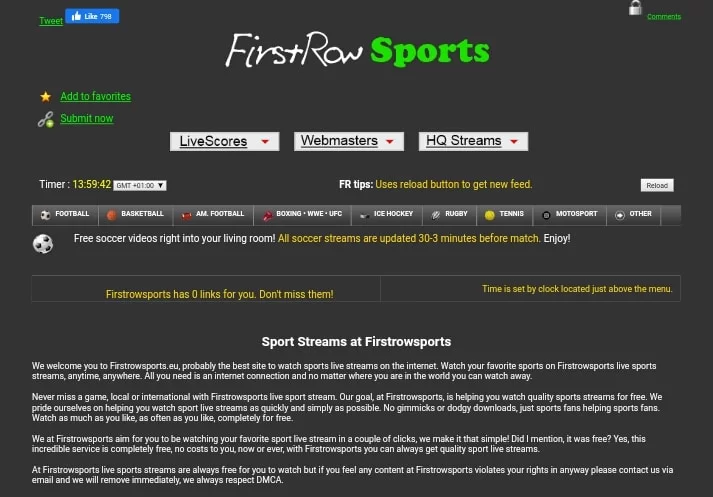 FirstRowSports is the best destination to stream all your sporting events for free.
All the matches can be streamed in HD quality without buffering. At the same time, the website doesn't require any registration or subscription to stream the events.
There are several proxy sites available for FirstRowSports.
VIPLeague
| Viewers | Ads Intervention | VPN | Rating |
| --- | --- | --- | --- |
| 81,000+ | 6/10 | ✅ | |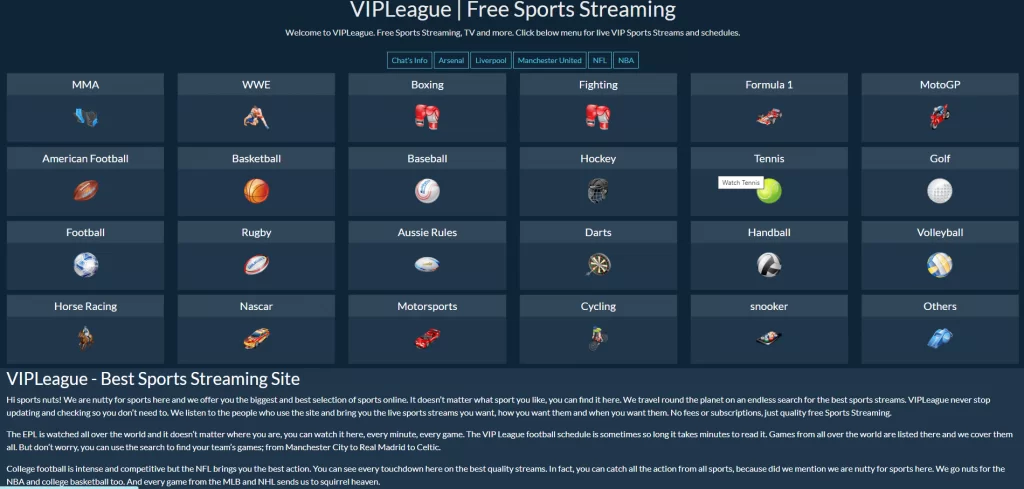 Do you want to stream UFC for free? VIPLeague is the best place to stream it. The best part about VIPLeague is that it has Chromecast support. You can use it to access it on a larger screen.
Apart from UFC, it also streams 30+ sporting events without any fee. It can be accessed easily with the help of a VPN on any device.
VipBoxTV
| Viewers | Ads Intervention | VPN | Rating |
| --- | --- | --- | --- |
| 28,000+ | 7.5/10 | ✅ | |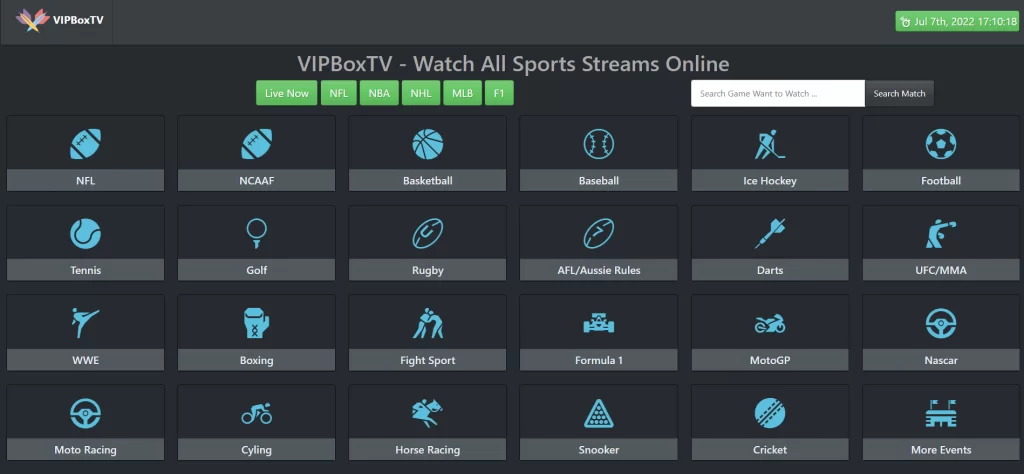 VIPBoxTV is the next one on our list of best free streaming sites. Like FirstRowSports, you don't need any subscription.
It covers all the popular sports like NFL, Formula 1, Baseball, Football, Boxing, Horse Racing, Rugby, Golf, and more.
Unfortunately, VIPLeague doesn't offer an app to install on any device.
CricHD
| Viewers | Ads Intervention | VPN | Rating |
| --- | --- | --- | --- |
| 90,000+ | 6/10 | ✅ | |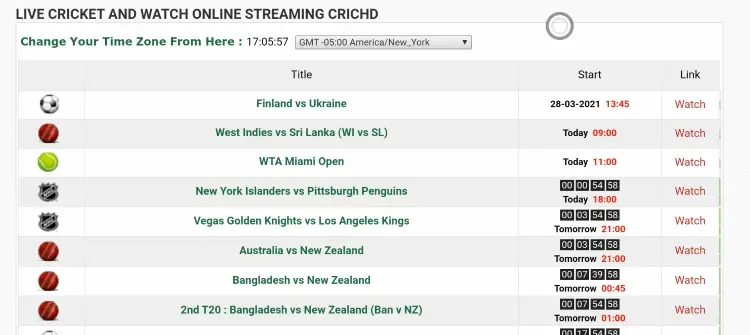 Cricket is one of the popular sports in India, England, Australia, the UK, and South Asia.
CricHD is arguably one of the oldest streaming services worldwide. You can also stream on Firestick using the Silk browser.
The best part is that you can get started quickly without any sign-ups.
LiveTV
| Viewers | Ads Intervention | VPN | Rating |
| --- | --- | --- | --- |
| 34,000+ | 7/10 | ✅ | |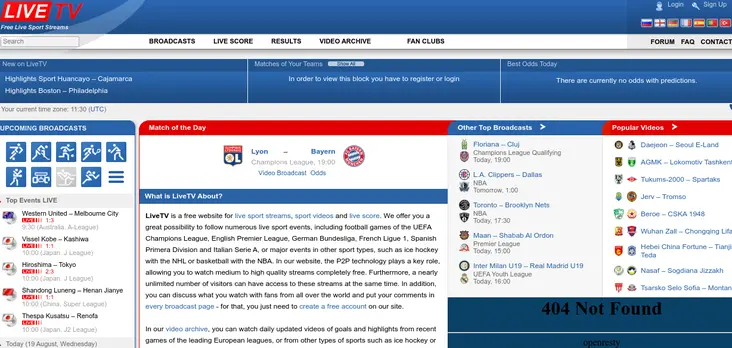 LiveTV Sports is second on the list of free sports streaming websites that can serve during emergency situations like running out of subscriptions, not having access to streaming devices, and being stuck with a laptop alone.
The best part about LiveTV is that it is not region-specific, and anyone can access it from anywhere.
LiveTV also offers a Live Chat window adjacent to the streaming video. You can chat with other sports fans.
Watch ESPN
| Viewers | Ads Intervention | VPN | Rating |
| --- | --- | --- | --- |
| 1,000,000+ | 2/10 | ✅ | |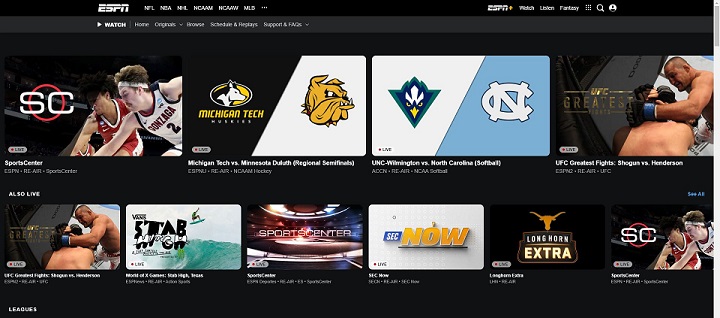 ESPN is one of the biggest names in the sports broadcasting/streaming industry. WatchESPN is the official streaming site from ESPN that features a huge list of live streams.
It offers plenty of live streaming from various events like ATP Tour, PFA Tour, NASCAR, Indy Racing, Soccer, NFL, Rugby, and plenty more.
Some content on WatchESPN is completely free, while others require an ESPN+ Subscription or TV Provider account access.
Sportsurge

| Viewers | Ads Intervention | VPN | Rating |
| --- | --- | --- | --- |
| 850,000+ | 3/10 | ✅ | |
Sportsurge is popular among Soccer (Football), Boxing, Hockey, F1, Nascar, and other popular racing fans. It has a tidy interface with no ads on the landing page. While the streaming is in progress, one would encounter ads, and the frequency of an intervention is far lesser than the other free sports streaming sites.
Crackstreams
| Viewers | Ads Intervention | VPN | Rating |
| --- | --- | --- | --- |
| 1,200,000+ | 4/10 | ✅ | |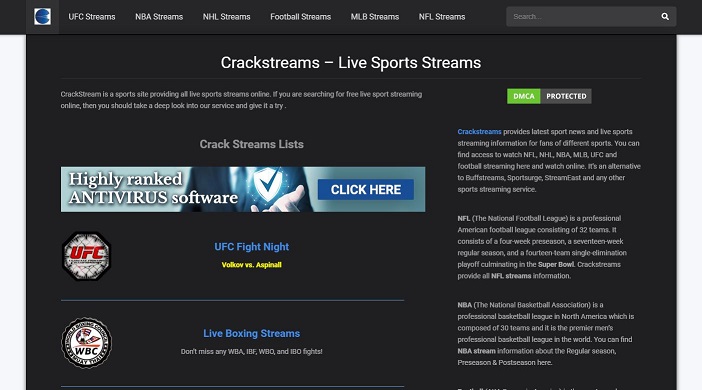 It has a huge catalog of content to stream, including least-watched content such as College Football.
Crackstreams is one of the earliest free sports streaming web applications. As a result, it is most popular among sports buffs.
Being the most popular free sports streaming app, with around 1.2 million viewers, it still doesn't play as many ads as other competitors.
VIPRow Sports
| Viewers | Ads Intervention | VPN | Rating |
| --- | --- | --- | --- |
| 230,000+ | 4/10 | ✅ | |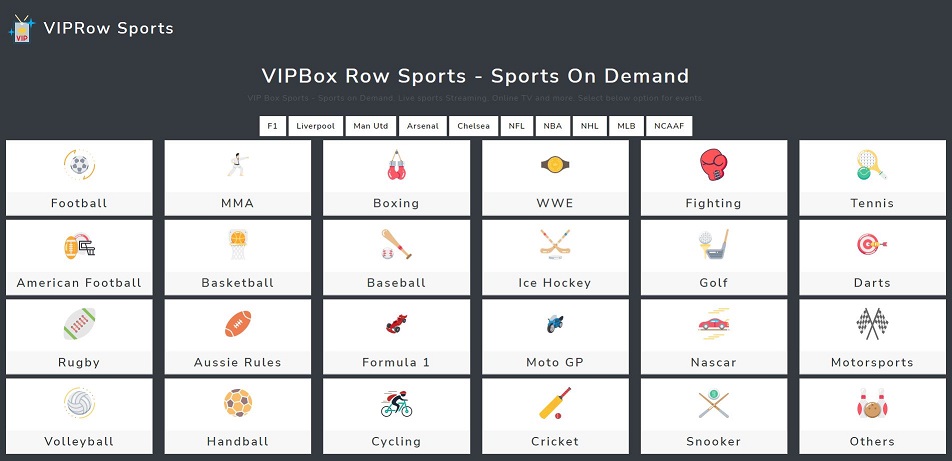 It has the best UI among all free sports streaming websites. VIPRow Sports has a neat card for each category of sports. It also offers pay-per-view events with its streaming network.
Even though it is the free sports streaming website with the most traffic, it is yet to become a popular name among sports buffs. It has around 200,000+ viewers, and there are ads that aren't much annoying as other competitors.
The categories in this free streaming site consist of Football, Tennis, MMA, Formula 1, Boxing, WWE, Fighting, American Football, Basketball, Baseball, Ice Hockey, Golf, Darts, Rugby, Aussie Rules, MotoGP, Nascar, Motorsports, Volleyball, Handball, Cycling, Cricket, Snooker, and much more.
Stream2Watch
| Viewers | Ads Intervention | VPN | Rating |
| --- | --- | --- | --- |
| 500,000+ | 6/10 | ✅ | |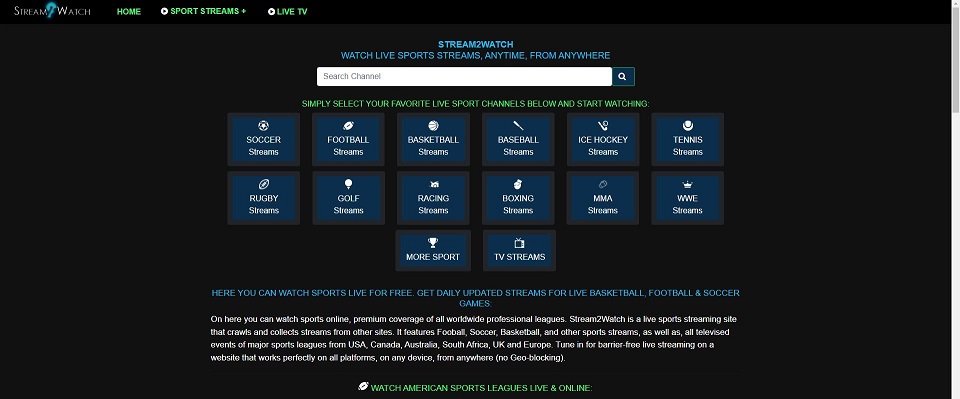 It is probably the earliest site to enter the free streaming business.
Stream2Watch offers plenty of categories of sports to choose viz. Soccer, Football, Basketball, Baseball, Ice Hockey, Tennis, Rugby, Golf, Racing, Boxing, MMA, WWE, and much more.
Watched by more than 500,000 users, their Ads are much more frequent and may annoy some users.
All the sites mentioned above will give you the best experience when streamed on PCs. When streamed on smartphones, the video resolution may not fit or you can't get good audio quality. If you are a sole Android smartphone user, you can choose any one of the best sports streaming apps for Android.
Frequently Asked Questions
Can I stream NFL for free?
Yes, you can stream NFL for free at the official website of NFL. Or, you can watch it on LiveTV, Watch ESPN, Sportssurge, Crackstreams, VIPRow Sports, or Stream2Watch free sports streaming websites.
How to watch F1 for free?
You can view F1 by opting for a monthly or annual subscription to F1 TV Access. It costs you $2.99 monthly, and you can enjoy documentaries and other video content. While the race is in progress, you can see live telemetry like lap times, real-time map, tire usage history, team radio, and much more. You can also watch the live telecast of Formula 1 on VIPRow Sports, with a little bit of Ads.
Was this article helpful?