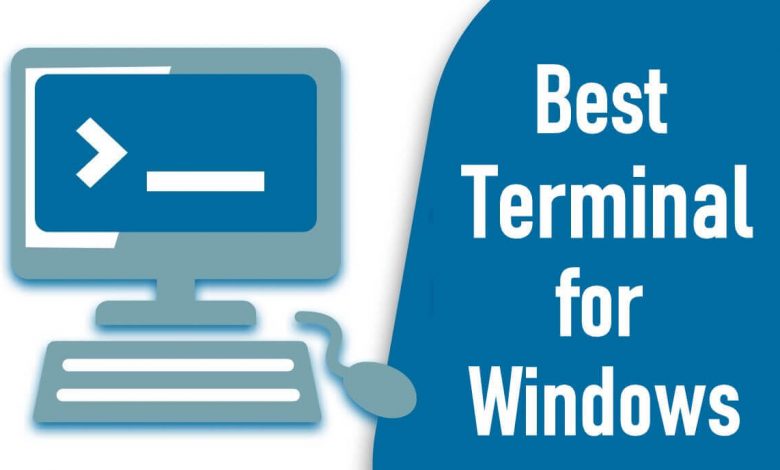 The terminal support is a must-have tool if you are a programmer or system admin. But the absence of a terminal made Windows users look for third-party terminals. Terminal lets you access the command line interface and text user interface applications. It will emulate the functions of the traditional computer terminals. A terminal emulator is something that executes the tasks in software. The best terminal on Windows will enable host PC. It also helps you access the host PC on a remote computer with a command line or graphical interface. Besides this, developers use terminal emulators to gain shell access on PC. For all these, you should know the best terminal emulator for Windows. To help you, we have compiled a list of the best ones that are more customizable on Windows computers.
Best Terminal for Windows
Here are the handful number of terminals that are worth using on Windows PC.
MobaXterm
Get the enhanced terminal support with MobaXterm for home as well as work. It is not only the best terminal for Windows but is also an enhanced tool. You will get tabbed SSH, network tools, X11 server, etc. Its ultimate toolbox is unparalleled, robust, and has powerful features. MobaXterm is ideal for the developer and programmers. Also, it works perfectly for those who have to handle remote computing. It supports automatic SFTP, remote file editor, PuTTY, and WSL integration. You can write once and execute it everywhere on different servers simultaneously. With RDP, you can take control of the remote Windows PC is easy.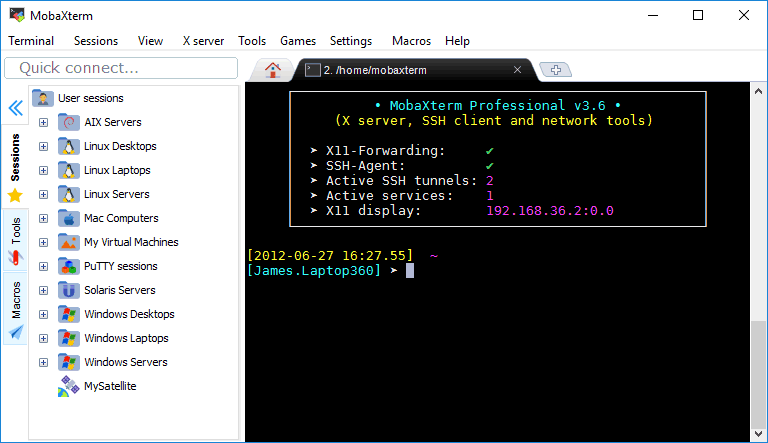 ZOC
If you want a professional level terminal, then get ZOC. It is one of the best terminals to access Unix accounts. ZOC Terminal is much more reliable with elegant tools. It uses SSH, telnet, serial cable, and much more to connect you to hosts and mainframes. ZOC has a modern user interface and tabbed sessions with thumbnails. It is highly customizable and has administrator friendly option. Hence, it is a great option for deployment and configuration. ZOC has a scripting language with 200+ commands. It is based on OpenSSH with the latest key exchange and encryption methods.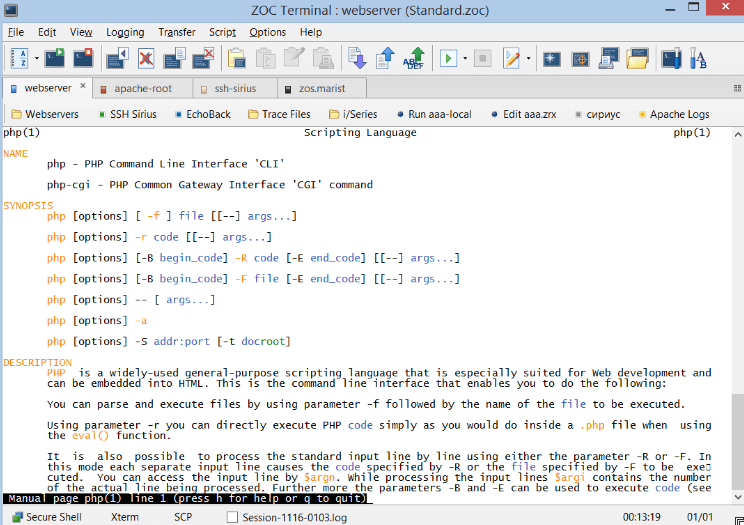 ConEmu
Windows users can choose ConEmu, the best terminal for Windows PC. It is a handy, reliable, and comprehensive terminal to host console apps. ConEmu support console apps developed for WinAPI or Unix PTY. It has multiple consoles and simple GUI apps as one customizable tabbed GUI. It has lots of customization options on GUI with multi-window support, for instance, hotkeys, auto hide-able mode, custom color palette, and more. Besides this, it customizes fonts, background images, colors, shortcuts, etc. ConEmu works on PuTTY, Cmder, PowerShell, etc. It lets you resize the window in a uniform, cordial, and appropriate way.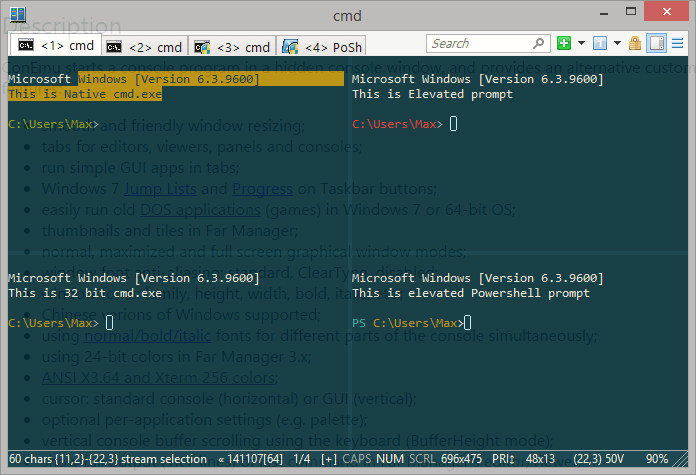 Cmder
Windows PC users can get Cmder, one of the best terminal for Windows. It is a portable console emulator and can be carried on a USB drive or Cloud. Cmder is written in C++ and Powershell. It is a software built on ConEmu and enhanced with Clink. Cmder has a Monokai color scheme with a custom prompt layout. You can use it to work on PowerShell, mintty, msysgit, and Cygwin. It has a tabbed interface and integrated aliases. Creating fundamental UNIX commands is very easy with a user-friendly interface.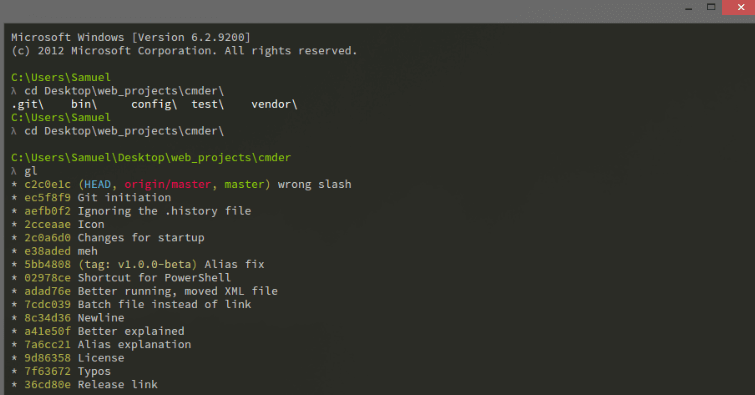 Babun
To run multiple command-line programs, you can choose Babun. This best terminal for Windows PC comes pre-configured with Cygwin addons support. You don't require admin rights to use it as it is a silent command line installer. It has an advanced package manager and plugin oriented architecture. Besides Cygwin, it is pre-configured with git and shell. It has different packages, scripts, and convenience tools. Babun has a small microkernel and plugin architecture on its top. Other features include the self-update feature of microkernel, plugins, and Cygwin.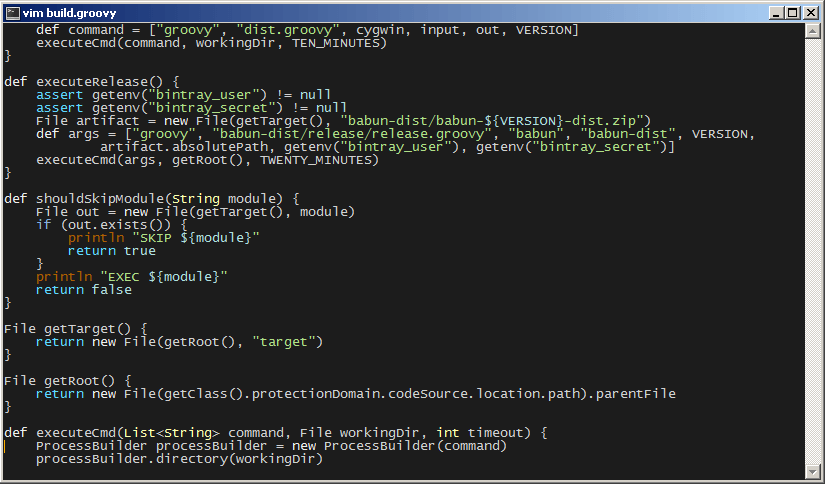 KiTTY
Windows PC users can get KiTTY, a fast and featureful GPU terminal. It has almost all the modern terminal features. For instance, Unicode, graphics, true color, bracketed paste, and more. This terminal is a PuTTY adaption and is developed based on the same programming as PuTTY. You can access Linux and Unix machines on the KiTTY terminal. Although it has features of PuTTY, you will find some more additional features. It includes an automatic login script, session filter, SSH Handler, etc. The multiple session launcher will tiles them side by side. It connects through Telnet and SSH without any complications. KiTTY has a text editor and chat server integrated into the app.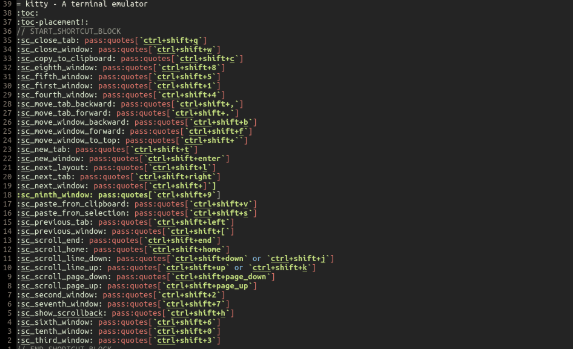 PuTTY
Accessing remote devices is easy on Windows with PuTTY. It is one of the free, open-source, and best terminal for Windows PC. PuTTY supports different network protocols like SCP, SSH, rlogin, Telnet, etc. It provides user control over the SSH encryption key. The PuTTY terminal is written on C and is one of the oldest terminal emulators. It is the most trustworthy and reliable app that is easy to set up and use. The greatest advantage of using PuTTY is it supports a wide variety of protocols.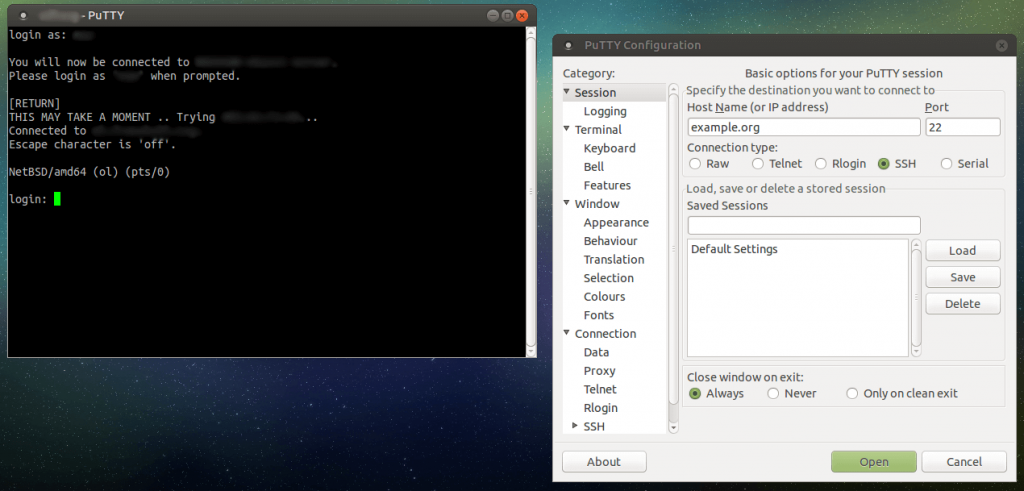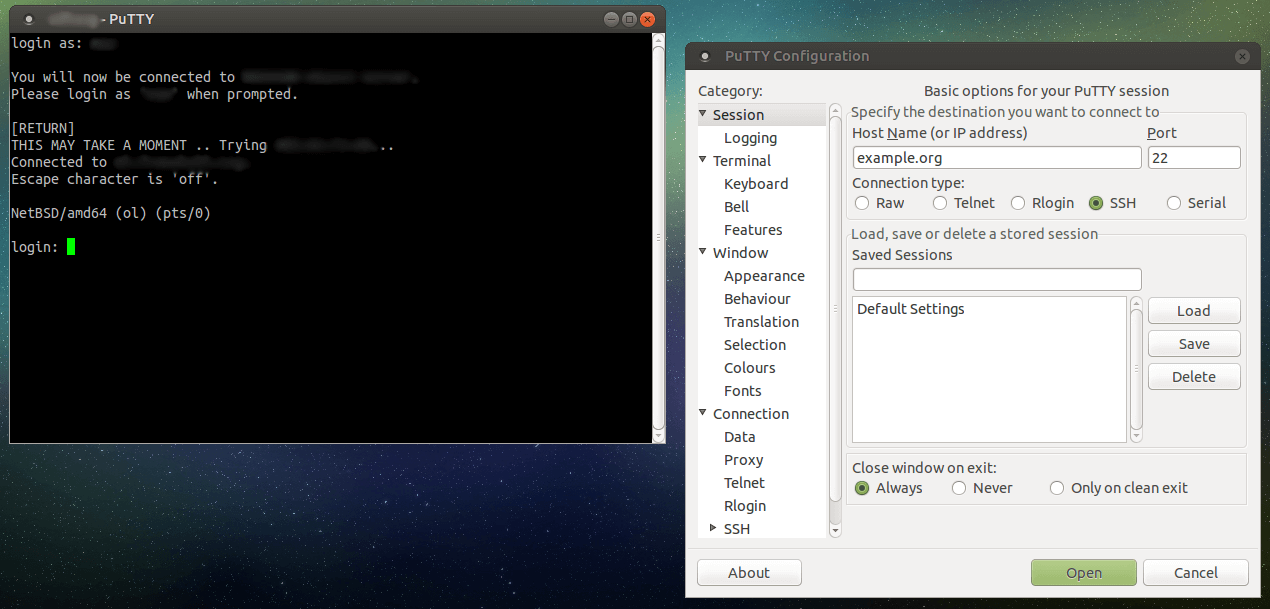 Terminus
If you want to work on multiple OS, then Terminus is the first terminal you have to look for. It is the best terminal for Windows with a variety of customizations. Terminus is an open-source terminal that comes with a polished interface. It is an SSH client to organize, access effortlessly, and connect to your servers. Terminus organizes hosts into groups. The groups will then share settings with separate preferences. It is end-to-end encryption software and ensures your data are safe and secure. Terminus has all the advanced features to make your work more productive. It includes autocompleting, snippets, SFTP, touch term, etc.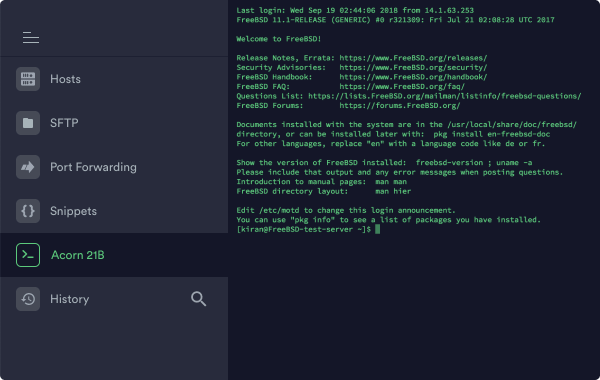 Xshell
With Xshell, you will get unparalleled performance on Windows PC. It is a powerful terminal that will function as a host system. In turn, it lets your system work as a terminal. So, extracting data inside the mainframe is useful. It includes a wide range of tabs with drop-downs. As a result, it will generate a new window. It will launch any upgrades automatically with a special live update function. Xshell will block unwarranted access with the automatic terminal lock feature.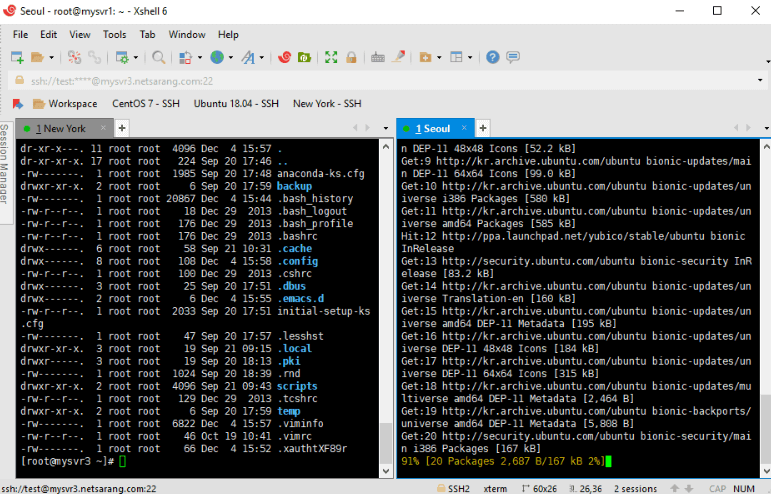 Mintty
Get Mintty, the best terminal for Windows PC, if you work only with Cygwin. It is an open-source console emulator and provides Unix-like functionality. Mintty is a great tool that helps programmers to use Cygwin for Windows shell. It is written on C and has a more flexible user interface. You will get drag and drop support, Xterm compatibility, smooth scrolling, etc. It supports deep customization like resizable windows, transparency, background, etc. With UTF-8 support, it enables encoding of all characters. It supports bidirectional rendering, full Unicode support, and more.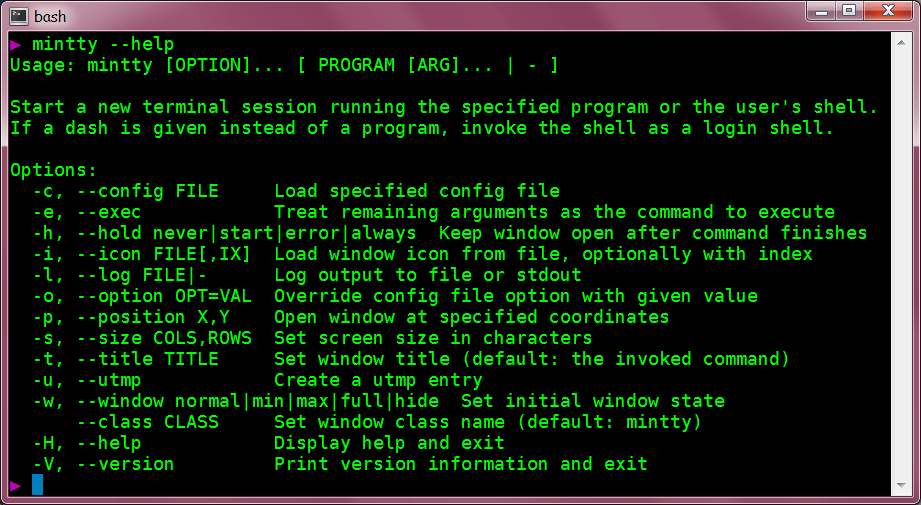 Techowns Tip: Best Terminal Apps for Mac
Our Opinion
It is certainly important to choose the best terminal emulator. Only then, transferring files is easy between main and remote PC with SSH. Additionally, the terminal lets the host system to execute the apps on a remote system. So, choose the terminal that works based on your need to boost the process and get more control.
Have you found this section useful and exciting? Comment your opinions or queries below. Visit us on Facebook and Twitter to stay up-to-date with our latest articles.
Was this article helpful?