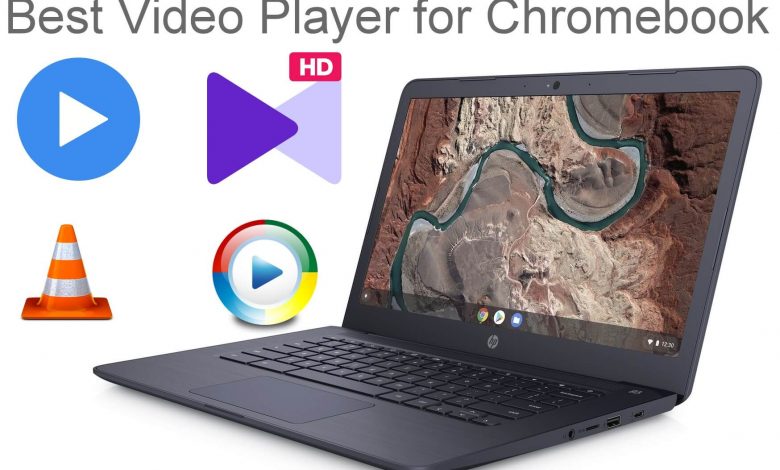 A Chromebook isn't a regular PC. It's a laptop or tablet running on Google Chrome OS. These devices are designed to use primarily while connected to the internet, as most data resides in the cloud. The built-in video player on Chromebook only has limited features and customization options. Here, we've listed some best video players available exclusively on the Chrome Web Store of Chromebook. After adding these Chrome extensions, you can play your favorite audio or video files with more customization and features.
Best Video Players for Chromebook
VLC Media Player
Inarguably, VLC is the best media player to install on Chromebook. Since it is available for free, you can add this extension to play all kinds of video files. It supports various audio files, including AAC, MP3, M4A, WAV, AMR, and more. You can stream all the media files stored locally on your Chromebook or from internet sources. This add-on supports subtitles, accelerated playback, playlists, and an audio equalizer.
Pricing: Free

Pros
It supports video files, including MP4, AVI, MPEG, MKV, FLV, WAV, WebM, and more.
Supports a wide range of audio and video formats.
It has an easy-to-use interface.
Cons
It doesn't have any varieties of themes and skins.
It can be difficult to troubleshoot the errors.
Media Player
Media Player is one of the most powerful media players to store audio or video data. This extension offers users to play audio or video files without an external media player. The add-on is built with a video.js project to enhance the user experience. Moreover, it also supports features like speed control, a playlist media section, a full-width-progress bar, HTTP streaming (M3U8), and more.
Pricing: Free

Pros
It supports a video-casting feature to transfer the media to other devices.
Features keyboard shortcuts to control playback buttons.
Offers 2x volume-boosting feature to increase the volume if it's not enough.
Cons
Sometimes, the response time may be slow.
This media player extension is more prone to corruption and errors than others.
Tip! Update your Chromebook regularly to keep it error-free and get the latest security features.
Video Player for Local Files
It is a web video player specifically designed for playing local files. It has an easy-to-use interface and a lightweight media player to play local video or audio files on your desktop devices. In addition, it also features keyboard shortcuts to perform some basic functions on the playback video.
Pricing: Free

Pros
It offers a high-quality playback video.
Has advanced video settings and customization options.
Supports subtitles, audio track, and other useful features
Cons
No access to online videos or access online content.
Depending on the file format, some videos may not be compatible with certain video players.
Video Player
Video Player is a free extension that allows users to view, play and manage their local video files. It is one of the handy media players that support audio boosting up to 300% and a playback rate of up to 8 times. Moreover, it can also extract media sources from the destination directly and all its children's directories.
Pricing: Free

Pros
It features high boosting of audio compared to other media players.
It features a variety of video formats like MP4, AVI, FLV, and WMV.
Cons
This media player is not compatible with all video formats
It can be slow and laggy at certain times.
It may require extra storage space for videos.
Tip! Apart from media players, you can also choose and install the best file managers for Chromebook to manage your Chromebook storage.
Media Player Classic
Media Player Classic (MPC) is a free and open-source video player for Chromebook. It supports a wide range of audio and video formats for convenient use. It offers a minimalistic, easy-to-use interface with advanced features like subtitle support, video playback customization, and audio track selection. Moreover, the user can also use Picture-in-Picture mode to watch videos in a floating window.
Pricing: Free

Pros
It supports Picture-in-Picture mode to overlay the content on other sites.
It is capable of playing PIP on popular websites like YouTube and others.
Cons
It may not have the support to play all video formats.
It can be difficult to configure and use for some users.
Play With MPV
Play with MPV is a Chrome extension and a Python server that allows users to play videos on web pages. It also supports a wide range of audio & video formats and streaming protocols. In addition, it offers various features, such as audio/video filters, playlists, and an advanced settings menu for user comfort.
Pricing: Free

Pros
Compatible with hundreds of websites.
Comprehensive audio/video filtering capabilities.
Has an advanced settings menu.
Cons
No support for external subtitle formats.
Limited customization options.
FLO Player
FLO Player is one of the best video players with an HTML video player on your Chromebook. It is designed for playing digital media files such as audio and video files. FLO Player supports various media formats, including MP3, WAV, OGG, AVI, MPEG, Flash, and many others. It also includes playback features like play/pause, volume & track selection, and many advanced features.

Pros
Offers extensive playback controls.
Has the ability to stream media formats directly from websites.
Supports a wide range of media formats.
Cons
Limited support for HD formats.
Cloud Disk Player Help
Cloud Disk Player Help is an extension for cloud disk providers which supports a wide range of video files. This supports non-MP4 video files like AVI, MKV, RM, RMVB, and more. In addition, it also performs some basic functions like copying the transcodes or original video link to other media players.

Pros
Supports media files like AVI and MKV.
The cloud-based synchronization allows access to content from multiple devices.
Cons
Its cloud-based synchronization features additional fees.
Frequently Asked Questions
1. How do I add media player extensions to Chrome?
Open the Chrome Web Store on your Chromebook and pick your favorite media player. After that, select Add to Chrome and further click Add Extension to add a media player to your Chromebook.
Was this article helpful?