BuffStream has been one of the popular sites for streaming sporting events on your device. Because of its working nature, the original site has been taken down. Hence, users are searching for the best alternatives to stream their required sports content without any fee. Since there are so many free sports streaming sites available online, you will find it hard to find the best one. Hence, we have curated a list of 12 BuffStream alternatives to stream sports content.
Things to Consider
Before selecting a streaming service, you need to consider a few things. We have selected the below-mentioned services with certain things in mind.
►The streaming website should have multiple links for each sporting event.
►There should be no or lesser advertisements and pop-ups while navigating.
►The site must have a simple and user-friends interface.
►It should live stream even with low network latency and without dropping the video quality.
►The website must be free from viruses, malware, and cyber threats.
Best Alternatives for BuffStream
Following are a few websites that can be used as Buffstream alternatives for streaming Football, Cricket, Boxing, Basketball, Tennis, Golf, Wrestling, and many more.
VIPBoxTV
VIPBoxTV is the best sports streaming service, and it is 100% legitimate. It focused on major sports events from NFL, NHL, MLB, MMA, Golf, FIFA, rugby, tennis, and many more. It also allows you to stream live sports events for free. To stream live sports, go to the VIPBoxTV website on your PC or smartphone and then select the game that you would like to watch.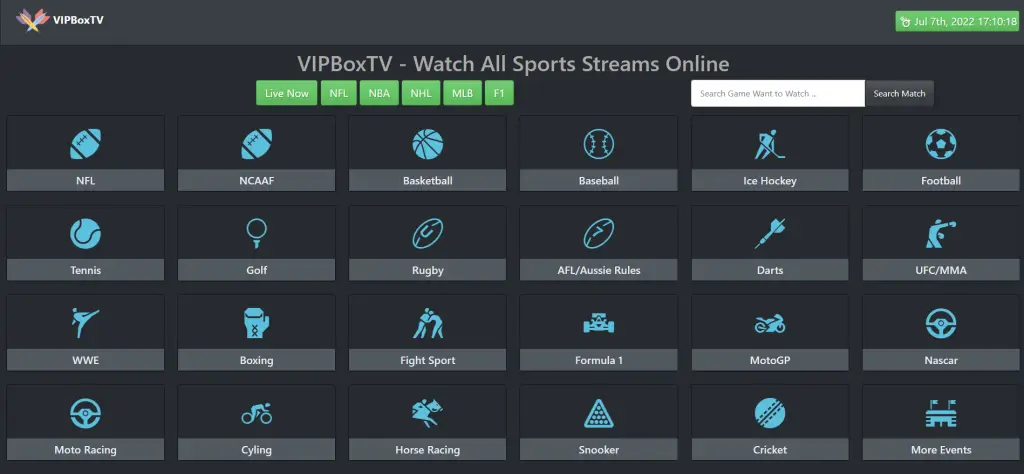 | Pros | Cons |
| --- | --- |
| It allows you to stream your favorite sports without limits and restrictions. | It contains annoying ads while streaming. |
| Provides multiple links for streaming. | It needs a VPN to secure your privacy. |
VIPLeague
VIPLeague is a popular legal website to live stream the sports events such as Football, NBA, tennis, and Basketball. It is the best option to watch free live sports on your computer, smartphone, tablet, and other supported devices with the browser. VIPLeague has limited sports streaming sites. So there are not many channels to choose from. There is no membership fee to stream the content.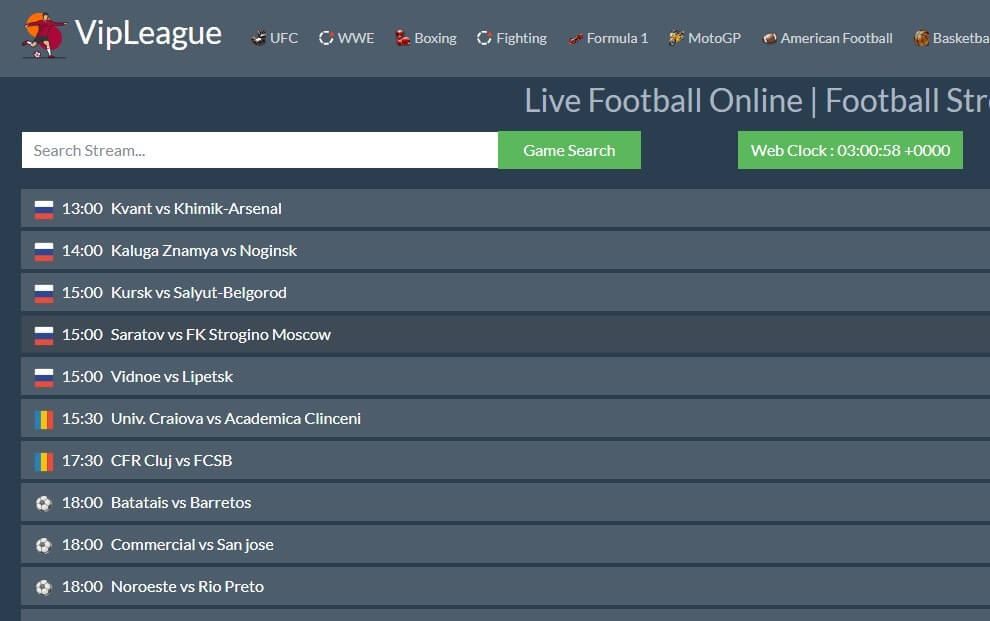 | Pros | Cons |
| --- | --- |
| VIPLeague site is straightforward, fast, and user & mobile friendly. | It takes too much loading time and contains too many third parties advertisements and pop-ups. |
| The site is completely free to stream. | It has viruses and malware. |
| All sports live-streaming links are available on the homepage with large thumbnails. | The Footer bar is not available on the website. |
SportStream
To watch multiple sports streaming, SportStream is the best choice. You can stream various sports events like Volleyball, baseball, basketball, football, wrestling, boxing, and many more. It is completely illegal and has so much copyrighted content. Hence it is not safe to use. SportStream includes manual sliders for all categories. Moreover, the site offers you to stream without ads.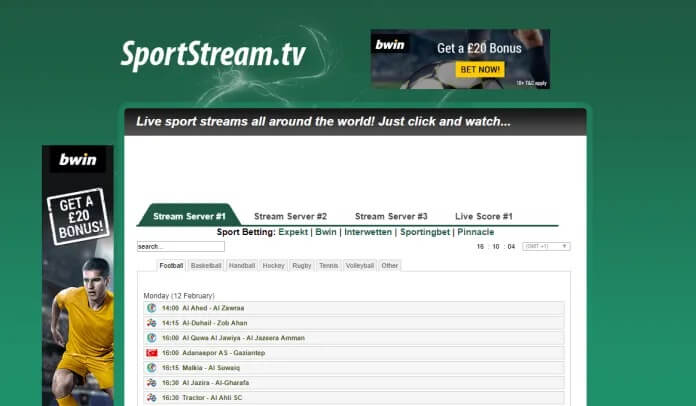 | Pros | Cons |
| --- | --- |
| Ad-free home page. | It doesn't have many features on the homepage. |
| Includes manual sliders for all categories. | Navigation is not available on the footer section. |
| Offers many streaming links without any filter content. | Sometimes, the domain of the streaming site will not be stable. |
Cricfree
Cricfree is a streaming website that allows you to watch cricket matches or tournaments, including ICC World Cup, IPL, BBL, and more, for free. In addition, you can watch other sports such as golf, football, tennis, horse racing, and rugby. On this website, you can stream live matches along with scores, discussion forums, and video highlights.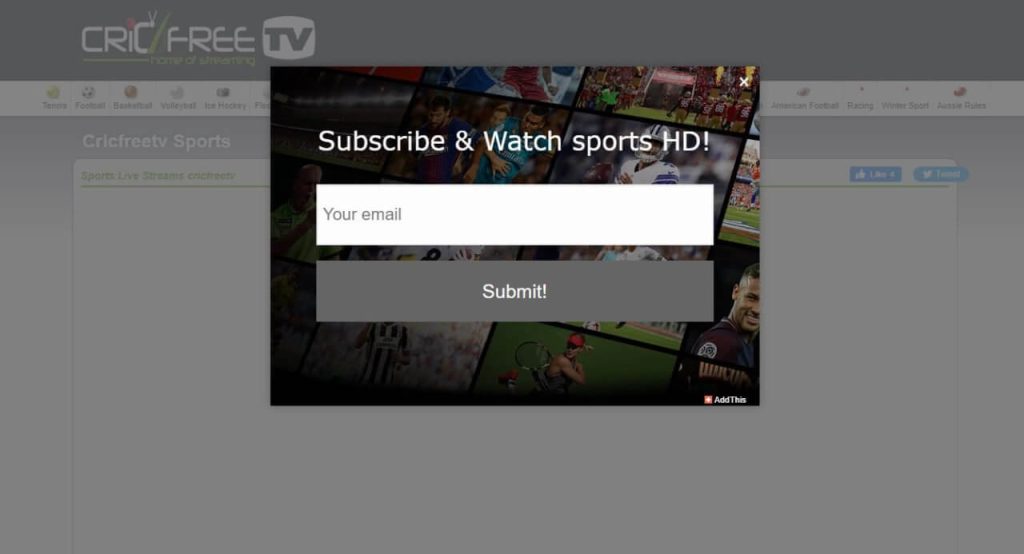 | Pros | Cons |
| --- | --- |
| 100% free and doesn't require any registration or sign-up. | Buffering issues and are slow to load and navigate. |
| Both international and domestic cricket matches are covered. | It has a lot of pop-up ads. |
SportsP2P
SportsP2P is the next Buffstream alternative accessed by people worldwide. It has a simple interface that allows you to watch live football games throughout the globe and stream league games and championships. No subscription or membership fee is required to stream the content. You can also watch live matches of basketball games, tennis, motorsports, ice hockey, etc. Instead of operating as a standalone platform, SportsP2P delivers channels via a number of protocols.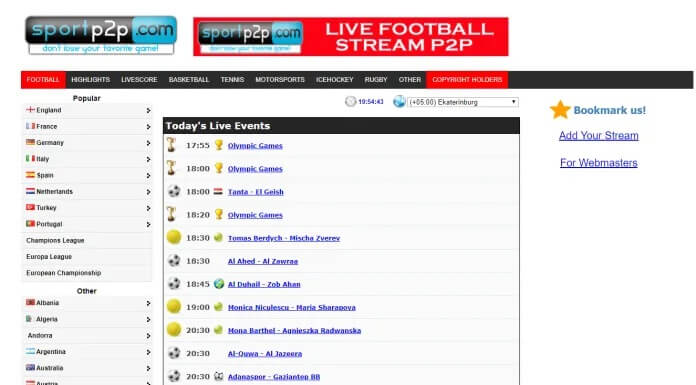 | Pros | Cons |
| --- | --- |
| It has a valid SSL certificate, and it is safe to use. | The pop-up ads may inject viruses into your device. |
| The website does not contain phishing or malware. | Difficult to identify the real owner of the website. |
VIPRow Sports
VIPRow Sports is the next sports streaming website that offers you to stream all the major sports events and live sports channels. It includes many desirable features and is extremely user-friendly. You can stream various sports categories, including Football, MMA, Boxing, WWE, Tennis, and American Football, on the home screen. It may distribute some copyrighted content without any license on the website. The video quality will be high while streaming sports videos. On this streaming website, you can play multiple streams simultaneously.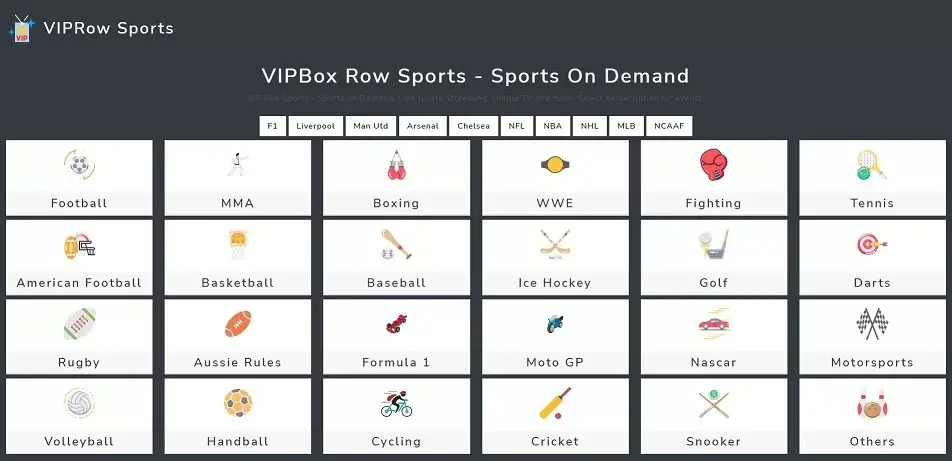 | Pros | Cons |
| --- | --- |
| It is absolutely free to use. | It is not ad-free while streaming. |
| No threats, such as viruses or malware, are not available. | VIPRow Sports is an unverified website. |
12th Player
You can enjoy streaming your favorite sports channels on the 12thPlayer streaming website. If you are a football lover, then 12thplayer is the perfect site to watch live matches, tournaments, and highlights. It also lets you watch news updates and highlights of other sports, such as baseball, basketball, volleyball, rugby, and tennis. It includes many features with a simple interface and covers sports events worldwide. You can communicate with your friends with the live chat feature.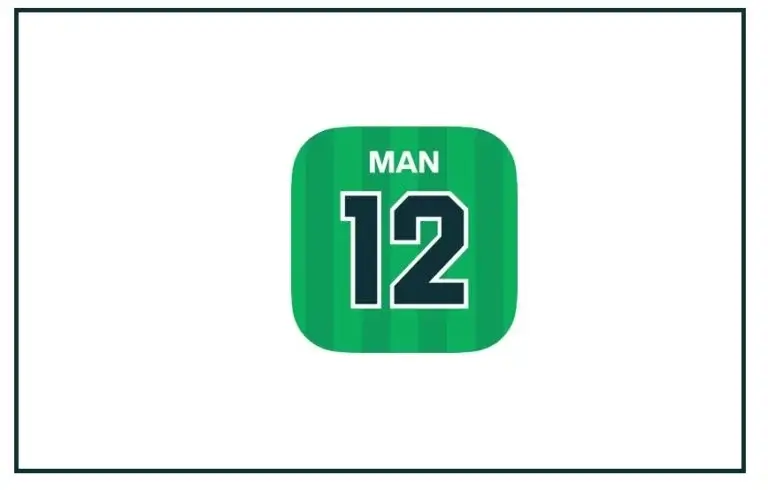 | Pros | Cons |
| --- | --- |
| Stream sports events free of cost. | It doesn't have any American Sports links. |
| Easy and convenient to use. | No simultaneous streams are available. |
Stream2Watch
Stream2Watch is a free online streaming website that offers you to watch several sports, including Baseball, Basketball, rugby, and boxing. You can access more than 350 channels on this site. Stream2Watch provides copyrighted content without owning the proper license and copyright law. Due to constant redirects or pop-ups, the site may have malware and crash your device. This website uses peer-to-peer technology to stream live matches of your favorite sports.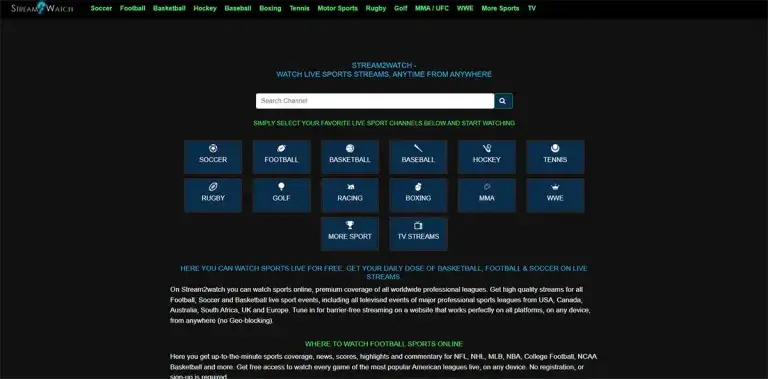 | Pros | Cons |
| --- | --- |
| Easy and more reliable to use. | Have to navigate through the intrusive ads. |
| The streaming quality is high and good. | No header section. |
CrackStreams
Yet another free-to-stream live sports event website is Crackstreams which streams games from a huge collection of sports, including UFC, NFL, MLB, MMA, and Boxing. It is accessible on many devices, such as PC, smartphones, tablets, and Amazon Firestick. The stream quality varies due to buffering issues and other problems. To stream the content for free, you need not sign up or register. It is not a secure website, and illegal to download pirated content.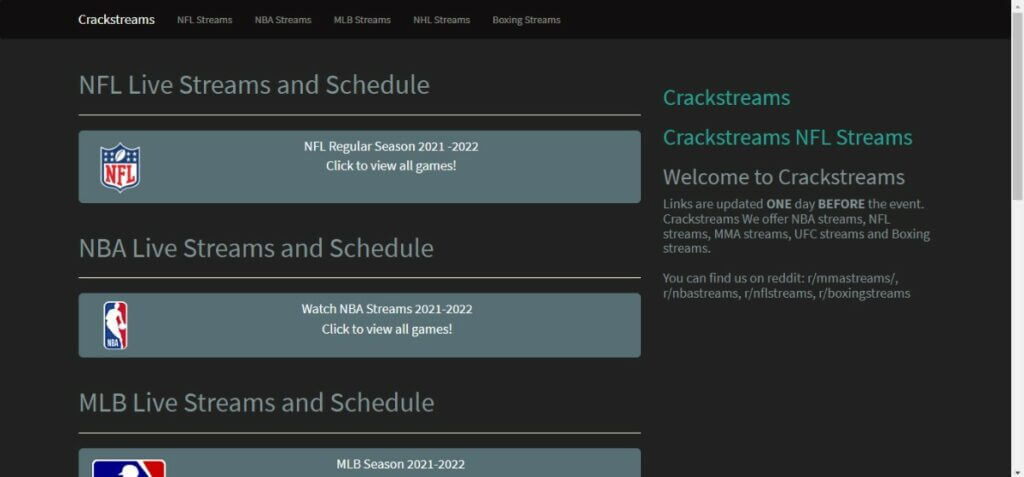 | Pros | Cons |
| --- | --- |
| You can find only an HD Stream of top sporting events. | It has loads of pop-up ads. |
| Easy-to-use interface. | Susceptible to being taken offline. |
Strikeout
The Strikeout is the fastest-growing live sports streaming website. It allows you to access tons of sports events and programming, both live and on-demand, for free of cost. Also, you can stream the videos in high streaming quality without any limitations. It offers live matches and tournaments from many sports categories, such as basketball, football, AFL, and many more. Additionally, you can get upcoming sports events updates from the news section.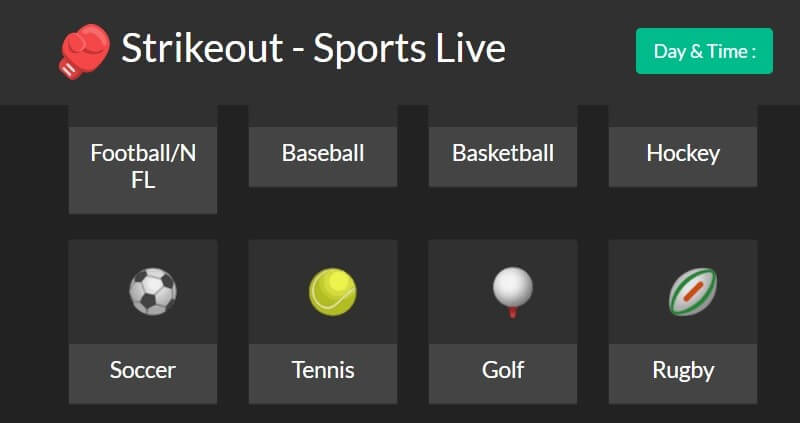 | Pros | Cons |
| --- | --- |
| Ad-free. | Streams the content in low quality. |
| Dark and light mode features are available. | Have buffering issues. |
SportLemon
SportLemon is a no-cost streaming for live sports and offers a wide range of streams. It focuses on the sports such as rugby, baseball, basketball, tennis, moto, hockey, and soccer. Unlike other streaming websites, SportLemon concise its loading time and does not drop the quality of the video. However, the stream is very stable. The redesign of this website is long overdue. To access more features on the site, you need to register.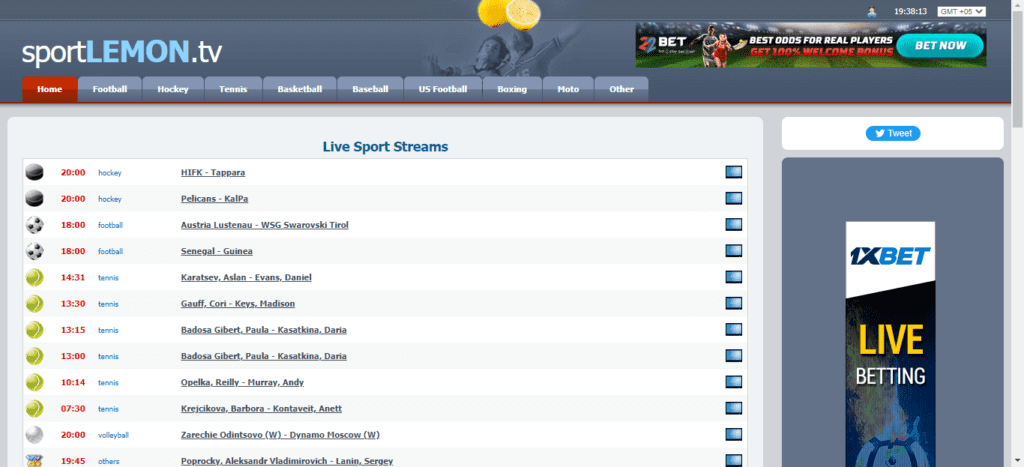 | Pros | Cons |
| --- | --- |
| Access the basic feature of the site without registration. | It won't break completely, and no lagging. |
| Stream the videos in HD quality. | A lot of pop-ups and ads are available. |
FirstRowSports
FirstRowSports is the most significant website for watching live sports events. All prominent sports, including football, basketball, boxing, and many more, are available on this website. Sometimes, the site will not stream live events due to the high volume of users. You can watch the video in high streaming quality without any buffering issues. The FirstRowSports website has a simple design with a user-friendly interface, and users can start streaming without registration.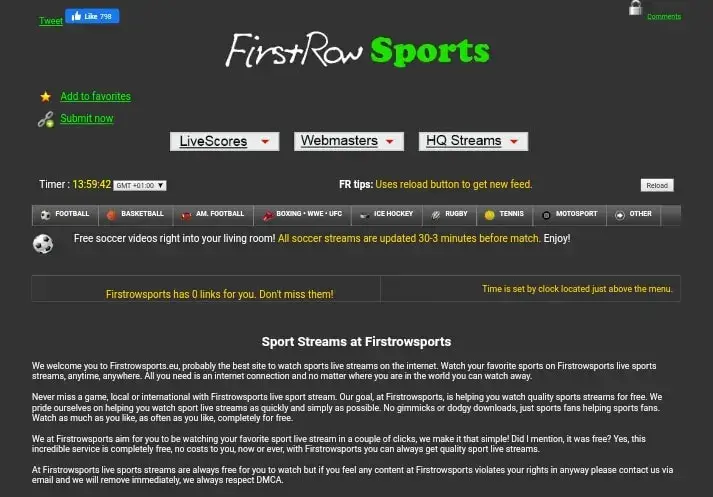 | Pros | Cons |
| --- | --- |
| Many streaming links are available. | Too much advertisement interrupts while streaming. |
| It allows you to view previous streams. | Some links are geo-restricted. |
Frequently Asked Question
Is BuffStream safe?
Buffstream is not a legal site, and it is not safe to use.
Was this article helpful?