Tumblr is quite a different social networking app as it is a platform to express one's creativity. It is also a tool to find people or communities who have great talents. In a much-refined way, Tumblr lets you discover yourself and find people who share the same interest as you have. It lets the users express themselves by posting photos, videos, audio, GIFs, text, and more. In addition to sharing, a lot of times any Tumblr users would have come across audio or music notes and wanted to download it. But Tumblr neither has a built-in option nor the download link of audio or music files. In order to deal with this downside, we have come up with a detailed note on how to download audio from Tumblr.
How to Download Audio from Tumblr?
The section below will help you out saving audio from Tumblr by different means.
Download Audio from Tumblr Using VideoProc Converter
Packed with an all-around built-in media downloader engine, VideoProc Converter, a superb one-stop video processing tool for both Windows and Mac systems, is yet to find a rival when it comes to video downloading. It supports over 1000 sites for media sharing, enabling you to easily download – whether in batch or single – online video, and audio from Tumblr, YouTube, Facebook, and other UGC websites, without jeopardizing any quality.
Furthermore, loaded with a wealth of functionalities other than media downloading, the program, boasting a full GPU acceleration design, also excels in media conversion, editing, recording, and compressing, which truly turn it into an affordable complementary video processing tool for the professional tools out there.
Step.1 Download and launch VideoProc Converter. Click Downloader in the interface.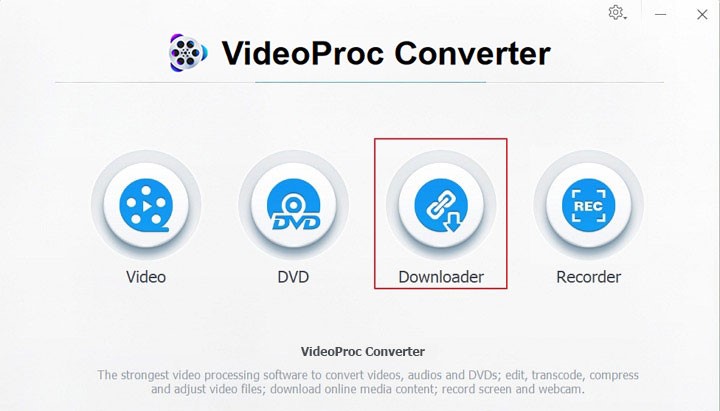 Step.2 Click Add Music, and paste the audio address you copy from Tumblr. Hit Analyze and wait for the program to get the work down.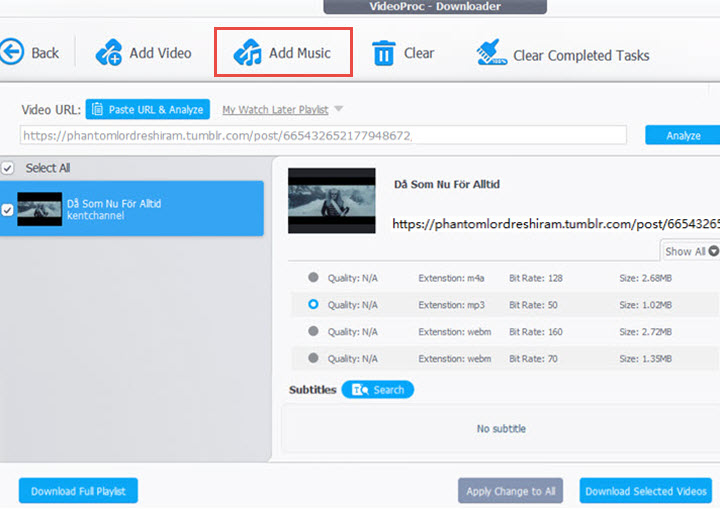 Step.3 Specify Audio Output Folder and select output format and resolution to save the downloaded Tumblr audio. Then hit Download to download the file.
How to Download Tumblr Audio using Web?
If you are currently using Tumblr and look forward to downloading or save the audio from the web, then do the steps as given below.
(1). Launch the web browser and visit http://tumblr.com/ and click Login button.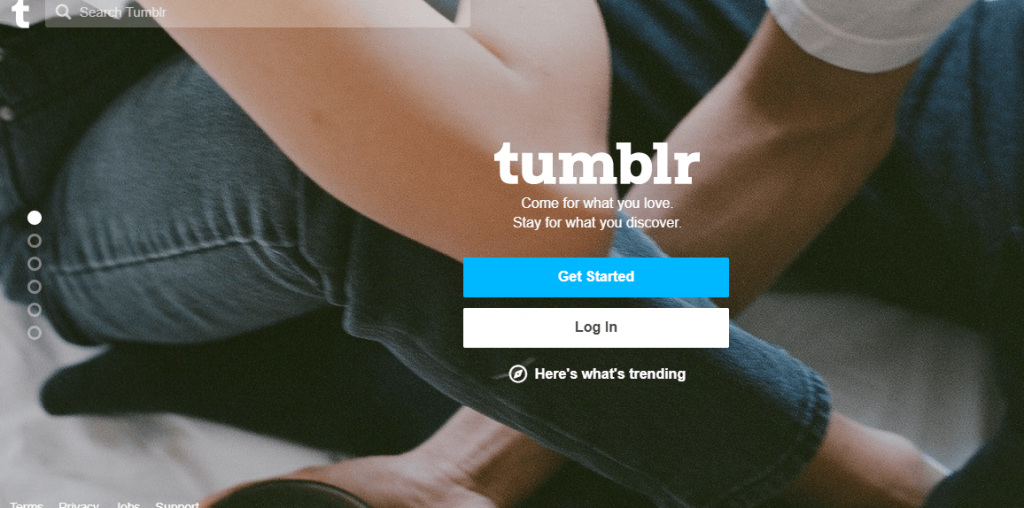 (2). Provide your email and press the Next button. On the following screen, enter your password or ask Tumblr to send a magic code to long. Click on the Login button.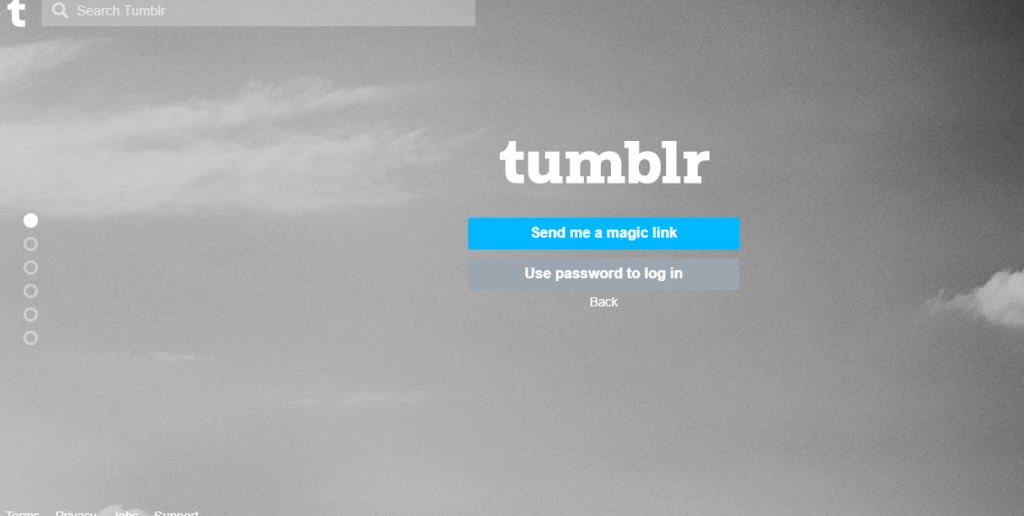 (3). Browse for music or the audio that you want to save. You can use the search bar to find the song instantly.
(4). Right-click on the audio to select Inspect or Inspect Element.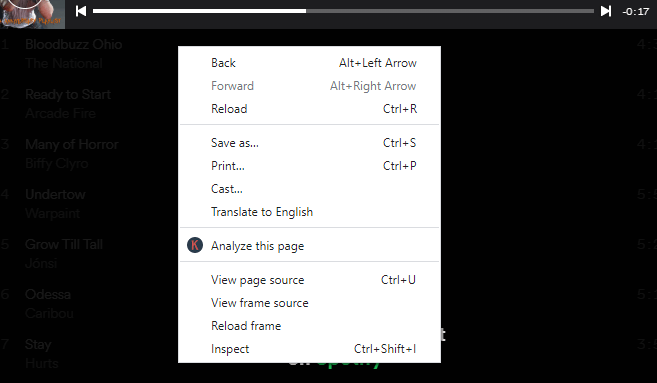 Note: Mac users should hold the Control key and click on the music to choose to Inspect.
(5). On the next screen, tap on the Network tab.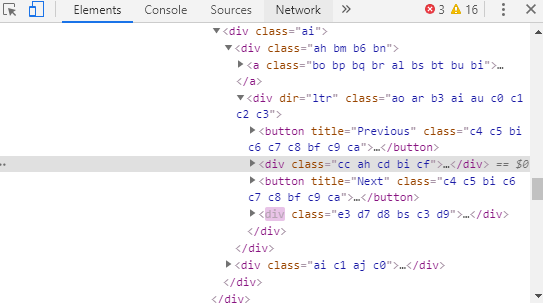 (6). Click to play the audio so that the audio player will show in Inspect Element display.
(7). Hover to Size column to Right-click (Windows) or Control Key + click (Mac) to select Open in a new tab on the pop-up menu.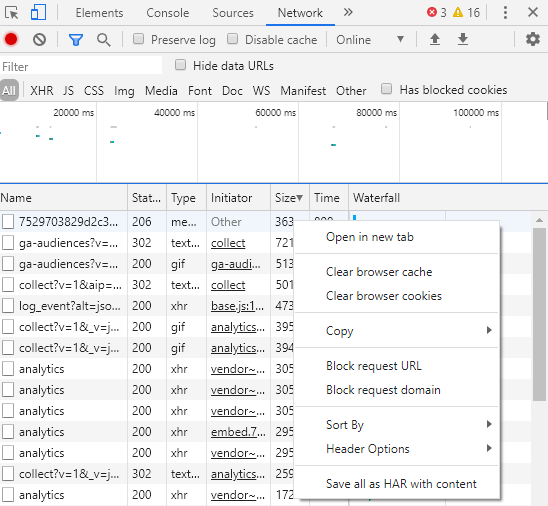 (8). Again Right-Click or Control+Click in the new tab to select Save As or Save audio as or press Ctrl+S to save the Tumblr audio.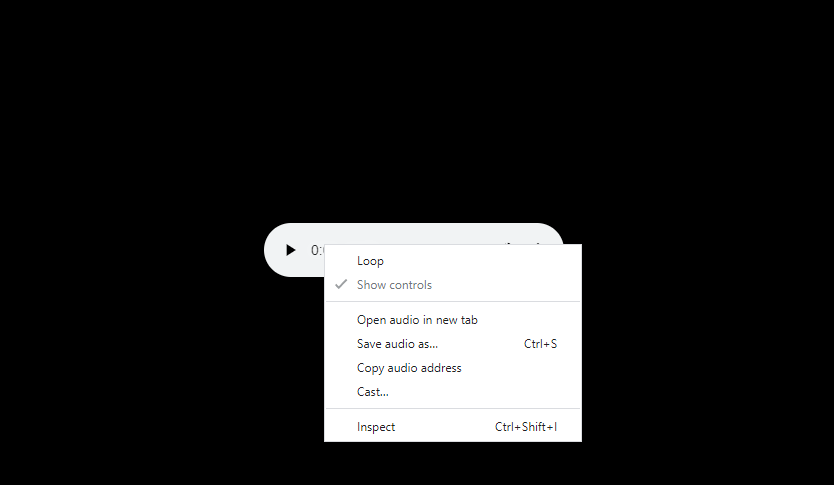 (9). Click on Menu (three vertical dots) to click on Download.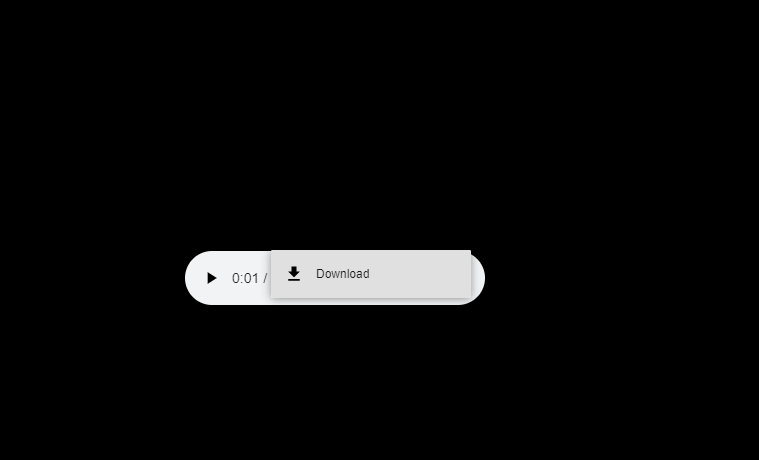 Alternative! Under Network tab in (5), look for audio_file or .mp3. Just copy and paste it in a new tab to right-click and choose Save audio as.
How to Save Tumblr Audio on Chrome & Firefox Browser?
To get the desired audio on Tumblr using Chrome, you can download Audio Downloader Prime as an extension on Chrome or get it as an add-on on the Firefox browser. When you play the audio, Audio Downloader Prime will auto recognize the music and list it. Click on the Download icon to get the Tumblr audio.
Chrome browser users can even get TumTaster extension that will help you get Tumblr audio. After adding the extension, play the music on Tumblr and click on Click to Download button. Then right-click to select Save link as to save the audio file to the local drive.
How to Save Audio from Tumblr on Android?
There are a good number of audio file downloading apps available on the Play Store. To download Tumblr audio in the best quality, you can get Timbloader for Tumbler. Just open the app and click on the Share or Send button below the audio content. Select Timbloader and click on the Download button.
Our Opinion
These are the possible and most easy ways to download audio on Tumblr despite the unavailability of downloading it from within Tumblr. Once after downloading Tumblr music, you can share the music or audio file with others easily. If your device has less space, then it's better to go within the browser. Otherwise get the third-party audio downloader to save your favourite music.
Do you find this article interesting and has it helped you save Tumblr audio with ease? Let's hear it from the comments below. For more such article updates, follow us on Facebook and Twitter.
Was this article helpful?