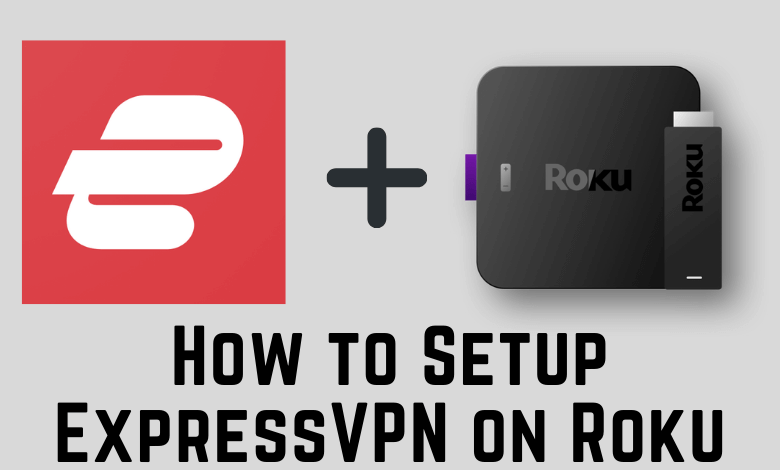 ExpressVPN on Roku is made possible if you use this Step-by-Step guide. If you own a Roku at home, it would be a highly used device, consuming a lot of content from the internet. However, some content may still be blocked. It is due to geographical restrictions. As we all know, many streaming channels like Netflix and Amazon Prime Video have geo-restriction content, and it applied to Roku.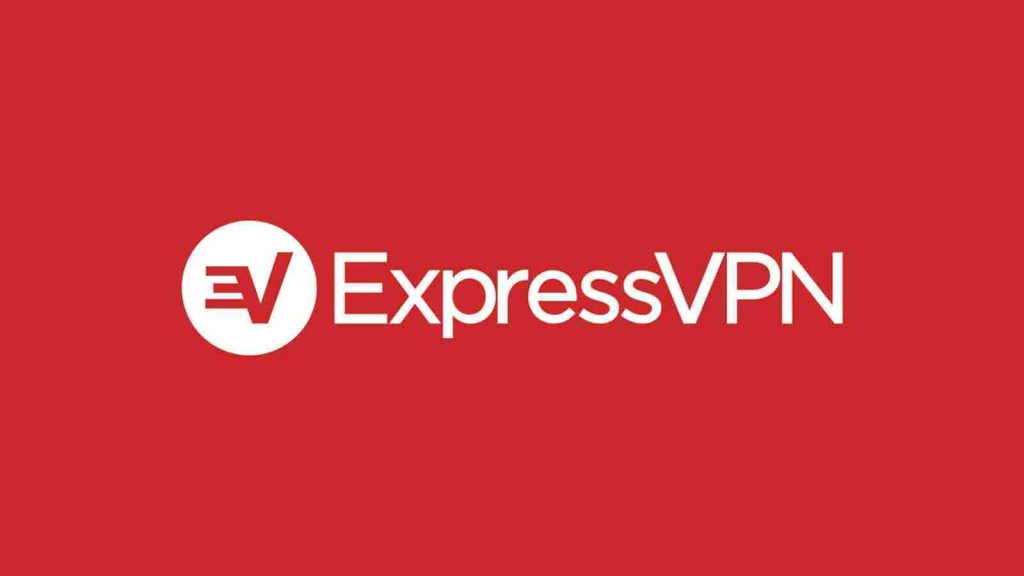 Setting up an ExpressVPN on your Roku is the best solution to stream these geo-restricted contents. Unfortunately, Roku devices do not support installing VPN apps. They are developed in a way to install the apps and stream the content that is officially available.
Routers That Come with ExpressVPN Built-in
| | |
| --- | --- |
| Asus RT-AC56(U/R/S) | Linksys WRT32X |
| Asus RT-AC68Uv3 | Netgear R6300v2 |
| Asus RT-AC87U | Netgear R6400v2 |
| Linksys EA6200 | Netgear Nighthawk R6700v3 |
| Linksys WRT1200AC | Netgear Nighthawk R7000 |
| Linksys WRT1900AC(S) | Netgear Nighthawk R7000P |
| Linksys WRT3200ACM | |
Set Up ExpressVPN on Your Router
In this method, you have to use a physical router, and therefore it may sound more technical. But this is the solution to access ExpressVPN on unlimited devices simultaneously.
Steps to Install ExpressVPN on Router
[1] Sign Up and subscribe to ExpressVPN or use the free trial version.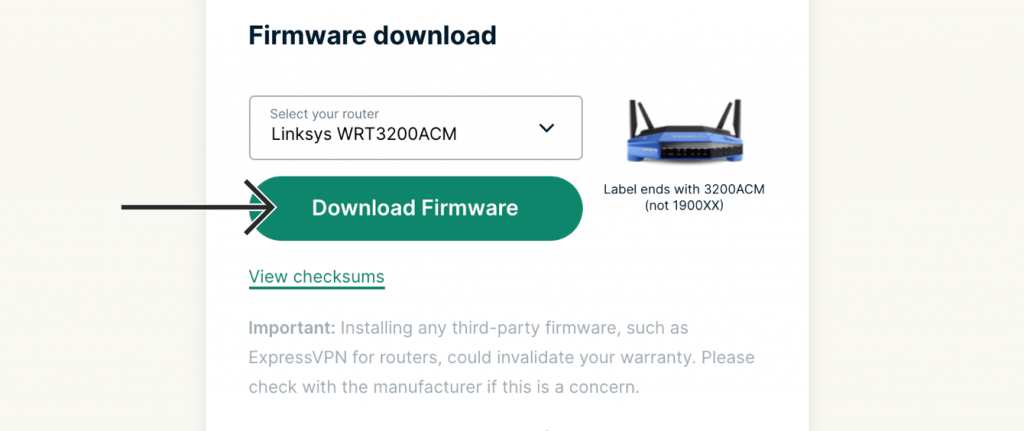 [2] Download the firmware by selecting the router model.
[3] Turn on your router.
[4] Connect a PC to the router and open Google Chrome.
[5] On a new webpage, enter the login address as per your router model.
Linksys– 192.168.1.1
Asus– 192.168.1.1 or router.asus.com
Netgear– 192.168.1.1 or 192.168.0.1 or routerlogin.net
TP Link– 192.168.0.1.3
[6] Enter your router's username and password. By default, both username and password will be admin.
[7] Click on Sign In.
[8] Now, have to manually update the router with the ExpressVPN firmware that you downloaded earlier. Browse for the downloaded file and update it.
[9] Click OK and Reboot the router.
[10] At last, the ExpressVPN will be installed on your router.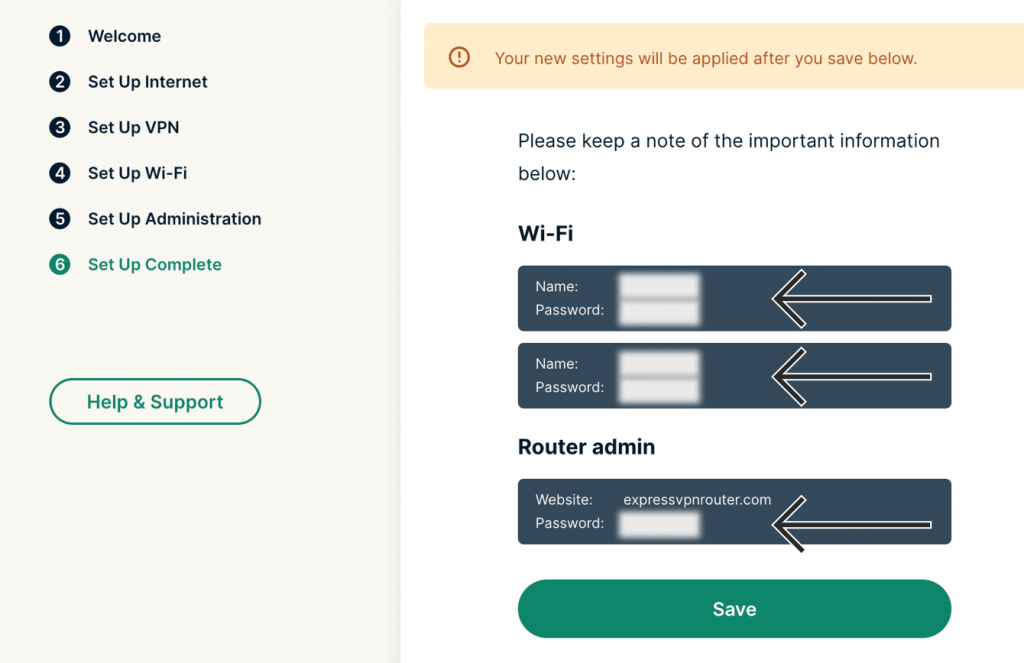 [11] Connect your PC to the router running ExpressVPN using a Wi-Fi or LAN cable.
[12] You will get a setup screen. Follow the on-screen prompts and complete the setup process.
Using A Virtual Router
Windows
[1] Install ExpressVPN Windows app.
[2] Open Network & Internet settings from the Internet connection icon on your taskbar.
[3] Click on Mobile hotspot and enable Share my Internet connection with other devices.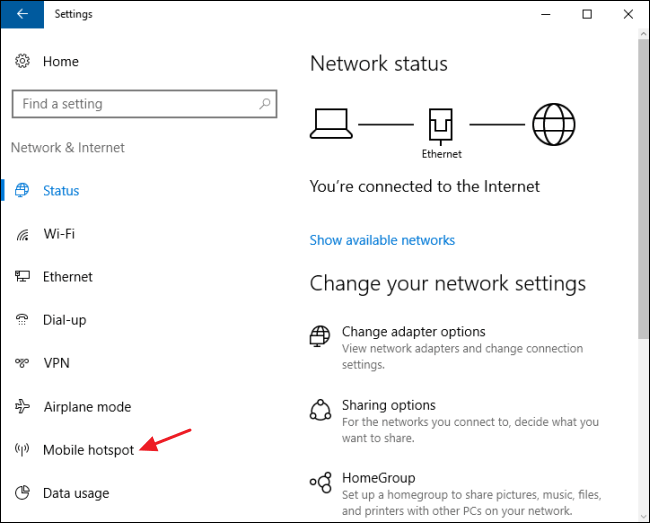 [4] On the left pane, select Status and then click on Change Adapter Options.
[5] Right-click on the ExpressVPN Tap Adapter and select Properties.
[6] Under the sharing tab, enable Allow other network users to connect through this computer's internet connection.
[7] Select the Hotspot Connection from the Home networking connection and then click OK.
Mac
Firstly, you need to get the ExpressVPN credentials for the VPN setup. To get the credentials and proceed to the steps below:
Configure ExpressVPN Account
[1] Go to the ExpressVPN Setup Page and then Sign in.
[2] Enter the verification code sent to the registered email address.
[3] Select L2TP/IPsec from the Manual Configuration choices.
[4] Now you will get the credentials for VPN setup on your Mac, such as username, password, and server address.
Configure macOS
[5] Click the Apple logo on the Mac and then select System Preferences.
[6] Choose Network and click + in the network window. It allows you to add new interfaces.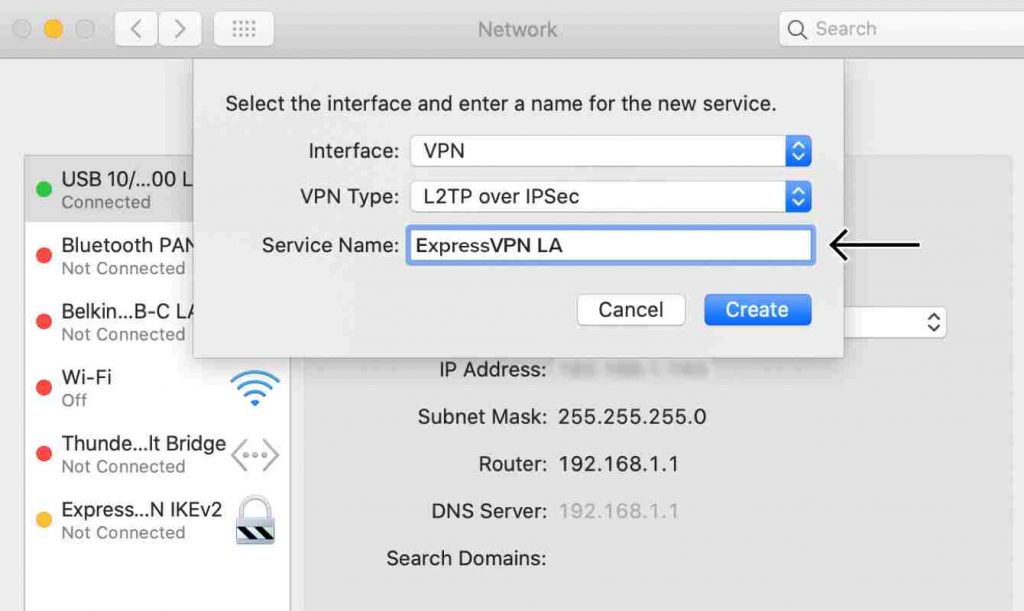 [7] Choose VPN and change the VPN type to L2TP over IPSec in the interface.
[8] Provide a Service name like ExpressVPN Hotspot or ExpressVPN LA, etc. And then click Create.
[9] In the network window, change the Configuration Type to Default and enter the Server Address of ExpressVPN.
[10] Enter the Account Name from the VPN setup credential, the same as in Step 4.
[11] Click on Authenticate Settings. You will be asked to enter the password (use the one from Step 4) and Shared Secret (Enter 123456 as Shared secret). Next click OK.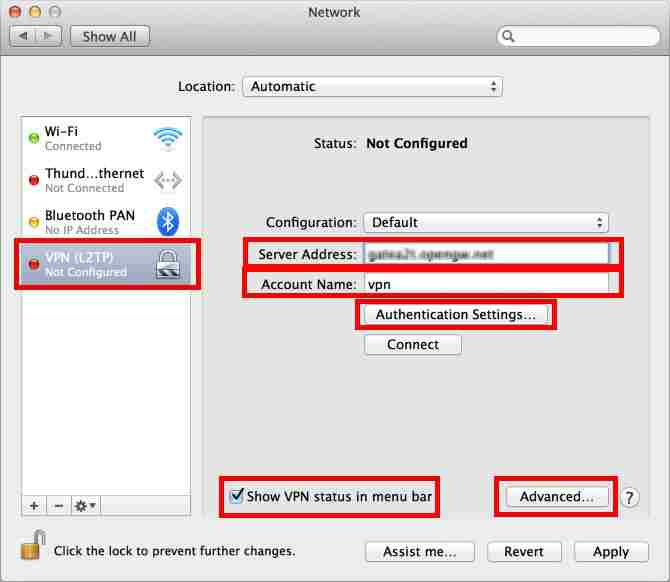 [12] Open Advanced by clicking on it and check the box Send all traffic over VPN connection. Again click OK.
[13] Click Connect. After getting connected, go back to System Preferences.
[14] Select Sharing and then click on Internet Sharing.
[15] Make the following changes in Internet Sharing.
Share your connection from Choose the L2TP/IPsec VPN connection (created earlier).
To computers using: Select Wi-Fi.
[16] Next, select Wi-Fi options and enter the following changes:
Network Name: Any name of your choice.
Channel: Leave it as it is.
Security: WPA2 Personal.
Password: Create a new password.
[17] Click OK.
[18] In the sharing window, select Internet Sharing.
[19] Turn on Internet sharing and then click Start.
[20] The green dot next to internet sharing indicates that the sharing is in process. Thus, you have created ExpressVPN on the virtual router in Mac.
Steps to Connect ExpressVPN on Roku
After setting up the ExpressVPN, you can connect it to your Roku device.
[1] On your Roku, go to Settings.
[2] Select Network and click on Setup Connection.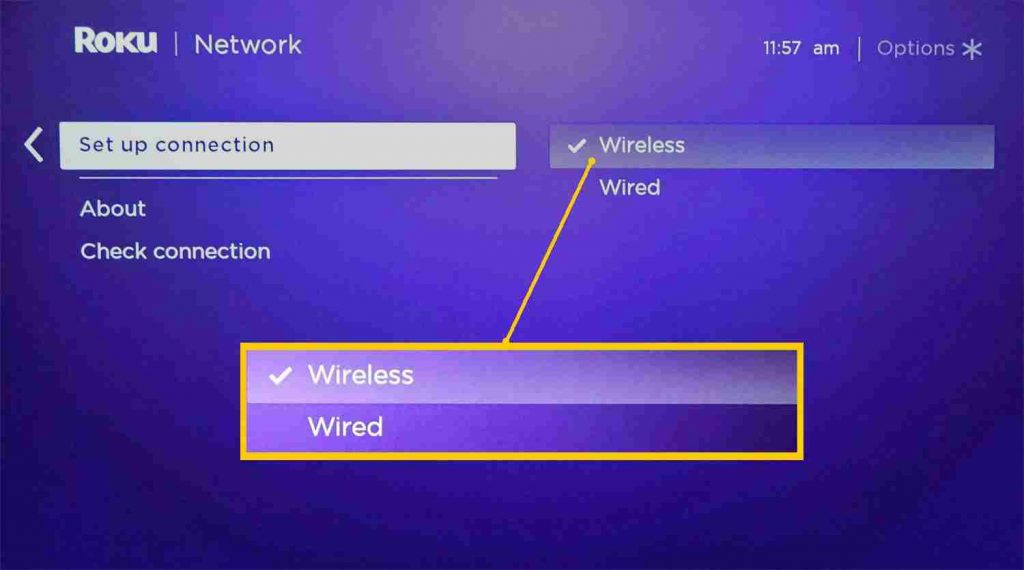 [3] Next, select Wireless and from the list of networks, select the Wi-Fi connection running on the router.
[4] Enter the password of your Wi-Fi connection and click Connect.
Finally, you will be able to stream on Roku without any geo-restriction.
Troubleshooting
Can I use Cast from phone to use ExpressVPN on your Roku?
Yes. It is one of the easiest methods. Let's check the steps for ExpressVPN casting from phone to Roku.
[1] Install ExpressVPN on your phone – Android or iOS.
[2] Select Location Picker and choose your desired location.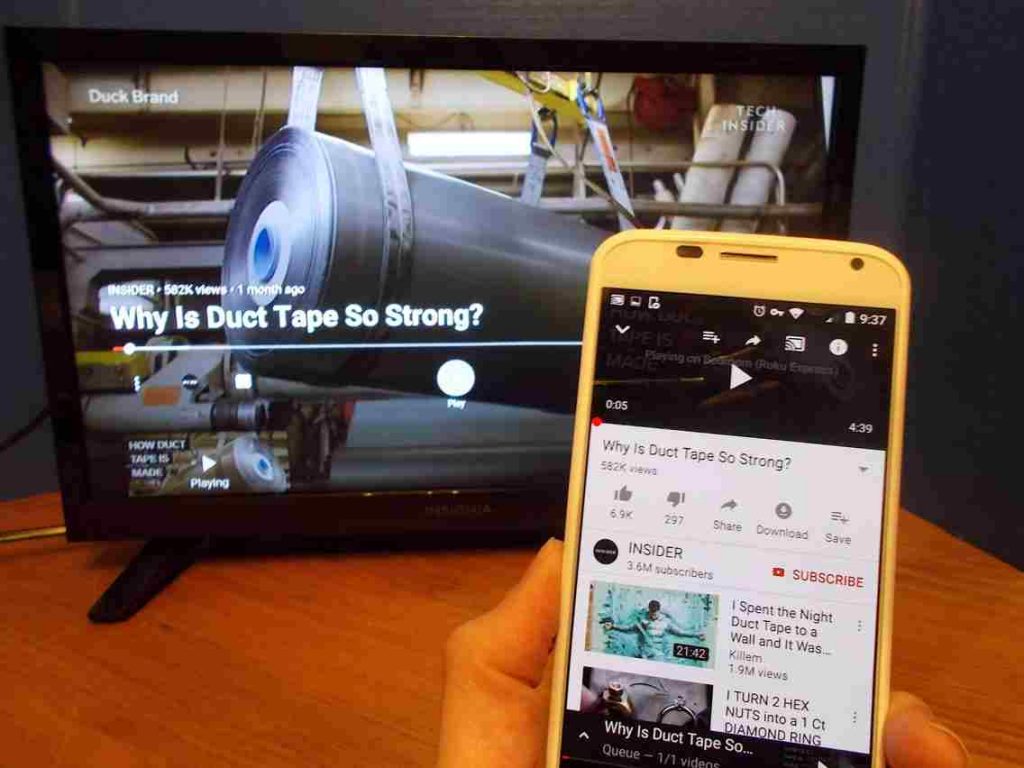 [3] Select the Streaming App of your choice and choose any show.
[4] Go to the Control Center / Shortcut Center on your phone and tap on Screen Cast.
[5] Based on the phone you use, you may have to enter the code that appears on the TV onto your phone.
[6] Click OK.
Those who find it difficult to set up ExpressVPN on Roku using a router or virtual router may use the casting option as it does not involve too many technical procedures. With ExpressVPN, you can stream any content around the internet and streaming apps without any location restrictions. In addition, it makes your Roku more secure and private by masking the IP and encrypting the VPN connection.
Frequently Asked Questions
Will ExpressVPN work with Roku?
Yes. ExpressVPN works seamlessly with Roku. You need to flash the ExpressVPN firmware for your router and connect Roku to Router.
How to use ExpressVPN on Roku?
Flash the firmware provided by ExpressVPN on your router. Then, connect Roku to the router. All done! Now, you can enjoy watching on Roku while being secured by ExpressVPN. You can also set up a virtual router on your PC or Macintosh and connect the Roku to enable features offered by ExpressVPN.
Was this article helpful?