FoneGeek iOS System Recovery is an effective and reliable iOS system recovery software that is designed to solve almost every Apple product issue. If you would like to learn more about FoneGeek iOS System Recovery and its' benefits as an iPhone repair software, here is an extensive review to read.
About FoneGeek iOS System Recovery
FoneGeek iOS System Recovery has excellent compatibility power. This makes it capable of resolving different issues on a series of iOS devices. To be more specific, the iOS system recovery software can fix more than 300 troubles on most iOS devices.
More interestingly, users do not need any special tech skills to use this tool. This means that anyone can run the software and repair their Apple smartphone effectively without stress. Users can use FoneGeek iOS System Recovery in any of two repair modes as described below:
1. Standard repair
With this mode, users can fix simple and common errors on iPhone, iPad, and iPod touch. A good example is the iPhone black screen issue. You can resolve the problem without losing any data.
2. Advanced repair
This mode is designed for complicated issues such as failure to power on or update. By choosing the advanced mode, you can correct technical Apple problems with only a few clicks. However, you may lose your data. Hence, you are best advised to keep a backup file.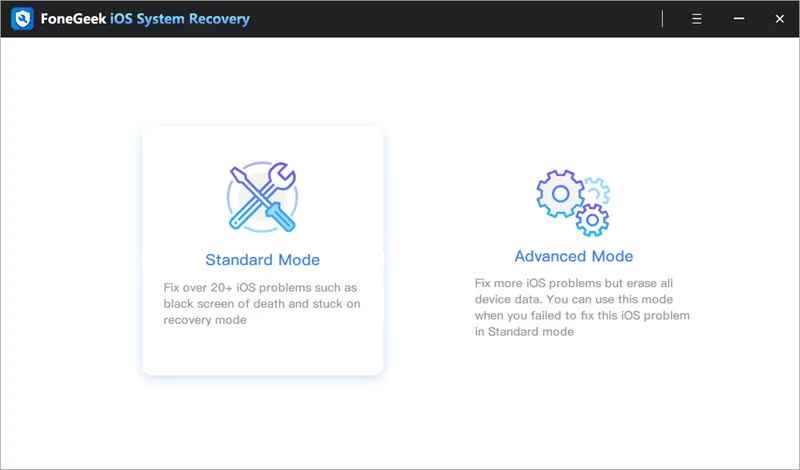 FoneGeek iOS System Recovery Features
Fix iTunes Errors
Aside from repairing iPhone, iPad, iPod Touch, or Apple TV issues, FoneGeek iOS System Recovery is also capable of repairing errors associated with iTunes. While iTunes is designed to repair certain issues concerning iOS system issues, it's not completely safe from faults.
Over 200 iTunes errors can be fixed using FoneGeek Recovery. Among such issues are failure to connect with your device, restore errors, etc. The iOS recovery software is able to fix multiple iTunes issues due to its Smartscan feature. Also, it's capable of scanning many areas of iTunes for errors simultaneously especially those during an iTunes update. This feature enables iTunes error identification and repair in no time.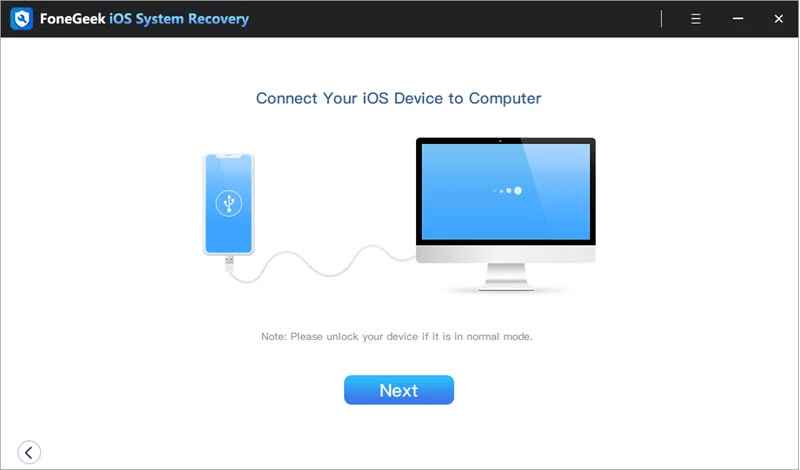 Upgrade and Downgrade iOS
People prefer different iOS versions for various reasons. Some even like a sneak peek of the most recent iOS beta version. Whether you want to downgrade to an older version or upgrade to the latest version, use the Upgrade/Downgrade iOS feature. It's smooth and simple without having to break a sweat.
Also, the exclusive technology on FoneGeek Recovery enables users to upgrade or downgrade their device's iOS version and keep them in the FoneGeek resource library. Thus, you can conveniently choose any preferred iOS version and install it whenever possible.
FoneGeek iOS System Recovery Support
The company has responsive and helpful customer support. The unit is dedicated to helping FoneGeek users answer any questions they might have. Also, you can contact support via many channels, including email, phone, or their website.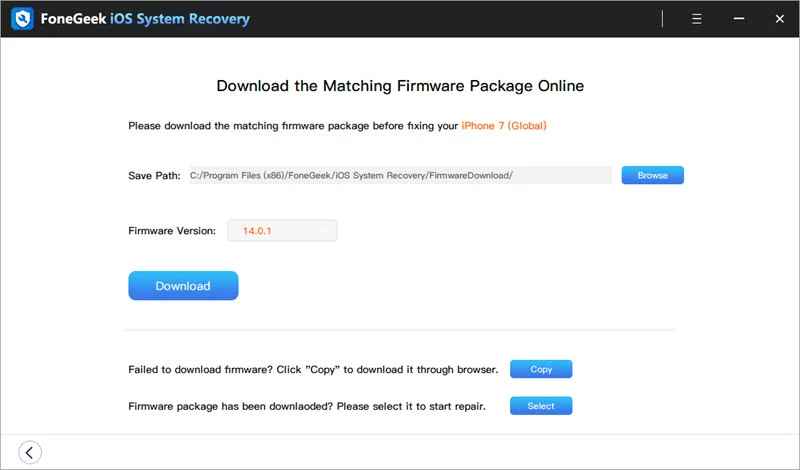 Additionally, there is an extensive FAQ page on FoneGeek. From there, you'll find answers to technical questions. The page is built from commonly asked questions by previous customers.
FoneGeek iOS System Recovery: Safety
The software, developed by FoneGeek, is completely safe and secure for users. The brand is popular for developing software solutions for iOS devices. Feel free to reach out to the support team if you ever face any difficulties using their product. They are always available and glad to assist. 
Benefits of FoneGeek iOS System Recovery
No need for technical know-how to fix iOS-powdered devices.
Easy to use.
Compatible with multiple Apple devices, including iPhone, iPad, iPod Touch, and Apple TV. Also, it's accessible on Windows and Mac PC.
Users get to choose from three plans – all available at pocket-friendly prices.
A lifetime plan is available, offering great value for the money.
Availability of other multiple functions, including accessing iPhone's recovery state, upgrading/downgrading iOS, resetting iPhone device, and repairing iTunes errors.
Simple stages for system repair allow users to choose from options. No need to lose data over a simple fix.
Availability of free version.
A 60-day money-back guarantee is available.
Conclusion
FoneGeek iOS Recovery works as a smooth and easy-to-use iPhone and Android repair software. Rather than losing your device to a simple error that can be fixed in no time, get it installed and regain your device smartly. Simply follow the instructions on repair to complete the process. Before long, you'll be able to comfortably fix your iPhone, iPod Touch, iPad, Apple TV, and even Android issues. If you ever need help, get across to FoneGeek iOS System Recovery.
Was this article helpful?