What is?
FootyBite – Watch All Your Favorite Football Matches Online
Stay updated and watch all the football matches around the world with FootyBite.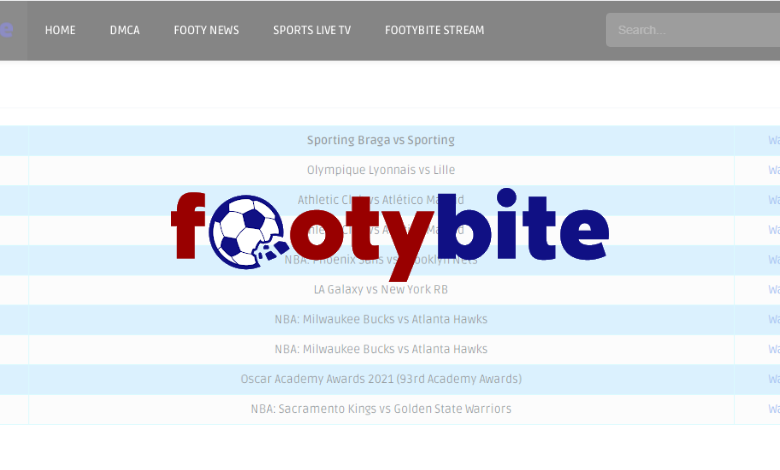 There are various streaming sites to watch free movies and TV shows. But only a few streaming sites feature sports and related stuff. If you are an ardent football fan and don't want to pay for any streaming service providers, FootyBite will be your go-to option. It is an ideal platform if you are looking for match updates, previews, post-match reactions, transfer scoops, and other updates. There are several sites that stream football matches, but FootyBite standout with its dual functionality. It has got unique features and different contents.
Is FootyBite Legal to Stream?
Sports streaming is one of the biggest businesses in the streaming industry. It has got a huge audience all around the world. Especially, Football is the most-watched sport in the entire world. To stream those leagues, the streaming service needs to pay a certain amount for the license. But FootyBite fetches the streaming links from elsewhere and uploads them on their site without a proper license, known as piracy. It is completely illegal in most countries.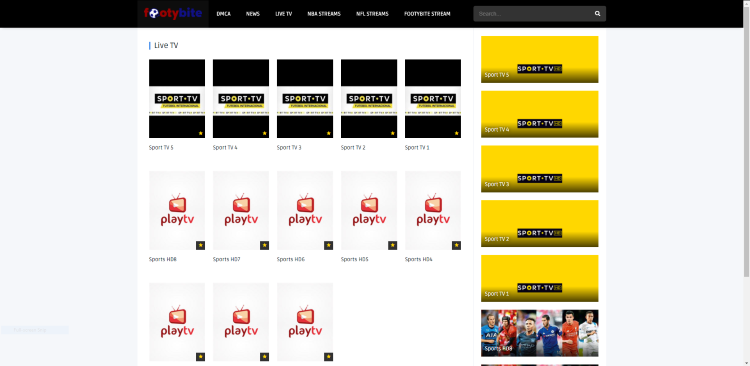 Why Do You Need a VPN for FootyBite?
It is important to use a VPN while streaming from sites that aren't legal. Because it will encrypt your internet traffic and make sure that you are using the IP address of the VPN Server. So that you will be staying anonymous on the internet, which makes it hard for the trackers to trace your activities. Moreover, it will also help you to bypass geo-restrictions. Along with VPN, it is also advised to use anti-viral software and an ad-blocker to prevent your device from any virus or malware and from annoying ads.
Here are the few VPNs that you can try:
Features of FootyBite
It is one of the leading football platforms that provides news, live score, stats, and various other information.
The site offers various streaming links to watch live matches.
It covers all football leagues around the world.
The site covers leagues like EPL, La Liga, Serie A. MLS, K League, etc.
It has a great design that makes it easy to use and navigate.
You have also Live Twitter Access to know what is running around the world of football.
It features quick streaming links and also has real-time updates.
Contents Offered
Leagues
Top Team Clubs
The following are the leagues featured on this website:

1. Premier League
2. La Liga
3. Serie A
4. Bundesliga
5. Champions League
6. MLS
7. UEFA Champions League
8. Brazil's Serie A
9. Japan's J-2 League
10. Colombia's Primera A
The following are the various top clubs on this website:

1. Arsenal
2. Chelsea
3. Manchester United
4. Liverpool, Tottenham
5. Manchester City
6. Barcelona
7. Real Madrid
8. Bayern Munich
9. Borussia Dortmund
10. Juventus
How to Watch FootyBite?
1. Launch a web browser on your smartphone, computer, streaming device, or TV.
2. Visit the official site of FootyBite.
3. Select the Football match that you want to stream.
4. Tap the Live Stream button and watch the match without any interruption.
5. By default, the website operated in dark mode. Click the Dark Theme icon to get the light mode.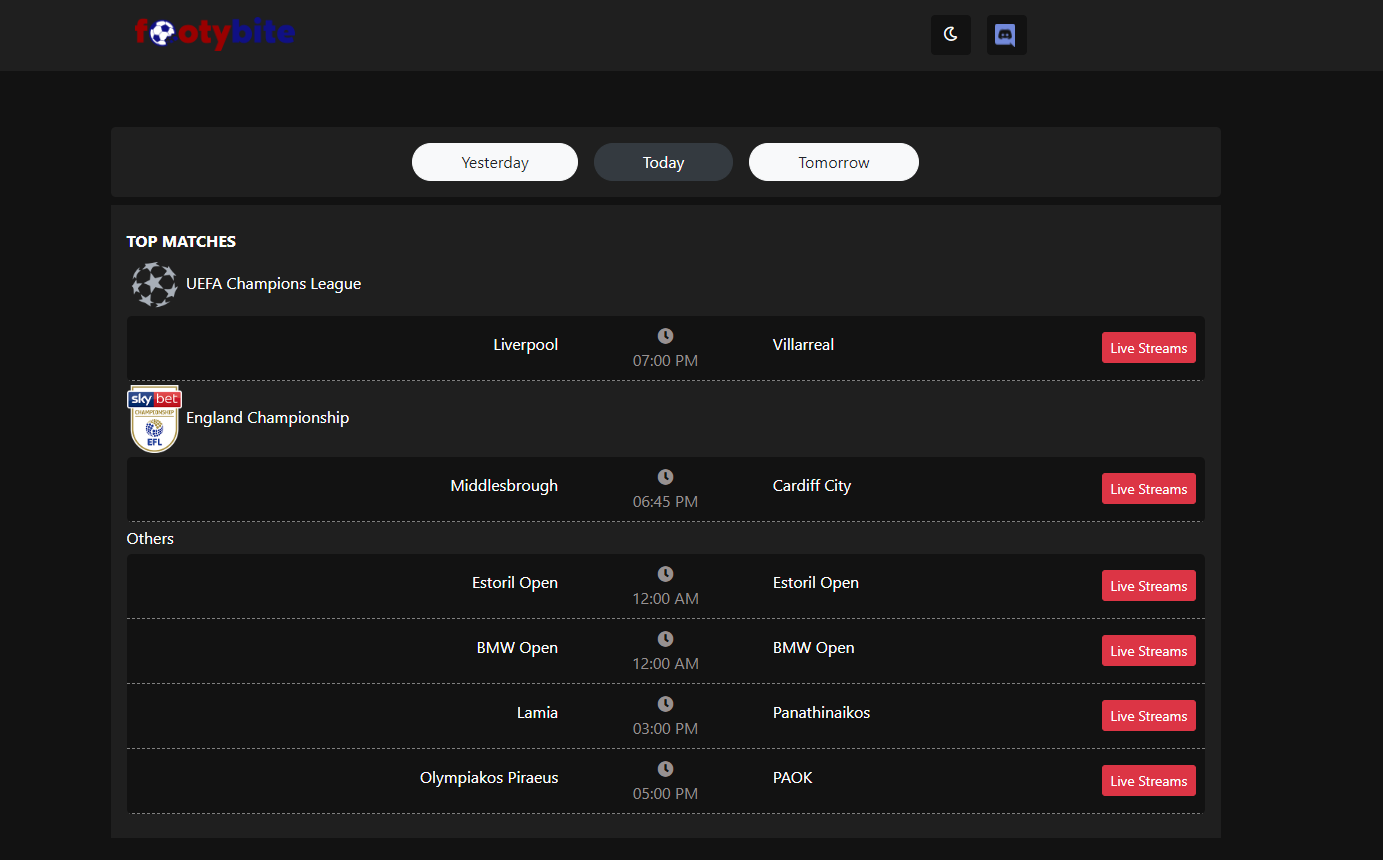 6. Clicking on the Discord icon will redirect you to their Discord Server, TOTALSPORTEK. On the Discord page, you will get links and updates for the upcoming Football matches.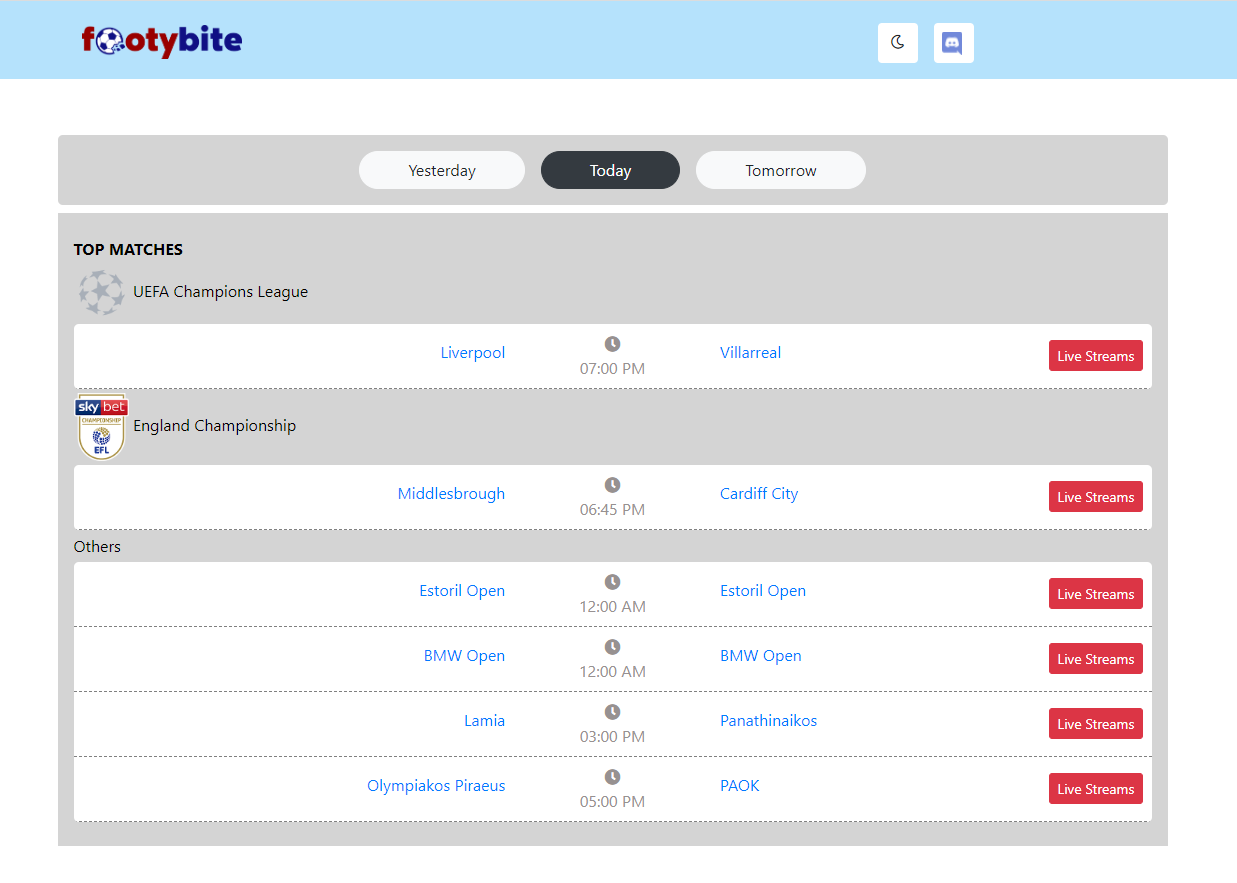 7. On the bottom of the webpage, you will get buttons for various sports events like Formula One, NFLbite, NBAbite, Tennis Streams, and more.
The site works well with both mobile and desktop. You can even stream HD quality videos.
Pros
The site has got a great design making it easy to use and access the games.
It features an expansive football coverage of major leagues.
You can get all the latest news and updates.
It also comes with live Twitter feed integration.
Cons
There are plenty of ads and lots of misleading clicks for inner pages.
The third-party link features are very unpredictable.
Of course, the site isn't a legal option to stream your favorite sport.
Alternatives
123TVNow
TV Tap Pro
LiveNet TV
Red Box
Kraken
There are various sports streaming sites available to stream Football. But FootyBite is a dedicated platform to stream your favorite leagues of football. It stands out with its great features and excellent design. Make sure to use a VPN and ad-blocker to safeguard your security. Do let us know your opinions in the comment section below. Follow our Facebook and Twitter pages to read our articles instantly.
FAQs
1. is FootyBite gone?
No, FootbyBite is working perfectly. IF there are no live matches available at the moment, you won't see any streaming buttons.
2. is FootyBite good?
When you consider the number of the content offered and the video quality, FootyBite is definitely worth the watch.