With GoGoAnime, you can watch high-quality videos of subbed and dubbed Anime movies. The main attraction to this service is that it is absolutely free and doesn't need any registration. Anime movies and shows are kinds of stress buster preferred by many around the world. Those types of movies and shows are growing in popularity day by day. There are lots and lots of streaming services dedicated themselves to stream anime. But still, GoGoAinme stands out among all.
Is GoGoAnime Legal?
The website allows the users to download the anime without the owner's permission, which makes it illegal and raises copyright issues. It does have pirated content. In such cases, the app becomes illegal and unsafe to use. In terms of viruses or malware, it is absolutely safe to use. GoGoAnime is definitely safe until or unless you click any unwanted ads. But clicking ads can bring various harms, including viruses, to your device. So make sure that you don't access any ads.
Use VPN When Stream GoGoAnime
As said, the contents on the site aren't legal and available for download without the owner's permission. They are called copyrighted content and they will bring legal issues. To ensure that your device is safe and to stay away from all issues, you may need a VPN. VPN will hide the device identity and IP address so that the user will stay anonymous. It will prevent the ISPs, Government, or any other third-party sources from tracking the device. Moreover, it will also prevent hackers from tracking your activities. So make sure to use a VPN while streaming content from such sites.
Features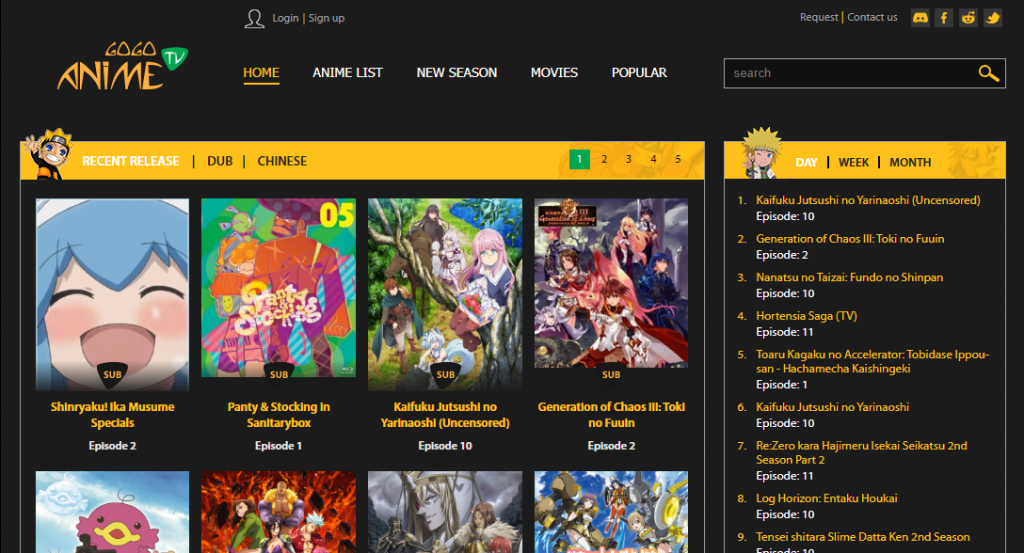 GoGoAnime features various types of anime under a plethora of categories. The categories include action, drama, kids, fantasy, horror, mystery, police, romance, school, comedy, adventure, music, and game.
The developers will constantly update new movies and TV shows every day.
Most animes are dubbed in various languages. Moreover, you can get English subtitles for all anime.
The service also features New Releases, New Seasons, Watchlist, and Scheduled Lists.
You can purchase and download various movies and series to watch.
By paying a subscription fee, you can be able to watch various series.
You can sign up and log in to the GoGoAnime site to keep track of your content.
Price
As said earlier, the GoGoAnime is completely free, and you can even find various movies and TV shows for free. There is neither a subscription fee nor registration required to stream and download the contents.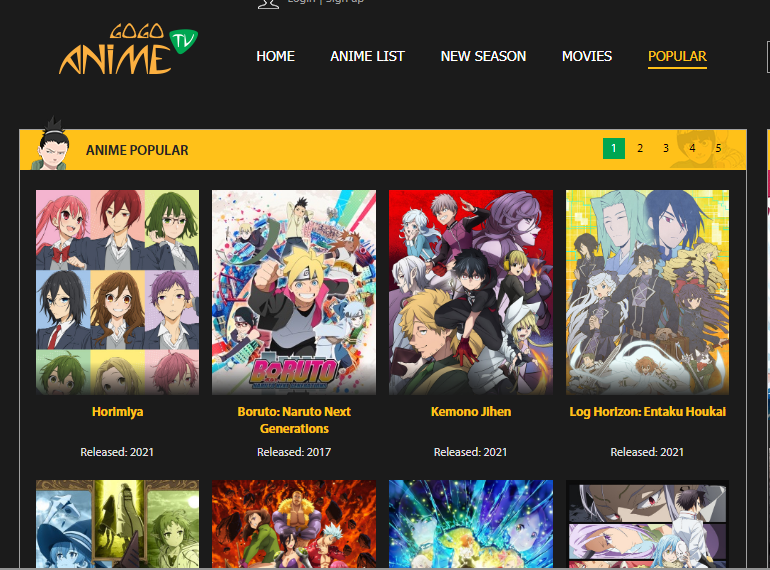 Website Design
The webpage the black & yellow color codes, which suit well in both the low-light and bright conditions. On the homepage, you have the Recent Releases anime collections. On the Header section, you have buttons for Home, Anime List, New Season, Movies, Popular, KissAnime, and 9Anime. Then, you have the Search bar to search for specific video titles.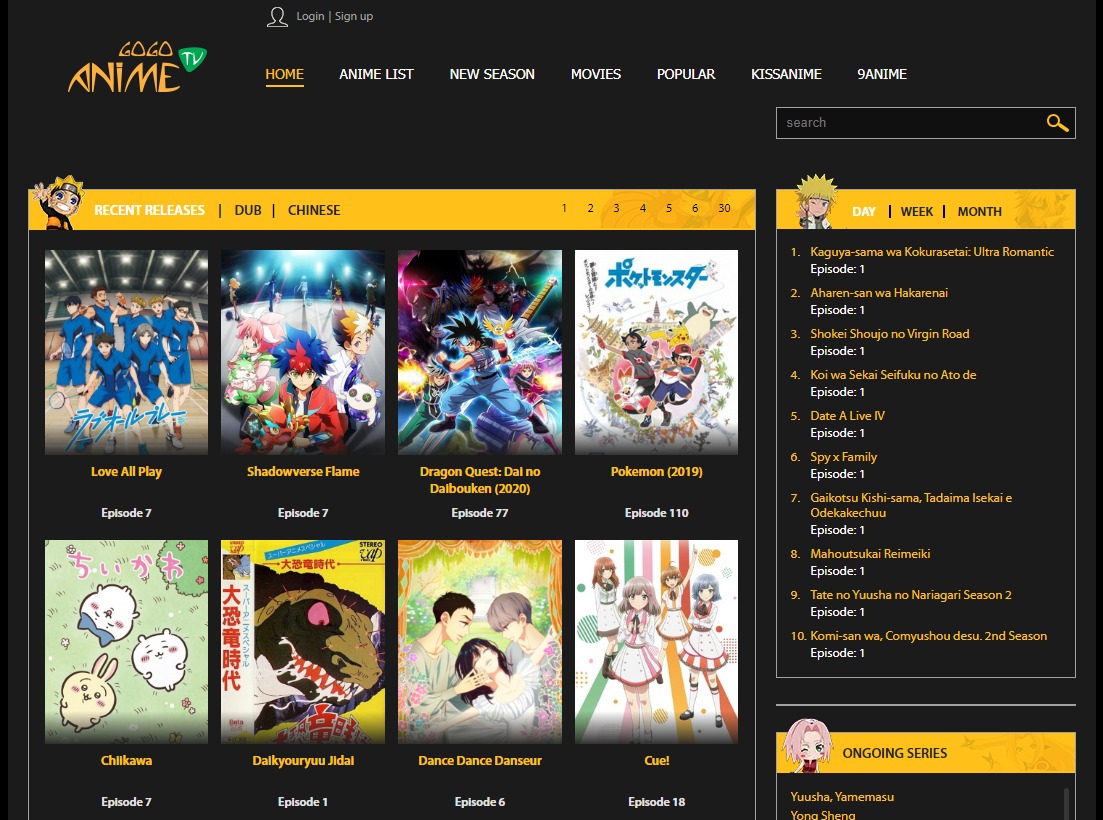 On the right side, you have the trending anime shows filtered by Day, Week, and Month. Right below the trending section, you have the Ongoing anime collections. Then, you have sections for Genres, Seasons, Recently Added Series, and Ongoing Series.
To play the anime content, you have to click the video title. You will get the playback screen. Tap the Play button to play the anime videos.
Playback Screen
In the playback screen of GoGoAnime, you have the Servers button on the top-right of the screen. If any of the servers are not working, you can change it with ease. All the necessary playback controls like Play/Pause button, 10-sec Forward button, Volume control, Timestamp, 10-sec Rewind, Download button, Settings button, PiP button, and the Full-Screen toggle.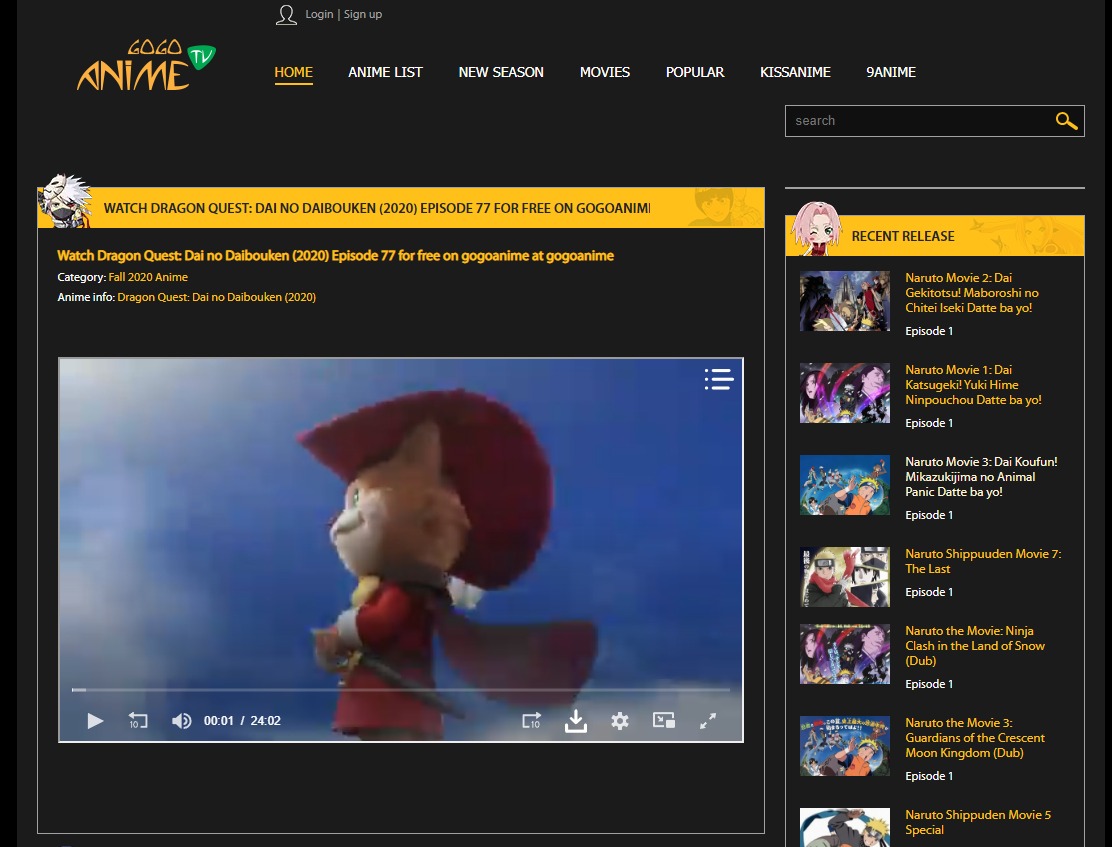 Clicking the Download button will direct you to the Downloads pages, where you can choose the video quality and server link. The Subtitles button is the major missing.
How to Watch GoGoAnime Videos
There is no official GoGoAnime app to stream the videos. Still, you can stream the videos as long you have a web browser on your device. Be aware of the applications that are circulating on the internet as the official GoGoAnime app.
You can stream GoGoAnime videos on devices supporting popular and reliable web browsers like Chrome, Firefox, and many more. Just visit the GoGoAnime official site to watch the Anime videos that you want. If you have a streaming device like Chromecast or Amazon Firestick, you can cast the anime videos to watch on the TV screen.
How to Download Videos from GoGoAnime
You can easily download Anime videos and movies from GoGoAnime to stream in offline mode.
1) Visit the GoGoAnime official site from any web browser for Windows PCs.
2) Select the title of the movies or series and the episode that you want to download.
3) Right-click on the Download button that you can see on the media player.
4) Select the Save link as button and choose your download location to save the video.
Alternatives for GoGoAnime
Funimation
Animefreak
Chia-Anime
MyAnimeList
Pros
GoGoAnime is free and also fast while comparing with other sites.
The site provides excellent stability while streaming any content.
Particularly, the site has a good reputation which is maintained throughout.
The service offers terms of trustworthiness, child safety, and privacy for the user.
Offers offline download.
Cons
Though this app service is free, it is not so legitimate.
There are legal issues and risks with streaming on this app or site.
Many titles are available without the owner's knowledge and may cause copyright infringements.
No subtitles.
Apart from being free, GoGoAnime runs smoothly without any stammering. The site stability has been appreciated much more so that the users can enjoy hassle-free Anime streaming. Ensure to use a VPN and stay anonymous to protect your identity while streaming. If you have tried this service before, mention your feedback in the comments section.
FAQs
1. Is there a GoGoAnime APK available for download?
No, there is no APK file available for GoGoAnime to download on Android or iOS. Only the web version is available.
2. What happened to GoGoAnime?
GoGoAnime was not working for a few days. Their old URL is not working now. All the anime content is now shifted to a new URL.
Was this article helpful?