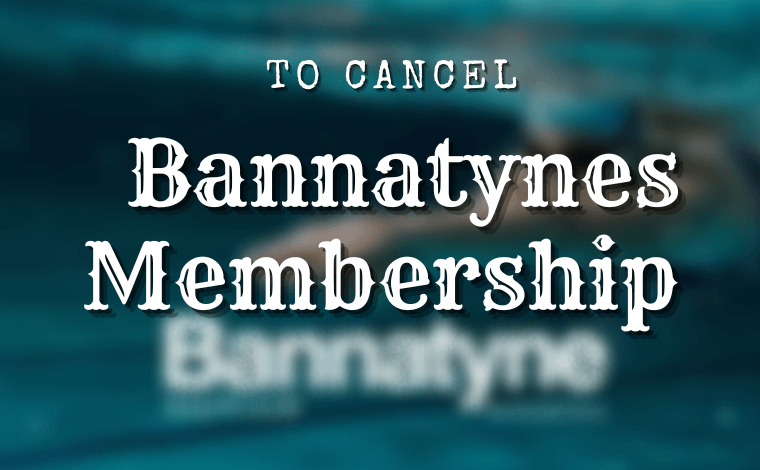 Key Highlights
You can't cancel the Bannatyne Membership via any online medium.
You need to fill out the Bannatyne Cancellation form and submit it to the gym to cancel your membership.
Gym memberships are some of the most notorious things that we pay on a monthly or yearly basis. Over a period of time, we might lose interest or catch up with some other important things. If you are one of us and want to cancel the recurring Bannatyne gym membership, here is your guide for you. The most annoying thing about Bannatynes gym membership is that they are not offering any online services. You have to cancel the membership in an old-school way.
Things to Consider Before Cancelling the Bannatyne Membership
If you are ready to cancel the Bannatyne membership, you have two other options to consider. You can freeze your membership or transfer your membership to another person.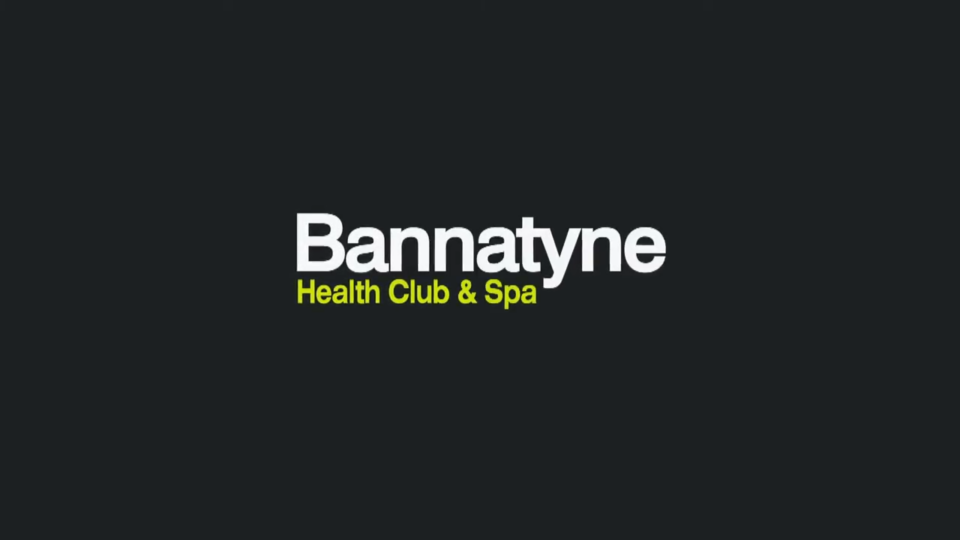 Freeze Bannatyne Membership
If you don't want to cancel the membership permanently, you can freeze it from one month to six months. For that, you will be charged $10 per month. The freeze request will take at least 10 days to take effect. So, we suggest you make a freeze request on the 18th or 19th date of the month. So that you can freeze your account from the next month. If not, you need to pay for the next month and it will be frozen from the second month.
If you want to end your freeze early, you need to contact the gym center. And, if your Bannatyne account is on freeze, you can't renew or cancel the membership.
Transfer Your Membership
If you have a friend or colleague who is willing to take your membership, you both can approach the gym center and transfer your membership. The other person must be 18+, not a previous member, and not a current member. You will be charged a certain amount (one-time fee) for the transfer.
Steps to Cancel Bannatyne Gym Membership
If you wish to cancel your Bannatynes membership, the best way to do is to contact your local Bannatyne gym or the central membership team directly. You can cancel your Bannatyne membership in the same way as you cancel your La membership.
#1. Contact the Bannatyne membership team via phone, email, or in person. We suggest you go in person so that all your doubts will be clarified.
Phone: 0344 477 4777
Email: [email protected].
#2. Complete the cancellation form. You can get the form here. Enter all the details without any spelling mistakes.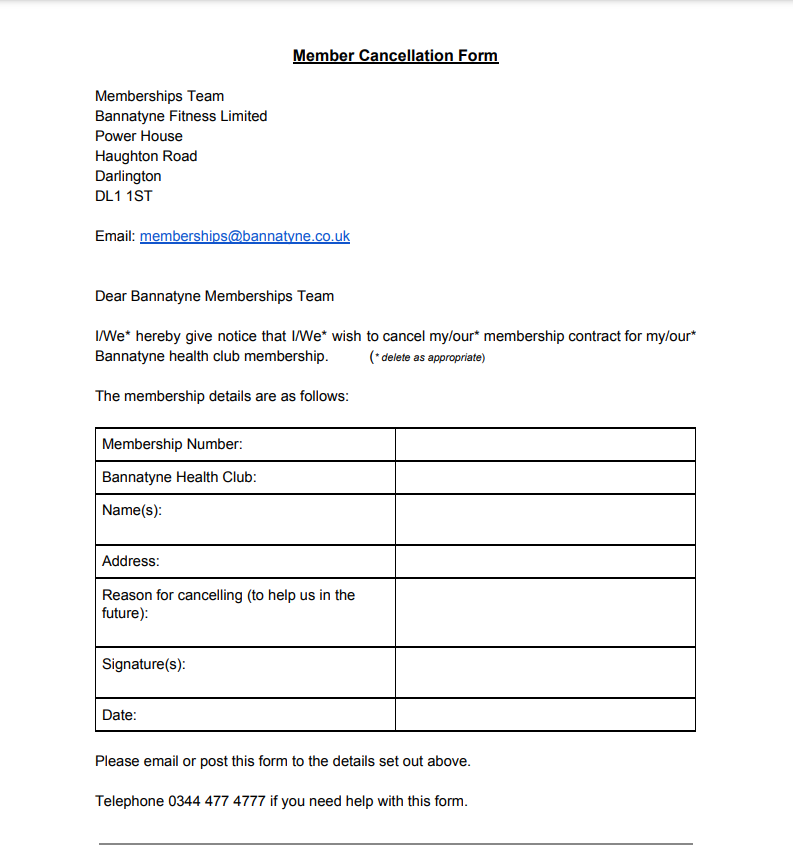 #3. Provide written notice of your intention to cancel your membership. You need to provide a 30-day notice period to cancel your membership.
#4. Once your membership has been canceled, return your membership card to the gym.
#5. After canceling your membership, check your account to ensure that any future payments have been stopped or not.
Before canceling the membership, read all the terms and conditions in the membership form. If you haven't completed the minimum term agreement, you can't cancel the subscription. There are some exceptions, like injury and employment issues. For the best case, visit the nearby gym center and enquire about the cancellation.
Bannatyne Membership Plans and Pricing
If you are willing to rejoin the membership, you can have a look at the membership plans available in Bannatyne.
Full Prices (Anytime With Open Hours)
| Plans | Pricing |
| --- | --- |
| Single Direct Debit | €25.00 – €49.45 |
| Full Single Prepaid | €25.00 – €539.99 |
Off-Peak Prices (Weekdays: 6:30 am-4:00 pm)
| Plans | Pricing |
| --- | --- |
| Off-Peak Single Direct Debit | €25.00 – €44.00 |
| Off-Peak Single Prepaid | €25.00 – €475.99 |
Day Pass Price
| Plans | Pricing |
| --- | --- |
| Day Pass Full | From €15.99 |
The membership price may vary based on the location.
Benefits of Bannatyne Gym Membership
Bannatyne's is a health and fitness club that offers a range of membership benefits,
Access to all gym equipment, including cardio machines, weight machines, and free weights.
Guidelines from world-class trainers.
Free fitness and diet plans for all members.
Free weekly health workshops for all age groups.
Relaxing spa services on site.
Family-friends facilities that cater to children, including a soft play area and swimming lessons for children.
Tip: If you are a member of Blink Fitness, here is our guide on how to Cancel Blink Fitness Membership in four different ways.
FAQ
1. How much is Bannatyne NHS discount?
They offer a 50% discount on the first SPA treatment.
2. Can I bring a friend or family member to Bannatyne?
Yes, you can bring 4 guests at a time. For that, you need to pay a one-time guest fee at the center.
Was this article helpful?