How To
How to Cancel LinkedIn Premium Subscription Easily
If you are not using LinkedIn Premium, then cancel it before the next billing date.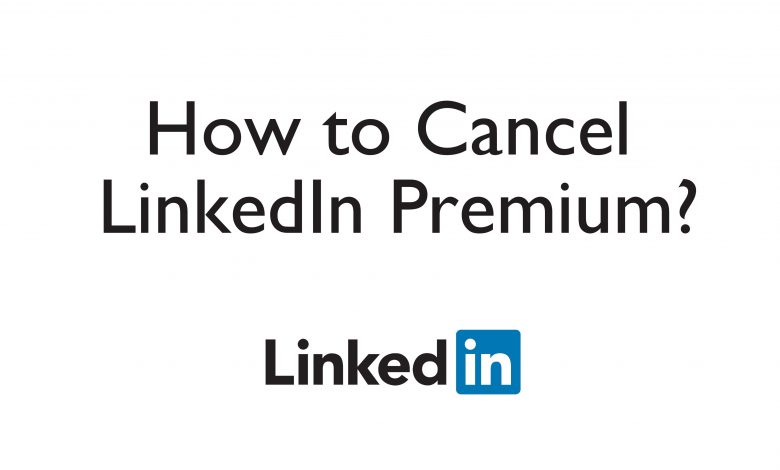 LinkedIn is one of the largest social networking site primarily designed for Professional purpose. You can create a professional account on LinkedIn and connect with people on your area of expertise. With LinkedIn, you can communicate with professionals to improve your career as well. It helps entrepreneurs to improve their business reputation as well. LinkedIn is available both as a free and a premium as well. If you are using a premium version and wondering on how to cancel LinkedIn Premium subscription, then you are at the right place. You can easily cancel the subscription before renewing it.
Things to Remember
LinkedIn allows you to cancel your subscription whenever you want.
Cancellation should be done before the end of the current subscription period.
Moreover, it doesn't affect your ongoing subscription. You can access it until the last day of subscription.
Once your LinkedIn Subscription is cancelled, all your data and information will exist forever.
If you cancel the LinkedIn subscription during the trial period, you will not be able to access the free trial for at least one year.
How to Cancel LinkedIn Premium?
LinkedIn allows users to cancel their subscription using the web portal only. If you use any third-party apps like iTunes, then you can cancel it using iTunes. Else you have to use a browser to cancel the LinkedIn Premium which cannot be done using the app.
(1) Open a browser on your computer or smartphone and go to LinkedIn official site.
(2) Login with your Linkedin account.
(3) Click on the "Me icon" at the top right of the screen.

(4) Click on the "Settings and Privacy" option.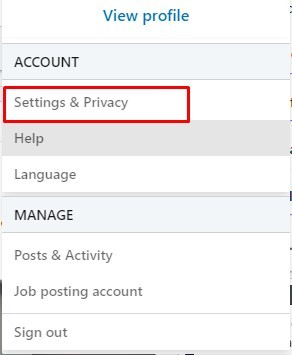 (5) Under Settings and Privacy page, click on the "Accounts" tab.

(6) Choose "Subscription and Payments" under Accounts Tab.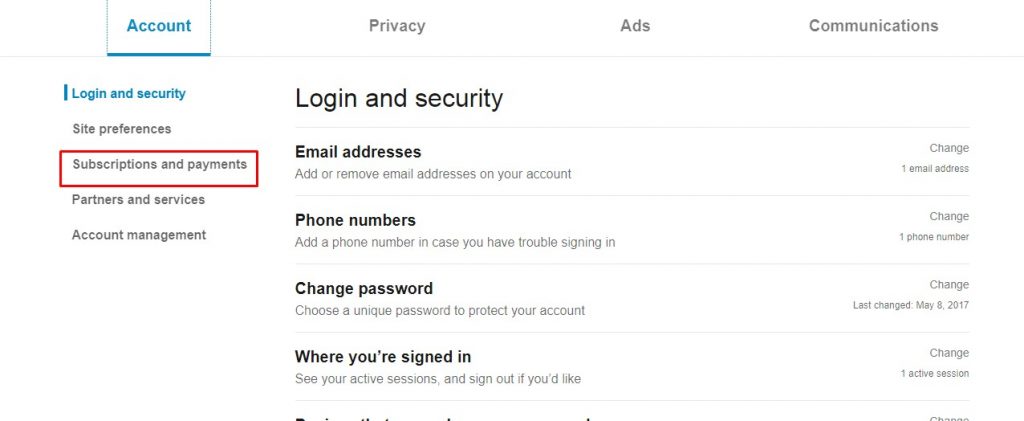 (7) Click on "Manage Premium Account" under Subscription and Payments option.
(8) Now click Cancel Subscription option under Manage Premium account section.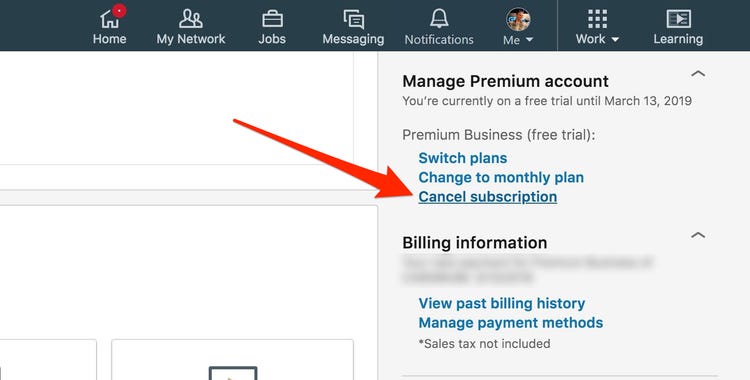 (9) Click on the Continue to Cancel option.
(10) Select the reason for cancelling your subscription and then click Confirm Cancellation.
How to Cancel LinkedIn Premium on iPhone?
As mentioned earlier, there is no option to cancel LinkedIn Premium on the mobile app. But if you have purchased the premium account using iTunes, then you can cancel it using iPhone.
(1) Open the Settings on your iPhone.
(2) Click on the "iTunes & App Store" option.
(3) Now tap on your Apple ID.
(4) Choose View Apple ID from the prompt and enter your Apple ID passcode to proceed.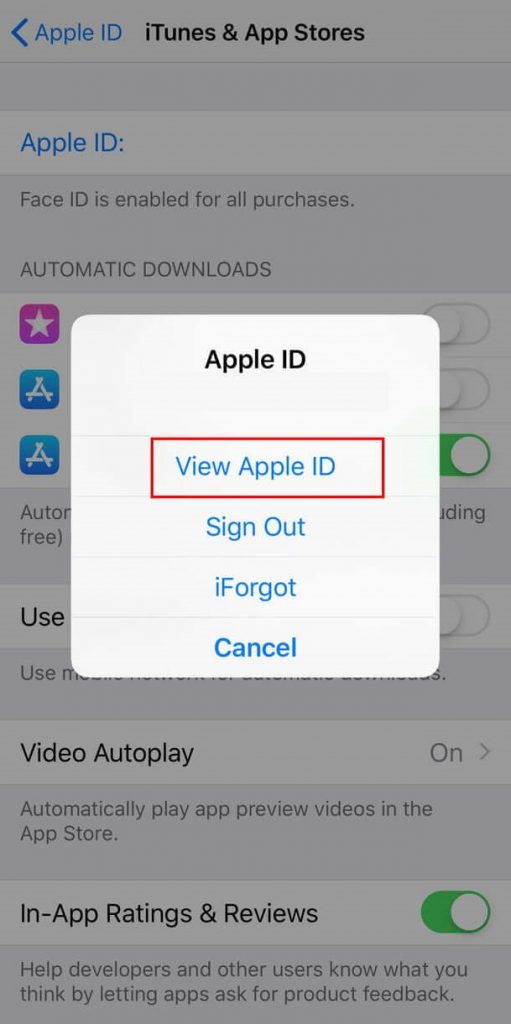 (5) It will take you to the Account Settings page. Scroll down and select Subscription.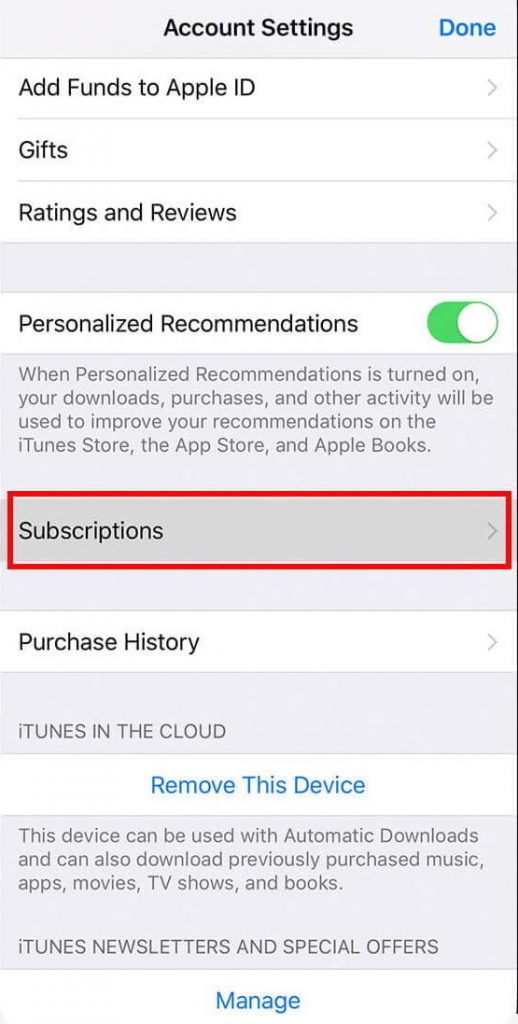 (6) Click on the LinkedIn subscription from the list.
(7) Finally, tap on "Cancel Subscription" under the manage your subscription section.
With the above steps, you can cancel any subscription on your iPhone.
How to Cancel LinkedIn Premium using iTunes on Windows/Mac?
(1) Launch the iTunes app on your Windows or Mac.
(2) Make sure it is signed in with your Apple ID which is subscribed to LinkedIn premium.
(3) Click on the Account option at the top of the screen.
(4) Choose View My Account option and enter your Apple ID Password (if required).
(5) After that select Settings option.
(6) Select the Manage option on the the right of Subscriptions.
(7) Here select your LinkedIn subscription and click Edit option.
(8) Under the Edit section, click Cancel Subscription at the bottom of the screen.
(9) Finally click Confirm to proceed cancellation.
With the above methods, you can cancel LinkedIn Premium subscription. If you have any queries or feedback, tell us in the comment section below. We are available on Twitter and Facebook. Stay connected for more updates.