Nowadays, changing usernames is a common thing on social media, including Twitch. While signing up for Twitch, you may end up using some odd name or awkward username. Earlier, you have to delete the existing Twitch account and create a new account for changing your username. By doing this, you will lose all the followers who've subscribed to your Twitch channel. Later, the Twitch has released the support to change the username without deleting your channel. If you're wondered how to change your username on Twitch, here is the guide to show you in detail.
Things to consider
Here are some things that you need to consider while changing your username:
You should have a verified email id with your Twitch account.
Update your new URL with your friends or followers. The old URL will not redirect to your new username.
You can't change your username while broadcasting.
Changing the username will affect the ad revenue on that day.
The old username will not be available anymore.
Steps to Change Twitch Username
Users can change their Twitch username only on the web version. They can't find the option to change their name on the app installed on an Android or iOS device.
Note: By changing username, the URL of your Twitch channel will be changed automatically.
(1) Launch a browser (recommended: Chrome) and visit twitch.tv.
(2) Tap Log In and sign in to your account.
(3) Tap the profile icon on the top right corner and click Settings.

(4) Scroll down to the profile settings section and click the pencil icon located next to your Username.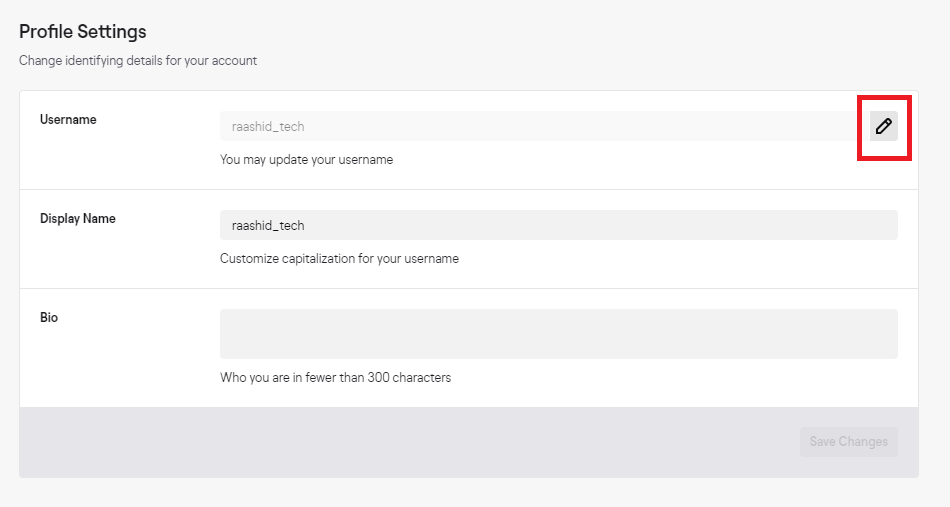 (5) Enter your new username and click Update.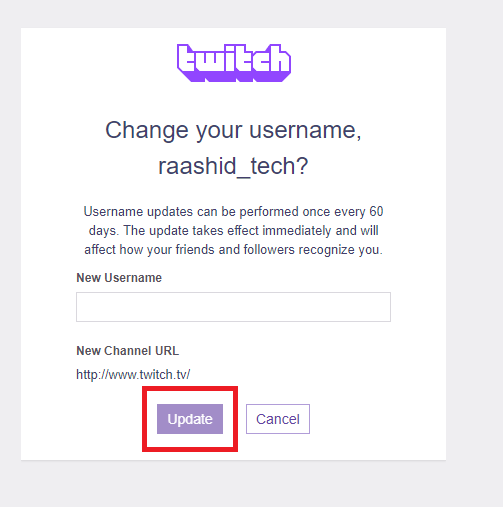 (6) Enter your account password and tap Confirm.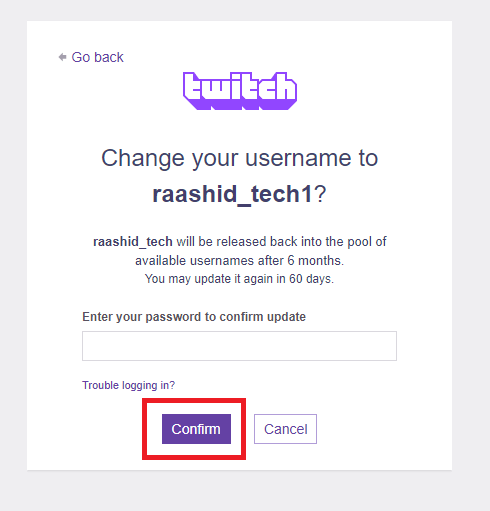 (7) That's it. You have changed the username and channel URL of your account. A confirmation message will appear on the screen.
Techowns Tip: How to Cancel Twitch Premium Subscription?
Twitch doesn't supports changing usernames too often. Once you changed it, you can't make changes for the next 60 days. So take your time and pick the correct username.
Find difficulty in changing your username? Use the comments section to mention it. For more articles related to Twitch, follow our Twitter and Facebook profiles.
Was this article helpful?