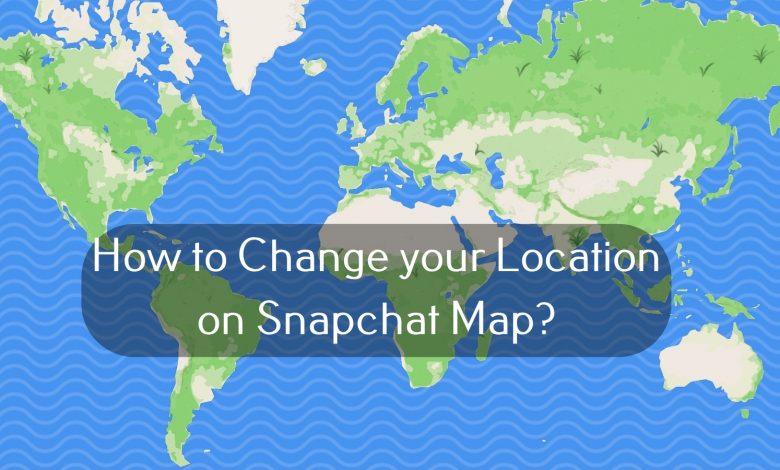 Snapchat is quite a tricky multimedia messaging app to use. It is all about capturing and sharing your fun moments as snaps. Snapchat opens right to the camera. So, you can tap to capture a photo or hold to record videos to send it to anyone on Snapchat. You can add filters, lenses, and fun effects to express yourself. Besides chat features, Snapchat includes a unique feature called Snap Map. You may go to the Camera screen and pull down to open Snap Map. From there you shall view Snaps that are submitted from across the world like sports, events, news, and more. With Snap Map, you and your friends to share your location to see what's happening around the world. Since it is a one-time setup feature, you cannot disable it anytime. However, you can hide or change the location settings preference. Read the section below to know more about how to change your location on Snapchat Map.
Does Snapchat Map Allows Changing Location?
No. By default, you cannot change the location in the Snapchat Map. It doesn't allow you to change your location. Snapchat is designed in such a way that it lets you share your location when Snapchat is open. So, it won't update in the background. This location will expire after hours of existing the Snapchat app.
How to Change (Update) your Location on Snapchat Map?
Although you cannot change the location on Snap Map, you can still change Snap Map location settings. Get int to update location settings on Snapchat Map, then follow the section below.
(1) On the Map screen, tap on the Gear or Settings icon.
(2) Choose the Location settings preference.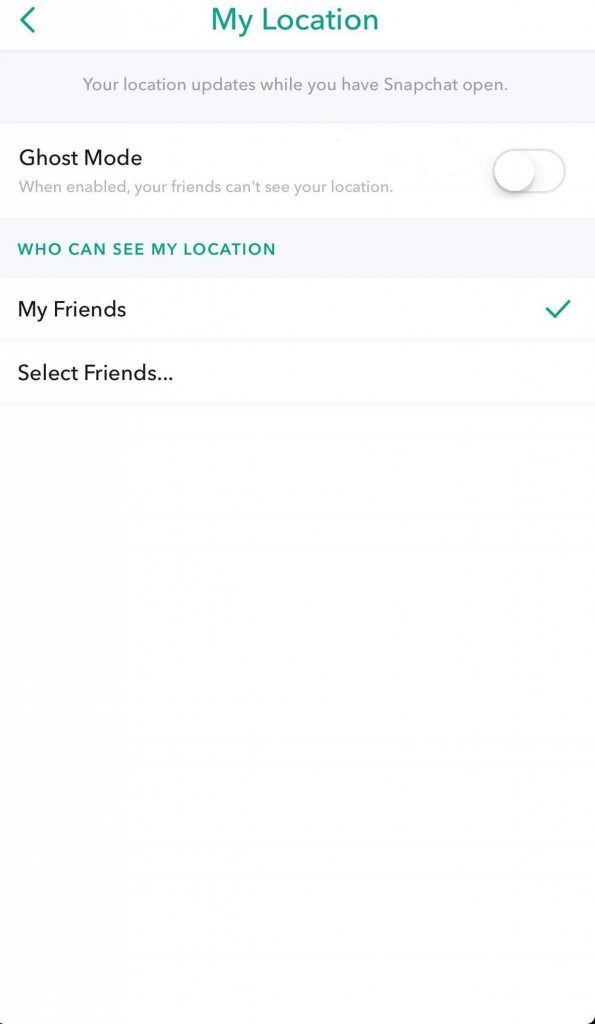 Note: If you have chosen Ghost mode, then select the duration between 3 hours, 24 hours, and Until Turned Off.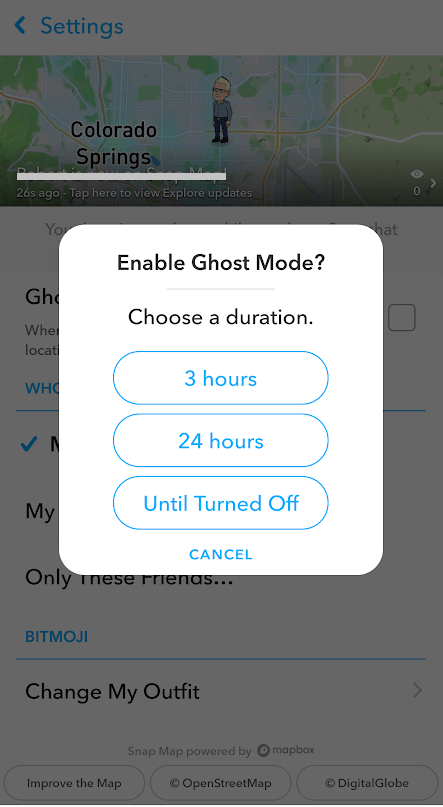 Important! Remember this doesn't work if you have chosen to share a story using Our Story feature on Snapchat. By default, this will let anyone view the story irrespective of the location setting you have chosen.
Alternative Way!
If you don't want to go with Ghost mode, then just turn off the location sharing.
(1) On Snapchat, go to Camera.
(2) Tap on the Search icon (magnifying glass)
(3) Select Map.
(4) Just use your fingers to pinch and pull to zoom in and out.
Know the Location Settings
Snap Map by default has four default location settings. You can choose between them to thereby decide who you can share your location.
Ghost Mode (Only Me)
Turning on or choosing a duration will hide your location visibility to anyone on the SnapMap. Enabling it will make your Bitmoji hold a blue sign with a ghost icon. In simple words, Ghost Mode will not show up your location to anyone on the Map.
My Friends
Choosing this option will show your location to all your friends. This will automatically show the location to those friends you add later.
My Friends, Except
This will show your location on SnapMap to your friends except those on the list.
Only These Friends
You shall share your location with specific friends alone by choosing this option on SnapMap location settings.
Techowns Tip: How to Make a Private Story on Snapchat?
Our Opinion
That was the easiest option to change location settings on Snapchat Map. Although you can try spool proof way, we don't recommend it as it might go against the Snapchat security and privacy. So, you shall either change the location settings or just turn it off.
Is this section informative and provided the necessary details? Let's hear it out as comments. For more useful article updates, follow us on Facebook and Twitter.
Was this article helpful?