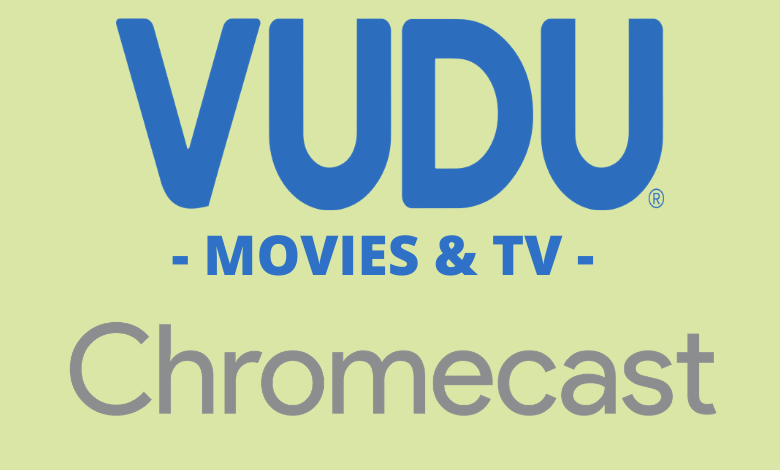 Vudu is a streaming app that allows you to buy, rent or watch movies and TV shows. You can watch more than 10000+ movies and TV shows anywhere and any time. Vudu app gives you the option of downloading your favorite movies or TV shows for offline streaming. The downloaded movies can be watched offline without buffering. In the Vudu app, you to pay only for the movies or TV shows you want. There is no need to sign up for any membership or subscription plans. Now you can easily Chromecast Vudu to TV and watch all the available contents on a bigger screen. In this tutorial, we have listed the methods and steps to Chromecast Vudu on your TV.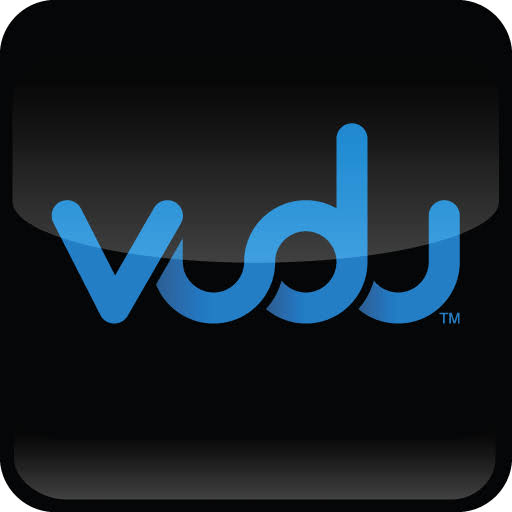 Vudu supports both mobile and website app to buy or rent the media content. Apart from this, even you can install Vudu on PlayStation, Nvidia, and Xbox.
How to Chromecast Vudu Contents to TV
You can easily Chromecast Vudu to your TV by using mobile (Android and iPhone) or the Chrome browser on PC. Here, we have mentioned the possible ways to cast the app content on your tv.
Chromecast Vudu using a smartphone
Chromecast Vudu using chrome browser on desktop
Method 1: Chromecast Vudu Using Android/iPhone
In this method, you can use either Android or iPhone to cast the Vudu app on your TV. Follow the steps mentioned below.
[1] Connect your Chromecast device to the HDMI port and make sure your Chromecast and phone are connected to the same wifi connection.
[2] Now, open the Vudu app from your phone. Select the video that you want to cast on your TV.
[3] On the top of your screen, you will see the Cast icon. Click on it.
[4] After clicking the icon, the app will display the available device names.
[5] From the suggestion list, select your Chromecast device name.
[6] Finally, play the content and watch it on your TV screen.
Method 2: Chromecast Vudu Using chrome browser on desktop
You can even use this method as an alternative one to Chromecast Vudu on your TV. The steps are mentioned below, do-follow.
[1] On your desktop, open the Chrome browser.
[2] Enter the URL: vudu.com.
[3] On the web page, right-click and select the Cast option.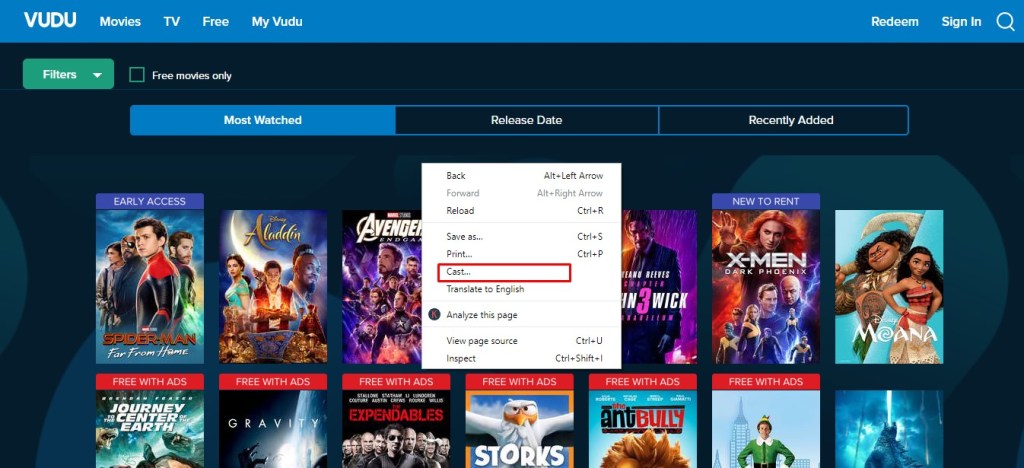 [4] The screen will display the available devices.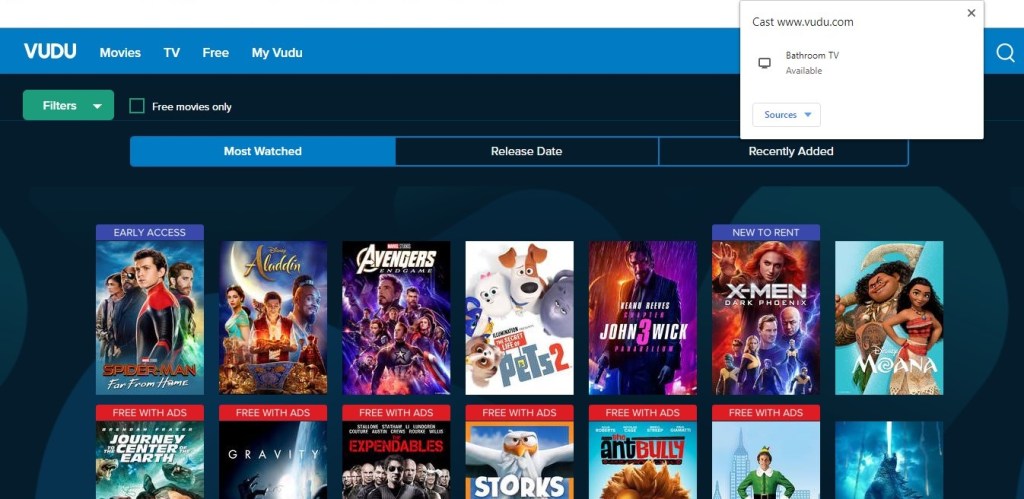 [5] Now, click the Sources button and select the Cast Tab option.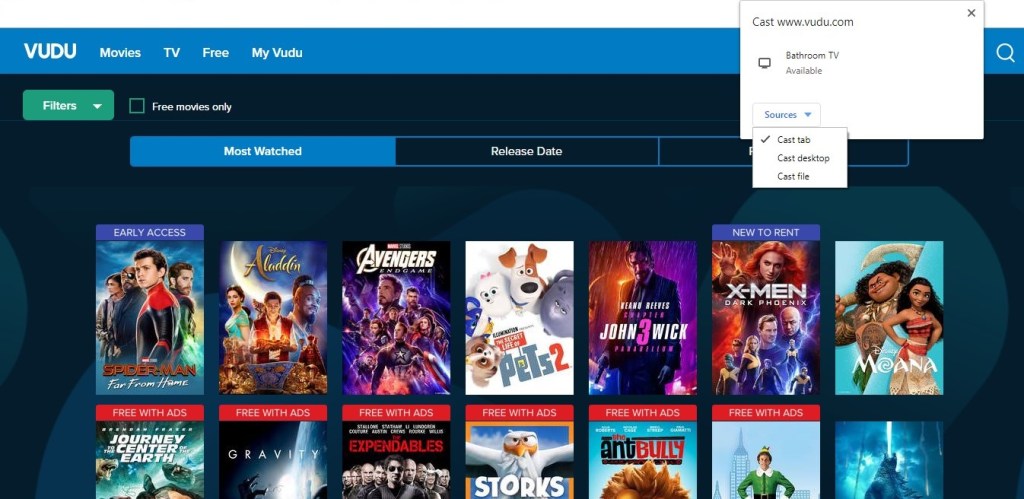 [6] Select the device name and finally play the video to watch it on your TV.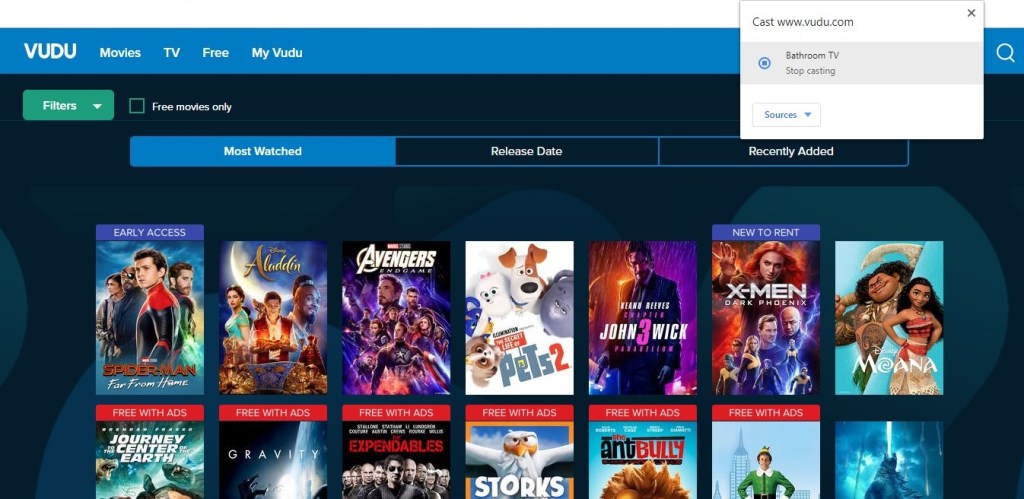 By following the method mentioned above, you can Vudu on your TV easily. You can enjoy watching all your favorite content from the app. As Vudu is loaded with unlimited content of the movie and TV shows, few of the media contents are available for free streaming.
Follow our Facebook and Twitter pages to read more tutorials related to Chromecast.
Was this article helpful?