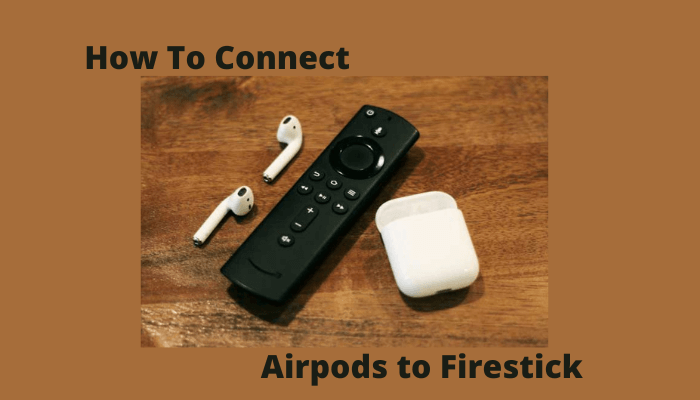 Amazon Firestick is a streaming device by which you can stream your favorite TV shows, movies, and much more. Firestick has numerous features, and you can connect with any device using the pairing method. Likewise, you can connect your Apple Airpods to Firestick by simple methods. To use AirPods with the Firestick, you need a precise volume app and your set of Airpods.
How to Connect Airpods to the Firestick
You can connect your AirPods to Firestick with the help of Firestick Settings. To reduce the volume in AirPods, you need third-party apps to be downloaded to your Firestick. For that, you can use the sideloading feature in Firestick to install apps.
How to Connect AirPods to Firestick
Connecting your AirPods to Firestick allows you to watch your favorite movies and shows in HD. Before accessing the Firestick settings, turn on your Airpods for pairing.
1. Turn on your Firestick and select Settings.
2. On the Settings page, select Remotes & Bluetooth Devices.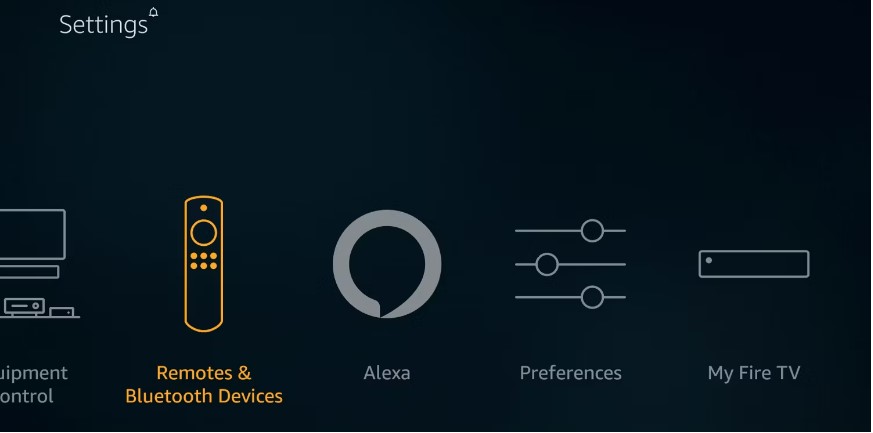 3. Select the Other Bluetooth Devices option.
4. After that, select Add Bluetooth Devices to connect your AirPod to Firestick.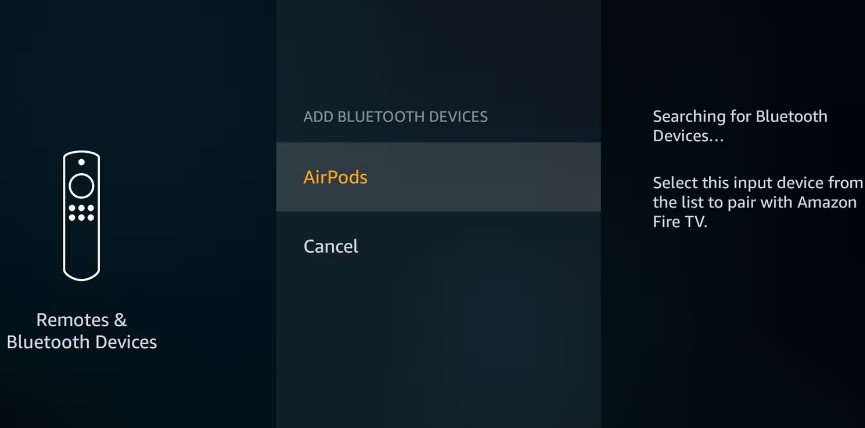 5. Next, you can see your AirPod device visible on the Other Bluetooth Devices screen. Click on it.
5. Once you see your AirPods name on the screen, select it using your Firestick remote, and it will be connected to the Firestick. To confirm, you'll hear a notification tone on your AirPods and a message at the bottom of your Firestick.
How to Control AirPod Volume on Firestick
After connecting your AirPods, don't use them right away. Because Firestick lags the feature to control volume to any Bluetooth-connected device. You can skip this section if your headset or headphone comes with in-built volume controls.
If you are using AirPods, which don't have volume controls, you need to install a third-party app called Precise volume by sideloading using the downloader on Firestick.
1. After installing the app on your Firestick, go to the home screen of the Firestick.
2. Press and hold the Home button on your firestick remote to select apps.
3. Launch the Precise Volume Apk on Firestick.
4. Now, you can control the volume using the Media Volume slider.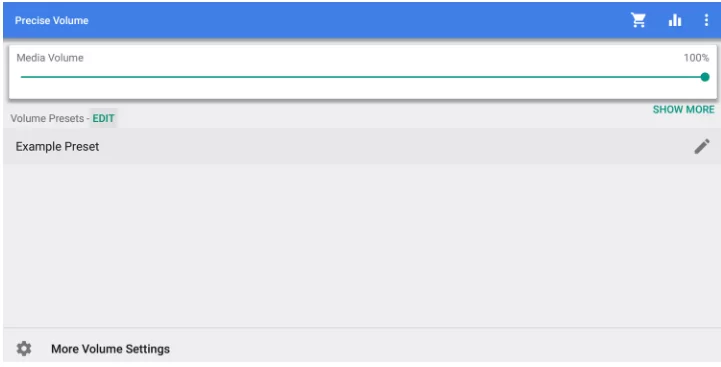 But sliding the Media volume on the app will be difficult while using your Firestick. The best way to solve this is by using the Mouse Toggle Apk. It acts as a cursor so that you can easily adjust the volume of the AirPods.
Mouse Toggle on Firestick
1. Download the Mouse Toggle Apk on your Firestick by sideloading.
2. Install the app and launch it.
3. You need to enable the features Enable the mouse service, and Auto start the mouse service on device start-up.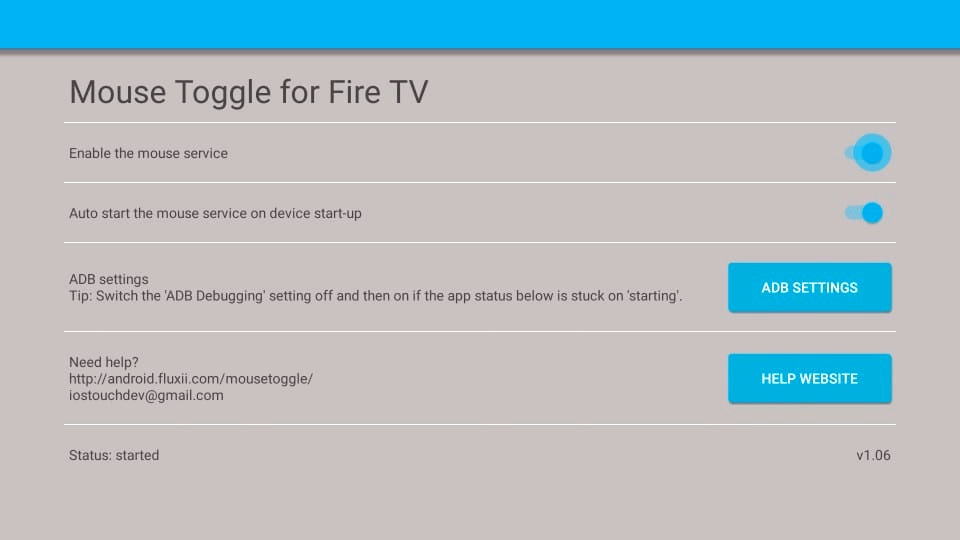 4. Relaunch the Precise Volume app. Then, double tap on the Play button to enable the cursor on your Firestick.
How to Disconnect or Unpair AirPods from Firestick
1. Launch the Settings of your Firestick TV → Remotes & Bluetooth Devices → Other Bluetooth Devices.
2. You can see your AirPods on the list of connected devices.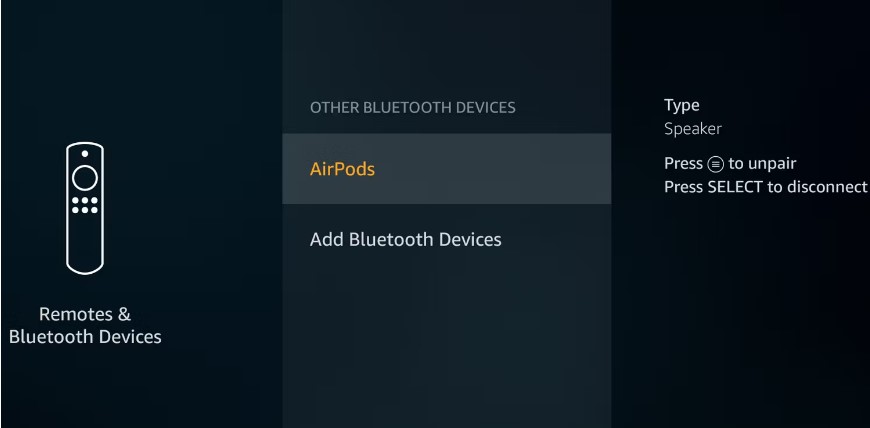 3. Navigate to your AirPods and press Select to disconnect.
4. You can press the Menu button on your Firestick remote to unpair your AirPods.
READ NEXT
Frequently Asked Questions
1. Can you connect AirPods to Amazon Firestick?
Yes. You can connect AirPods and Bluetooth-supported headphones to your Firestick TV to listen to your favorite music, watch movies, etc.
2. Can we adjust the Firestick volume when connected to AirPods?
As AirPods doesn't have the feature to control volume, you can install the third-party volume control apks and mouse toggle apps to adjust the volume.
Was this article helpful?