Online polls are useful when you want real-time feedback from your users. They are not only engaging but is also successful when you want to decide between different things. Facebook has the built-in poll option and you can use it for both personal and business needs. With the poll, you can get to know your users or followers opinion about almost any topic. Facebook polls will create a strong connection between you and your followers. It will help concluding opinions and you will get to know what they prefer about topics, events, products, and more. You can easily create a poll on Facebook as it is one of the in-built options.
How to Create a Poll on Facebook?
Facebook lets you create polls for multiple purposes. You can create a poll on personal as well as the business page, event page and Facebook Messenger.
How to Create a Poll on Personal or Business Page?
(1) Open Facebook app or visit facebook.com.
(2) Log into your Facebook account.
(3) Tap on the Create Post box (What's on your mind)
(4) Tap on Poll on Facebook app. On the Facebook desktop, scroll down to choose the Poll option.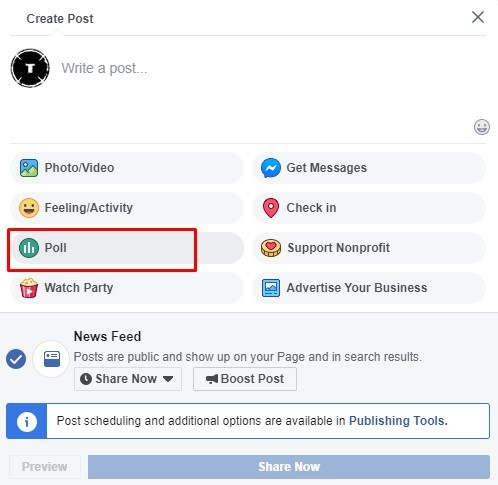 (5) On the Option 1 and Option 2 box, enter the options.
(6) Now, choose the Duration drop-down list to choose when you want to end the poll from four options.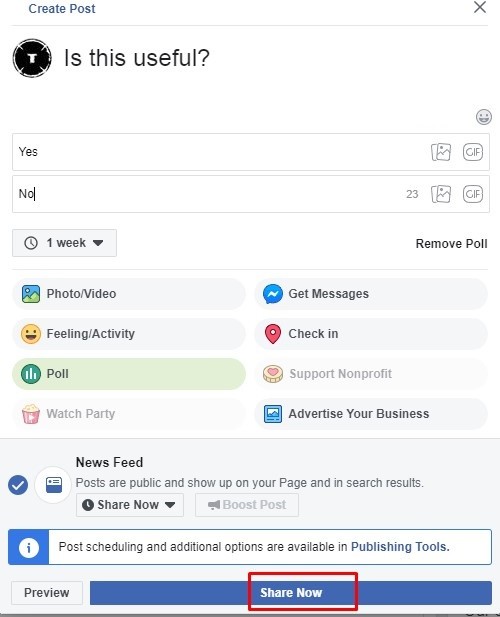 Note: Upon choosing the Custom option, you should select the date to end the poll. Tap OK.
(7) On the Post box, you can type a question or statement related to the poll option.
(8) Click on Post option at last to post your poll on Facebook.
How to Create a Poll on Event Page on Facebook?
(1) Launch Facebook and login to your account.
(2) Select Events option from the left pane on desktop. On the mobile app, tap on the Events tab.
(3) Choose the event to create a poll on Facebook.
(4) Tap on Create a Poll option from the top of Create Post box.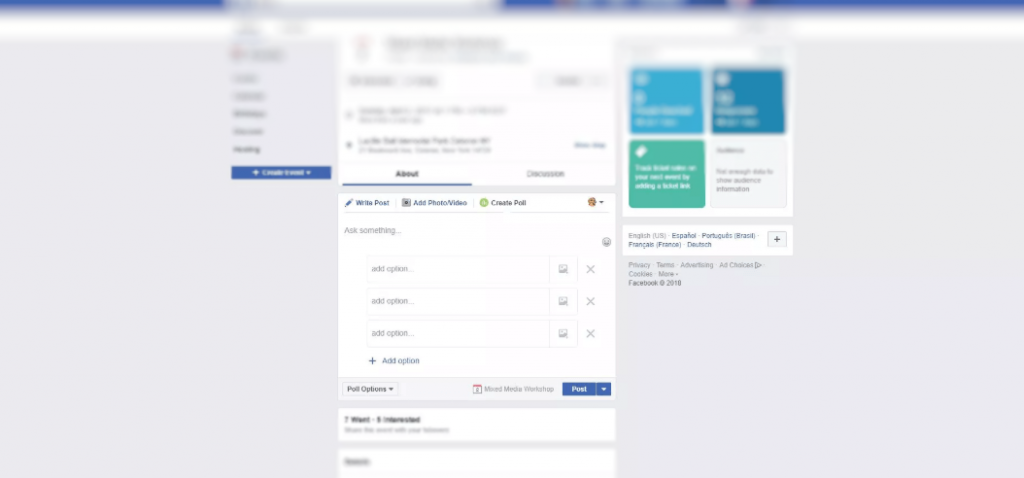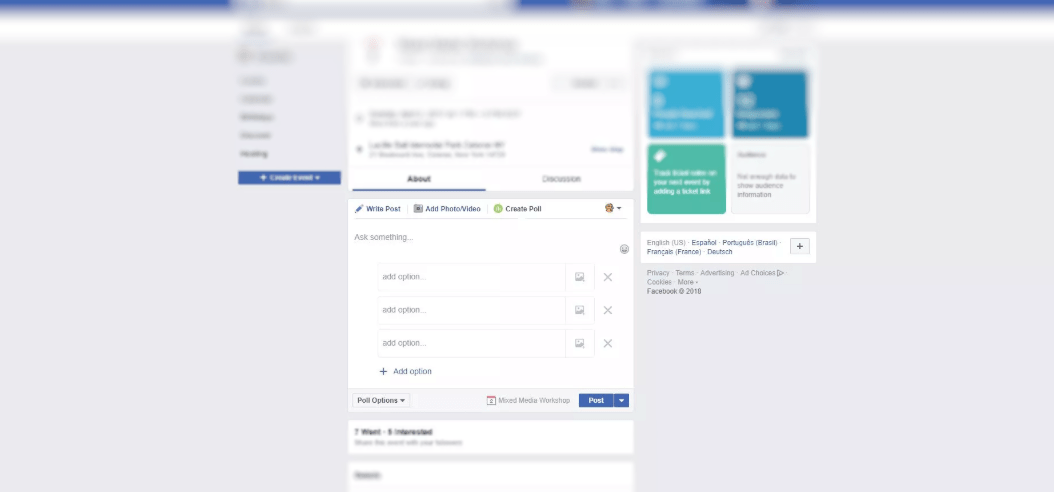 (5) Provide options on each Add Options box.
Note: To add more poll choices, you can tap on +Add Option.
(6) Choose Poll Options between Allow anyone to add options or Allow people to choose multiple options.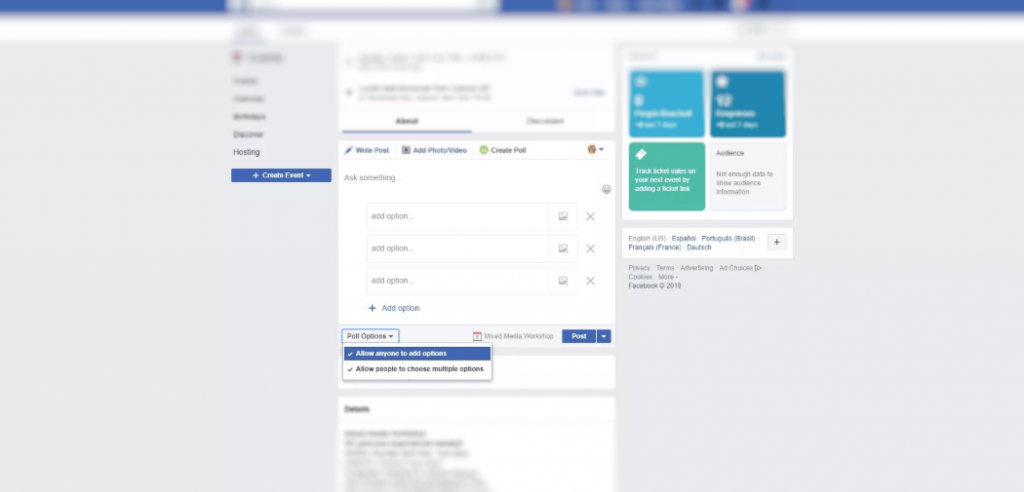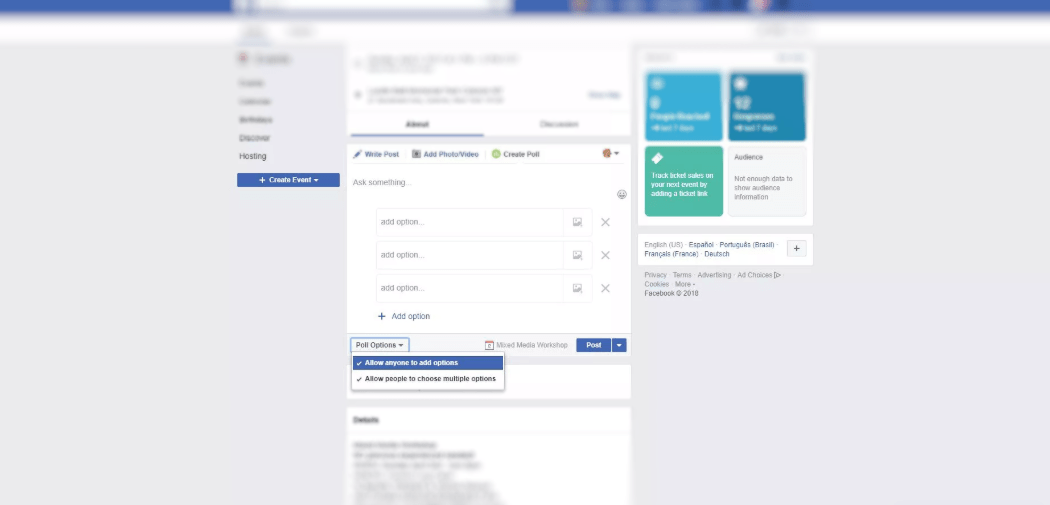 (7) Enter the statement or question in the Post box and click on Post option.
Note: To post a poll later, you can click on Post drop-down arrow and choose Schedule Post on Facebook.
How to Create a Poll on Facebook Group?
(1) On Facebook, open the group conversation.
(2) Tap on Create a Poll icon.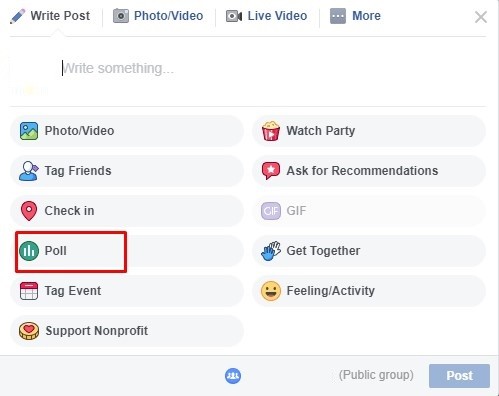 (3) Select + button form the bottom of the messenger window. Just swipe left to find polls.
(4) On the Ask Something box, type a question or statement.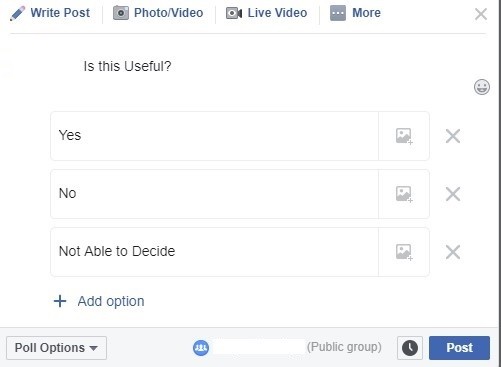 (5) Click on +Add Option to add the poll choices.
(6) To share the poll with group, choose Create Poll option.
That's all about creating a poll on Facebook. By following the above guidelines, you will be able to create a poll at any time on Facebook.
Did you find this article useful and helpful? Share it as comments below. For more article updates, follow us on Facebook and Twitter page.
Was this article helpful?