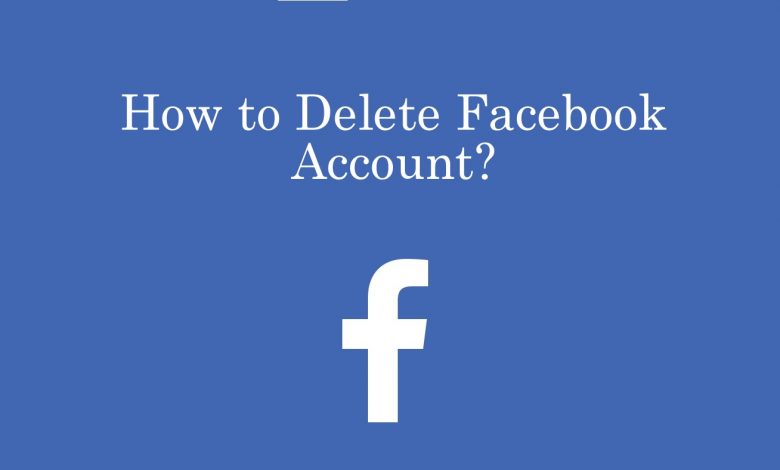 Facebook is definitely the #1 social chat platform preferred by millions of users. It is the first app to revolutionize traditional chatting. Facebook has the largest user base from all over the world. So, anyone can connect with friends, family and people in the Facebook community. Follow people and get followers, stay up-to-date with the latest news and events. In addition to chatting, Facebook is a personal organizer. So, storing and accessing the photos is made easy. Further, it supports playing hundreds of games from within the app. There are a few issues with Facebook regarding Privacy and security. There are lots of users who don't want to deal with privacy and security issues. Hence, they are looking for ways to delete or deactivate the Facebook account. While Facebook supports deleting temporary and permanent, we have covered both of them in brief.
Facebook Account Deactivation & Deletion – A Closer Look
Those users of Facebook can choose between deactivating and delete option to stay away from Facebook.
Deactivating is a process in which Facebook account gets deleted for some specific time. This means you can go back and access your account any time within 90 days of deactivation. Upon deactivating Facebook, your profile will be hidden. But your username will still be available on friends lists. Further, your photos, posts, and videos will remain on your account. So, this is a temporary ban and you can still use the Facebook login while using other apps.
Deleting a Facebook account means this process is irreversible. This is a forever case and you cannot regain your account access. With this, you will lose your profile, photos, videos, and all other data you have added to your account. In addition to this, you will be restricted to access Facebook Messenger. You cannot use Facebook login with other apps. So, deleting a Facebook account is a permanent process and make sure you do it if you no longer want to use it.
How to Deactivate and Delete Facebook Account?
While deactivating and deletion isn't the same on Facebook, the procedure to do it also differs.
How to Deactivate/Delete Facebook Account? (Temporary Deletion)
If you are about to take a temporary break from Facebook, then deactivate the Facebook account. Here is how to do it.
(1). Launch the Facebook app on your Android/iOS/PC.
(2). Make a click on the three lines on the Facebook app. Else tap on drop-down menu icon on the Facebook web.
(3). Select Settings/Settings & Privacy option.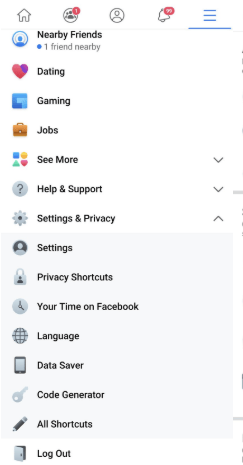 (4) Choose Your Facebook Information. Alternatively, choose Account Ownership and Control option.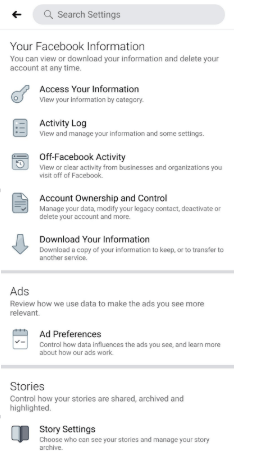 (5) Now, you should click Deactivate and Delete. Other choose Deactivation and Deletion among the list of options.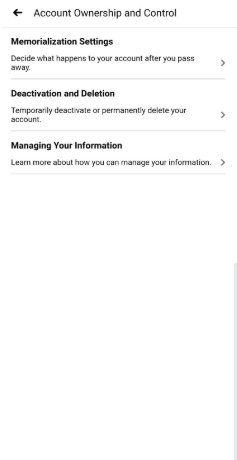 (6) On the next screen, select Deactivate Account radio button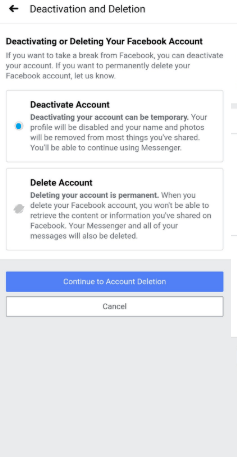 (7) Lastly, confirm deactivation by clicking on Continue to Account Deactivation option.
How to Delete Facebook Account? (Permanent Deletion)
If you end access to your Facebook account, then opt for permanent deletion.
(1) Launch the Facebook app on the smartphone or on the PC.
(2) Select the drop-down menu or three dots from the top-right.
(3) Click on the Settings and choose Your Facebook Information. Else choose Account Ownership and Control.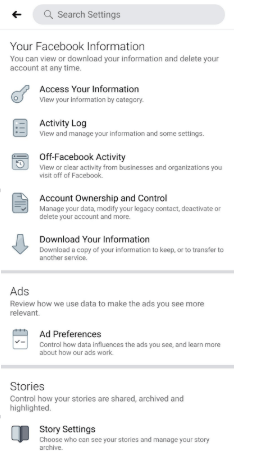 Note: We recommend downloading information like photos and videos from Facebook before deleting it. Because you won't be able to retrieve it after deleting Facebook account forever. Choose Download your Information option to do it.
(4) Highlight Deactivation and Deletion. Otherwise, click on Deactivate and Deletion.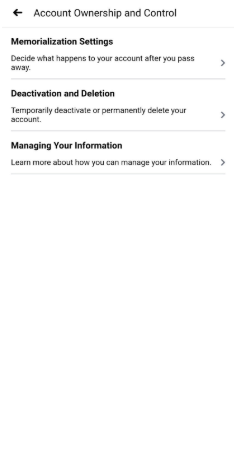 (5) Further, select Delete Account radio button on the next screen.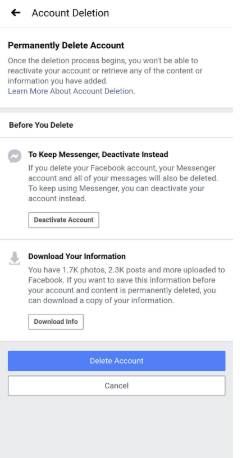 (6) Choose the Continue to Account Deletion option.
(7) Provide your Facebook account password and press Continue.
(8) Tap on Delete Account, at last, to permanently delete the Facebook account.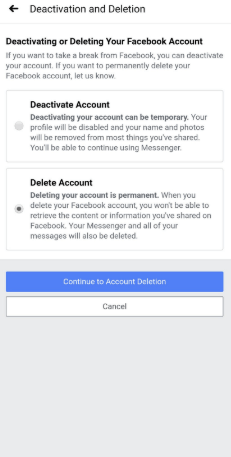 If you are an Instagram user, you can check our article on How to delete the Instagram account as well.
How to Disable/Delete FB App?
Facebook app can be deleted or disabled from your smartphone. Follow the section to delete or disable the Facebook app.
How to Disable Facebook App?
The Facebook app comes pre-installed on some Android phone. This, in turn, provides an option to disable it.
(1) Go to Settings at first on your Android device.
(2) Choose Apps from the available options.
(3) Scroll to select Facebook from the available apps.
(4) After that, select Disable option and click Disable on the pop-up.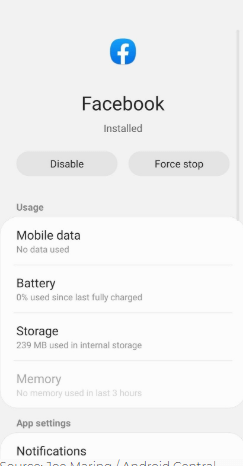 (5) Click on OK option to confirm changes.
How to Delete a Facebook App?
It is possible to delete the Facebook app from the Android on iOS smartphone.
On Android,
(1) Go to apps section on Android device and look for Facebook.
(2) Hold down the icon. Then drag and drop it into the Uninstall icon.
(3) Wait for the deletion process to complete. Click OK on the notification.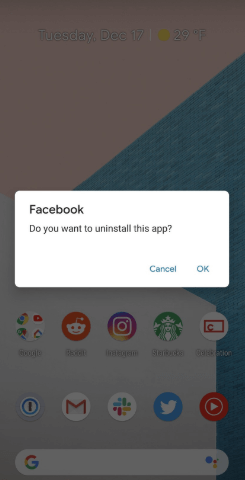 On iOS,
(1) From the apps column, press and hold the Facebook app logo on the iOS device.
(2) Press the tiny 'X' mark on the right corner to start deleting the Facebook app.
(3) When prompted, click OK to remove it from iOS device lastly.
In this way, you can carry out the deletion process of Facebook and Facebook account. You can also check our article on How to delete a Facebook Group as well.
Have you found this article useful? Rate us or share suggestions for improvements as comments. Further, you can connect with us on Facebook and Twitter page for useful article updates.