Those gaming freaks would better know about Discord. For others, it is an all-in-one communication platform to chat with friends, gamers, and communities with ease. The users can chat over voice, video, and text messages with other users. It lets users create custom channels to discuss the topics you love with people you love. Discord provides reliable and high-quality communication at any time. It even has custom permissions and is the perfect platform to add friends, build, and bring communities. Despite all its advantages, the users may get Discord awaiting an endpoint issue. With this, you will be interrupted while playing as well as chatting. It is mandatory to be fix up this issue to continue using Discord. Know what it is and how to fix it up in brief.
Discord Awaiting Endpoint – What is it?
Discord users would get into Discord Awaiting Endpoint issue at times. It is a network related issue, and it will occur when connecting to the Discord server. It is a temporary problem and occurs mainly due to any of the servers are down in Discord. So, whenever you aren't able to connect to that server, Discord shows Awaiting Endpoint error.
If Discord isn't solving it by itself, then you can fix it with the possible solutions we have got for you.
How to Fix Discord Awaiting Endpoint
Fix 1 – Change Server Region Temporarily
If a specific server is down, then Discord will bring you awaiting endpoint issue. Changing the server region will fix up this problem. Here is how to change server region on Discord.
(1). Go to your Discord Settings on your device.
(2). Scroll down to highlight Server Settings to select Overview.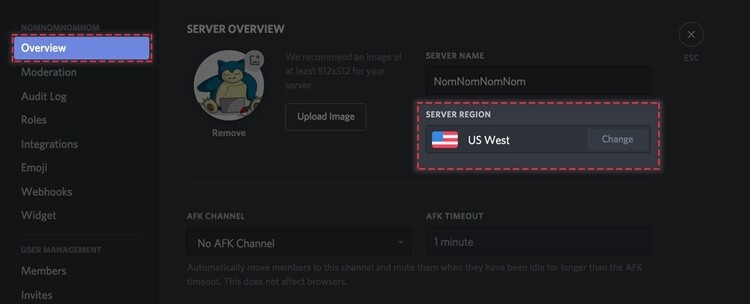 (3). Click on Change to choose a server region and get back to Discord home page.
Check if this has resolved the awaiting endpoint issue.
Fix 2 – Check WiFi Settings
If you have an unstable internet connection, it will bring you awaiting an endpoint issue while going live on Discord. To fix, you should check the WiFi or internet settings by navigating to any other web page or service. You can even try reconfiguring the WiFi settings to set the connectivity issues. This in turn may fix the awaiting endpoint issue.
Fix 3 – Connect to a VPN
If the issue is on the network side, you can fix the awaiting endpoint issue on Discord with a VPN service. Just download a VPN and connect your device to a different server. You can now check whether your Discord is working or not.
Fix 4 – Reinstall Discord
If any of the above solutions fail to fix this issue, you should finally reinstall Discord. Uninstall the older version along with its system files completely. Then install the latest version on your device, and it will possibly fix the awaiting endpoint issue.
Our Opinion
You can try any of the above solutions to check if the awaiting endpoint issue has been resolved. The least you can do when any of the solutions don't work for you is to wait for some time. Being a temporary issue, Discord Awaiting endpoint will get fixed automatically in some time.
Has this section provided useful information? Let's hear your opinion as comments. For more useful article updates, follow our Facebook and Twitter pages.
Was this article helpful?