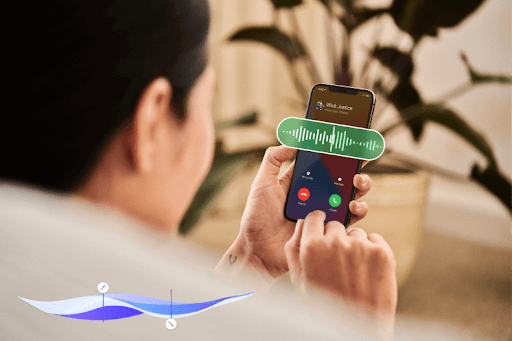 Every mobile phone comes with a default system ringtone. One can choose among some ringtone options. But, sometimes, it becomes quite boring and somewhat annoying to listen to the same tunes repeatedly. That's when the need for a new and likable ringtone arises. However, one would require an online tool to make a designated sound as their ringtone.
Finding a good ringtone maker online in the variety of paid and unpaid tool options can be a tricky task. Therefore, to alleviate this situation, we bring you a ringtone maker to help you create a personalized ringtone for your mobile phone.
Many times, people want to set a piece of their preferred song/tune/music as their ringtone, or they wish to manage your ringtones library. These can be made possible by a good free video converter. Wondershare UniConverter is a complete video toolbox package that offers users to compress, convert, edit, burn DVDs, and much more to video and audio files online.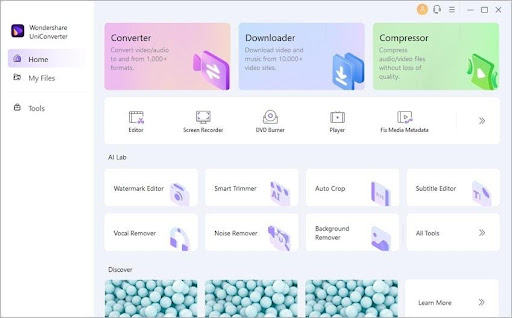 Not only can Wondershare help you set up a specific ringtone, but it also gives you a chance to create your music by converting audio to a cool ringtone. The tool has advanced AI technology, such as MP3 Cutter, which makes cutting and converting audio files to the desired format within a few clicks. The file gets uploaded and split instantly. Once all the changes get done, you can export the file to your phone and use them as your ringtone.
How To Use Make Mobile Phone Ringtones With UniConverter?
UniConverter offers easy-to-use steps to help you make a personalized ringtone for your mobile phone. They are:
Step 1: Import Audio Files
The first and foremost step is uploading the desired audio file to the tool. For this, switch to UniConverter and look for the import audio file option. Click on it and import the files that you need to edit.
Step 2: Splitting The Audio File
The tool comes with an enhanced feature wherein the audio file gets split automatically. As soon as the desired file gets imported, use the AI tool to split the file.
Step 3: Manual Trimming of The Audio File
Manual Trimming is the feature offered by this Ringtone Maker, which allows users to trim the audio file as per their preference. To do this, you need to play the audio and just mark the 'Start' and 'Endpoints on the segment which you wish to keep. You can also edit the track and manage it with detailed information. Then, click the 'Apply' button to save your choices.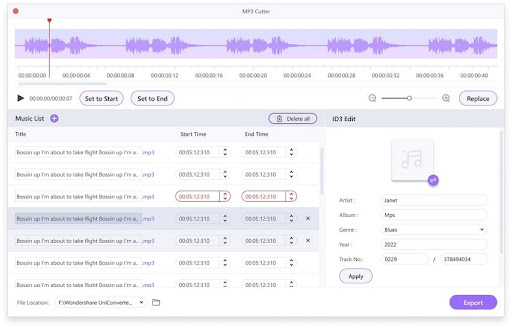 Step 4: Save The Video
By tapping the Apply button, the designated segment of your preferred audio file gets saved. Now, you can easily use them for your ringtone.
How To Use Make Mobile Phones Ringtones With Media.io?
The Ringtone Maker online will assist you in making a ringtone of your choice. Whether it's Android or iPhone, it offers convenient solutions for all devices. It supports a variety of audio formats, such as M4R, FLAC, MP3, WAC, and AAC. One of the major benefits of this audio cutter is that it lets its users create a ringtone from videos like MTS, VOB, MOV, and even MP4. Moreover, by using this online ringtone maker, you can extract audio from YouTube videos too. The presence of features like trim, formats, fade effects, and save makes it possible to personalize it with one's choice. 
To make ringtones using Media.io, follow these steps:
Step 1: Upload File
Open the browser on your respective mobile phones. Search for media.io and launch it. Select the 'Choose File' option to access your audio file on the device and click the file you wish to edit. You can import the file from YouTube, Dropbox, and Google Drive too.
Step 2: Cut Audio File
Once the file gets uploaded, you can see the trimming bar on the audio segment. You can simply alter the size of the trimming bar by reducing it from both ends or use the 'Start' and 'Stop' options. Though the Start and Stop option provides a more precise idea of the cut, you can choose among the two options. You can also customize it by using special audio effects.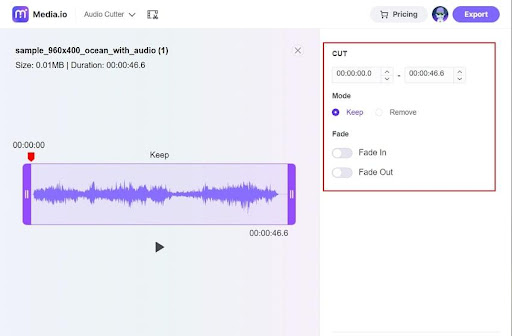 Lastly, you need to listen to the edited audio file before downloading it. Once all changes as per your preference have been done, tap the 'Export' button to save the audio file.
Other Features
Let's have a look at the additional features Wondershare UniConverter offers:
Remove Vocals From Any Songs:
This audio cutter provides you with the special feature of extracting vocals from any song you desire unbothered by their existing format.
Change Your Voice With Diverse Sound Effects:
You can change the voice of the desired audio file by adding diverse effects such as fade audio.
Remove Background Noise From Video And Audio:
Users also get to remove unwanted background noise from video and audio to make ringtones more specified and enhance quality listening.
Verdict
Wondershare UniConverter is an excellent online tool compatible with all devices, such as Androids and iPhones. It will help you to make a sound with your ringtone, thereby alleviating your boredom of listening to the same in-built ringtone over and over again.
Additionally, you can tailor the track as per your preference by adding sound effects. Media.io can help you to create a ringtone from any videos you desire in the most convenient way ever. So, showcase your taste in music by utilizing these tools to make as many ringtones as you desire.
Was this article helpful?