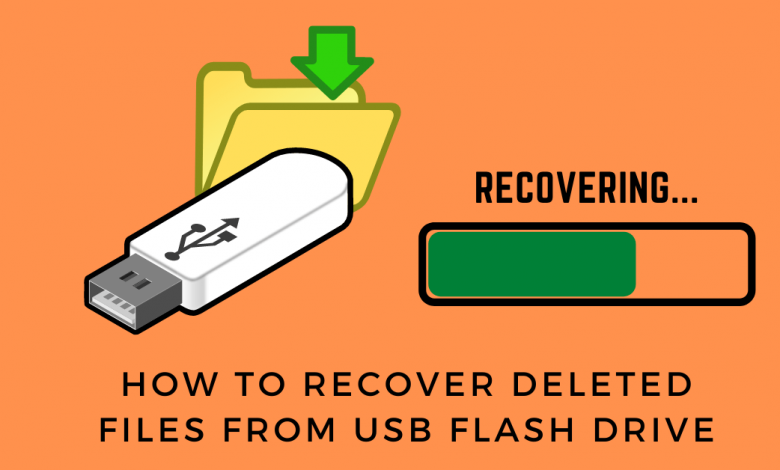 Transferring data has been made simple with the help of USB drives. Unfortunately, there are several possibilities to lose those data. In that scenario, a backup copy would be a lifesaver. If not, recovery is the only option to retrieve those data. Recovery is the process of rebuilding or gaining access to deleted files or files from a damaged device. With recent technologies, recovery has been made possible in all kinds of devices like Android, iOS, Windows & Mac PC, and even USB Flash drives. In the upcoming article, let's see how to recover deleted files from a USB Flash drive.
Common Reason for USB Data/File Loss
Here are some of the general reasons that result in the loss of USB drive data.
Unintentional deletion of the file
Malware/Virus attack
Hardware failure
Unsuitable circumstances like heat, moisture, etc.
Data fragmentation
Software bug/glitch
In general, data loss is either a physical or logical one. As long as the USB drive is not physically damaged, you can use the below methods to perform USB drive recovery.
Different Ways to Recover Deleted Files from USB Flash Drive
There are several ways to recover deleted files from the USB flash drive. They are
Using Command Prompt
Using Restore Previous Versions
Using AnyRecover Data Recovery Software
Recover Deleted Files from USB Flash Drive Using Command Prompt
CMD (also known as Command Prompt) is a command Line decipherer that allows you to enter and execute commands on all Windows PC. This command shell helps you perform various actions on your Windows Operating system through commands like troubleshooting, executing automated tasks via scripts, administrative functions at an advanced level, and even help to restore deleted files from your PC.
You can use this method to recover hidden files, not the deleted files. Another disadvantage is that the recovery rate is not very high, but it's worth a try anyway.
[1] Connect the flash drive to the USB port of your PC.
[2] Search for Command Prompt (CMD) in the start menu.
[3] Launch CMD and type the following command
chkdsk X: /f 
Note: Here, replace X with the alphabet assigned to the connected USB flash drive.
[4] Hit Enter and wait until the command scan for all the file in the USB disk.
[5] Once the process is done, type the following command.
ATTRIB -H -R -S /S /D X:*.*
Note: Here, replace X with the alphabet assigned to the connected USB flash drive.
[6] Again hit Enter and wait until the recovery process gets completed.
This is how your command prompt looks after entering the command.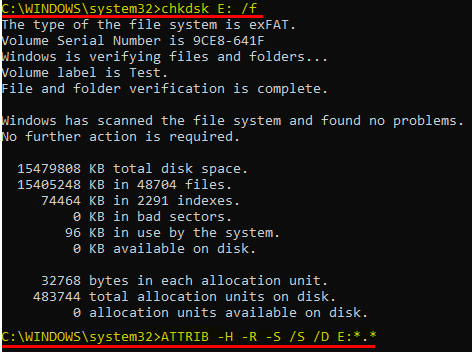 [7] Once the recovery is done, you have a chance to find the missing files in a new folder available on your USB drive.
Recover Deleted Files from USB Flash Drive from Previous Versions
This method of restoring the deleted files is available only for the latest version of Windows. Most importantly, it is required to enable Previous Versions on your USB flash drive to restore or recover the file on your PC. To do that connect the USB drive to the PC and go to Settings >> Update & Security >> Backup >> Add a drive >> Select the USB drive.
If the mentioned requirements are fulfilled, and your USB flash drive is enabled with the previous versions, follow the steps below to start recovering.
[1] Connect the USB drive to the USB port of your PC.
[2] Go to This PC and right-click on the USB drive.
[3] Select Properties from the context menu.
[4] From the properties tab, go to the Previous Versions tab. Here, you can see a list of recovery options.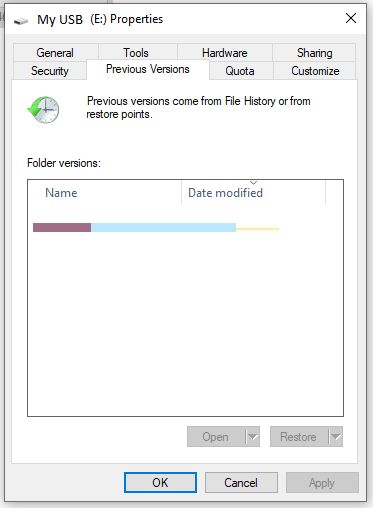 [5] Select the previous version listed and click Restore to begin the restoration process.
If you can't find the previous version, which means you have not enabled previous versions on your USB Flash drive. In that case, the option is to go for third-party recovery tools.
Recover Deleted Files from USB Drive using AnyRecover
The most effective method to recover lost data from USB is by using professional data recovery software, which scans the drive and get back all the deleted files to you. iMyFone AnyRecover is one such data recovery tool that allows you to recover any kind of data on your PC in no matter of time.
Advantages of AnyRecover tool:
100% safe and simple to operate, in only a few clicks your data will be back.
Recover Permanently deleted files like photos, videos, audios, documents, and 1000+ file formats.
Helps you recover file from internal/external hard drives, memory cards, USB drives, and even crashed PCs.
Powerful, advanced, and well-built algorithm for errorless file recovery.
Steps to Recover Files from USB Flash Drive using AnyRecover
[1] Download and install AnyRecover on your PC, then launch the software.
[2] Then connect the USB drive to your PC, the software will recognize it.
[3] Select the drive you want to recover data from, then click on Start to begin the scanning process.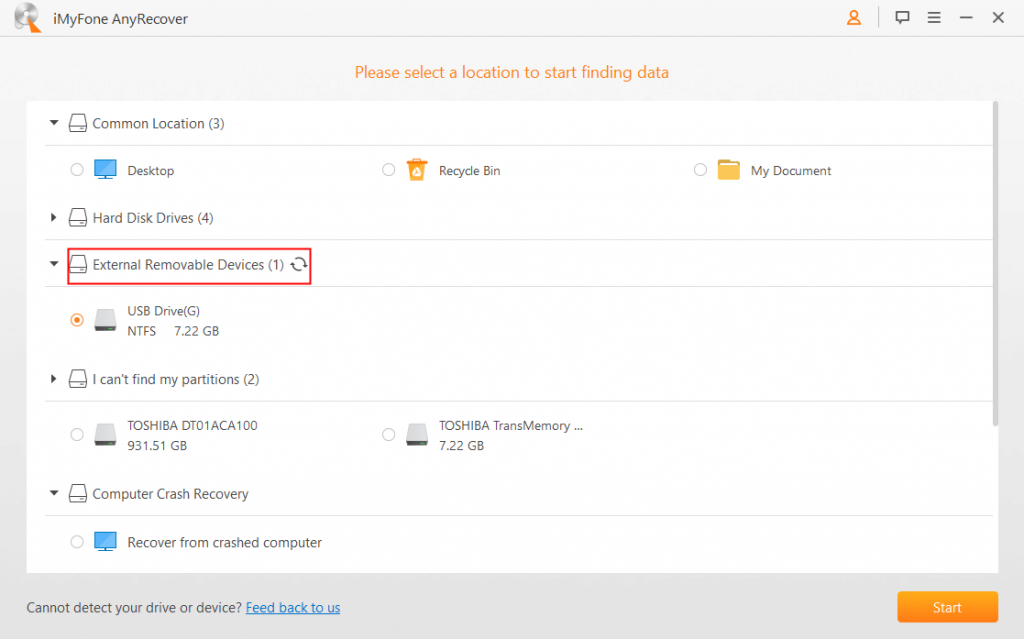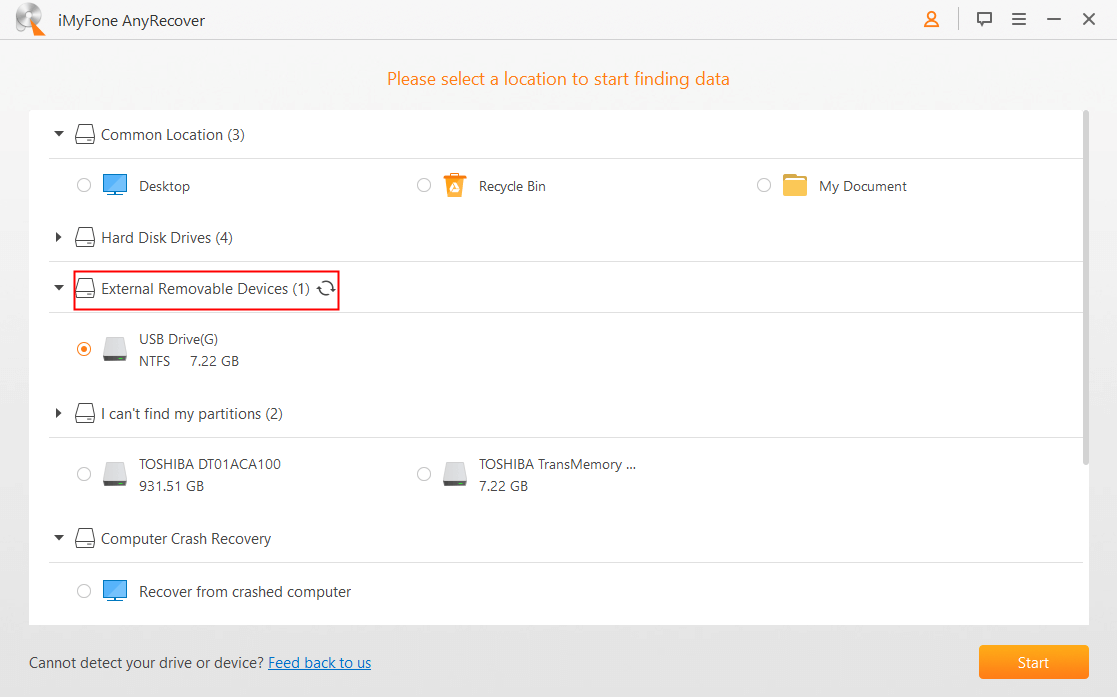 Note: The scanning process may take a while to complete depending on the size of the data and configuration of your PC.
[4] After completion of the scanning, you will be displayed with all the data founded and recoverable.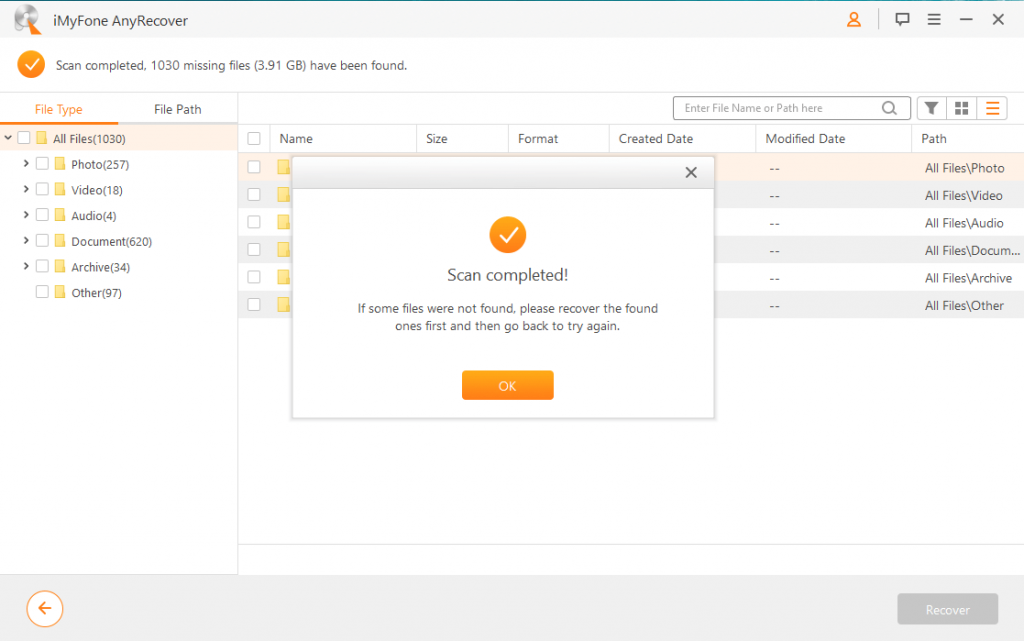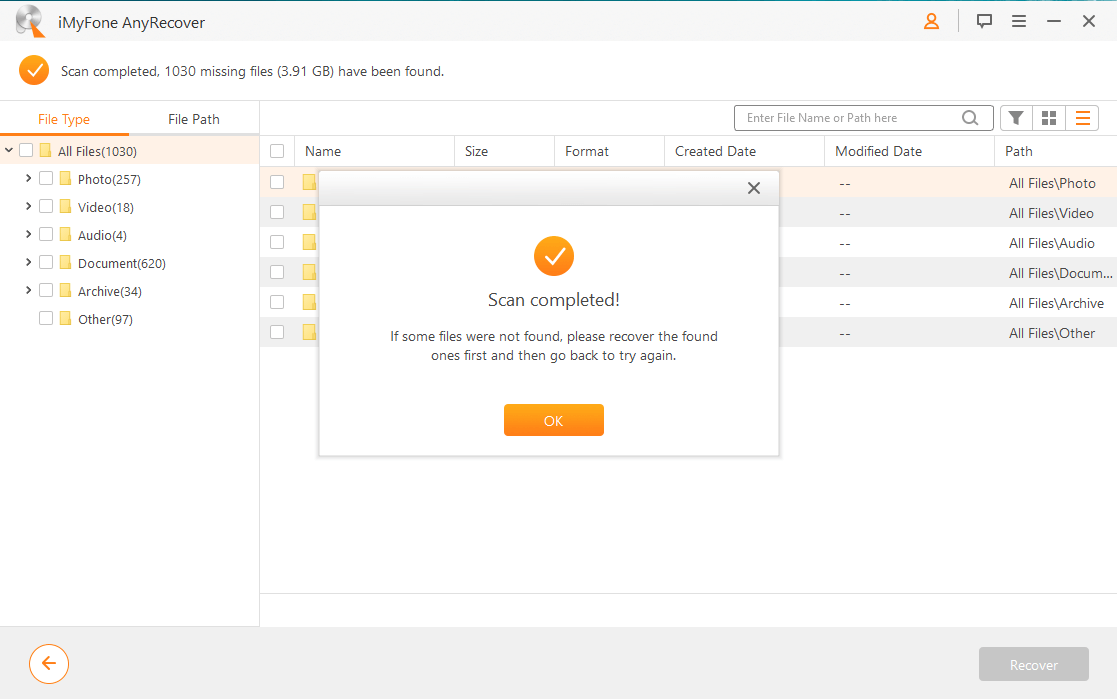 [5] Double-click on the file to preview it and click on Recover to recover the file to any preferred location.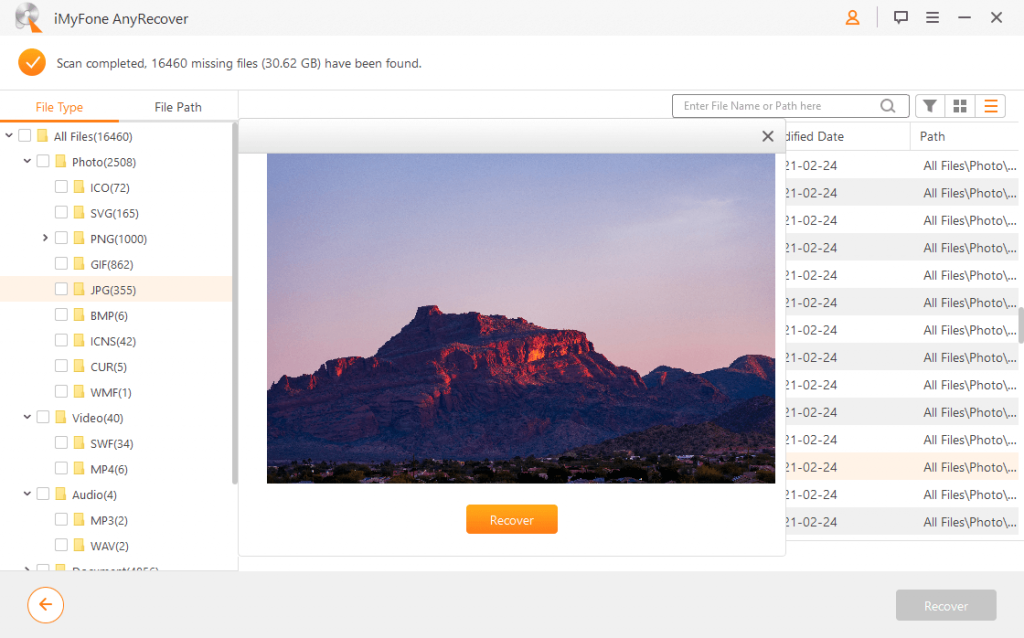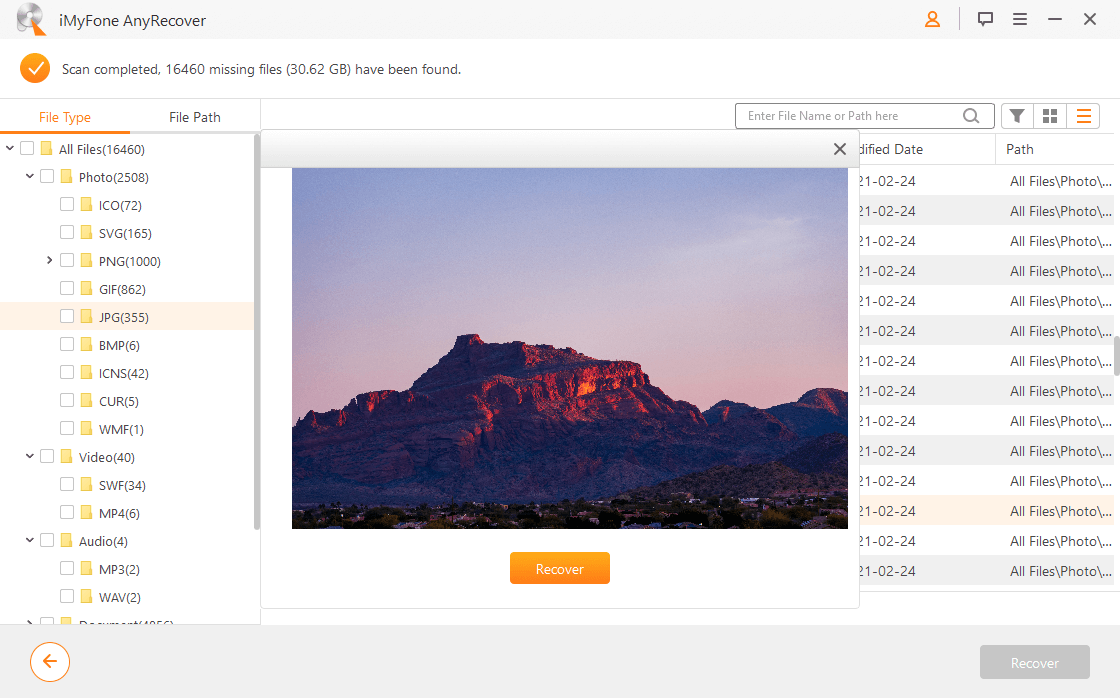 This is how you can recover files from your USB drive. In order to recover multiple files at a time, select all the files at once and click on recover.
Most importantly, this data recovery program has a FREE trial version, which allows you to scan and recover three files from your drive regardless of size limit.
Opinion
Data recovery is an expensive, complicated, and time-consuming process compared to any other process. However, these three methods will let you recover deleted files from USB Flash Drive. Among all the above-mentioned methods, using a recovery tool like Anyrecover is the simple and fastest way to revive your data from any kind of loss. Hope this article helps you find a way to recover the lost data on your USB Flash drive.
For more guides and articles on smart devices, software, apps, tools, etc., explore our site. To get instant updates on our posts, follow us on Facebook and Twitter.
Was this article helpful?