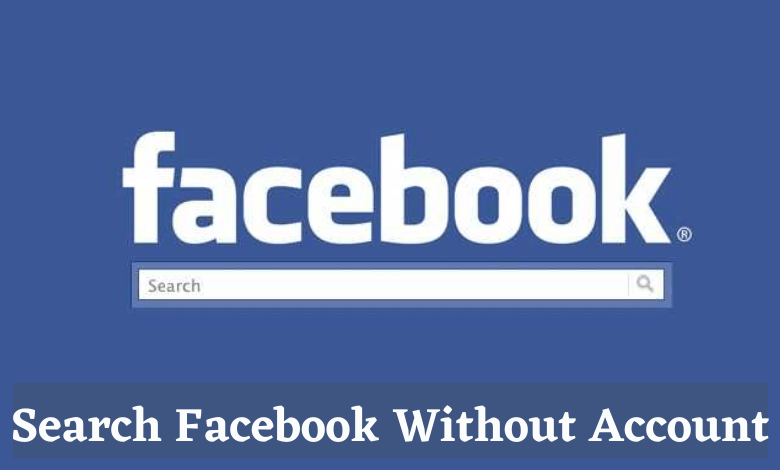 Facebook is the most used social media network around the world. But that doesn't mean everyone has an account in it. Most millennials are now the least active on Facebook. But how to search for a Facebook person or a page when you don't have an account? Previously, it was easy. But Facebook improved its privacy policy, so it has become so difficult. Is there any possible way? Yes. Let us find out the possible ways to search Facebook without an account.
Search Facebook Without Account
These are the possible ways to search Facebook without an account:
Search Engines
Social Search Engine
People Search Engine
Facebook Directory
Use Public Menu
Ask the help of others
Search Engines
Of course, Google Chrome, Yahoo, and Bing are the few most popular search engines. If you want to search for a person, all you have to do is type the person's name in the address bar. For instance, let us find out how to find out the profile of Mark Zuckerburg.
(1) Launch any desired web browser on your phone or computer. Here we have chosen Google Chrome.
(2) Choose your favorite search engine. We have considered Google here.
(3) On the address bar, type the name Mark Zuckerburg. It will bring all his details.
(4) We only need his Facebook account, so type as follows,
Mark Zuckerburg site: Facebook.com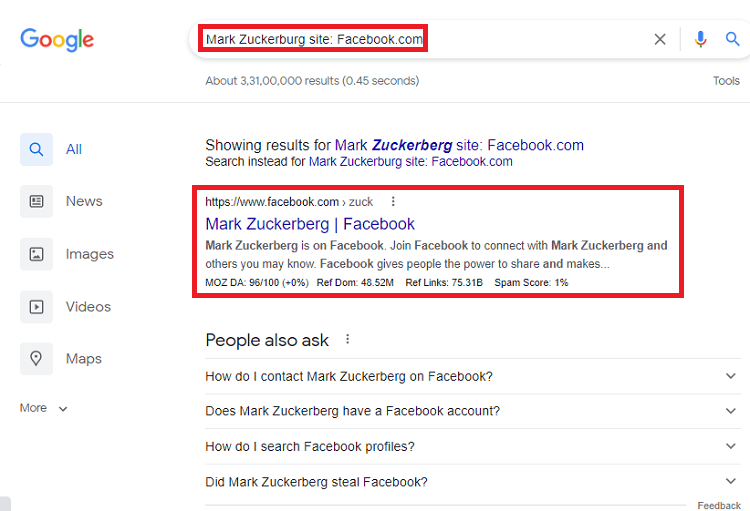 (5) You will get the profile as the first result.
It will work only if the person has kept the profile public. If they have hidden it and used privacy features, you cannot be able to find their account.
Social Search Engines
If you aren't aware of social search engines, this is time to use them. It is simply a search engine that specifically goes through and brings the person's information with respect to their social media feeds. The most popular free social search engines are Social Searcher and snitch.name. But if you are looking for more customized options, you can pay and use sites like Mentionytics or Socia Mention.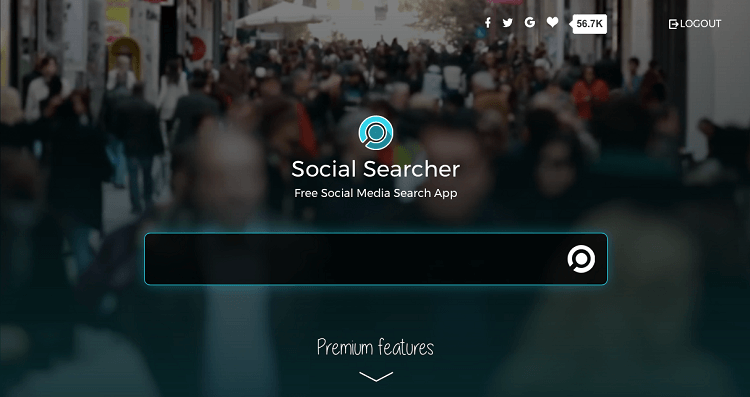 It works like a regular search engine but helps you to narrow down your searches only to social media sites. If you specify the location, it will narrow the search to that particular location. It even comes with results with respect to hashtags and topics. But, again, it will only work if the person has a public profile.
People Search Engines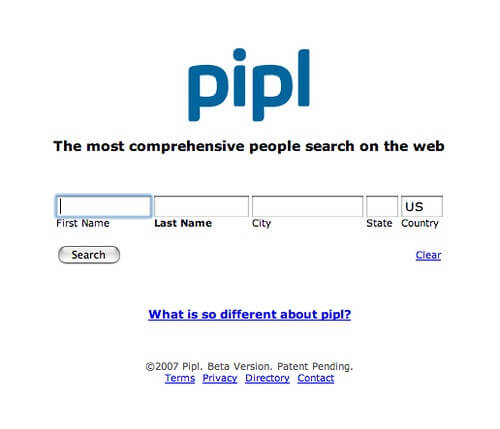 Many people's search engines are available online. You can use it to find your old friend from childhood or get more information about a particular person. It doesn't work based on social media profiles. Instead, it aggregates everything that a web crawler can find out about a person as it collects all info around the web. But still, the Facebook imprints have got a prominent place in the search until or unless the person kept the profile public. One of the best People Search Engines is Pipl.
Facebook Directory
The next best option to use is Facebook Directory. Go to the search engine and type the following link in the address bar www.facebook.com/directory/people. Then, confirm you are not a robot and continue to search. Now you can search Facebook under People, Pages, and Places categories.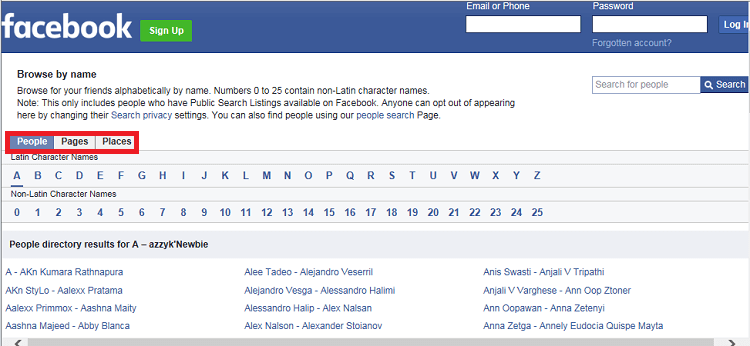 Under People, all the people using Facebook will be arranged alphabetically. You can search for a particular person in the search bar, and the results will occur based on their privacy settings.
Under Pages, you can find verified accounts and other business accounts, etc.
Places category shows nearby places like restaurants, jobs, businesses, also nearby friends.
Use Public Menu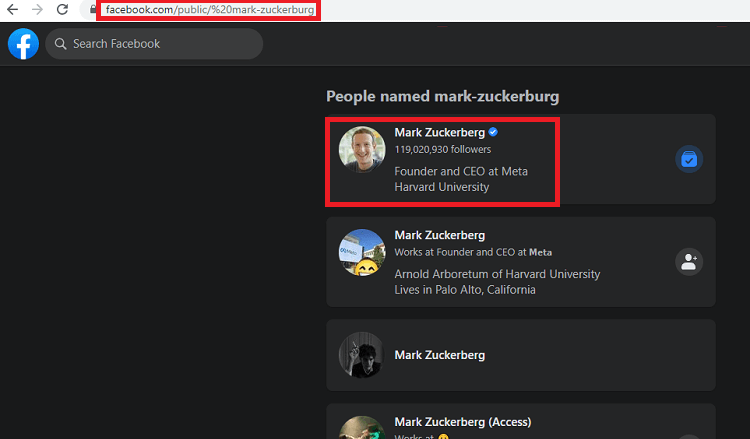 You can use the following link to find people www.facebook.com/public/. After the word public, enter the name of the person you want to find. You can separate the first and last name with a hyphen. For instance, https://www.facebook.com/public/ mark-zuckerberg. The search will bring all the profiles with similar names and profile links. Find the one you want and continue.
Related – How to recover a disabled Facebook account
Ask the Help of Others
If none of the above helps, you can always seek the help of your friends or families who has got a Facebook account. Or make an anonymous account by yourself to search.
Frequently Asked Questions
1. Can I search Facebook Marketplace without an account?
Yes, you can browse the Facebook Marketplace without an account. But to chat with the vendor or make an order, you will need an account.
2. Can I find the Facebook profile with a phone number?
Yes. You can search a Facebook profile with a phone number provided that the person has uploaded their number to their account.
Was this article helpful?