Tumblr is the right place to express yourself or discover great content. It's just like Twitter but has more advanced options. Tumblr neither limits you sharing your interest nor halt you connect with people. Tumblr even supports private conversation with your friends as a message. If you want to use Tumblr efficiently, then you should probably know how to use it. When you wisely use the search option, Tumblr will let you discover loads of content by millions of users who share their blogs. If you want to get the best search, then look into the article to know how to search on Tumblr.
Tumblr – An Outline
Tumblr, an American micro-blogging and social networking site has been gaining popularity in recent times. It is most often used for blogging and the user can create interesting things as Tumblr blogs. Similarly, it lets the other users find such blogs, follow the creator, and get followed. It has classified blogs into seven different categories and you can do almost any blog. For instance, it may be anything like text, quote, link, chat, audio, video, and photo. From the Tumblr dashboard, its users can like, comment, and reblog the posts. Above all, Tumbler is highly customizable and it supports editing blog theme HTML coding, font, color, layout, and custom domain name.
How to Search on Tumblr?
There are multiple ways in which you can search on Tumblr. Find out the possible ways in which you can find content on Tumblr.
Tip! You can instantly search for Tumblr posts by visiting tumblr.com/search/
Search on Tumblr using Hashtag
Tumbler supports adding hashtags while uploading a photo or video. Such hashtags will be visible to every other Tumblr user across the world. This, in turn, will help the audience filter posts linked to that specific hashtags alone. So, the audience can search for the posts that they care about. Follow the procedure given below to search on Tumblr using Hashtag.
(1) Log in to your Tumblr account with the necessary credentials. (optional)
(2) Hover to click on the Search bar by pressing the magnifier glass.
(3) Type the hashtag (#followed by the word) to see the contents or posts. For example, #maltese.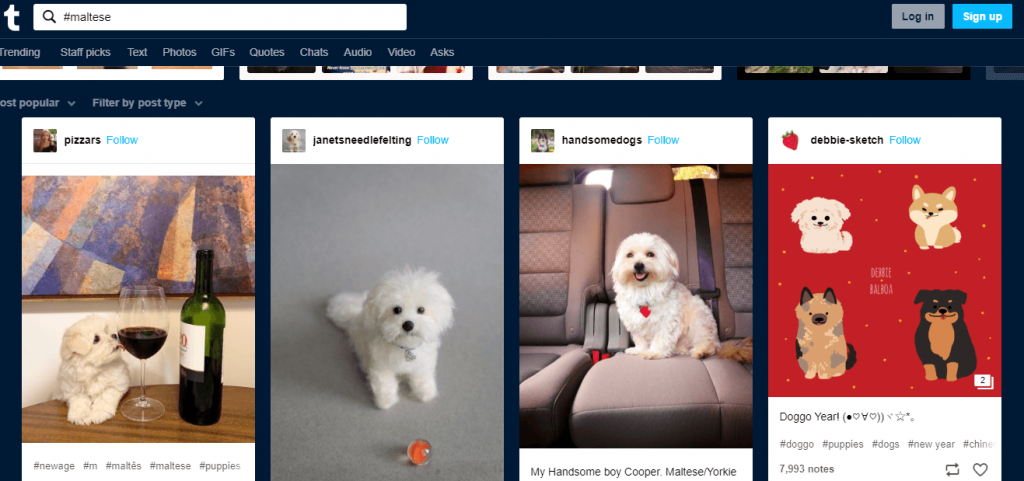 Note: You can use multiple hashtags to search for the content. For instance, type #maltese #photography #teacup on the search box altogether to search for posts at once.
Search on Tumblr using Keyword
Like any other microblogging service, Tumblr also supports searching using keywords. It is just a way similar to searching using hashtags. However, searching on Tumblr using keywords will give you a wide range of results. In other words, searching using keywords will give you related or similar search results too. The guidelines given below will help you out searching on Tumblr using a keyword.
(1) You should sign in to your Tumblr account at first. (optional)
(2) Navigate to the click on the Search box available at the top-left next to the magnifier glass.
(3) Enter the keyword and choose from the list of suggestions. For instance, roses, and nature.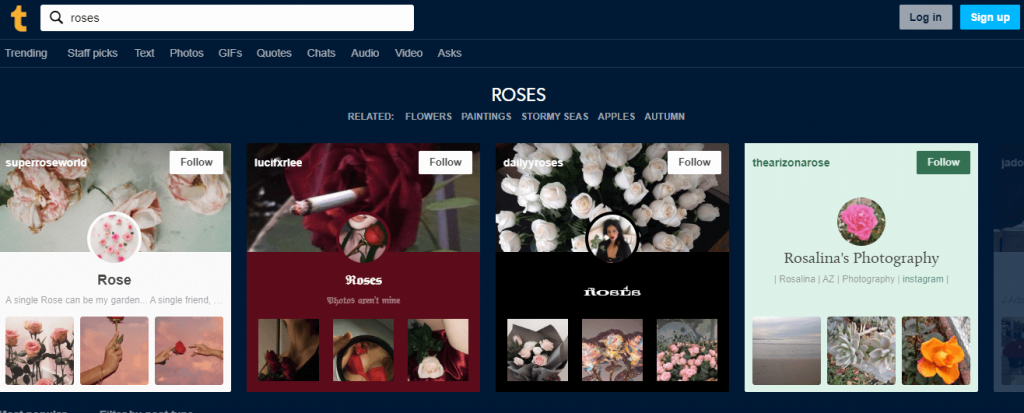 Search on Tumblr using URLs
It is possible to search for content on Tumblr using URL. Make sure you know the URL of the blog or microsite. Use the search bar from the Tumblr dashboard and search using the URL as shown below.
For instance, =
(1). Type as http://www.example.com/tagged/tag and this URL will search for the tag you have mentioned.
Make sure you replace /tag with the hashtag. For example, #tumblr
(2). http://www.example.com/archieve will search for the archive posts of the blog.
(3). http://www.example.com/search/keyword will search for the keyword in the blog you mentioned.
Make sure to change the /keyword with an actual keyword. For instance, /photography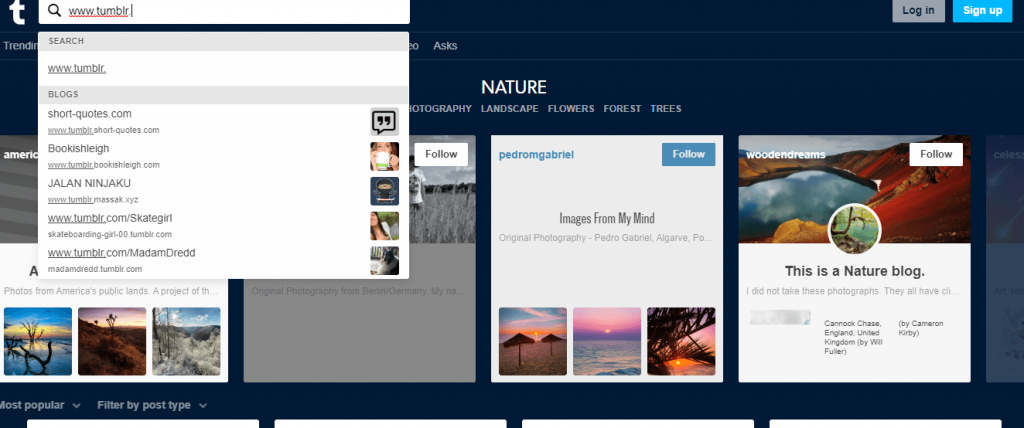 Search on Tumblr using Filtering Options
Using Tumblr, you can search for specific content alone just like any other service using the filter option. This will narrow down the search for you and you can view contents effortlessly. Do the following to search for posts on Tumblr using the filter option.
On the Web
(1) Go to your Tumblr account and click the tiny compass-like icon from the top.
Note: By default, Tumblr will filter post type as All posts. If you see all contents, you can turn off safe mode on Tumblr.
(2) From the drop-down menu, select anything between All post, Top posts, Most recent, Most popular, etc.
Note: From the padlock available on the left, you can choose to view contents as a compact grid or traditional list view.
On Tumbler App,
(1) Open the Tumblr app on your smart device.
(2) Hover to tap on the Filter icon from the top.
(3) From the drop-down, you may choose anything like Top, recent, tagged, photo, video, audio, quote, GIF's, etc.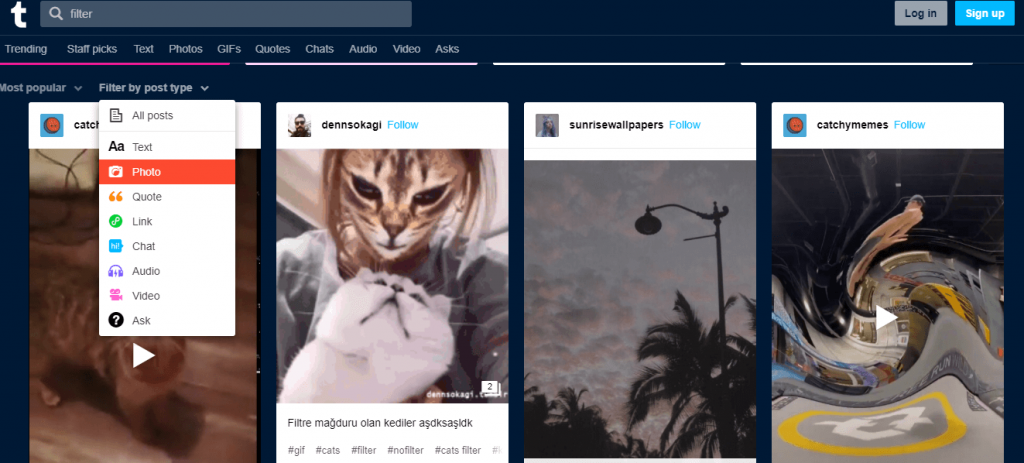 Searching on Tumblr is effortless in any of the possible ways we have discussed for you right here. Try them and let us know which one you liked the most and took less time.
For more useful and latest update notification, you may stay tuned with us on Facebook and Twitter page.
Was this article helpful?