Spotify is a popular audio streaming service with millions of songs to stream with or without ads. Like other applications, developers will push regular updates to improve the app. If you have turned off automatic app updates on your device, you need to update the Spotify app manually to get the latest security features and songs.
How to Update Spotify on Windows or Mac
The desktop version of Spotify can be updated right from the application. The desktop app is available for both Windows and Mac users.
[1] Open the Spotify app and check for a blue dot next to your Spotify username in the top right corner. The dot will appear only if there is an update.
[2] Tap on it and choose Update Available. Restart Now option.
[3] Upon resetting the app, the latest version of the Spotify app will be installed automatically.
How to Update Spotify on Smartphone
Unlike the desktop version, you need to visit the Play Store (Android) and App Store (iPhone/iPad) to update the Spotify app.
Android Smartphones or Tablet
[1] On your Android smartphone, open Google Play Store.
[2] Use the search bar to find the Spotify app.
[3] Select the app from the search results and tap on the Update icon.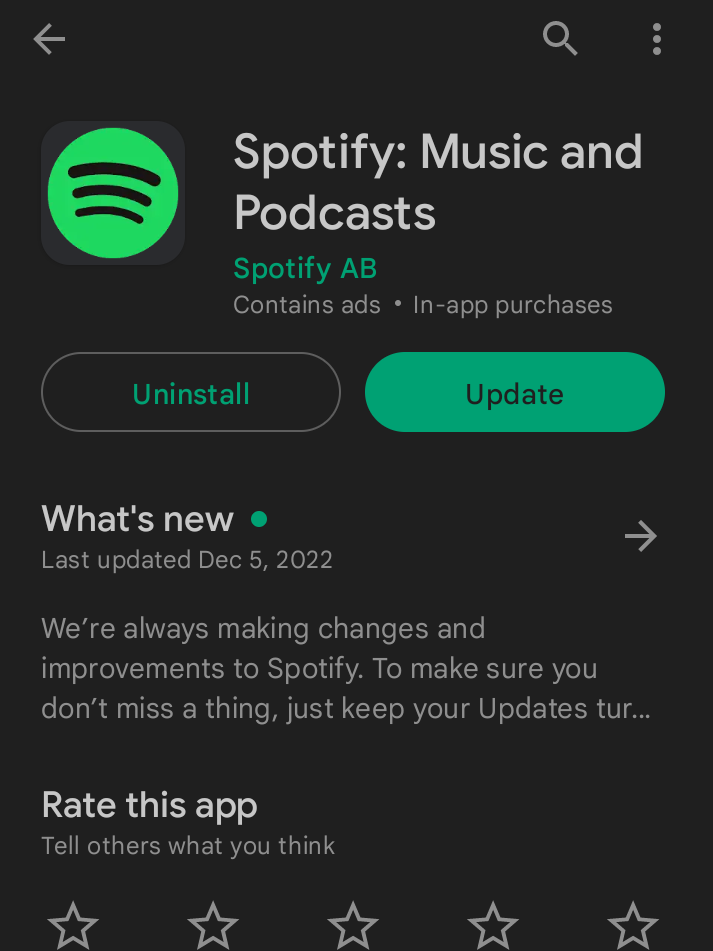 [4] Wait for the latest version to install on your device, and then use the app.
iPhone/iPad
[1] Launch the App Store on your iPhone or iPad.
[2] Tap on your profile picture in the top right corner.
[3] Scroll down to find the Spotify app and hit the Update button.

Enable Auto Update for Spotify
The best way to update apps on your Android and iPhone is by enabling automatic updates. It will ensure that applications will be updated to the latest version automatically whenever there is an update available.
Android: Open Play Store → Profile icon → General → App install optimisation → Turn on the toggle.
iPhone: Device settings → App Store → Automatic Downloads → Enable App Downloads.
How to Update Spotify on Apple Watch
[1] Press the digital crown on your Apple Watch.
[2] Find the App Store icon and tap on it.
[3] Scroll down to choose the Account option.
[4] Under the Updates section, find Spotify and hit the Update icon.
What About Spotify Web Player?
Generally, the web version of Spotify runs on the latest version, and it doesn't need any steps to update it. Just ensure to keep the latest version of the web browser on your device.
Frequently Asked Questions
Why is my Spotify account not updating?
If you face any error while updating, simply uninstall the app and reinstall it. This will update the Spotify app automatically, and you don't require a manual update.
Was this article helpful?