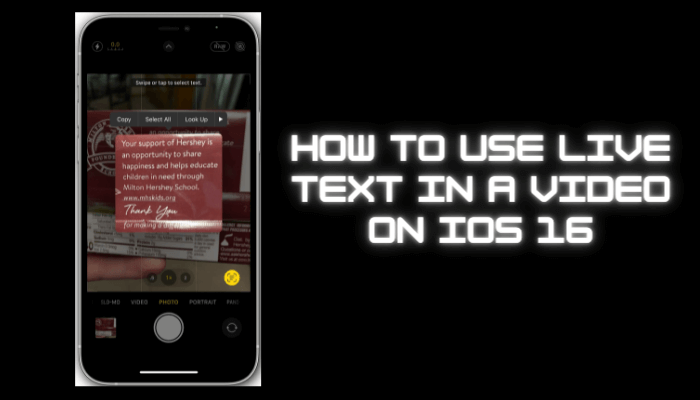 Key Highlights
iPhone/iPad: Go to Camera → Open the video → Pause the video→ Long press on the text → Copy/Share/Look Up/Translate text.
The Live Text feature in iOS 15 has received an overwhelming response from users. The iOS 16 update has enhanced the functionality feature by letting users extract live text from a video. You can copy the highlighted text and paste it into notes, messages, or any other apps.
Advantages of Using Live Text in a Video on iOS 16
Copy any characters available on the video frame to your clipboard. The copied text can be pasted on your notes, chats, etc.
You can translate the highlighted text to your desired language.
With the look-up option, you can search for the highlighted word in the browser.
Using the Share option, you can send the selected text using the message or email app on your iPhone.
Capturing time lets you set reminders.
In the case of currency, you can convert the value to the desired currency.
Tips! iOS 16 also lets you remove the background from a photo on your iPhone.
Steps to Use Live Text in a Video on iOS 16
1. Open the Camera app and capture a video of any billboards or advertisements containing texts.
2. Launch the Photos app and play the captured video on your iPhone.
3. Pause the video when you can see text or numbers. Now, press and hold on to those characters.
4. It will highlight the text in the video. With the highlighted text, you will get three options: Copy, Select All, and Look Up. Tap on any one of those options and proceed with the desired action.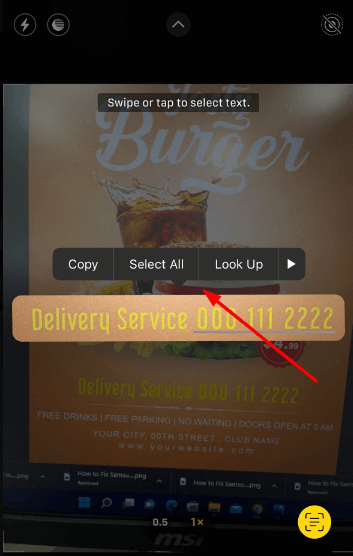 Note: It is recommended to capture the video with good light so that you can recognize and capture the text easily while taking the video.
Tips! With the recently launched stable version of iOS 16, users with iPhone 12 & above can find the battery percentage directly from the status bar.
Frequently Asked Questions
1. How to send a Live Text on iPhone?
By highlighting a text on the video, click Share from the list of options and send the copied text to other people by any medium, such as email, message app, chat, and more.
2. How to use Live Text on iPhone 8?
Unfortunately, the Live Text feature is unavailable on iPhone 8. Apple has only rolled out the Live Text feature on iPhone X and later models.
Was this article helpful?