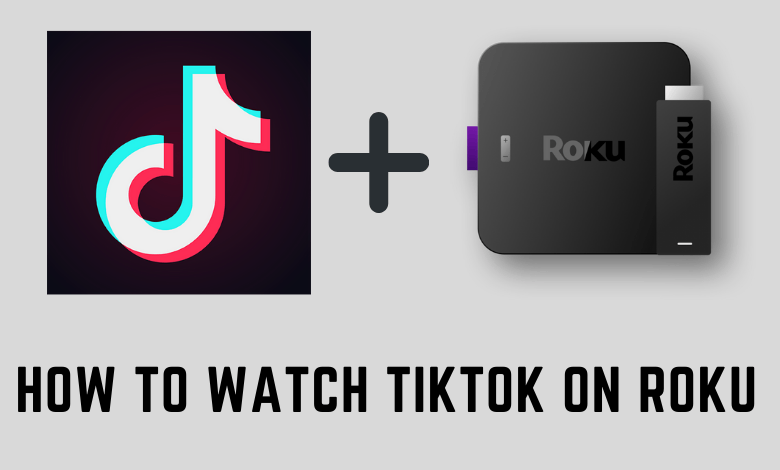 TikTok is one of the popular entertainment social media apps, that allows users to create, watch and upload short videos. It offers a wide range of videos in different categories dance, singing, acting, gaming, food, sports, and much more. You can create videos from 15 seconds to one minute and can edit those videos with various editing tools. Apart from this, you can even like, comment, and share the videos on different social media. You will get the customized videos based on your likes and views. In this article, we will show you how to stream TikTok videos on the Roku streaming device.
How to Watch TikTok on Roku
Unluckily, TikTok is not available in the Roku Channel Store. But by using the Screen Mirroring method, you can stream TikTok on your Roku. Here are some possible ways to screen mirror it:
Screen Mirroring Android
Airplay iPhone
Screen Mirroring Windows
Screen Mirror TikTok on Roku Using Android
Before proceeding further, make sure to enable Screen Mirroring on your Roku device.
[1] Open Settings on your Roku device.
[2] Click on Screen Mirroring.
[3] Now, select the Enable Screen Mirroring.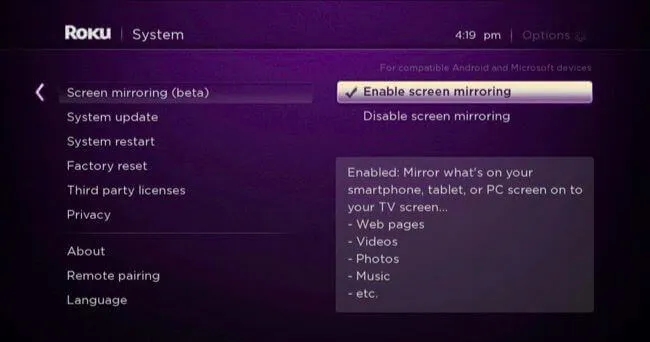 [4] Choose either the Prompt or Always allow option.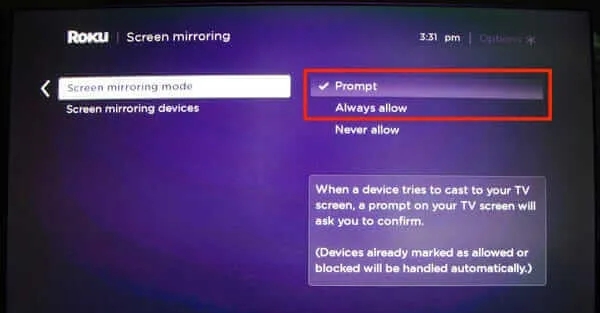 [5] Connect your Roku and Android Phone to the same WiFi network.
[6] Install the TikTok app from the Google Play Store.
[7] Open the Notification tab on the top of the screen.
[8] Click the Cast or Screen Cast option.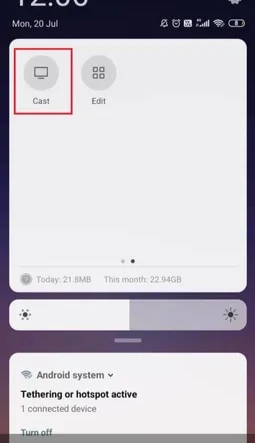 [9] Select your Roku device and enable permission for screen mirroring.
[10] Launch the TikTok app and sign in with your account detail.
[11] Now, start playing your favorite video and it will stream on your Roku-connected TV.
AirPlay TikTok on Roku Using iPhone
Note – Only a few Roku models support Airplay to screen mirror the iPhone.
To get AirPlay feature, you must ensure the Roku is updated to the latest version.
[1] Open Settings on your Roku device.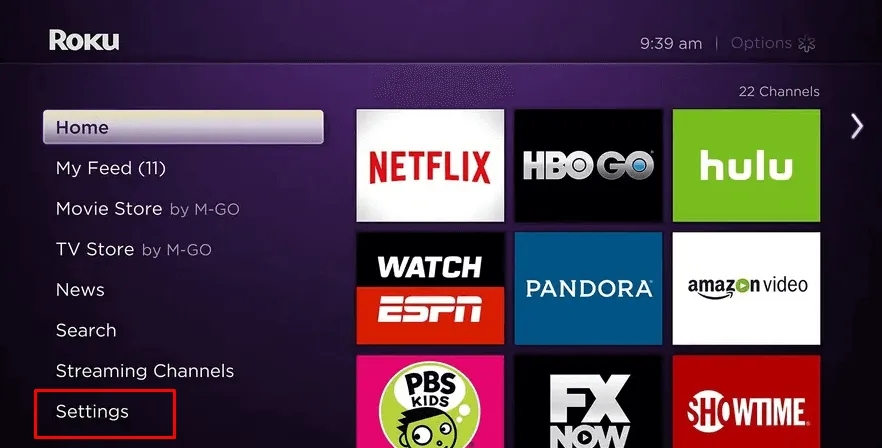 [2] Select Apple AirPlay and HomeKit.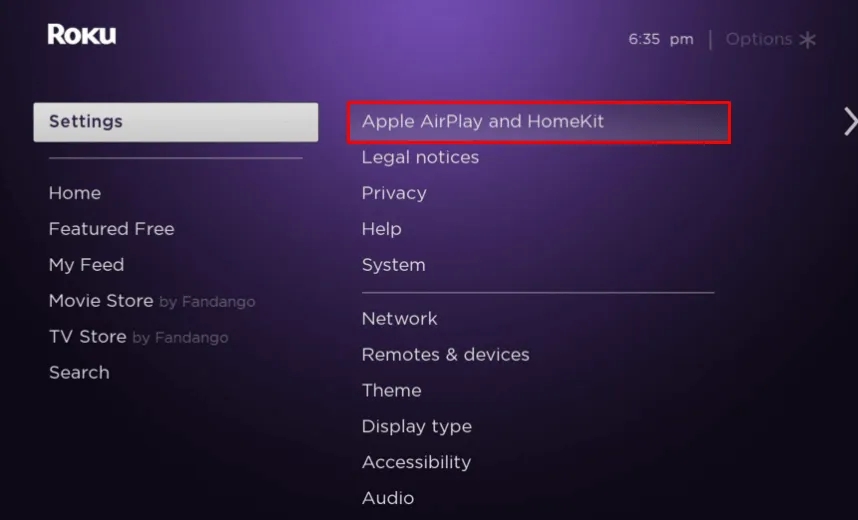 [3] Click on the AirPlay option and select Require Code.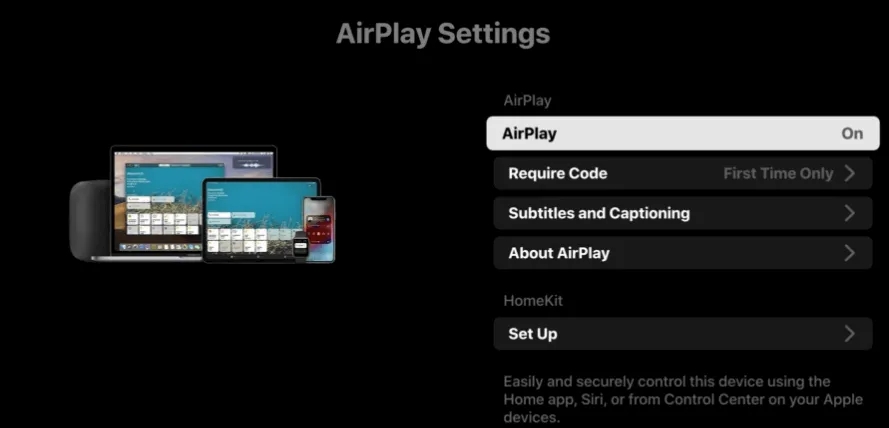 [4] Next, select First Time Only option.
[5] Connect both your Roku and iOS device to the same WiFi network.
[6] Install TikTok app from the App Store.
[7] Swipe down the Control Center on your iOS device.
[8] Tap the Screen Mirroring option.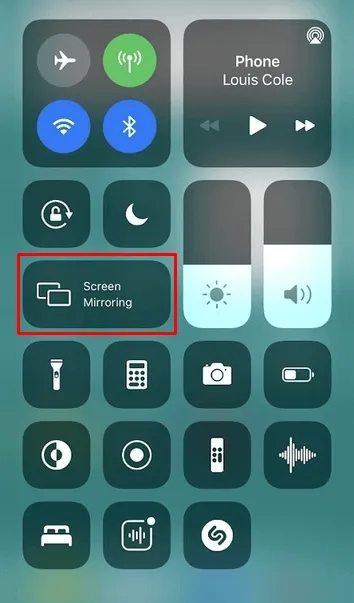 [6] Select your Roku device and enter the Passcode that appears on your TV screen.
[7] Now start watching your favorite TikTok videos on your Roku device.
Screen Mirroring TikTok on Roku using Windows
Like the Android method, you need to enable screen mirroring on the Roku device.
[1] Connect your Roku and PC to the same WiFi network.
[2] Open Google Chrome web browser.
[3] Visit TikTok's official site and log into your account.
[4] Press the Windows + P keys and tap on the Connect to a wireless display option.
[5] Select your Roku device to screen mirror the Windows.
[6] Finally, start streaming your favorite TikTok video on your Roku connected TV.
Since you can't install TikTok on a streaming device, screen Mirroring is the only possible way to stream its content on a TV screen. In case of any queries with the above methods, please use the comments section below. Visit our Techowns' Facebook and Twitter pages to get to know the other articles.
Was this article helpful?