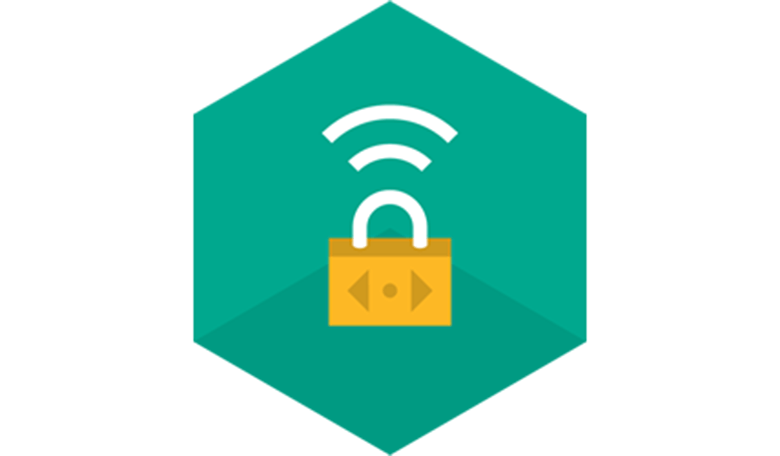 Kaspersky, one of the most recognizable names in the antivirus business also has a VPN called Kaspersky Secure Connection. Like other VPNs, we have tested Kaspersky VPN to find out whether you can trust this VPN with your data, time, and money. Is it safe to use? Is it unblocks Netflix? Is Kaspersky VPN fast enough? Let's find out the answer to all these questions in this detailed review.
Overview
Jurisdiction
Russia
Servers
18
Countries
18
Simultaneous
Connections
5
Netflix
No
Torrenting
Yes
Encryption
Protocols
AES-256; Catapult Hydra VPN protocol
Supported
Platforms
Windows, Android, iOS and macOS
Support
24/7 live chat support
Pros
Simple VPN to use
Above-average speed
The apps are very easy to use
Cons
Collects lots of data
Very small number of servers
Can't unblock Netflix
Poor network service
Jurisdiction in Russia
No support for routers
Jurisdiction
Kaspersky Secure Connection has its administration in Russia, the country which is outside the Five eyes intelligence alliance. It means countries like North America, Oceania, and Europe can't get their hands on users' data. However, Russia has its own serious issues.
Recently, Russia has targeted some VPN and asked them to register with Roskomnadzor. Among them, Kaspersky Secure Connection is one of the targeted companies. In response, providers like NordVPN, IPVanish, and a few more have shut down their Russian servers in order to avoid collecting and registering the user's data. However, Kaspersky has complied with Russia's Roskomnadzor's request. It means, there is a high percentage of collecting users' data.
Supported Devices
Mobile
Platforms
Android & iOS
Desktop
Platforms
Windows & macOS
Kaspersky Secure Connection VPN supports only the basic platforms: Android, iOS, Windows, and macOS. You can find an app for Linux platforms and it doesn't support manual configuration for routers. Hence, you can't secure the connections on gaming consoles, streaming devices, and the devices which are connected to the router. On the other hand, Kaspersky lets you install and use its VPN on five devices simultaneously.

Kaspersky VPN is not an ideal one for the users who want multi-device support. In that case, they can go for either ExpressVPN or CyberGhost VPN.
How to Download Kaspersky VPN?
It is very easy to install Kaspersky VPN. The smartphone users can visit their respective app stores (Google Play Store and Apple Store) to download the app and Windows users can download the .exe installer file from the official website.
On the other hand, macOS users can download the app directly from the Mac App Store. Here are the much-needed requirements to download Kaspersky VPN:
Windows – 140 MB free space on hard drive, 1 GB Ram, Windows 7 and later
Android – 150 MB free space, Android 5.0 & higher
Mac – 220 MB free space, 1 GB RAM, macOS 10.12 & higher
iPhone & iPad – 150 MB free space, iOS 12.0 & higher
Sever Locations & Censorship
Kaspersky Secure Connection VPN offers only 18 servers in 18 countries. Also, there are no city-level choices in any country. You can't find servers in countries like Australia, North America, South America, Africa, and several popular countries. If you want more sever locations across different parts of the world, you have to look for other options like NordVPN (5200+), CyberGhost (5500+), and ExpressVPN (3000+).
Due to legal limitations, Kaspersky Secure Connection cannot be installed on high censorship countries like China, Iran, Oman, Saudi Arabia, and Qatar.
Pricing and Payment Options
Currently, Kaspersky Secure Connection offers only two subscription plans. The single month plan costs $4.99 and the 12 months plan costs $29.99 (30-day money-back guarantee). Like the majority of the VPN providers, you can save 50% of your money while signing up for the annual plan.
When it comes to payment, Kaspersky VPN offers a wide range of modes including Credit Cards and PayPal. Unfortunately, it doesn't supports Bitcoin or any other Cryptocurrency methods.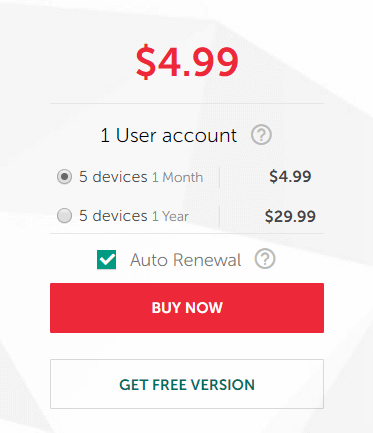 You can also download and use the free version of Kaspersky VPN, where the features will be limited. Here are the key differences between the free and premium version:
Free Version
Premium Version
Data Allowance
200 MB per day
(+100 MB by connecting to Kaspersky user account)
Unlimited
Virtual location
Automatic
18 countries
No.of supported devices
Unlimited
5
Kaspersky VPN Free vs Premium
Logging Policy
As we mentioned earlier, Kaspersky VPN has agreed with Russia's Roskomnadzor request. It means that your personal data will be collected and shared with the Government when needed. As soon as you launch the app, they will start to collect some of the user data. Here are the details they will collect from you:
User ID
Connected VPN location
MAC address
Device name
Firmware version
Processor type and more.
It is safe to say that Kaspersky Secure Connection VPN is not an ideal one for the users looking for 100% anonymity.
Streaming & Torrenting
If you're looking for a VPN to unblock streaming sites, Kaspersky is not the one you need. During our test, Kaspersky failed to unblock any major streaming sites like Netflix, BBC iPlayer, Amazon Prime Video or Hulu. However, we managed to unblock the lesser-restricted platforms like YouTube, Vimeo, and a few more.
For torrenting, P2P support is allowed on all P2P servers. However, the lack of a kill switch means your privacy will be exposed easily when your VPN connection drops.
Speed and Performance
Before conducting the speed test, let's check out the base speed of our connection to compare the results.
To measure our speed, we have used the Ookla speedtest tool. Here are our base speed test results.

While connecting to the default server, our internet speed was reduced by nearly 50%.

Now, we have connected to the distant server (Germany) and again our internet speed was reduced by 50%. Hence, the reduction remains the same regardless of server distance.

Encryption Protocols
Kaspersky Secure Connection uses the standard AES-256 encryption to secure the data. It doesn't incorporate normal protocols like OpenVPN, L2TP, and more. Instead, it uses the Catapult Hydra VPN protocol, the one used by Hotspot Shield VPN.
Apart from that, Kaspersky doesn't use any advanced security features. Despite the fact that the protocol was built on Hotspot Shield, the lack of Kill switch will leave your computer unprotected whenever there is a drop in connection.
Customer Support
Kaspersky offers different forms of support to clear customer queries. The website hosts plenty of useful FAQs, troubleshooting, and installation guides. If they are not helpful, you can rely on Email support or ticket system to clear your queries. Both Email and ticket system will take nearly 48 hours to respond.
If the above-mentioned system hasn't worked properly, you can rely on a 24/7 live chat to clear your queries. During our test, we managed to get a response within a minute.
Is it worth buying?
Kaspersky Secure Connection offers a decent VPN features which are ideal for basic users. The greater speed lets you unblock the less-restricted streaming sites with ease. However, if you're a user who want advanced VPN features, you have to look out for other options.
Follow us on Facebook and Twitter to read more review articles.
Was this article helpful?