Recently, many anime fans have completed the whole series lineup and are looking for a reliable platform to continue the storyline in the manga. If you're one among them, then KissManga is the one for you.
It is an online platform for reading hundreds of manga, manhwa, and manhua from popular and obscure series. This platform offers a wide range of collections across genres, including shonen, seinen, fantasy, drama, comedy, horror, and more.
With stable internet access on required devices, you can read all the manga content on the KissManga platform for free without interruptions.
KissManga – Site Design
KissManga's website design is quite simple. The home page contains a search bar to search for your favorite manga titles easily.

Under the search bar, the main page consists of a large banner with the latest manga updates and links to popular manga followed by categories. Then, the sidebar contains different sections, such as the latest manga releases, the most popular series, genres, and other information.
KissManga's interface is mostly black with blue and white text and images that give a clean and modern aesthetic look.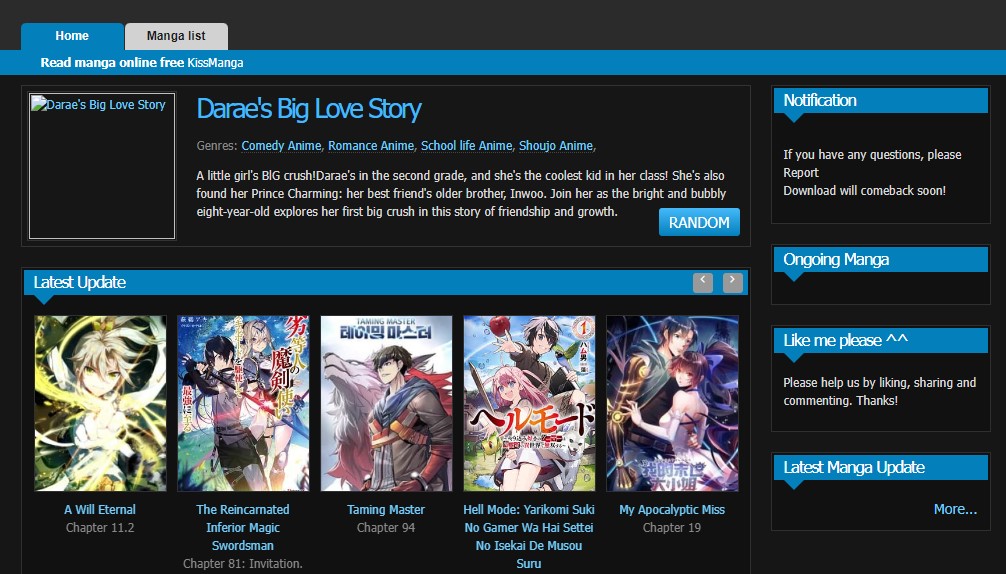 KissManga – Supported Devices
Unfortunately, KisssManga doesn't provide an official application for any platform. It is available to access on devices with a web browser, including PCs, smartphones, and tablets. Just enter KissManga's URL in the search field and read the manga with the web browser installed on your device.
How to Read KissManga Online
[1] Open a web browser and visit KissManga's official website – https://kissmanga.org.
[2] After that, navigate to the Search bar and enter your favorite manga to read.
[3] Once found, pick the manga from the search result. It will display all the chapters in descending order.
[4] It will display the Author, genre, status, and views for the particular manga.
[5] Further, scroll down to the bottom and click Chapter 1 to read the manga from the beginning. You can also choose your desired chapter if you're reading the weekly airing chapter.
[6] KissManga allows users to read manga vertically. So, scroll down in order to read your favorite manga.
[7] Also, click the Next (right & left arrow) icon at the top to read the previous and next chapter on KissMannga.
Can I Read KissManga for Free?
Yes. KissManga is free and doesn't require any subscription or sign-up method to access the platform. But you can create a user account to add bookmarks of your favorite manga. It will help you read to read the story from where you've left off.
Just click on the + Click to Add Bookmark to proceed.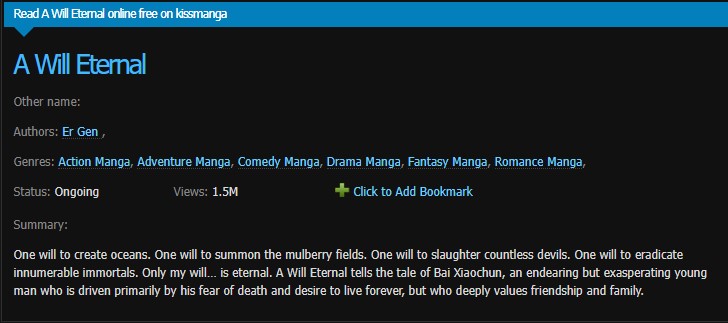 Bookmarking lets you quickly access your favorite manga by not scrolling through hundreds of titles, especially for mangas like One Piece and Detective Conan.
Is It Possible to Watch Anime on KissManga?
No. KissManga lets you access only the Manga. If you want to watch Anime content, try out
All three platforms are free to watch Anime content. However, they aren't legal to stream in most countries.
List of popular Manga on KissManga
According to users' interests and popularity, here are some of the most popular manga available on the KissManga platform.
| | | | | |
| --- | --- | --- | --- | --- |
| Berserk | Bleach | 20th Century Boys | Vinland Saga | Vagabond |
| Gintama | Chainsaw Man | Oyasumi Punpun | Homunculus | Uzumaki |
| Tomodachi Game | Steel Ball Run | Monster | Record of Ragnarok | Baki |
| Blue Lock | Tokyo Ghoul | Black Clover | Kingdom | One Piece |
| One Punch Man | World's End Harem | Solo Leveling | Jujutsu Kaisen | Darling In The Franxx |
| Grand Blue | Hunter x Hunter | Jojolion | The Jojoands | Fire Punch |
Is KissManga Legal to Use?
No. KissManga is not legal, as it distributes unauthorized copies of manga that are subject to copyright and considered illegal. As it's a third-party website, it doesn't host any manga content itself on the website.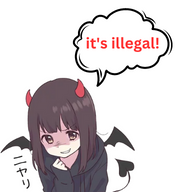 The desire for free content often drives the use of third-party websites like KissManga. There are also many legitimate and legal websites that offer access to manga, but they often require a subscription or other payments. However, keeping all the privacy issues in mind, you can surf content on KissManga at your own risk.
Is VPN Recommended to Read KissManga?
Yes. We highly recommend users use a reliable VPN network before accessing any third-party website. Without VPN, your IP address can be easily tracked, which means your online activities are monitored by others.
Also, the data you send and receive is at high risk of being intercepted and used by hackers, scammers, and even the government.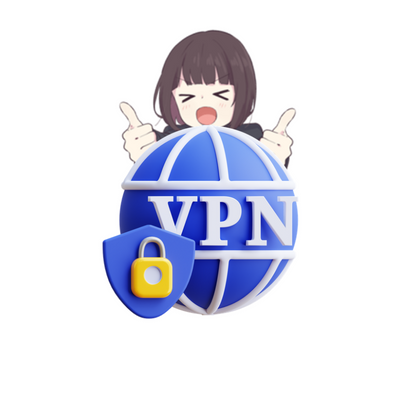 Using a VPN creates a secure and encrypted connection over a less secure network, such as the internet. It protects your sensitive data and information from being accessed by unauthorized users and helps to hide your IP address.
You can bypass the geo-restrictions if the KissManga content isn't available in your region.
We recommend you use the below VPNs for safe and secure search:
| VPNs | MONTHLY PRICING | MONEY BACK GUARANTEE |
| --- | --- | --- |
| ExpressVPN | $12.95 | Yes |
| Surfshark | $11.95 | Yes |
| CyberGhost VPN | $12.99 | Yes |
KissManga Alternatives
Since KissManga offers several unauthorized content, the government may take down the website very often. Instead of trying a single platform, you can also try other platforms to read manga content for free.
MangaReader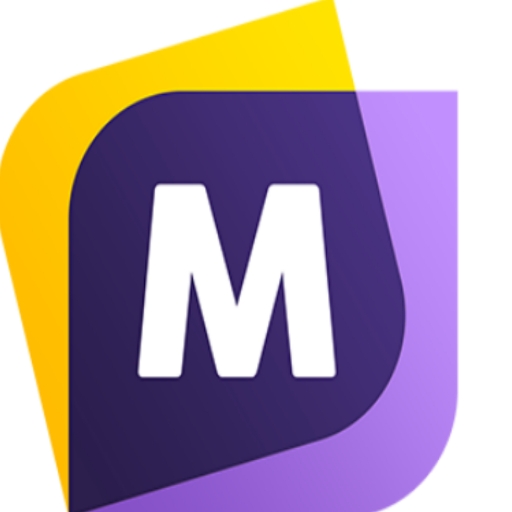 MangaReader is one of the best platforms to read collection mangas for free. It allows users to read manga from genres like shonen, seinen, romance, ecchi, isekai, fantasy, and more.
Moreover, this platform also provides a wide selection of manga for readers and discussion boards where readers can discuss their favorite ones with others.
Manga Fox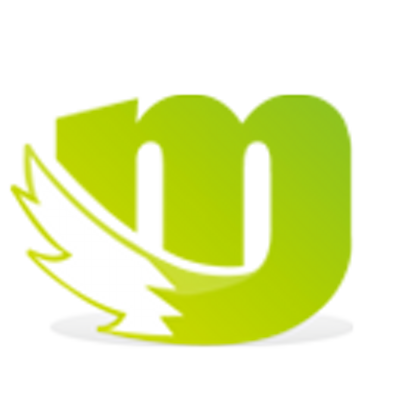 Manga Fox is another dedicated platform to read manga for free and one of the alternatives to KissManga.
This website is regularly updated with new manga series allowing readers to explore a variety of genres and find their favorite one to enjoy reading.
The main motive of Manga Fox is to provide readers with a fast and entertaining way to access and explore manga.
MangaDex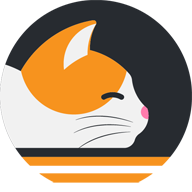 If you're looking for an alternative to KissManga, then MangaDex is the one for you. This platform offers manga fans a wide variety of manga series and chapters of high quality.
It provides users with an extensive manga database, including information about titles, mangakas (authors), and series.
Furthermore, MangaDex also provides a range of other tools and features, such as the ability to rate manga, as well as join forums and chat with others.
KissManga – Overall Review
Pros
Users can access a vast library of manga and manhwa titles.
It has a user-friendly interface that makes navigation simple and reliable.
The manga titles are available in high-quality to make them visually appealing.
It features a built-in search feature to search and access manga quickly.
It offers a comment section feature allowing users to discuss the manga that they've read.
Cons
It is not an official source for manga titles, so there's a risk of reading unauthorized copies.
This website may contain ads that can be distracting for users while reading online.
Compared to other websites, KissManga doesn't provide any content like one-shots and light novels.
This website may contain malicious content, such as viruses and malware.
It doesn't offer customer care support.
If you intend to read manga titles for free, then KissManga is one of the best platforms. However, it is not a secure place to read if you are concerned about privacy issues.
Was this article helpful?