Key Highlights
To stream NFL Sunday games, you need a DirecTV satellite subscription or NFL Sunday Ticket Max package.
Add NFL Sunday Ticket App: Press the home button → Streaming Channels → Search Channels → Search for NFL Sunday Ticket → Choose the app → Add Channel.
If you are a fan of the NFL tournament and want to watch the Sunday afternoon matches on Roku, you need to get a DirecTV subscription. DirecTV has the exclusive rights to stream all the NFL games of the 2022-23 season. Currently, all three plans of the DirecTV satellite package include the NFL Sunday Ticket to stream weekend matches on Roku or any other device.
Choice – $69.99/month
Ultimate – $89.99/month
Premier – $139.99/month
If you cannot receive DirecTV satellite service, you can purchase the standalone package of NFL Sunday Ticket Max, which costs $395.99/year. It also includes the NFL RedZone package. Visit this link to get the NFL Sunday Ticket Max package.
How to Get NFL Sunday Ticket on Roku
1: Connect your Roku to a WiFi network and press the home button on the remote.
2: Go to Streaming Channels → Search Channels.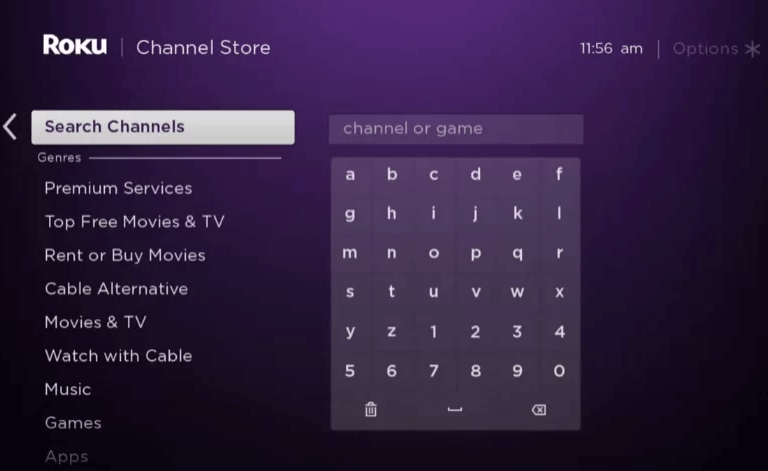 3: Type NFL Sunday Ticket and hit the Search button.
4: Select the NFL SUNDAY TICKET app from the search results and click on the Add Channel option.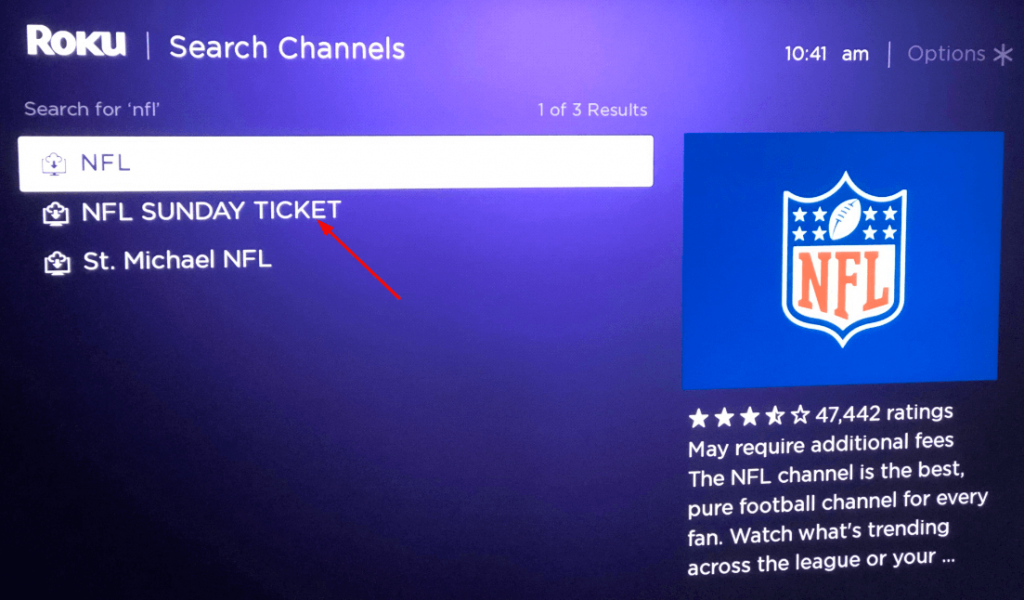 5: Click on the Go to Channel option.
6: After installing the app, launch it and sign in with the DirecTV or NFL Sunday Ticket Max package credentials to stream the matches.
Add NFL Sunday Ticket Using Browser
1: On a web browser, visit the Roku Channel Store Website.
2: Log in with the account that you have configured on the Roku device.
3: After logging in, click on the Search channel option and search for NFL Sunday Ticket.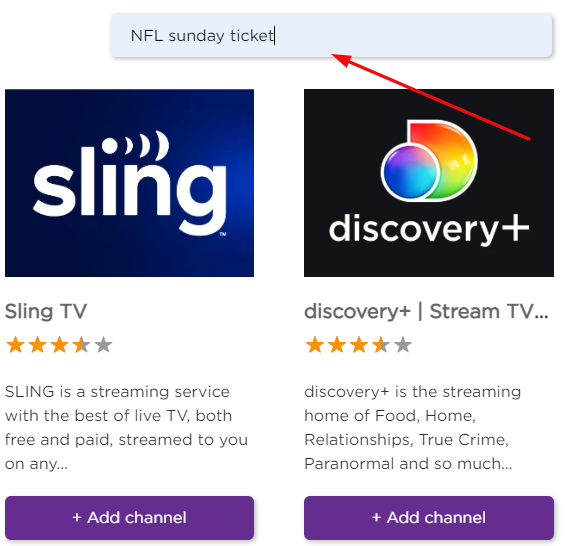 4: Choose the NFL SUNDAY TICKET app. Select the +Add Channel button.

5: Turn on your Roku, and you can find the app in the Streaming Channels section. If not, update your Roku, and the channel will be added immediately.
NFL Sunday Afternoon Matches
Week
Date
Match
Kickoff
September 8
Buffalo Bills vs Los Angeles Rams
1
September 11
Tampa Bay Buccaneers vs Dallas Cowboys
2
September 18
Chicago Bears vs Green Bay Packers
3
September 25
San Francisco 49ers vs Denver Broncos
4
October 2
Kansas City Chiefs vs Tampa Bay Buccaneers
5
October 9
Cincinnati Bengals vs Baltimore Ravens
6
October 16
Dallas Cowboys vs Philadelphia Eagles
7
October 23
Pittsburgh Steelers vs Miami Dolphins
8
October 30
Green Bay Packers vs Buffalo Bills
9
November 6
Tennessee Titans vs Kansas City Chiefs
10
November 13
Los Angeles Chargers vs San Francisco 49ers
11
November 20
Cincinnati Bengals vs Pittsburgh Steelers
12
November 24
November 27
New England Patriots vs Minnesota Vikings
Green Bay Packers vs Philadelphia Eagles
13
December 4
Indianapolis Colts vs Dallas Cowboys
14
December 11
Kansas City Chiefs vs Denver Broncos
15
December 18
New England Patriots vs Las Vegas Raiders
16
December 25
Tampa Bay Buccaneers vs Arizona Cardinals
17
January 1
Los Angeles Rams vs Los Angeles Chargers
18
January 8
TBD vs TBD
Frequently Asked Questions
How much is the NFL Sunday Ticket on Roku?
Currently, NFL Sunday Ticket offers three different plans for non-DirecTV customers.
→ Student Plan: $99.96/year
→ Go Plan: $293.96/year
→ Max Plan: $395.99/year
Was this article helpful?