Nowadays, most people spend their leisure time listening to Podcasts. It is a good companion while traveling. If you're an Apple Watch user, you can add and listed to Podcasts right from the wrist. Even you don't need to carry the iPhone. You can listen to Podcasts only when you have paired the Apple Watch with headphones or speakers.
At the same time, your Apple Watch must run on watchOS 5 & later. Hence, make sure to update your Apple Watch firmware to the latest version.
Sync Podcasts on Apple Watch
To sync Podcasts on your Apple Watch, you will need the help of a paired iPhone.
#1 Place your Watch on the charger and launch the Watch app on your iPhone.

#2 Under the My Watch tab, tap the Podcasts options.
#3 Tap Listen Now to add one episode from each subscribed Podcast.
#4 Tap Custom if you want to sync specific Podcasts. It will sync three episodes from the selected Podcast.
How to Listen to Podcasts on Apple Watch
Apple has a dedicated Podcasts app for WatchOS users.
#1 Unlock your Apple Watch and press the digital crown.
#2 Tap the Podcasts app, and it will display three different options on the main screen.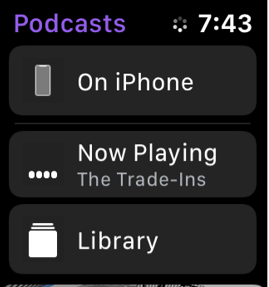 On iPhone – To play the Podcasts that are available on your iPhone and not installed on the Smartwatch.
Listen Now – To play the latest episodes of the Podcast that you follow.
Shows – View your subscribed Podcats.
Episodes – View all the available episodes.
Stations – View the Podcasts group that you created as stations on the iPhone's Podcasts app.
Now Playing – View the currently playing and recently played Podcasts along with playback controls.
Library – View the list of Podcast episodes that you haven't played yet and the ones that are available on your Smartwatch.
You can also use Siri on Apple Watch to play the Podcasts.
Use Apple Watch to Control Podcasts Playing on iPhone
#1 Launch the Podcasts app on your iPhone and start playing an episode.
#2 Now, open the Podcasts app on your Watch and tap the On iPhone option.
#3 Click Now Playing to view the playback controls.
Skip back 15 seconds.
Play/pause the current Podcast.
Skip ahead 30 seconds.
Airplay the current Podcast.
View more episodes
Change the playback speed (1x, 1.5x, 2x, and 1/2x).
Adjust the volume (only on watchOS 5).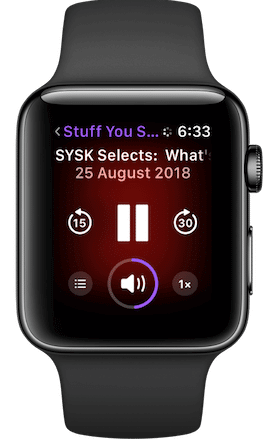 Podcasts are one of the things that many people tend to hear while walking, workout, traveling, and more. Hope, our guide will help you to hear it via Apple Watch. If you had any queries related to this guide, feel free to mention it below.
Hit the Follow button on Techowns' Facebook & Twitter profiles and read our articles instantly.
Was this article helpful?