What is?
Spyic Review 2021: Features, Pricing & How to Setup
Monitor the activities of your family members with the best spy app called Spyic.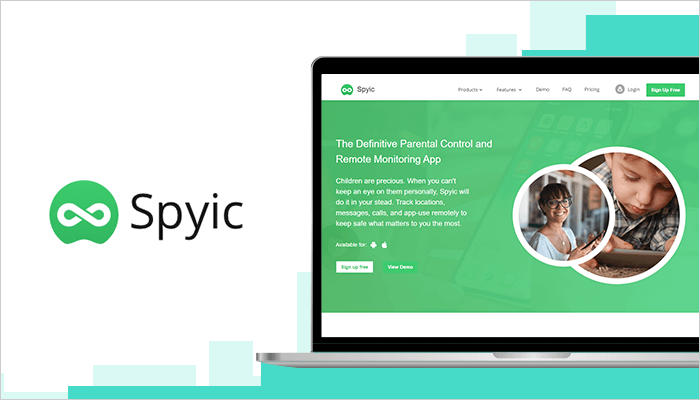 Nowadays, the utilization of the internet through smartphones has become a trend among youngsters. As a parent or partner, you need to monitor the activities of your child or partner to find what they are doing and how much time they're spending on smartphones. For this, you will need the help of Spy apps like Spyic. Over the years, Spyic has been rewarded as a solid spy app by the New York Times, Forbes, CNET, Digital Trends, Tech Radar, Toms Guide, and many more tech giants.
What is Spyic?
Spyic is a parental control utility and spying software used to track iPhone and Android devices. Like Cocospy, it has millions of users from 190+ countries. It is not good when someone knows that you want to track their activities. So, Spyic provides numerous advanced features in a unique way to spy your child or partner without their knowledge. For that, it uses the stealth mode to run in the background after setting up.
You can track other activities with the help of a web browser and internet connection. The online dashboard works in all types of web browsers and provides real-time information instantly.
How much it costs?
Spyic offers three subscription plans to track Android devices and three different plans to track iOS devices.
Basic
Premium
Family
Business
Android
$39.99/month
$59.99/3 months
$99.99/year
$49.99/month
$69.99/3 months
$119.99/year
$69.99/month
$99.99/3 months
$199.99/year
–
iOS
–
$49.99/month
$79.99/3 months
$129.99/year
$99.99/month
$199.99/3 months
$399.99/year
$399.99/month
$699.99/3 months
$999.99/year
Note: 7-day money back guarantee for all plans.
To track two or more devices, it is advisable to purchase the family plans. All the plans provide access to basic features like tracking call logs, location, SMS, browsing history, contacts, and video preview.
Features
Some of the interesting features of Spyic are discussed here:
SMS Tracker: You can track all sort of text messages including the deleted ones. Whether it is an sent message or received message, you can use view all the messages with timestamps.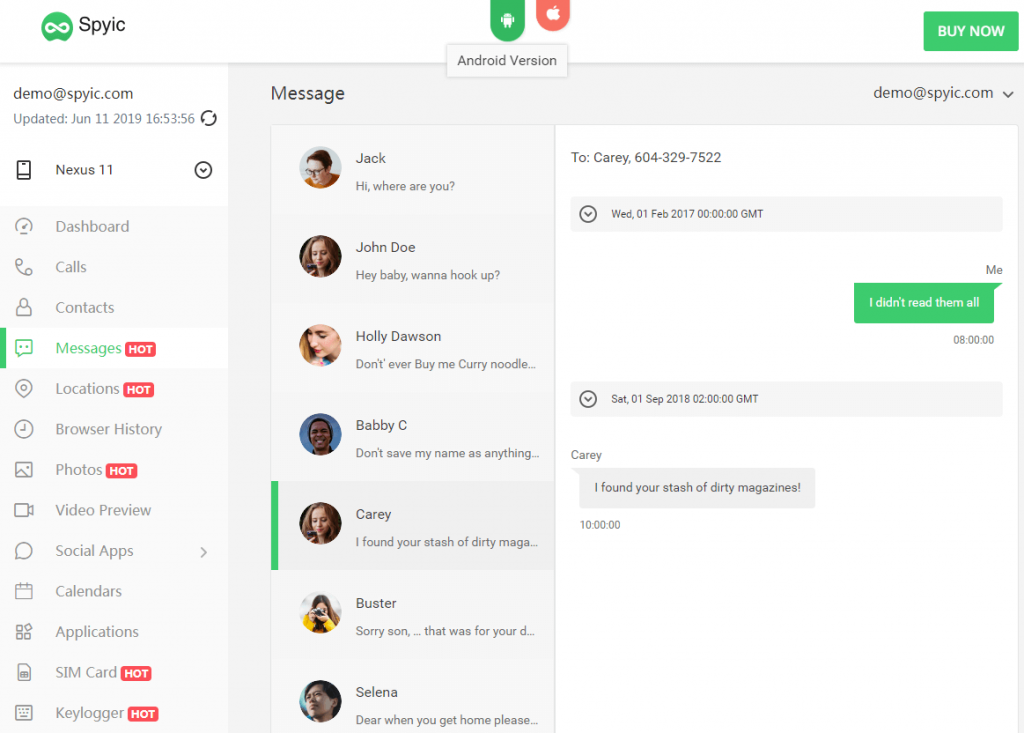 Call Tracker: Spyic supports tracking the details of all incoming and outgoing calls. It includes timestamps, call duration, and the number of calls made. Apart from this, you can also track the popular contacts stored on their device.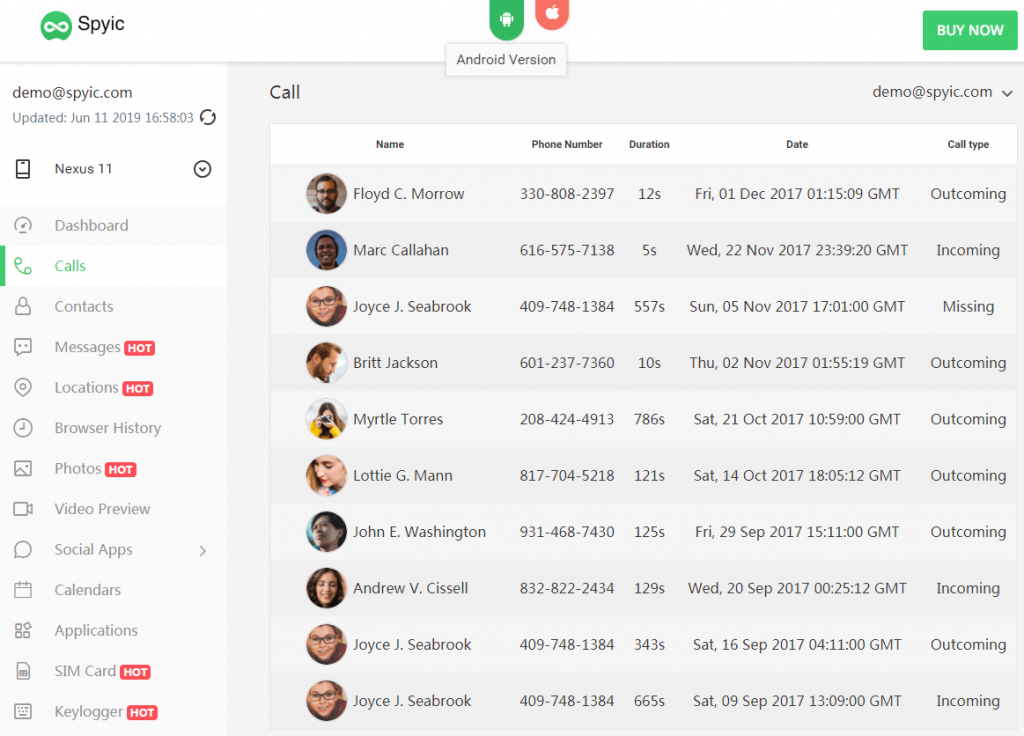 Social Media Tracker: This is the major highlight of having a Spyic tracker. It lets the monitor the activities of your spouse or child on various social media like Whatsapp, Messenger, Telegram, WeChat, QQ, Facebook, and many more.
Location Tracker: The Spyic location tracker provides you real-time location of the tracked person. With the use of GPS, you can track their location easily and accurately.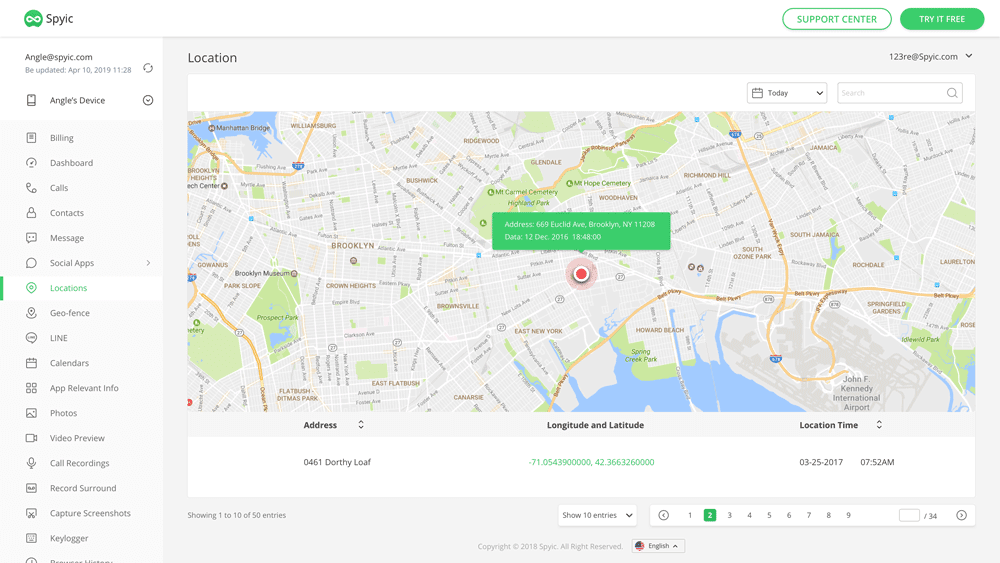 Monitor Installed Apps: Apart from tracking location and social media activities, Spyic also helps you to track the activities of the installed apps on target device. It includes streaming apps, games, sports apps and many more.
Web-based Dashboard: While using Spyic, you don't need to download any app on the remote device to monitor other activities. It works through a web-based dashboard and you can access it all kinds of web browsers.
Web Demo: Before subscribing to the service, Spyic displays a glimpse of how the tracking works. Just head to the official website of Spyic to watch that demo video for free.
No need to jailbreak/root
If you're a techie, you will know about jailbreaking or rooting the device and how it compromises device security. With most of the spying apps requires jailbreaking or rooting the target device, Spyic lets you track the target device without making changes to the device.
How to setup and use Spyic?
(1) Open a web browser on your device and visit the official website of Spyic to create a user account.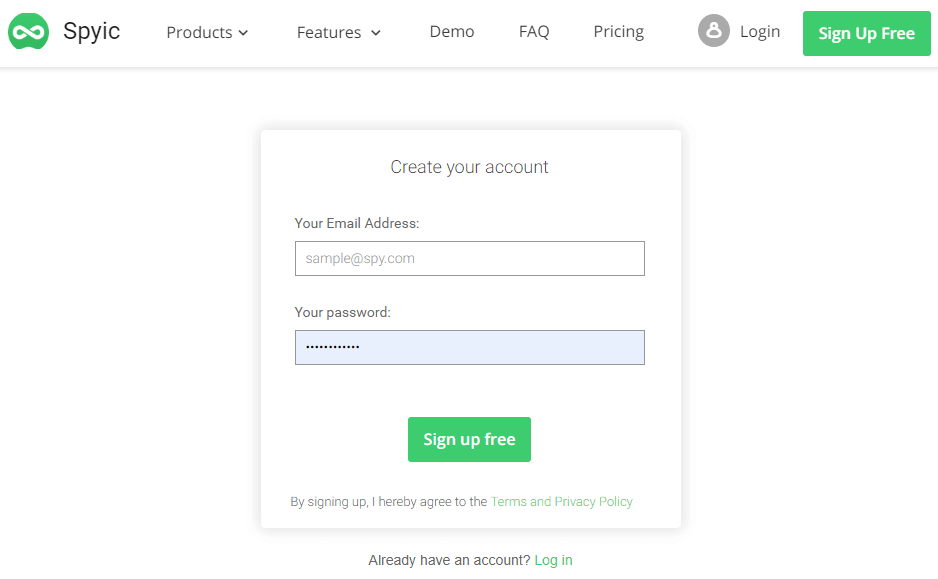 (2) Select and purchase a plan according to your need.
(3) After signing up, go through the configuration process. If your target device is iPhone, you need to configure the iCloud credentials of respective person.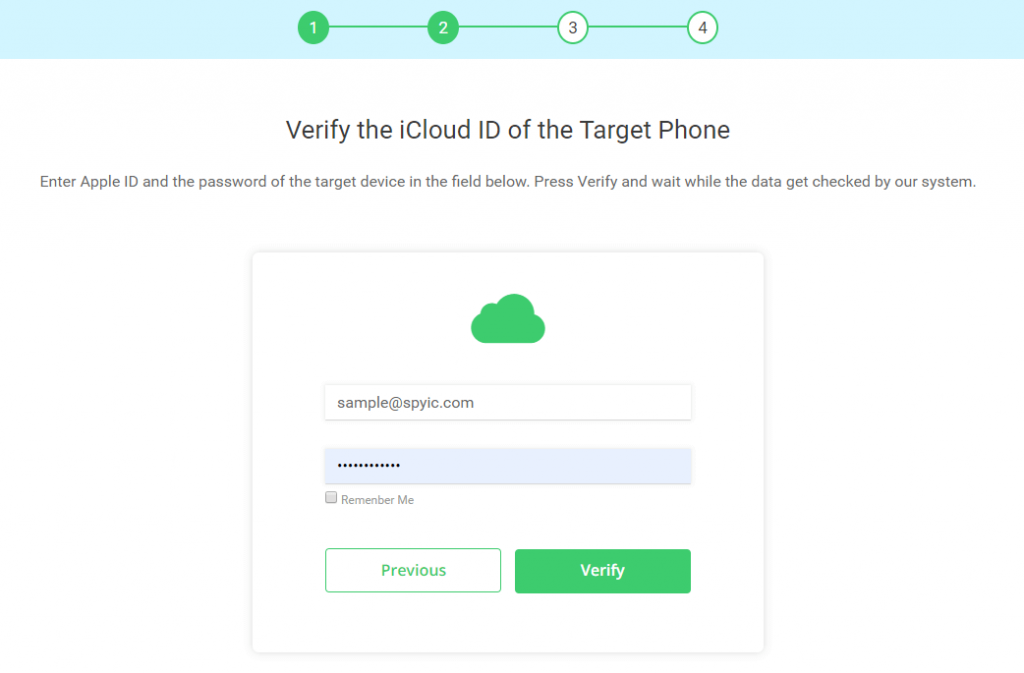 If the target device is Android, you have to install the Spyic app on the respective device. After installing, the app will run on stealth mode.
(4) With everything setup, click Start to monitor the device. You will re-directed to the dashboard screen where you can track different data.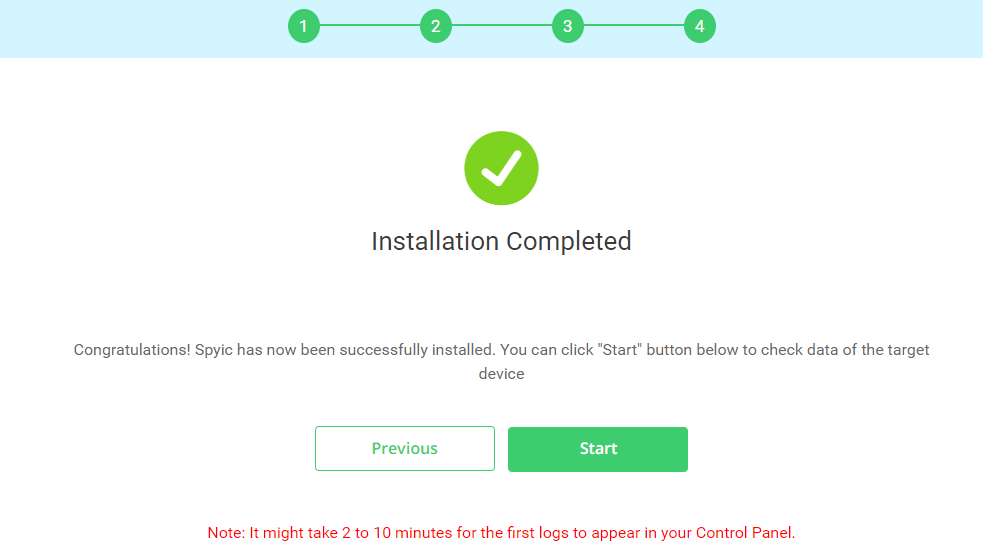 Spyic Alternatives
Below are the best alternatives of this software.
Cocospy
Mobile-spy.com
Spyera
Cerberus
Our Opinion
Spyic is a great utility to track any Android devices running Android 4.0 & later and iPhone/iPad running all versions of iOS. Be aware of the fact that, the iCloud backup on the targeted iPhone must be enabled for tracking. The GPS functionality lets you find the location of spouse, kid, child, or co-worker with ease.
Any questions related to the Spyic tracker? Use the comments section provided below. If you found this article helpful, share it with your friends using Twitter and Facebook.