AI technology has come a long way, from working in industries to creating incredible art. We have collected some of the best AI-generated art for you.
With technological advancements, we are seeing some incredibly complex products being made in different industries. It ranges from the newest PC games that blow the world every time to constant new hardware releases that keep pushing the boundaries. But one thing that has been getting the most attention is artificial intelligence, or simply "AI." We have already seen some great examples of AI technology being used to create self-driving cars and some mighty robots, like the AMECA.
These AI robots are already replacing humans in many industries, and now, with the rise of NFTs, we are seeing some fantastic art that AI generates without any human intervention. From funky to incredibly detailed, here is a list of the top 10 best AI-generated art you NEED to check out in 2022!
What is AI-Generated Art?
AI-Generated art can be any art created with the help of our totally by artificial intelligence. Artists are coming up with complex algorithms that analyze thousands of images to make sense of different aesthetics and based on the analysis; the algorithm tries to create other art.
There are different types of AI-generated art depending on the algorithm and what the developer wants to achieve. For instance, someone programs take description as input and draw an art based on your description. So you can say, "draw a peaceful forest with a hut in the middle," and the AI will try to put together art that matches your description in a meaningful way.
With the rise of NFTs, the use of artificial intelligence to create art has also increased significantly. These arts have been selling millions of dollars, and it's only just beginning.
First AI-Generated Art Auction
Although NFTs and AI-generated art has only started to gain popularity recently, people have been working on it for quite a while now. Suppose we dig a little deeper into the history of the first AI-generated art. In that case, we can find the portrait of Edmond De Belamy, which an AI created after analyzing more than 15,000 images to get a clear sense of classic aesthetics.
It was revealed at an auction back in 2018 and sold for a whopping price of 435,500 dollars. It was fascinating and unlocked doors for many artists to explore this then-infant and highly-potent field of AI-generated art. As a result, it grabbed a lot of attention from artists and art lovers worldwide; since then, AI-generated art has come a very long way.
Art by "Sophia, The Robot"
Sophia is considered one of the most complex robots humans have ever created. She can analyze human emotions and even imitate human reactions in the best possible way. Her intelligence is considered to be robust and sometimes even scary.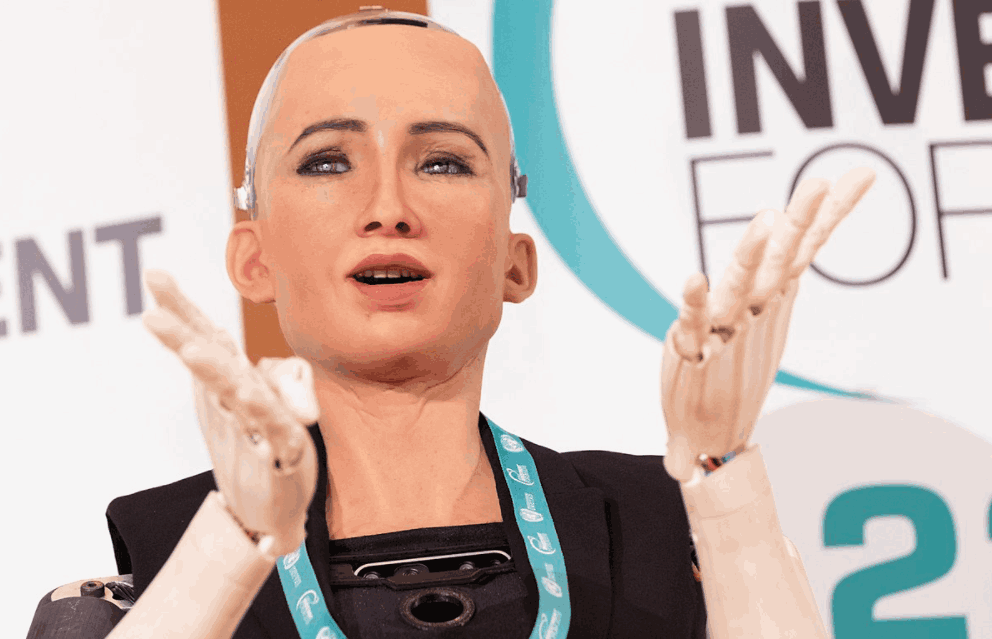 But a few days back, she stunned the whole world by painting a portrait by analyzing other arts using her neural network. You would be shocked that her piece, called Sophia's Instantiation, was sold for 700,000 US dollars.
It is considered the very first robotic art sold in an auction and is just the first of many more to come. She combined her artificial intelligence with incredibly powerful sensors that process faces and expressions and help her judge emotions to bring her art to life.
CryptoPunks
Not every art generated by AI is dazzling; I wouldn't be wrong to say that MOST of the art generated by artificial intelligence making headlines is pretty basic. For example, CryptoPunks is one of the most popular NFT collections, and AI causes it. It is an essential pixelated art that makes little changes to human features like eyes, glasses, accessories, and whatnot.
The AI behind the collection has generated thousands of these pictures, some of which are sold for a whopping price of millions of dollars. This shows just how simple or complex AI-generated art can be, and people would still buy them if they wanted to.
These are just a few AI-generated artworks circulating worldwide, and people are spending millions of dollars to own these artworks under their name. In addition, companies have set up dedicated websites and marketplaces where people are selling their AI-generated art for an incredible profit.
The future of art looks pretty exciting but scary as well; it makes you wonder if artists would lose their charm when AI starts to create such realistic artwork when it gets too powerful. There are concerns, but AI is mesmerizing people with what it can do so far.
Was this article helpful?