Key Highlights
There is no free trial on TSN. Sign up for the basic membership to test out the service.
Visit the Website → Tap on Subscribe → Enter Email & Phone Number → Enter Password → Choose Membership → Enter credit/debit card details → Get TSN subscription.
TSN (The Sports Network) is a Canadian sports channel where you can stream live sports channels at an affordable price. After subscribing to TSN, you can live stream content like NHL, CFL, NBA, NFL, MLS, MLB, and FIFA World Cup 2022. However, the TSN platform doesn't provide any free trial option to check the media content.
Does TSN Offer Free Trial?
No. TSN doesn't offer any free trial or money-back guarantee policy for its users. So signing up for the basic monthly pass is the wisest option to check the features available on the TSN service. At the same time, you should cancel the subscription within the 30-days if you aren't interested in using the service. Otherwise, the amount will be auto-debited from your account automatically.
TSN – Membership Plans & Pricing
TSN platform offers three different subscription plans to its users.
| MEMBERSHIP PLAN | PRICING |
| --- | --- |
| Month Pass | $19.99 per month + tax |
| 4-Month Pass | $12.49 per month (billed $49.96 Every 4 Months + tax) |
| Annual Pass | $ 9.99 per month (billed $119.90 Annually + tax) |
How to Sign Up for TSN Monthly Pass Subscription
TSN is a Canada-based service, and users outside teh Canada cannot access this service due to geo-restriction.
[1] Open any web browser on your iPhone, Android, or desktop.
[2] Visit the TSNs official website (https://www.tsn.ca/subscribe).
[3] Next, click the Subscribe button.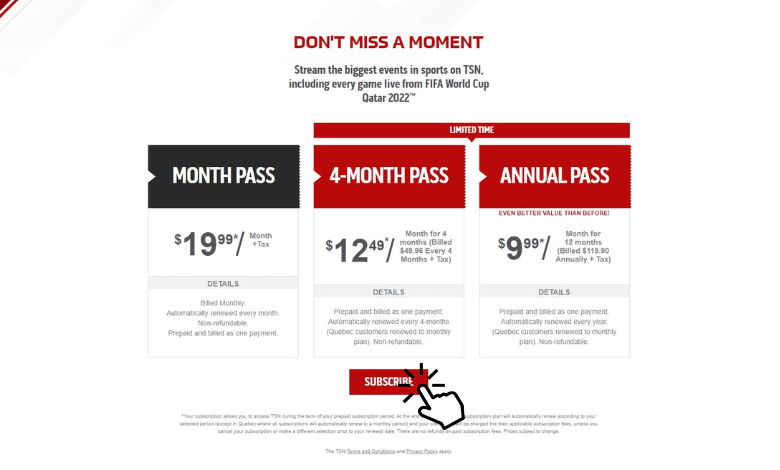 [4] After that, enter your Email address & Phone Number and hit Continue.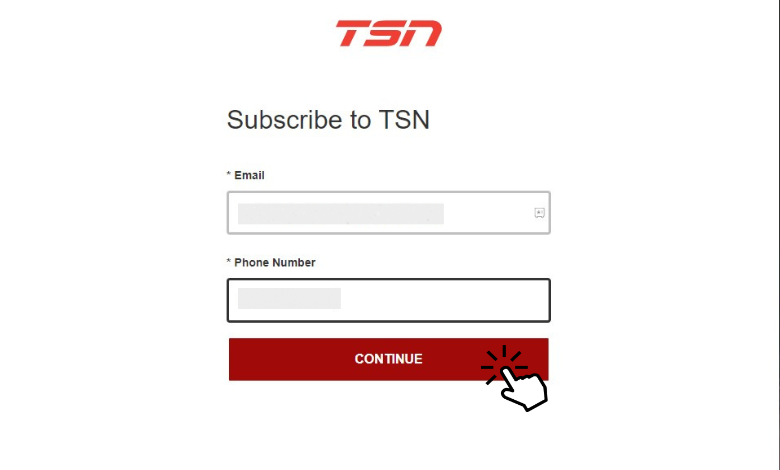 [5] Choose your desired Password and enter the required fields.
[6] Click Continue.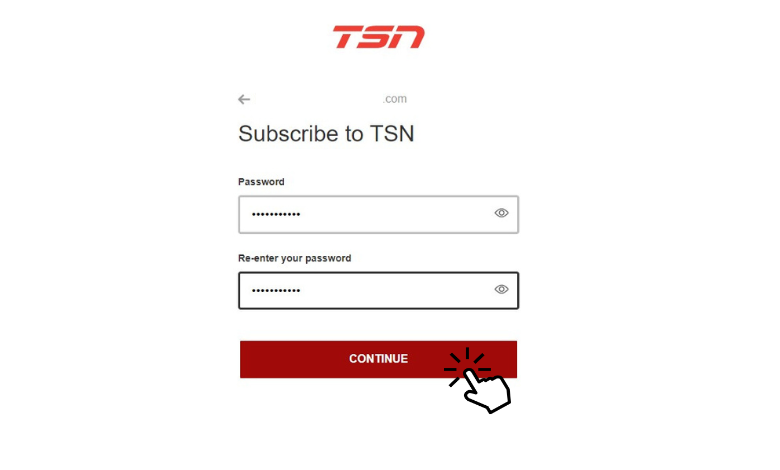 [7] From there, choose your membership plan and click Continue.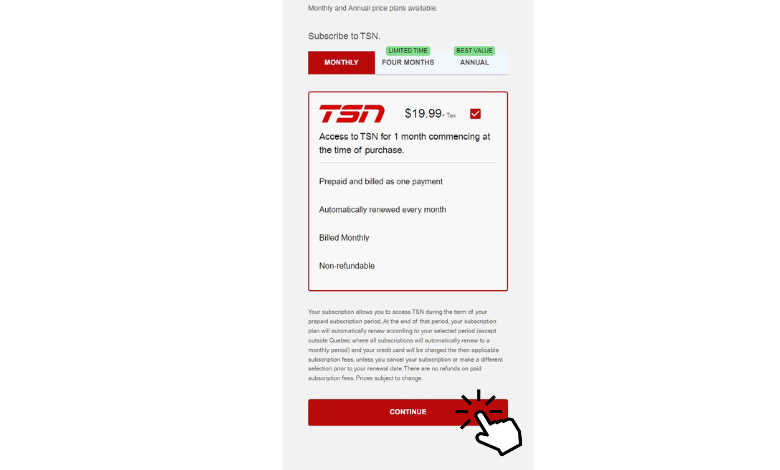 [8] Add your credit/debit card details on the required field to purchase the plan.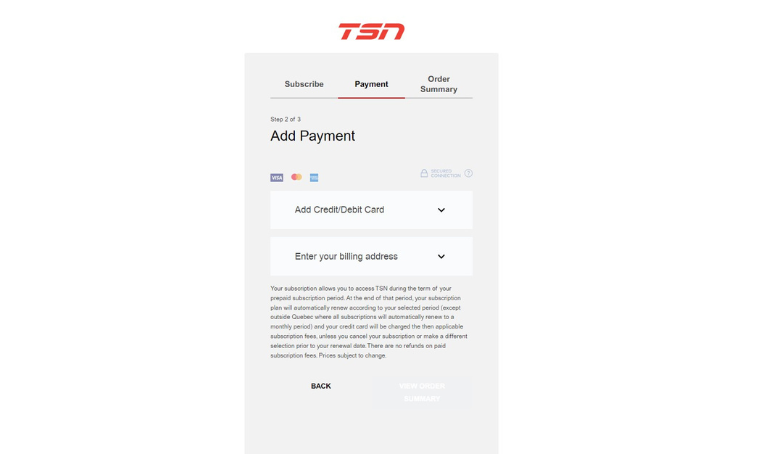 [9] Enter your billing address and click Save & Continue to complete the payment process.
[10] Finally, you have successfully subscribed to TSN to enjoy sports content.
How to Subscribe to TSN Outside Canada
If you're outside Canada, you can't sign up on the TSN website directly. However, you can use some VPNs (Virtual Private Networks) to bypass the geo-restriction and subscribe to TSN.
Here are some best VPNs available at affordable pricing;
How to Cancel TSN Subscription
[1] Open any web browser on your PC and visit TSN.ca.
[2] Once the TSN web page appears, log in to your Account Settings with the necessary credentials.
[3] After that, click Cancel Subscription to terminate the service.
Note: If you didn't receive any email confirming your cancellation, contact 1-833-TSN-HELP (1-833-876-4357) or email [email protected] for aid.
Frequently Asked Questions
Does Amazon Prime include TSN?
No. TSN is not included in the Video Channels list of Amazon Prime Video.
Can you get TSN on Roku?
Yes. You can install TSN on Roku streaming devices and Roku TVs officially from its channel store.
Was this article helpful?