Uber is the first application that comes to everyone's mind when they want to book a taxi or car. By simply providing your phone number and email address, one can book a ride right from their place. With the Uber app, you don't have to worry about organizing the ride because it lets you schedule the ride before 30-days. All you need is to install the app from the store, request a ride by pinning your destination, and the driver will pick you up effortlessly. Uber application is available for both iOS and Android platforms. What about Apple Watch? Is Uber available for Apple Watch? Let's find out the answer.
Is Uber Available for Apple Watch?
No. Uber application is currently not supported on Apple Watches.
Earlier, users have accessed Uber app on Apple Watch to request a ride right from their wrist. The Uber for Apple Watch was launched in 2015 with limited functionalities. It lacked the features like splitting the fare, sharing ETA, communicating with the driver, and uberPOOL. The lack of this feature has led Uber to shut down the app in January 2022. Notably, Lyft has also discontinued the Apple Watch version in 2018.
Even though you can still download and install Uber on Apple Watch from the Store, it will not work properly. Upon launching the app, you will get a message stating,
Please switch to the Uber mobile app We no longer supporting the Apple Watch app. Sorry for the inconvenience😢.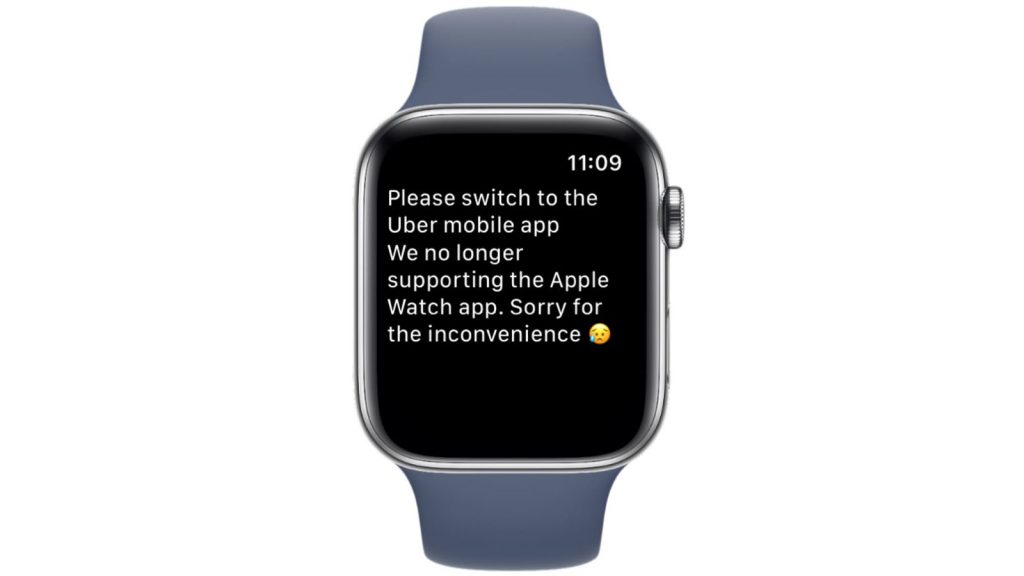 Note – If you aren't interested in Uber features, check out the Uber alternatives to request a ride.
Frequently Asked Questions
1. Is Uber removed from the Apple Store?
No. The Uber app is still available to install on Apple Smartwatches. But, you can't use the application to book a ride.
2. Why Uber app is not working on Apple Watch?
The Uber application will not work on your Apple Watch since the Uber has shutdown the support for watchOS in January 2022.
Was this article helpful?