VIPRow Sports is a streaming website that lets anyone watch any major sporting event without a subscription or registration. One can enjoy all their favorite sporting events in the required video quality. Moreover, the website is accessible all over the world.
While compared with other sports streaming sites, VIPRow Sports has more sports listing for streaming. It doesn't offer any apk file to install on Android or Android-based devices. But, it can be accessed on all devices with internet browser support.
Disclaimer! VIPRow Sports is an illegal streaming site, and we don't have any affiliation with VIPRow Sports or other sports streaming sites. This guide is for educational purposes, and we aren't responsible for legal issues while using this site.
VIPRow Sports – Design & User Interface
The main page of VIPRow Sports has a hero screen comprising 24 different tiles for each sport. Uniquely, it was really useful because the entire viewport was used well. As a result, we had no difficulty picking one of our favorite sports.
Sports that you can watch on VIPRow Sports
Football
MMA
Boxing
WWE
Fighting
Tennis
American Football
Basketball
Baseball
Ice Hockey
Golf
Darts
Rugby
Aussie Rules
Formula 1
Moto GP
Nascar
Motorsports
Volleyball
Handball
Cycling
Cricket
Snooker
Upon selecting the required sports tile, all the ongoing events will appear on the screen. Select the event you want and stream it on your device.
They also included a special tile for FIFA World Cup 2022. By selecting it, it will open a new site where you can live stream the FIFA matches without any fee.
We felt the fonts to be readable, and despite using a dark theme, the fonts were legible and optimized for reading content.
Above the sports tiles, you can find dedicated tiles for sporting events and popular teams.
Note – VIPRow Sports doesn't host any live stream on its website. It just displays the links of the third-party websites which stream the particular events.
Ads
We did not find too many ads during the playback. But popups were annoying whenever we tried to click a few buttons or links. But once we got through that, a brief 25 seconds wait was required before streaming the video. During half an hour of streaming, we hardly came across any Ads. However, adding to that, it has excellent video streaming quality.
Unwanted PopUps
The popups were annoying and appeared almost all the time when we clicked a button or a link. However, it did allow us to get through it. As a result, it required us to view two popup / modal windows before it let us go to the next page.
Video Ads
Although this website did not even ask us to register to view its content, the video ads were going to be annoying. Despite that, we barely saw ads for the first half an hour of playback.
User Experience
We did not have any difficulty navigating through the website. All the buttons and links were placed well and visible at all times. Also, it took us 4-5 clicks to start watching Formula 1 on the Sky Sports F1 channel.
Does VIPRow Sports Offer Apk File?
No. VIPRow Sports is accessible only through the web version. You can't find apk file to install it on any device. Some third-party sites may provide apk file in the name of VIPRow Sports. Installing them on your device may inject some malware.
How to Watch VIPRow Sports on Firestick
Since we don't have the VIPRow Sports app to install on Firestick, we can access only the web version. Hence, you need to download Silk Browser on your Firestick device. Alternatively, you can also try Google Chrome on Amazon Firestick for streaming VIPRow Sports.
1 – Turn on your Firestick device and head to the Find → Search section on the home screen.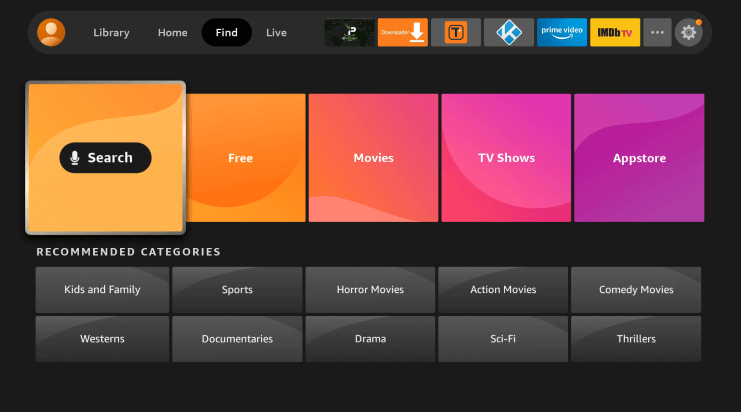 2 – Type Silk Browser on the search bar and hit the search icon.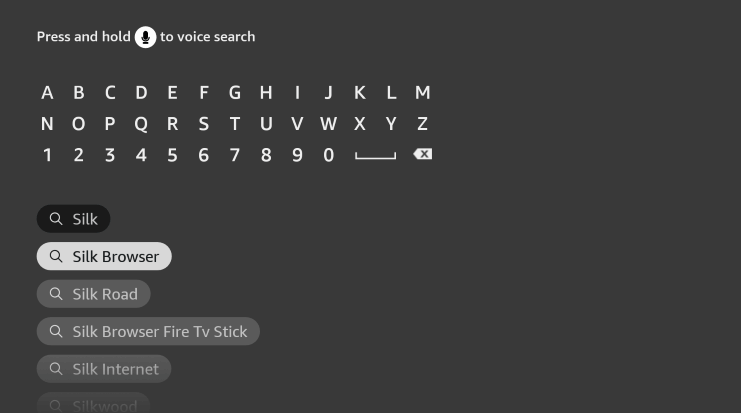 3 – Select the Silk Browser from the search results.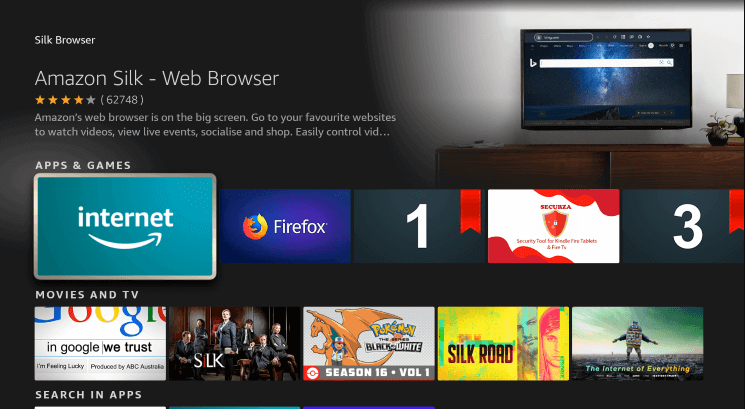 4 – Download the browser on your Firestick.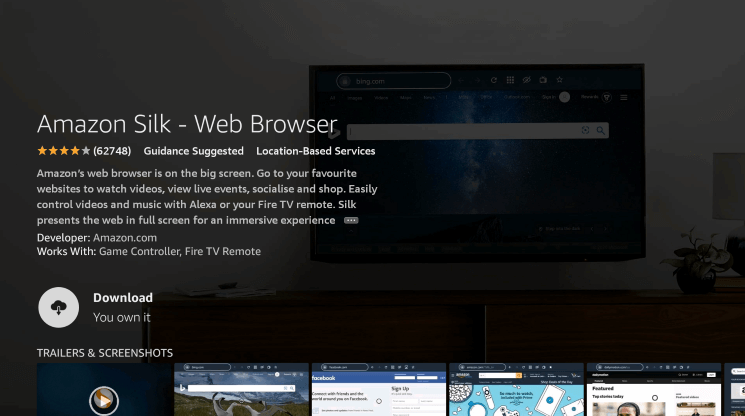 5 – Launch the browser by tapping on the Open button.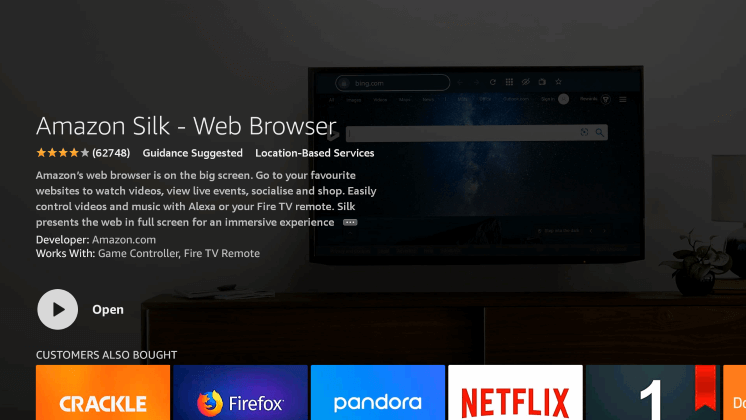 6 – Go to the URL bar and enter the official website of VIPRow Sports.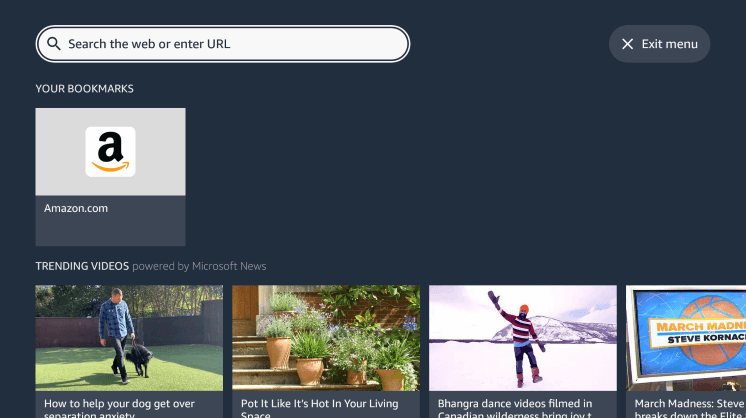 7 – That's it. The home page will appear on the screen. Select and stream the sporting event you want.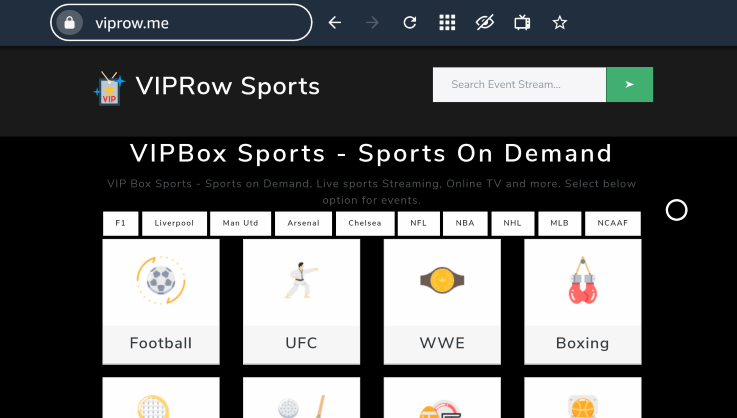 How to Watch F1 [Formula 1 Racing] on VIPRow Sports
1 – Visit the official website of VIPRow Sports.
2 – On the hero screen, select the tile with the F1 car icon labeled Formula 1.
3 – On the Formula 1 page, select the stream you wish to play. Subsequently, this list would show all channels currently playing F1 content live.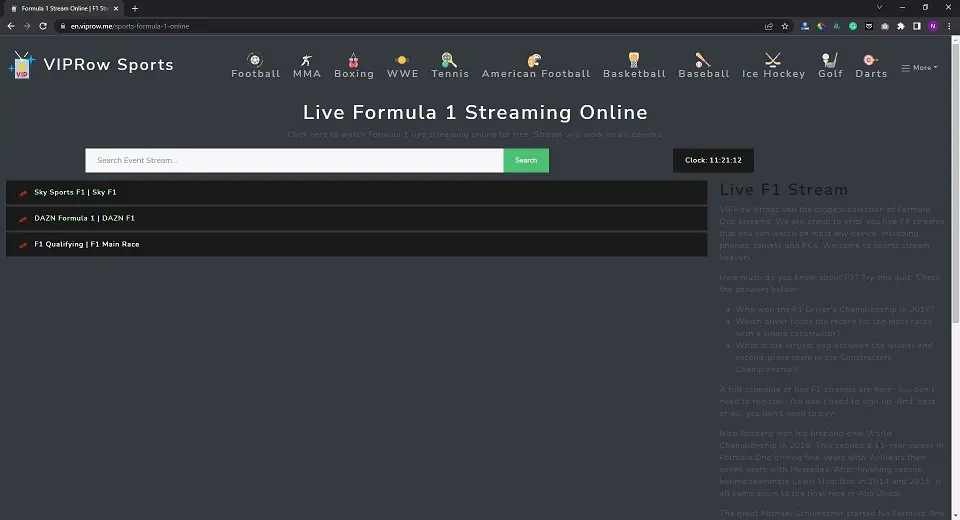 4 – Click on any channel to discover the links to stream.
5 – Open any link to start the streaming page with the video player on the main content area and a small IM window on the right sidebar to chat with other users.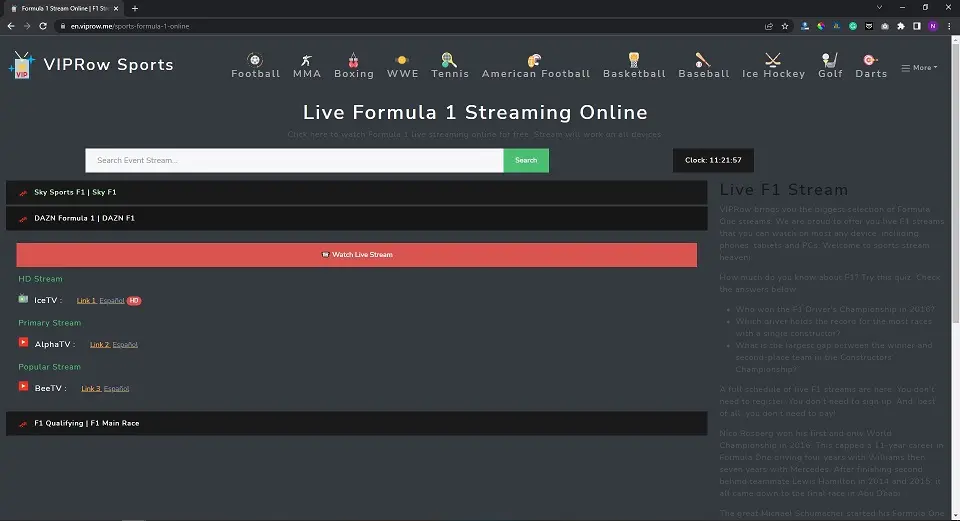 How to Watch Baseball
1 – Visit the official VIPRow Sports site.
2 – On the Hero screen, select the tile with the baseball bat and ball icon.
3 – On the next page, select the baseball stream you wish to play. Subsequently, this list would show all live baseball games and channels playing them.
4 – Click on any baseball match or channel to discover all the links.
5 – On the next webpage, you will see the live stream of the chosen baseball game.
VIPRow Sports Not Working – Troubleshooting Solutions
You may find issues with streaming VIPRow Sports when the internet connection is too slow or poor. Ensure that the internet connection is working perfectly without any issues. If it is very slow, restart the modem and disconnect the other devices connected to the same network.
Ensure that the browser you're using to stream VIPRow Sports is updated to the latest version. The outdated version of the browser may bring certain problems while streaming.
The streaming link you're trying to stream may not be active or broken. In those situations, try the other link to stream the content.
Pros and Cons
+ Hero Screen with tiles
+ Dark Theme
+ Legible Font
+ Less clutter and focus on content and navigation
+ No signup required
– We felt some scripts and unwanted popups being forced now and then.
Alternatives for VIPRow Sports
Since it is not a legal service to stream sporting events, their server might be taken down by Government for copyright issues. In those situations, the following sports streaming sites will come handy to stream the required sports content.
If you want to stream Sporting events legally and without any issues, consider the following Live TV streaming services.
fuboTV
Pro – $69.99/month
Elite – $79.99/month
Ultimate – $99.99/month
Sling TV
Orange – $40/month
Blue – $40/month
Orange + Blue – $55/month
Hulu + Live TV
With Ads – $69.99/month
Without Ads – $75.99/month
YouTube TV
$64.99/month
BBC iPlayer
Free
–
Most of the services offer a free trial for new users. Make use of it before purchasing the required subscription plan. Moreover, they also support all the platforms that you can imagine.
Verdict
VIPRow Sports is the preferred website to stream our favorite sporting events in case of an emergency or when we run out of subscription validity in the middle of our favorite sports like F1, MotoGP, WSBK, Baseball, Cricket, Football, or any other sport.
Frequently Asked Questions
Is VIPRow Sports free?
Yes. VipRow Sports is free to stream your favorite sport live without any subscription or fee. You can watch more than 24 different sports without paying anything.
Does VIPRow Sports offer any app to install on Android or any other device?
No. It is only accessible through the web version. You can't find any app or apk file for VIPRow Sports.
Is VIPRow Sports safe to use?
Definitely not. The popup ads and the re-direct links on this website may contain malware, which will affect your device.
Was this article helpful?