The increase in the price of the cable TV subscription has made entertainment enthusiasts look for alternatives. The online streaming services are the lifesaver as it aims to provide unlimited entertainment at a much lower cost. CBS is the one such OTT streaming service which lets you watch everything without subscribing to the cable TV provider.
In addition to this, it competes with most of the live TV streaming services and you can access the best of CBS content online. We have provided all the necessary details about the CBS app right here and you will get to know more about it at the end of this article.
TOC
CBS – What's it?
What is CBS All Access?
What is the Cost of Subscription Package?
CBS App Compatible Devices
CBS – A Closer Look at its Interface
Getting Started with CBS App
How to Watch CBS on PC?
How to Watch Live TV on CBS App?
CBS – Conclusion
Frequently Asked Question
CBS – What's it?
CBS is an American owned commercial broadcast TV and radio network.
CBS is also video-on-demand service which lets you watch full episodes of TV shows for free after they air. It lets the users stream the latest episodes, daytime, late-night episodes, and primetime in HD quality without any cost. The users need to pay some bucks to unlock extra features like live TV, CBS originals, offline access, etc. The app is also available for different devices and you can stream your content on any screen.
If you have login credentials of your TV provider, then CBS lets you watch the local CBS station live.
What is CBS All Access?
CBS doesn't let users access its entire library for free. A subscription is required to unlock certain features. CBS All Access is its premium package and its features are as follows.
1. It lets you stream live TV from four channels including local CBS station, news coverage on CBSN, CBS Sports HQ, entertainment news on ET Live.
2. Get access to the subscriber-only access to original series with CBS All Access subscription.
3. Download videos and watch it on the offline mode without any commercials by choosing an ad-free plan.
4. Stream thousands of episodes, on-demand and live series with this subscription package.
5. You can catch-up classic series and binge watch it anytime and anywhere without any ads.
What is the Cost of Subscription Package?
If you are a new member of CBS All Access, then you will get a free trial for one week. CBS offers two different tiers of the subscription package. You can buy any one of them for an unlimited streaming experience. The subscription package will renew automatically if the auto-renew option is turned on.
Buy CBS All Access – Limited Commercials at $5.99/month with a one-week free trial
Get CBS All Access – Commercial Free version at $9.99/month with a one-week free trial
Note: Streaming live TV will show commercials just like TV watching. To sign up for CBS All Access from CBS app, you need to click on Live TV or select any subscriber-only video to choose a premium plan.
CBS App Compatible Devices
CBS is designed to be a multi-platform streaming service and is available in different platforms,
Android
iOS
Android TV
Samsung Smart TV
Xbox One
PlayStation 4
Google Home
Amazon Alexa
Browser (Chrome/Firefox/Safari/Internet Explorer)
CBS – A Closer Look at its Interface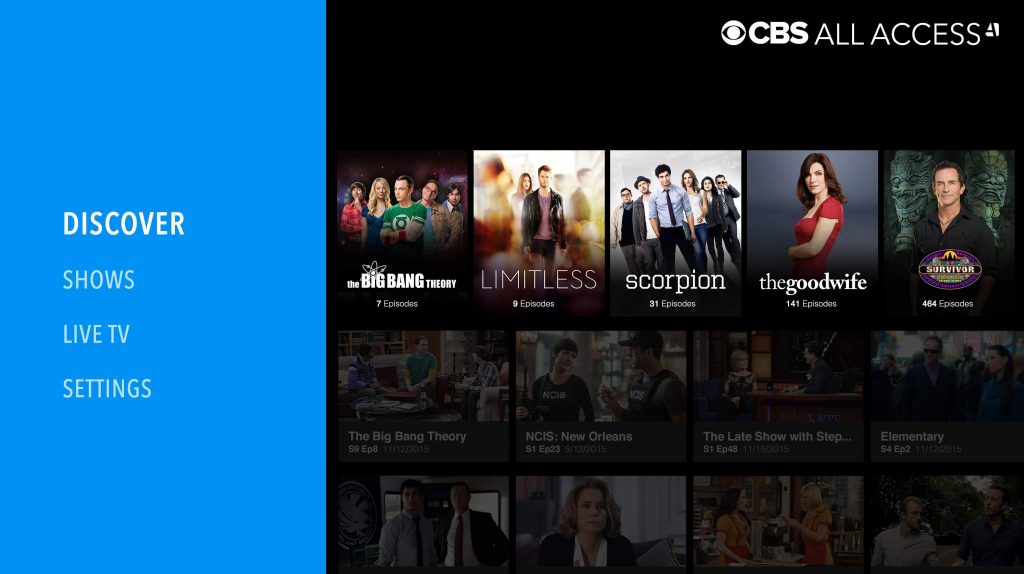 CBS features a sleek interface and letting its user's stream videos with minimal navigation. Whether you are using CBS as an app or on the web, there is not much difference found on the interface. From the home screen, you can choose videos from different tabs. It includes shows, live TV, full episodes, movies, CBS provider, CBS News, CBS sports, etc. Alternatively, you may use the built-in search bar to directly look for the titles and access them with one-click. As of now, the CBS app cannot be accessed from outside the US.
Note: Dont worry, you can use a VPN to by-pass IP restrictions and watch CBS anywhere from the world. We recommend you to try NordVPN, which is one the best VPN provider.
Getting Started with CBS App
CBS is available as a native app for all the compatible platforms and you can download it seamlessly.
Step 1: Launch the respective app store on your smartphone/smart TV
Step 2: Search for the CBS app using the search bar
Step 3: Choose CBS from the search result and download it
Step 4: Open the CBS app after the download
Step 5: Click on the login button to sign in to the account or create a new account
Step 6: Start accessing CBS on your device and stream your favourite contents
How to Watch CBS on PC?
If you wanted to access CBS on your Windows or Mac PC, then it is possible.
Step 1: Open the web browser on PC and visit https://www.cbs.com/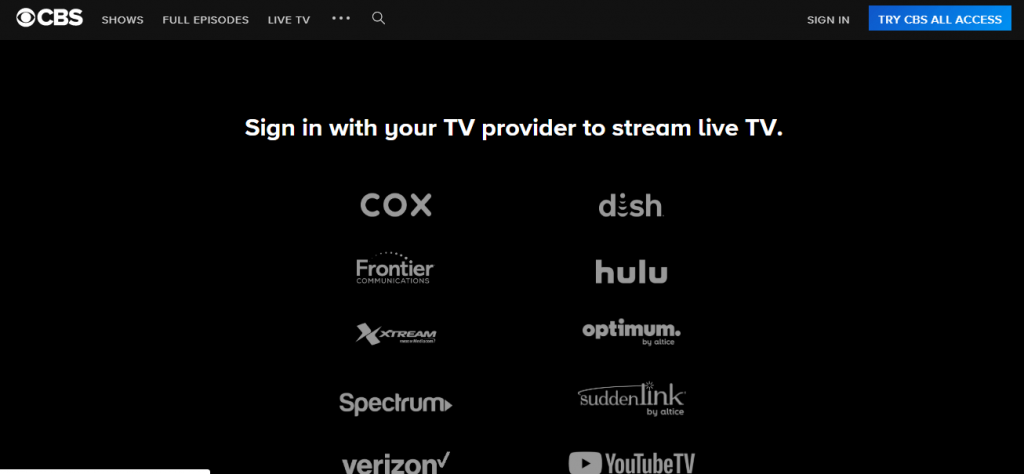 Step 2: Click on the Sign-in button from the top of the screen.
Step 3: Enter the login credentials to start using CBS on the PC Windows or Mac.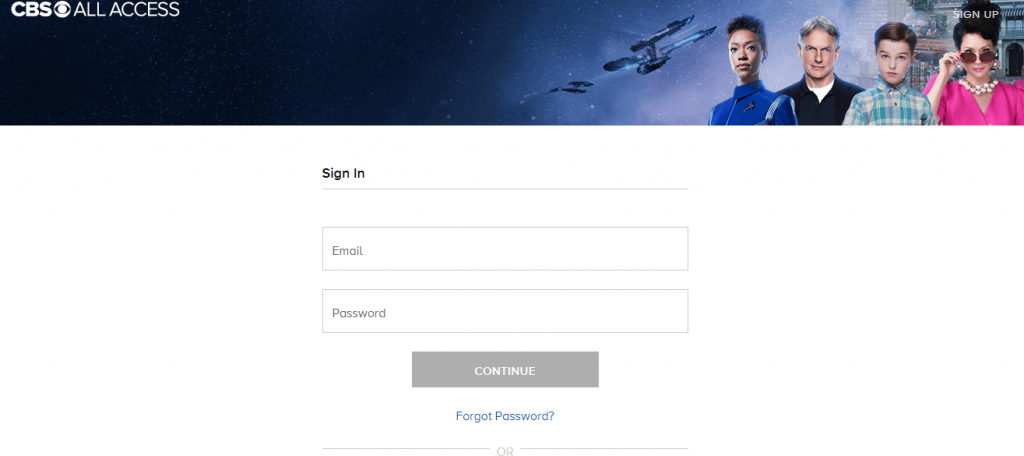 How to Watch Live TV on CBS App?
Step 1: To stream live TV on CBS app, you must be a CBS All Access subscriber. Make sure you have enabled the location settings on your device.
Step 2: Then log in to your CBS account irrespective of the device you are using.
Step 3: Choose Live TV option from the menu and select the channel you want to watch like CBS station, CBSN, CBS sports, or ET Live.
With this, the live TV gets streaming on your device.
What to do when you see Content not Available?
CBS is a US-only streaming service and it cannot be accessed outside it. In such a case, installing a VPN will help you access CBS from any parts of the world. A VPN will not just give access to the geo-restricted contents but also keeps your data secure. With a VPN you can connect to any US server to stream CBS channels and videos. Even if you have already installed a VPN on your device, then use it to streaming on CBS.
Here is the list of VPN's you can use,
CBS – Conclusion
If you want a better TV watching experience, then subscribing to CBS streaming service will help you. CBS with All Access subscription brings more contents. It is a great option if you are looking for ways to stream local CBS stations. Besides streaming live TV, the users of the CBS app can watch on-demand videos as well. It will never let you miss anything from classic series to the latest episodes and your favourite shows.
Frequently Asked Questions
Does CBS app offer rental contents and pay-per-view?
No. As of now, CBS offers only live streaming and video-on-demand movies and shows only.
Can you sign up for an annual plan from any device?
Yes. However, CBS annual subscription can be done only when you sign up from Android or from the web. (https://www.cbs.com/ on the desktop)
Is there an option to upgrade from monthly to annual plan in CBS?
Yes. CBS All Access subscribers can quickly upgrade from monthly plan to annual plan. Those in the free trial should wait for the trial version to end.
Who is eligible for CBS All Access + SportLine bundle?
Those CBS subscribers residing in US, Guam, US territories of American Samoa, US Virgin Island, North Mariana Islands, US Minor Outlying Islands, etc, are eligible to access the bundle.
Will I be charged after deleting CBS All Access subscription?
No. If you have subscribed to CBS All Access, then you will not be charged for cancelling the subscription. Mere deleting CBS All Access app will, however, will not cancel the subscription. So, it is important to cancel the subscription as well.
Still, having queries regarding CBS? Share your thoughts in the comments section below. And, also follow us on Facebook and Twitter for more updates.

Was this article helpful?