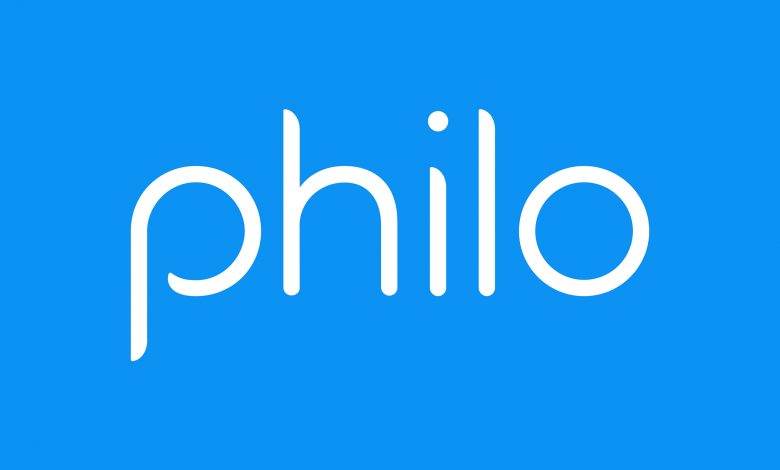 Streaming live TV over the internet gives more flexibility and functions than the cable/satellite services. Thanks to services like Sling TV and YouTube TV, one can stream all kind of channels without any fuse. Philo is one of the affordable services which has a massive lineup of channels to replace the cable completely. Even though it doesn't have higher-end features, it lets you enjoy a number of channels on your device.
What is Philo?
Philo behaves just like Sling TV, Hulu + Live TV, PlayStation Vue and other streaming services. With the support of various broadcast groups (A&E, AMC, Discovery and Viacom), it provides channels like CMT, Comedy Central, MTV, HGTV and many more.
The channels will be streamed just like they aired on a cable or satellite TV. You will also have the usual commercials between the programs. Along with live streaming, it also supports the cloud-DVR feature. With that, users can record their favourite shows for 30 days.
Philo supported devices
Just like other streaming devices, Philo is almost accessible on all platforms. Here are the devices that supports streaming contents:
Android mobiles/tablets
iPhone/iPad
Apple TV (4th Gen and higher)
Android TV (5.0 and higher)
Fire Tablet
Windows and Mac (Web browser)
Unfortunately, Philo is not accessible on following platforms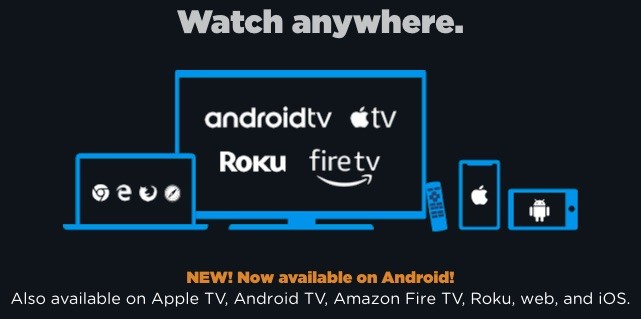 How much it costs?
If you check out the leading live TV streaming services, the starter package will cost $40/month. However, Philo is half that price. It costs only $20 per month. For new users, they offer a 7-day trial to test out the features of Philo. By providing your mobile, you can start the free-trial for 2-days. However, you need to provide billing information after two days to extend the trial period for 5-more days.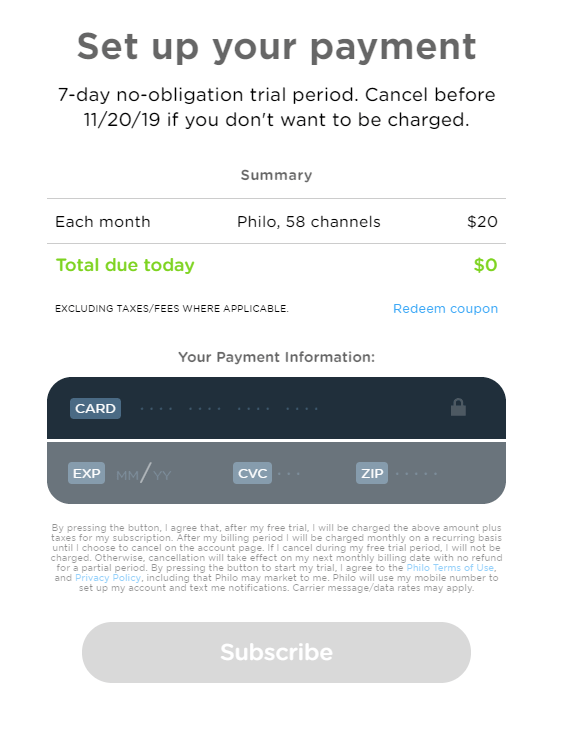 Channels available in Philo
While writing this article, Philo has supported 58 channels and it may vary at different times. Here are the complete channels that available on Philo
A&E, AMC, American Heroes Channel, Animal Planet, aspireTV, AXS TV, BBC America, BBC World News, BET, BET Her, Cheddar Business, Cheddar News, CLEO TV, CMT, Comedy Central, Cooking Channel, Destination America, Discovery Channel, Discovery Family, Discovery Life, DIY Network, Food Network, FYI, Game Show Network, Hallmark Channel, Hallmark Drama, Hallmark Movies & Mysteries, HGTV, History, IFC, Investigation Discovery, Law&Crime, Lifetime, Lifetime Movies, Logo, Motor Trend, MTV, MTV Classic, MTV Live, MTV2, Nick Jr., Nickelodeon, Nicktoons, Oprah Winfrey Network, Paramount Network, PeopleTV, REVOLT, Science Channel, Sundance TV, Tastemade, TeenNick, TLC, Travel Channel, TV Land, UPtv, VH1, Viceland and We tv.
Despite the huge lineup, It doesn't stream any sports channels. You can find channels like ESPN, FOX Sports, CBS Sports, NBA, NFL and more. If you want a large number of sports channels, we recommend you to use fuboTV. Moreover, news content from channels like CNN, CBS, ABC and few more are also missing in Philo.
What about on-demand contents?
In addition, to live TV channels, Philo also has a decent number of on-demand content to stream. This app includes the latest TV shows and movies aired on the above-mentioned channels.
It also supports three-simultaneous streams without any extra fee. It means, three users can access one Philo account simultaneously. Even services like Hulu requires an additional fee to watch the content on more than one device.
How to Sign Up for Philo?
Signing up for Philo is very easy and it doesn't require rocket science.
Open a web browser and visit the login page.
Select the streaming package ($20/month or $120/6 months) and enter your Email ID. (If you want to sign up with your mobile number, tap "sign up with your mobile number" and then enter your mobile number.)
Tap the Go icon.
On the next screen, enter your card details and then tap the Subscribe button.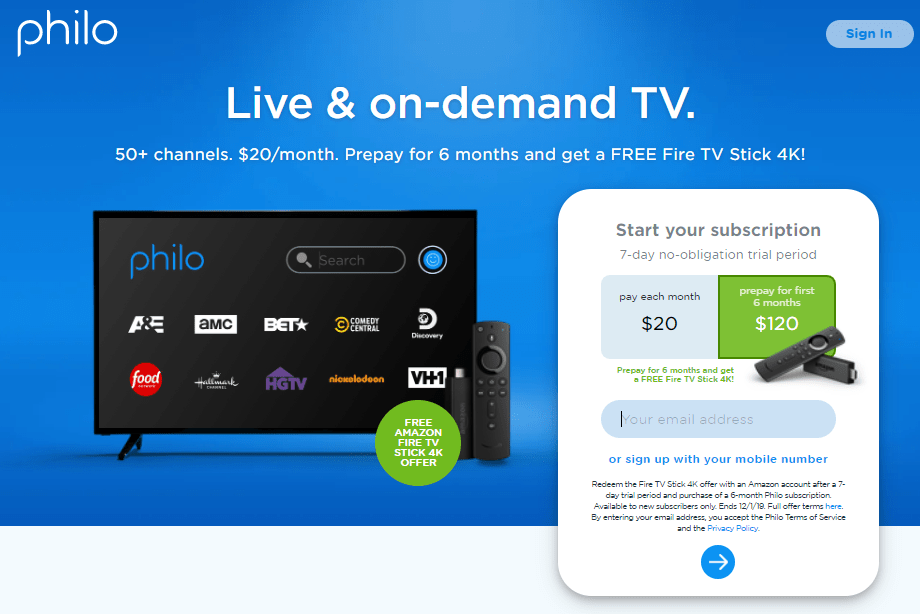 Finish the payment to purchase the subscription. Once you purchased the package, you can start watching its contents on any supported device.
How to get a free trial?
Before signing up for the premium package, it is recommended to use the 7-day free trial period.
Open a browser and visit https://try.philo.com/ or click here.
Enter your mobile number and click Start 7-day free trial.
Upon clicking the button, your free trial will be activated.
After 2-days, you will be prompted to provide the billing information to get access for the remaining five days.
NOTE: Users should remember the fact that the subscription will start once the trial period was over. Hence, if you're not satisfied with the features of Philo, cancel the subscription before the trial period ends.
How to Stream Philo?
If you have a supported device and high-speed internet connection, you can stream Philo contents with ease.
Using a browser (Windows and Mac):
Windows and Mac users can access Philo by the web browser that they installed on their device. They can use all type of web browser for Philo. But we recommend you to use Google Chrome.
Open Chrome and visit the official website of Philo.
Tap Sign in and enter your login credentials.
Select and stream your media.
Using a Smartphone app:
If you had a compatible device, you can download the app directly from the inbuilt App Store.
Download and install the Philo App.
Open the app and enter the login credentials.
After login, you can watch the Philo contents with ease.
Is the article really helpful? Share it with your friends. Use the comments section to post your queries related to Philo. Stay connected with us on our Social handles: Twitter and Facebook for more updates.
Was this article helpful?