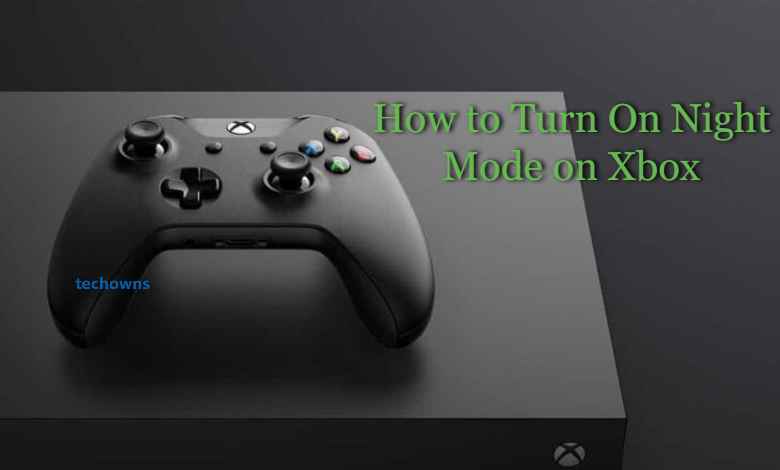 Xbox is a popular video game console that allows you to play a wide variety of games online. In recent times, Microsoft has released a new Night Mode feature for the Xbox console. It also allows you to customize your display screens, controller LED brightness, and also dim the Xbox power button light. You can even create a schedule for night mode by allowing the settings to be turned on automatically at a specific time.
In October 2021, Microsoft released Night Mode for Xbox Series X, Xbox One X, Xbox One S, and Xbox One. To have this nide mode on your console, you have to update the Xbox console to its latest version. For older consoles, like Xbox 360, Xbox 360 S, and Xbox 360 E, there is no dark mode feature.
Note: The Night Mode feature is currently available only to Xbox insiders program users.
How to Enable Night Mode on Xbox
[1] Turn on your Xbox console and connect it with a good internet connection.
[2] Press the Xbox button to open the popup menu.
[2] Click on the Settings icon (More option) from the home screen.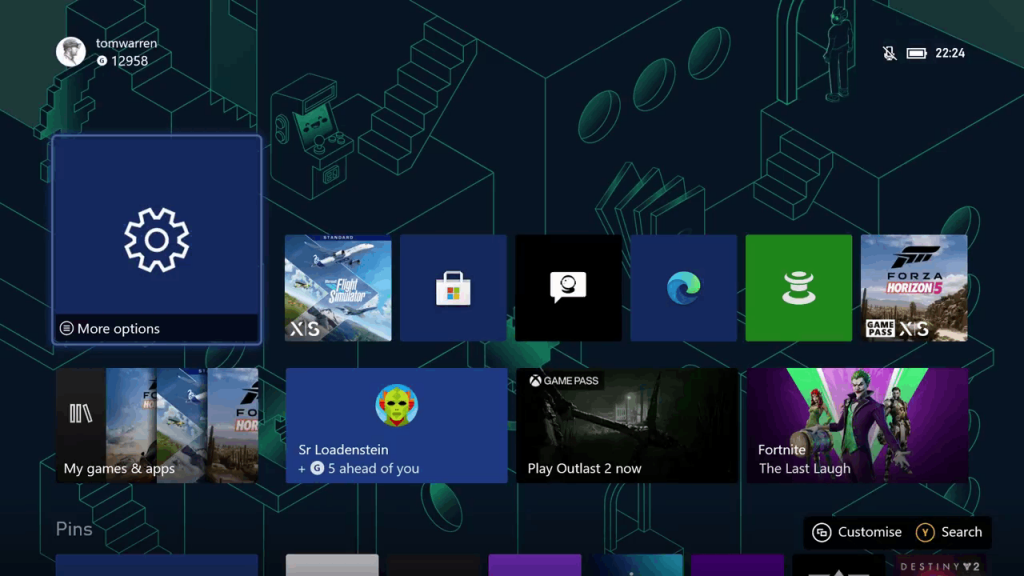 [3] Scroll to Preferences in the menu.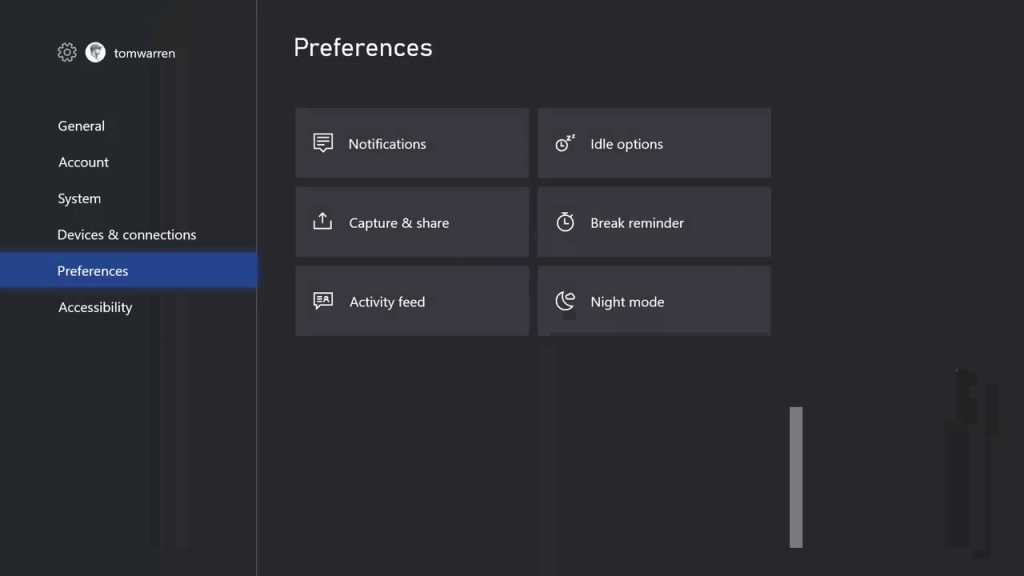 [4] Choose the Night Mode option.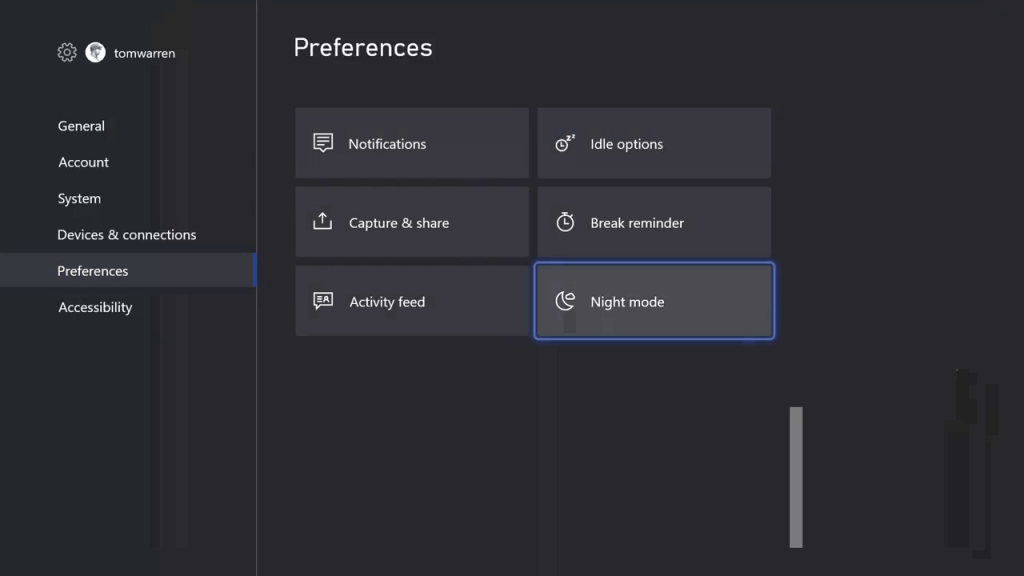 [5] On the drop-down menu, choose On.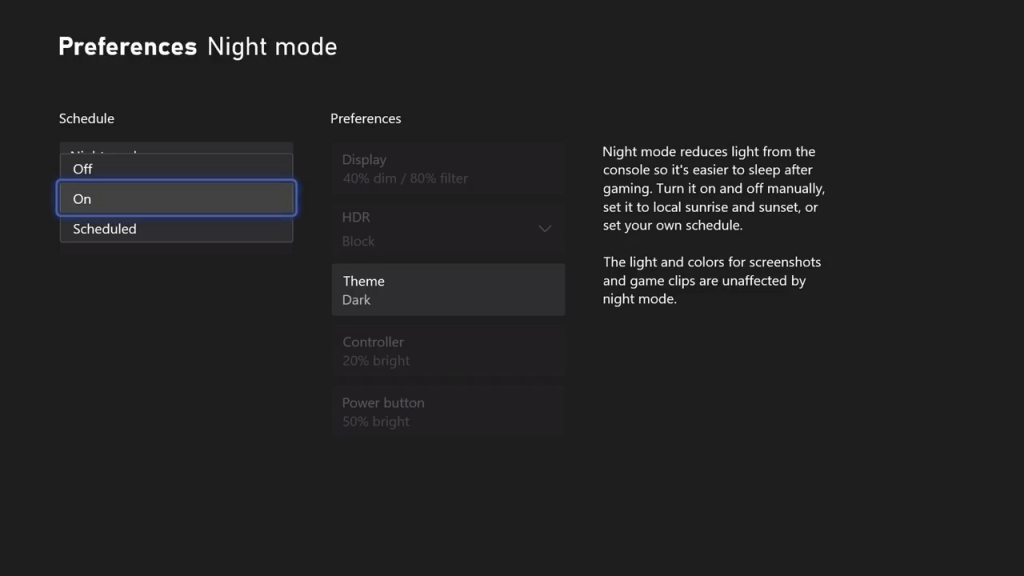 [6] Now, your Xbox light settings will change to a dark theme.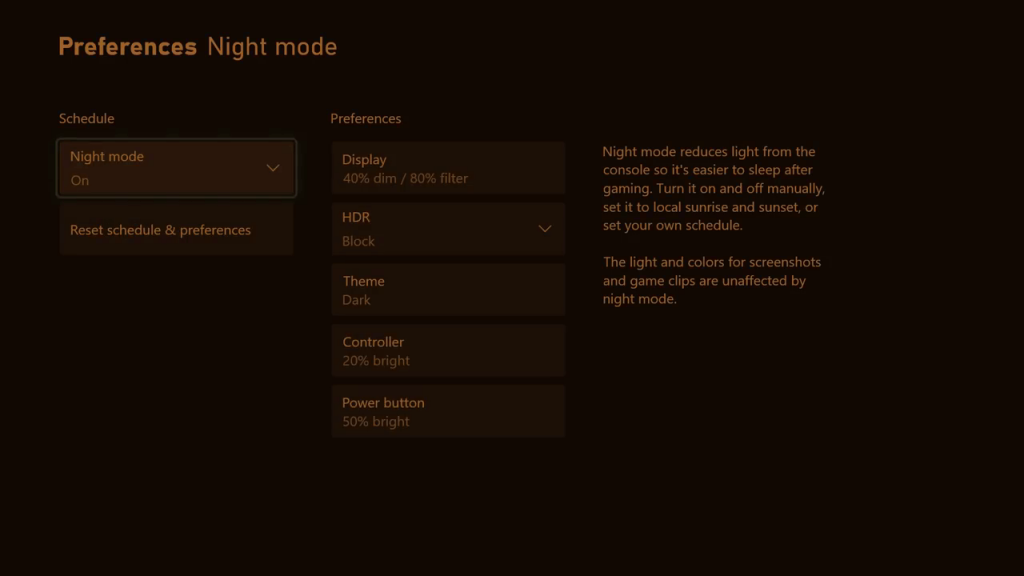 Customize Night Mode Settings on Xbox
Based on your preference, you can customize your Night mode once enabled. There are a lot of options and fine-tune settings available in the night mode.
Scheduled
Instead of manually choosing the dark and light theme, you can schedule the theme based on your requirements. For scheduling, there are a handful of options available.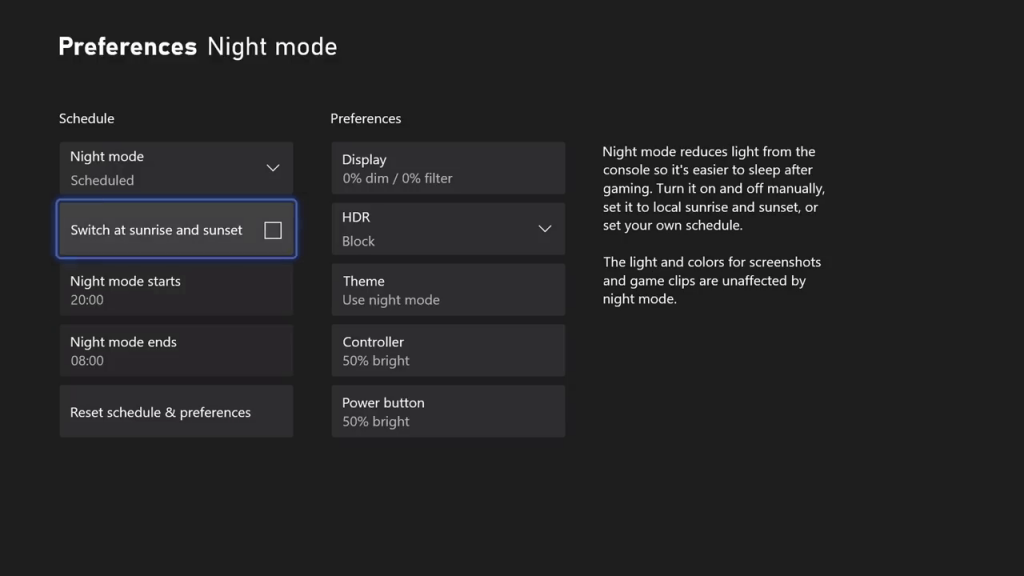 Switch at sunrise and sunset: You can choose this scheduling option to turn on night mode sunrise and turn off at sunset. This is the ideal scenario for night mode. The dark theme at bright surroundings and Light theme at low light surroundings.
Night Mode Starts & Night Mode Ends: If you want, you can schedule night mode manually to your preferred timings. If you are using your console in a private room, this feature is handy.
Reset Schedule & Preference: Choose this to reset the schedule.
Preference
Display: Here, you can adjust, Dim and Filter blue light settings. A small piece of info about the feature will appear on the right side of the screen.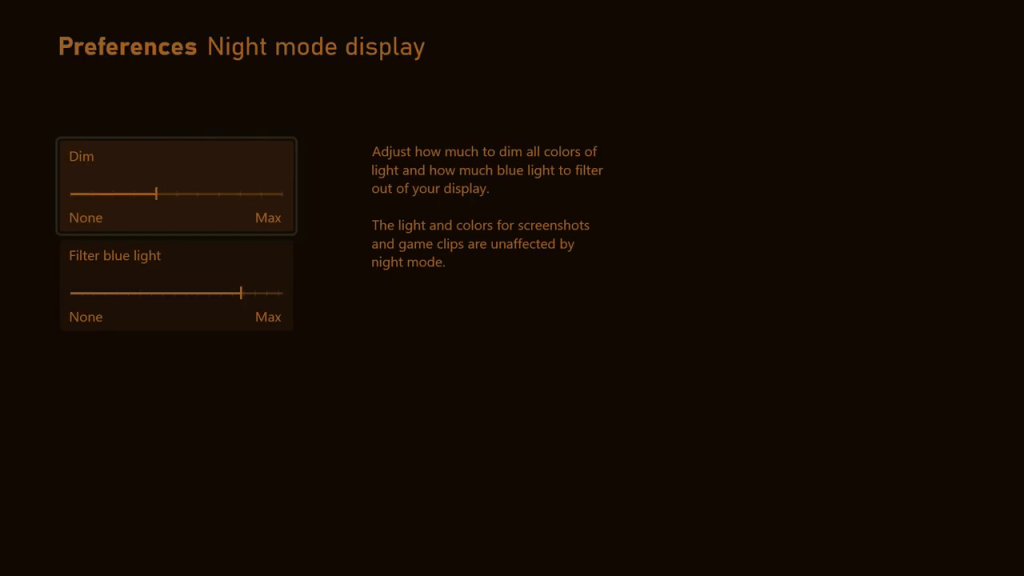 HDR: In HDR, you can choose either Allow or Block. If you choose Allow, the night mode will not affect the HDR. Choose Block to turn off HDR when night mode is on.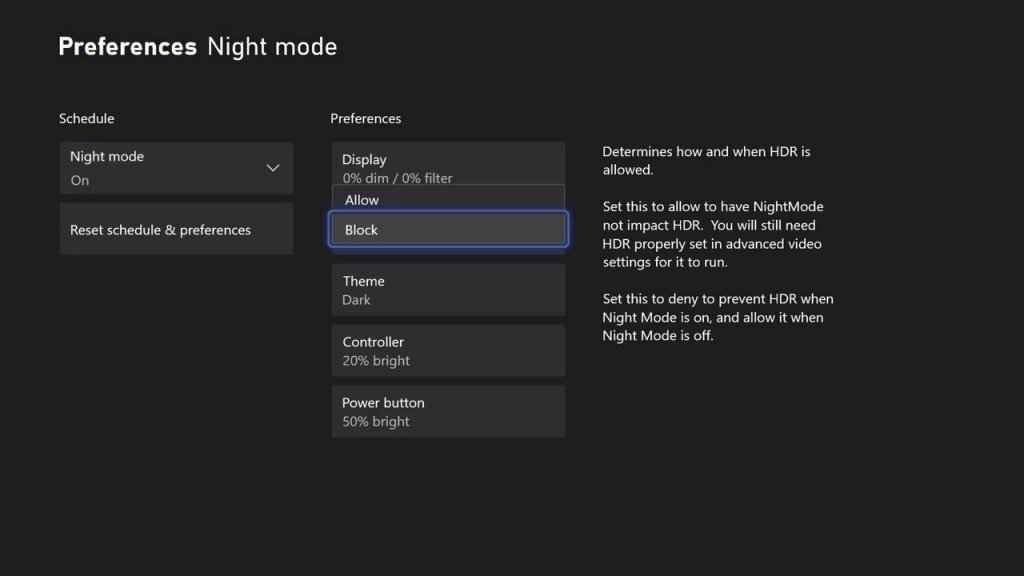 Theme: In the Theme section, you can choose the accent color of your console.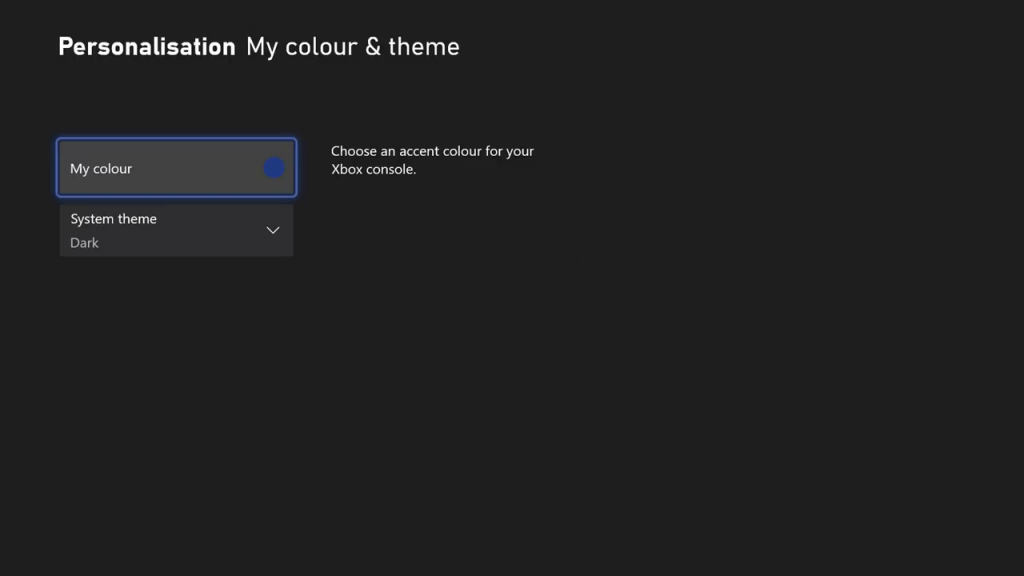 Controller: In Controller, you can adjust the brightness of the controller's LED.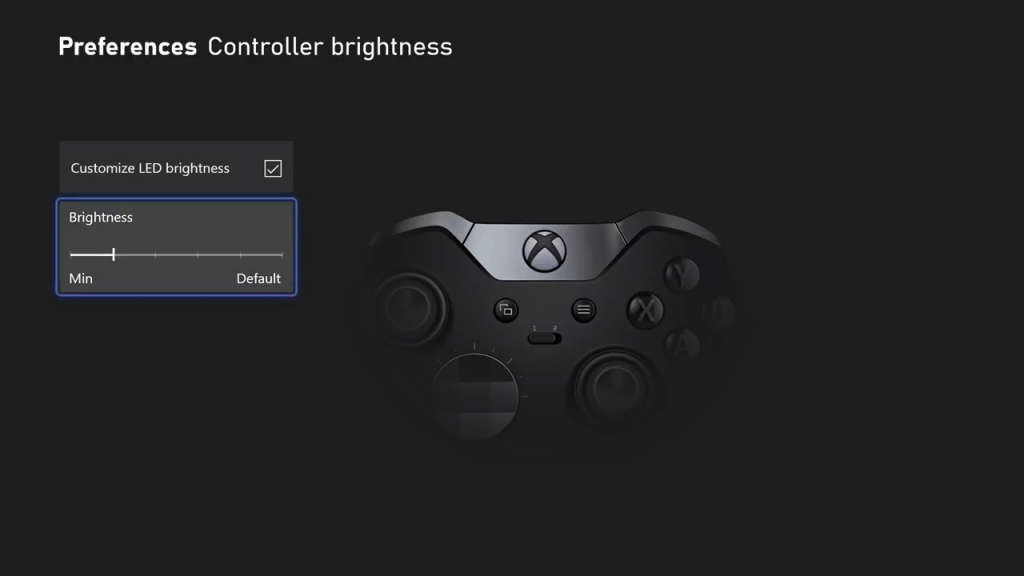 Power Button: Like with the Controller, you can adjust the console's power button's brightness.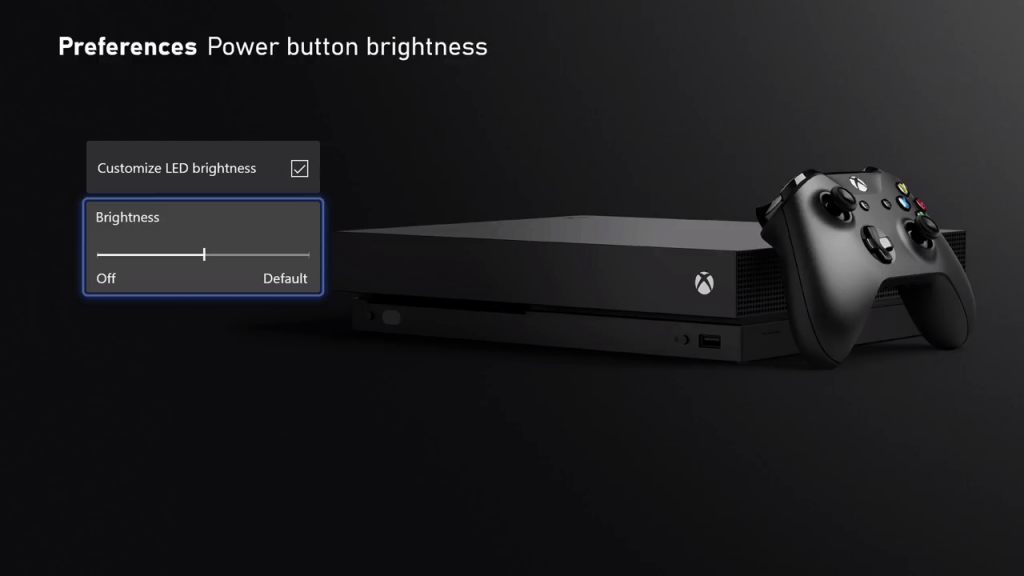 Using these options, you can adjust the night mode and a create night atmosphere on your Xbox console.
How to Enable Night Mode on Xbox in Quick Settings
If you feel lazy to get into the Settings menu and enable the dark mode, you can use the Quick Settings to turn on the dark mode. To do so,
[1] Press the Xbox button on your controller and click Profile & System.
[2] Click the Quick settings button.
[3] Press the A button to toggle Night Mode on or off.
Effect of Xbox Night Mode
When you enable the Night Mode on Xbox, it will affect not only the display but also the gameplay. The settings you choose in the Preferences settings will have an effect on your gameplay screen too. For instance, if you turn off the HDR while using Night mode, all the games in your Xbox will not have the HDR when night mode is turned on. So, while customizing the night mode settings, make sure that it won't affect your gameplay.
Now, you will know the ways to enable the Night Mode on Xbox. The procedure mentioned above is applicable to all the Xbox consoles from Xbox One and above. In this way, you can adjust your Xbox display settings in a way that doesn't affect your eyes. Follow our Facebook and Twitter pages to get instant updates on future articles.
Was this article helpful?