Get ready for a groundbreaking presentation of the finest in home entertainment tech at this year's CEDIA Expo, all thanks to AWOL Vision's visionary offerings. The chatter within industry circles is palpable leading up to AWOL Vision's much-awaited reveal: the LTV-3000 Pro and the award-winning LTV-3500 Pro projectors, recognized for their advanced features like Dolby Vision and Control4 compatibility. Yet, the greatest excitement surrounds the debut of the Vanish TV. An offering so cutting-edge, it garnered the prestigious "Best of IFA 2023" nod from recognized platforms like Screen Rant and MUO.
CEDIA attendees have more than just a display to look forward to. AWOL Vision's booth (#723) is a showcase of technological marvels, including a host of tantalizing giveaways.
In an era where home entertainment is continuously being redefined, AWOL Vision presents the Vanish TV. Designed to specifically address current industry limitations, the Vanish TV is a testament to innovation. It combines the power of the award-winning LTV-3500 Pro projector with a rising screen and a flawlessly synced motorized cabinet. The result is a cinematic experience that's not only unmatched in its beauty but also simple and easy to set up. The future of effortless, commanding home cinema is here.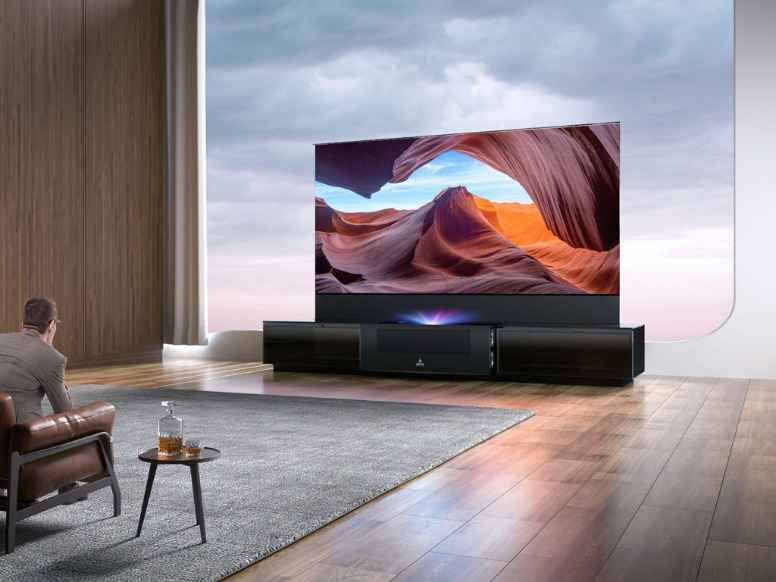 Key Highlights:
A closer examination of the Vanish TV, propelled by the LTV-3500 Pro reveals:
Lifelike color accuracy with 3500 Lumens of brightness and unrivaled contrast
F2.0 aperture lens developed by Ricoh delivers industry-leading sharpness
Ultra-responsive, lag-free video performance and active 3D capabilities
Dolby Vision and HDR10 support for enhanced viewing experience
Premium 120-in. motorized HD quality screen provides 50% enhanced gain over to CBSP screens and 170° viewing angle
Motorized cabinet perfectly positions the projector for the optimal viewing experience
For those gracing the CEDIA Expo, the event is more than a mere exhibition. It's a deep dive into AWOL Vision's unwavering quest for excellence, granting a firsthand witness to their transformative impact on the home entertainment landscape.
AWOL Vision's LTV-3500 Pro projector has clinched Best of Show accolades at the CEDIA Expo 2023, receiving esteemed recognition from both TWICE and Residential Systems for its unrivaled ingenuity.
To take a deeper dive into AWOL Vision's innovative universe, make sure to visit www.awolvision.com.
About AWOL Vision
Founded in 2020, disrupting the home entertainment industry by introducing ultra short throw, triple-laser projection to the market, AWOL Vision has quickly become a driving force of home theater and living room entertainment solutions.
Was this article helpful?