The use of PDF documents in students' and professionals' lives is on the rise these days, and it has always been the same. The major reason behind the wide acceptance of this program is nothing but its ability to retain the actual layout of the document. One of the frequent uses of PDFs is associated with sharing electronic documents.
Though PDF files are commonly used these days, they can be lost or deleted due to a wide range of reasons. We will see them later in this guide. Are you concerned about the PDF document you just lost? If yes, don't be worried, and try Wondershare Recoverit – the best free data recovery software. Let's get deeper into the discussion.
Leading Reasons Associated with PDF Loss Problem
Before you start exploring the way Recoverit helps you restore your lost PDF documents, let's first go through the reasons that cause PDF loss challenges. Here is a list of the popular reasons you must be familiar with.
Storage Media Problem: If your PDF is stored on a corrupted or damaged hard disk, you will likely lose it. It is a leading problem that people worldwide face.
Improper Download: It often happens due to an unstable internet connection. Improper downloads often result in file corruption or damage.
Incompatible Software: Sometimes, users unintentionally open their PDF files with incompatible programs, which leads to PDF loss or corruption.
Unexpected Shutdowns: If your system shuts down due to an unknown error or any other reason, it will expose you to PDF loss issues.
Virus: Malware infections and viruses mostly affect your data when your system is connected to the internet. These infections enter your computer when downloading or uploading files.
Now you know the potential causes associated with the PDF loss challenges. It is time to learn how to deal with this issue.
Is the annual report of your company you just created in PDF lost suddenly? Are you concerned about the important data it had? Worried about losing all the stuff? Don't be concerned! Wondershare Recoverit, being an unmatchable PDF file recovery software, will be the recovery partner you can rely on.
One thing that makes Recoverit the best PDF recovery tool is that it enables you to extract and recover each component of your PDF document without introducing any changes to the original file. In addition, Recoverit not only restores the fixed text from your documents but also allows you to recover watermarks, graphs, headers, footers, forms, and hyperlinks.
As far as the support for different PDF versions is concerned, Recoverit is compatible with all the latest PDF variants. It does not matter whether your PDF files are lost accidentally or due to some error, Recoverit can help you get them back.
How to Restore Lost/Deleted PDF Files with Recoverit?
You are now familiar with the fact that Recoverit is an excellent PDF recovery software. It is time to explore the steps (as listed below) you need to follow when restoring your documents using this utility. Download the tool on your operating system before you proceed.
Step 1: Open the software, and on the main user interface, click on the option "Hard Drives and Locations." Select the location where your PDF documents are stored on your device. Once done, hit "Start."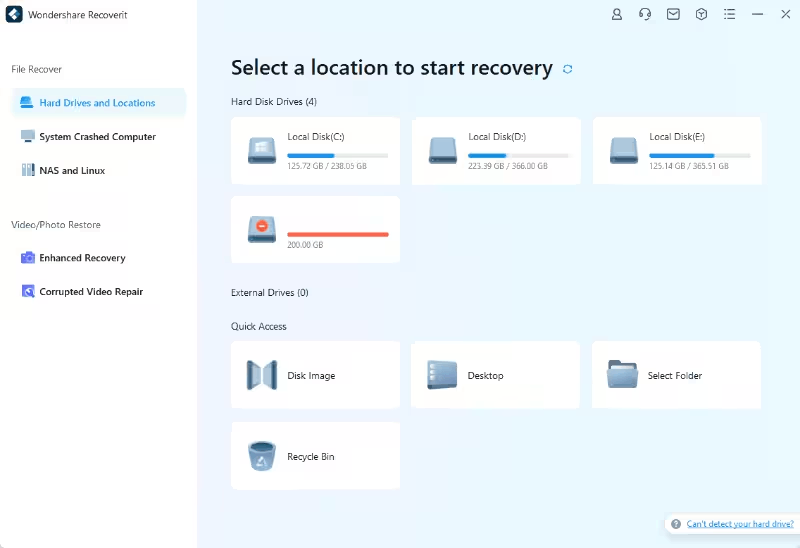 Step 2: In this step, Recoverit will search the selected hard drive or location for your deleted or lost PDF files. As soon as the scanning process is completed, you will be able to see all the files on your screen. If you don't want to wait for the whole scanning process to complete because you have found the file you want to restore, you can stop the process at any time.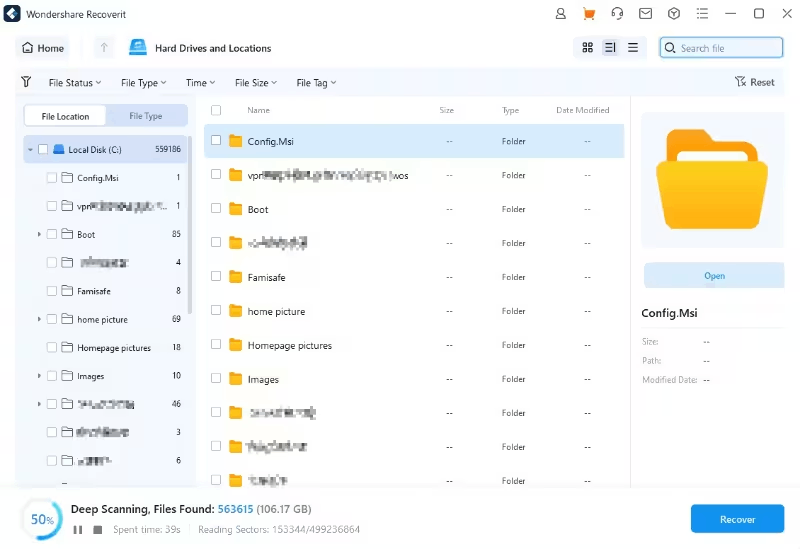 Step 3: Now, you can preview the document to confirm whether or not it is the one you wish to retrieve from your computer. For this, click on "Preview."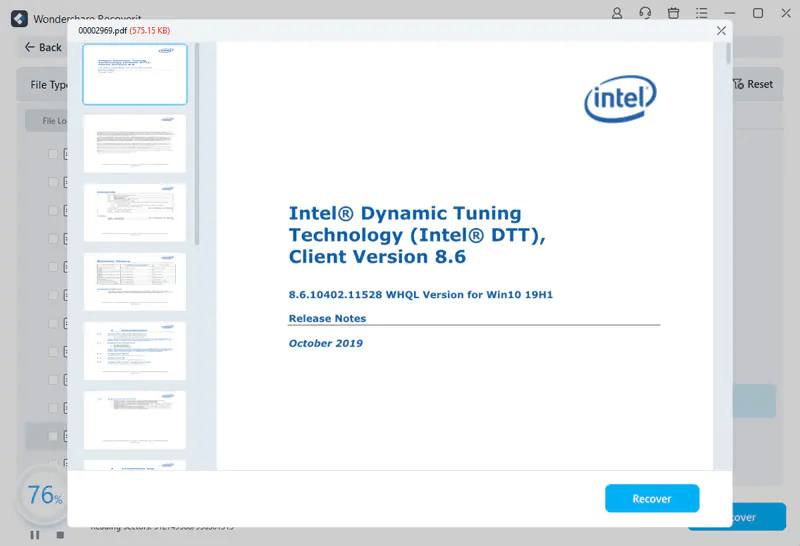 Step 4: If the previewed PDF document is okay, tap on "Recover," choose a specific directory, and save the recovered file immediately on your system.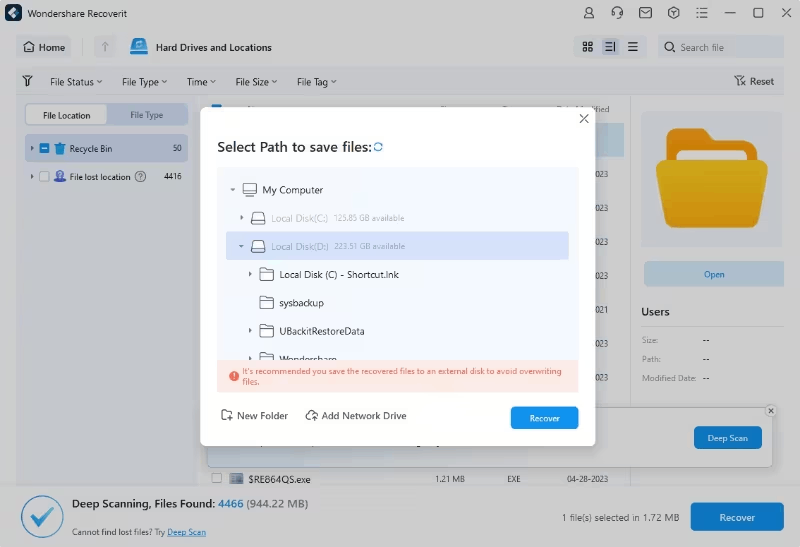 Note: If you need visual assistance for restoring lost or deleted files, make sure you watch this video.
Features that Set Recoverit Apart
The highest recovery rate (95%) is something that helps Recoverit reach new heights. In addition, this software supports 500+ data recovery scenarios, including virus infections, accidental formatting, file corruption, device corruption, and the list continues. Moreover, it empowers you to restore your lost or deleted stuff from over 2,000 storage devices, like internal hard drives, external hard disks, USBs, SSDs, cameras, memory cards, and more.
Furthermore, Wondershare Recoverit not only accepts PDF documents, but you can also recover files in 1,000+ formats with this tool. When it comes to installing this utility on your operating system, don't forget to make sure that your hard drive has 56 MB of free space available. If not, you need to delete some data to create enough space for Recoverit to get downloaded and installed.
This software works well on all Windows operating systems, including Vista, XP, 7, 8, 10, and 11. Don't be concerned if you don't have a Windows computer to use this tool, as it is also available for Mac systems. With 35+ registered patents, this tool is available in 160+ countries.
All these factors have gained the trust of billions of users from across the world, and they have been happily using Recoverit for many years.
More Features
Along with helping you store PDF files, Recoverit can precisely restore other documents like Excel, Word, and PowerPoint files. Apart from documents, you can also perform instant photo, video, email, archive, and audio recovery with this incredible data recovery utility.
Moreover, other features, e.g., enhanced photo/video recovery, Linux/NAS data recovery, crashed computer recovery, disk image recovery, and corrupted video repair, have contributed a lot to setting Recoverit apart from traditional tools available in the market. Let's look at how these features lend you a helping hand.
Disk Image Recovery: With this feature, you can search for the data stored on a particular location or drive and restore it to the same location. Hence, you can retrieve anything you want from the disk images that are already created.
Crashed Computer Recovery: This functionality allows you to create a bootable USB and access the data available in the crashed computer, making it easy for you to get it back on your system.
NAS/Linux Data Recovery: It does not matter whether your NAS devices are logically corrupted or failed, Recoverit can connect to those devices to restore the data remotely. This tool offers native support for different NAS servers, like Thecus, QNAP, and Synology.
Enhanced Photo/Video Recovery: This is a unique feature that allows you to search and collect different photo/video fragments to ensure an accurate recovery. With this feature, you can restore HD, Ultra HD, 4K, and 8K videos.
Supported File Systems & File Formats
Wondershare Recoverit supports a wide range of file systems. They include; NTFS, APFS, HFS+, XFS, HFSX, BFS, BTRFS, FAT16, ExFAT, Raid, FAT32, ReFS, and RAW.
The common file formats Recoverit supports are as follows.
Video: MP4, M4V, AVI, MXF, MOV, FLA, WMV, FLV, and more.
Image: PNG, JPEG, RGB, CRW, RAW, PSD, and more.
Office: Word, PowerPoint, Excel, and PDF.
Audio: MP3, WAV, AIFF, OGG, AAC, FLAC, WMA, ALAC, and more.
Archive: WAR, 7Z, ZIP, JAR, 7Zip, MSI, SFX, GZ, LZH, SOR, ZIPZ, and more.
Email: PST, MSG, EML, DBX, MAIL, BKL, PAB, EMLX, WAB, OEB, BMS, and DCI.
The Price of Paid Recoverit Plans
Since Recoverit offers all the basic features for free, you can try its free trial to determine how this tool helps you retrieve your lost or deleted stuff. If you are satisfied with its performance, you can purchase any of the premium versions listed below.
Business: $119.99 per year (for 1 user)
Education: $48.99 (yearly essential plan), $55.99 (yearly standard plan), and $69.99 (yearly premium plan)
Individual: $69.99 (yearly essential plan), $79.99 (yearly standard plan), and $99.99 (yearly premium plan)
Note: Each paid plan comes with a one-week satisfaction guarantee followed by 24/7 free technical support.
Final Words
PDF file corruption or loss is a leading issue that thousands of people experience every other day. Keep this challenge in mind; hundreds of PDF recovery tools have been introduced to the market to help users get out of this trouble.
If your PDF document is just deleted or you want to recover a file you lost a few days back, try Recoverit Data Recovery. This is a superb PDF file recovery software that retrieves your lost files within minutes, maintaining your data 100% secure when performing a PDF recovery.
Was this article helpful?