A cookie clicker is an idle game(incremental) played by many users online using a browser and the app. The game's main goal is to increase your cookie count and build more buildings to make more cookies. If you are tired of increasing your cookie count with the mouse, you can use the cheat codes to make the Cookie Clicker game interesting. Apart from increasing the cookie count, you can also use cheat codes for other functions.
How to Use Cookie Clicker Cheat Code While Playing
1: Open a web browser. Visit the Cookie clicker website and start earning cookies.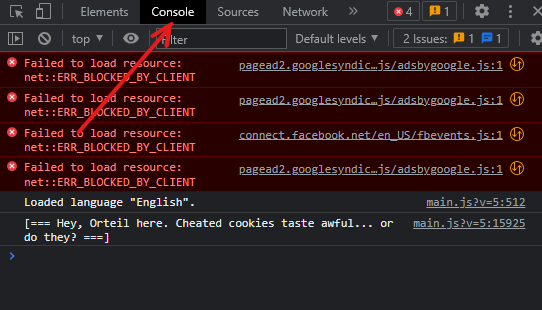 2: Open the website's source inspector by using the keyboard shortcuts.
Chrome: Ctrl + Shift + J or F12 key. Command + Option+ J on Mac.
Microsoft Edge: Ctrl + Shift + J or F12 key.
Internet Explorer: F12
Safari (Mac): Command + Option + C or right-click and select the Inspect option.
Firefox: Ctrl + Shift + K on Windows and Ctrl + Option + K on Mac.
3: After opening the source inspector window, select the Console tab.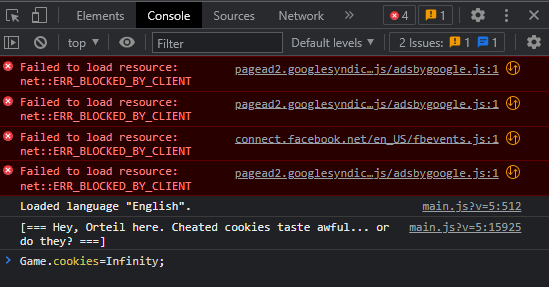 4: Inside the console tab, type the cookie clicker cheat codes and hit the Enter key.
5: Upon hitting the key, the cheat code will be activated.
6: If you wanna save your hacked game process, press the Ctrl + S keys. To import your saved process, select Options → Import Save on the game and select your saved file.
Game.Earn(99999999) – Using this code, you can get add any number of Cookies to your game.
Game.RuinTheFun(); – It will let you open every upgrade and building in your games. It also adds cookies to your game account.
Game.cookies=number – Using this code, you can increase or decrease the cookie count in your game by just entering a number.
Game.cookies=Infinity; – Changes your cookie count to infinity.
Game.cookies=0 – Changes your cookie count to zero.
Game.cookiesPs=number – Increases the number of cookies per second.
Game.lumps=number – Changes your sugar lump count to the number you enter.
Game.SesameReset(); – Enter this code to reset your game.
These are some of the basic cheat codes that will help you by giving a boost to your gaming campaign. In the Cookie Clicker game, it is important to know when to ascend. Visit our Cookie Clicker ascension guide to find the right time to ascend.
Cookie Click Cheat Codes
| Cheat Code | Function |
| --- | --- |
| Game.Ascend(1); | Ascend |
| Game.CalculateGains(); | Calculate gains |
| Game.BuildAscendTree(); | Build Ascend tree |
| Game.mousePointer=0; | Replace your mouse pointer |
| Game.AscendTimer=<time>; | Change the ascend timer |
| Game.milkProgress = <milk amount>; | Updates your milk progress |
| Game.Milk = <amount>; | Replace the milk of your choice |
| Game.buyBulk=<1/10/100>; | Change your X# buy amount |
| Game.computedMouseCps=<mouse cookies per second amount>; | Change your mouse clicks per second |
| Game.computedMouseCps; | Compute Mouse clicks per second |
| Game.Has('<achievement name>'); | Check achievements |
| Game.DebugUpgradeCpS(); | Debug upgrades the clicks per second |
| Game.DebuggingPrestige=false; | Debug prestige |
| Game.cookies/=1000;Game.cookiesEarned/=1000; | Help you earn 1k cookies |
| Game.gainLumps(<amount of lumps>); | Helps you get 10 + lumps |
| Game.GetAllDebugs(); | Get all debug |
| Game.LoadSave(local); | Load local save |
| Game.MaxSpecials(); | Max your specials |
| Game.LoadSave(); | Import saved game file |
| Game.killShimmers(); | Helps you to remove all Shimmers |
| Game.bakeryNameRefresh(); | It refreshes your bakery name |
| Game.SesameReset(); | This will reset your game process to null |
| Game.popups=0; | Clears the pop-up notifications |
| Game.buyBulk=Game.buyBulkOld; | Reset X# buy amount |
| Game.sesame=0; | To turn on/off your sesame |
| Game.localStorageGet(Game.SaveTo); | Save your game process |
| Game.santaLevel=<level>; | Help you to fix your desired Santa level |
| Game.dragonLevel=<level>; | Helps you set the dragon level |
| Game.Earn(<cookie amount>); | Change your cookie count |
| Game.bakeryName="<bakery name>"; | Change your bakery name |
| Timer.track('milk'); | Keep track of the milk timer |
| Game.cookiesPs=<cookies per second amount>; | Helps customize your cps |
| Game.Achievements['<achievement name>'].won=1; | Unlocks specific achievements |
| Game.debugTimersOn=0; | Turn on/off debug timers |
| Game.SetAllAchievs(1); | Opens all the achievements |
| Game.particlesUpdate(); | Updates your particles |
Frequently Asked Questions
How to hack the Cookie clicker game on mobile?
To hack the Cookie clicker game on mobile, turn off Set automatic time and change the date to the future. By doing this, you can skip time in the game and increase more cookies in seconds.
Was this article helpful?