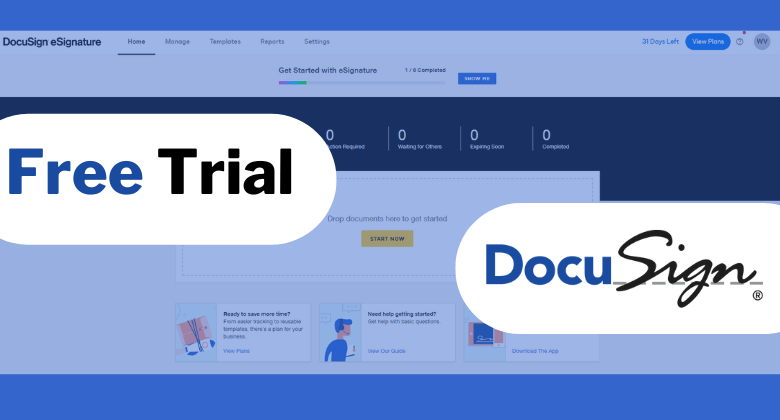 Key Highlights
You can use the DocuSign platform for free for 30 days by registering with your mail ID.
Free Trial: DocuSign website → Click the Try for Free button → Register your email → Use the 30-day free trial.
Get a 30-day free trial on DocuSign and securely sign all the documents online. It is easy to get a free trial. Only your email ID is needed to complete the process. Moreover, signing applications with DocuSign saves a ton of time and paper consumption. Once the free trial is over, enter your payment details and pay the subscription cost.
Does DocuSign Ask for my Credit Card to Get the Free Trial?
No, if you are signing up for the free trial, DocuSign will not ask for any of your details like Credit Card, Debit Card, payment method, and so on. Simply enter your email ID & password and start using the free trial for 30 days. Same as DocuSign, Adobe Acrobat does not ask for a credit card, so you can sign and view documents for free during the free trial.
Tip! Learn how to add a signature on Microsoft Outlook.
How to Claim the Free Trial on DocuSign
Getting the 30-day free trial is more similar to Skillshare's 30-day free trial. You need to register your email ID and verify your account.
1. On your web browser, visit the DocuSign website (docusign.com).
2. From the home screen, select the Try For Free option from the top-right corner of the screen.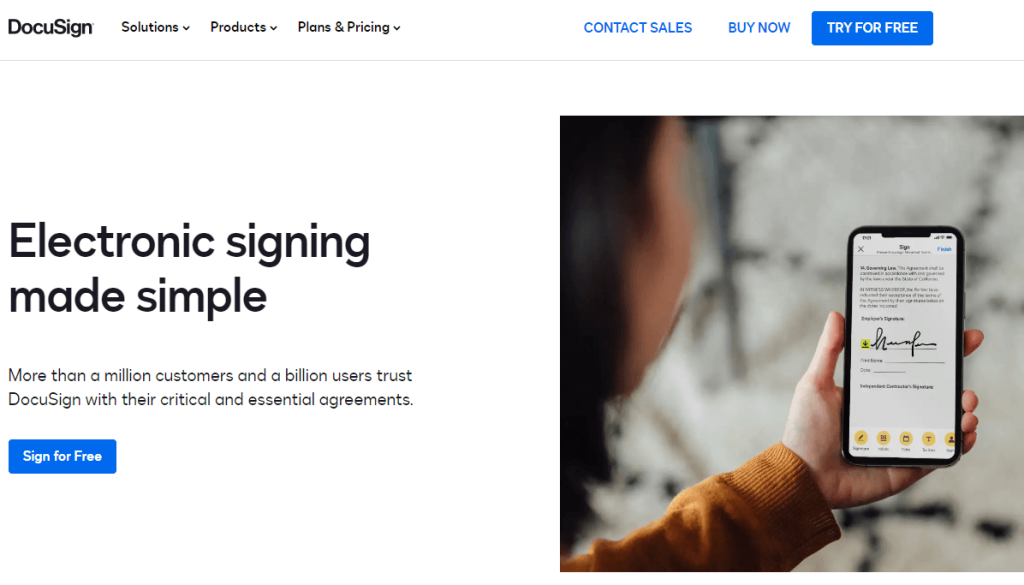 3. After that, enter your email ID and tick the I AGREE checkbox.
4. Once done, click on Get Started and fill out the details that are asked in the upcoming screen.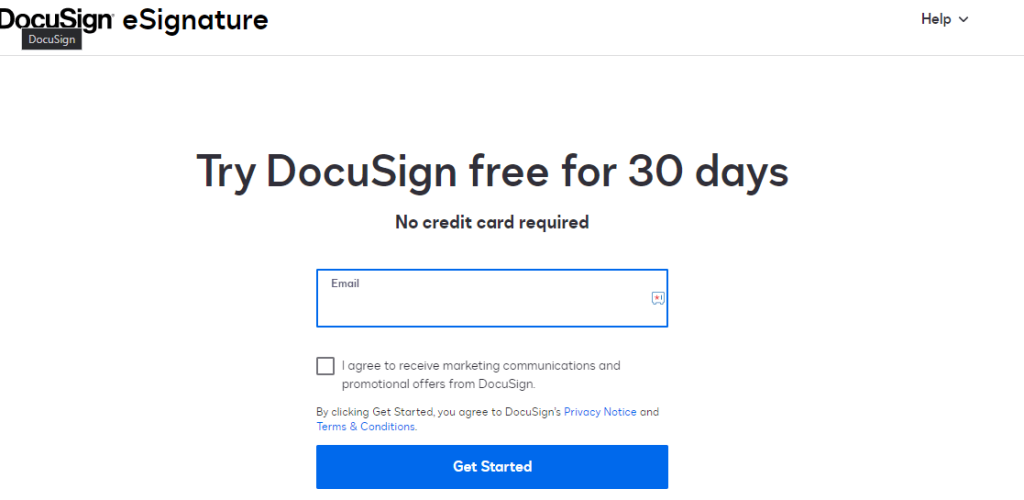 5. Next, you will receive a confirmation code in your registered email. Enter it and click on Next.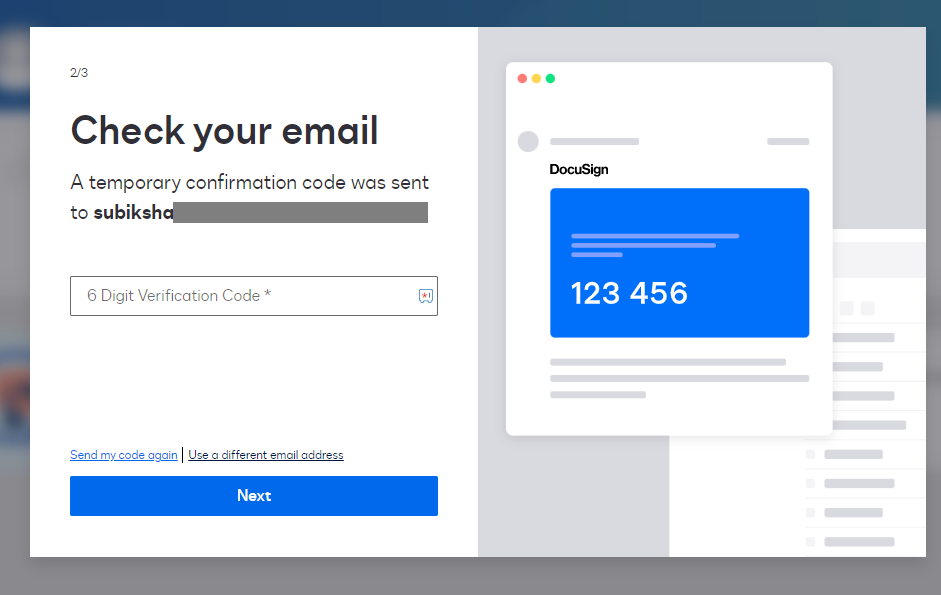 Note: If you didn't receive any code, click on SEND MY CODE AGAIN.
6. Then, enter a strong password with a mix of letters, numbers, and symbols.
7. Once done, log in with your password and finish your setup. If you are not interested in adding your details, you can Skip it.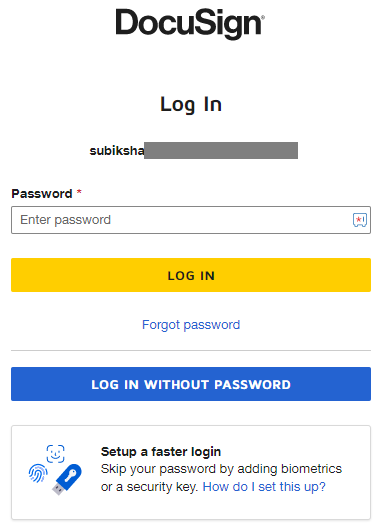 8. Now, you can sign your documents without any printed docs.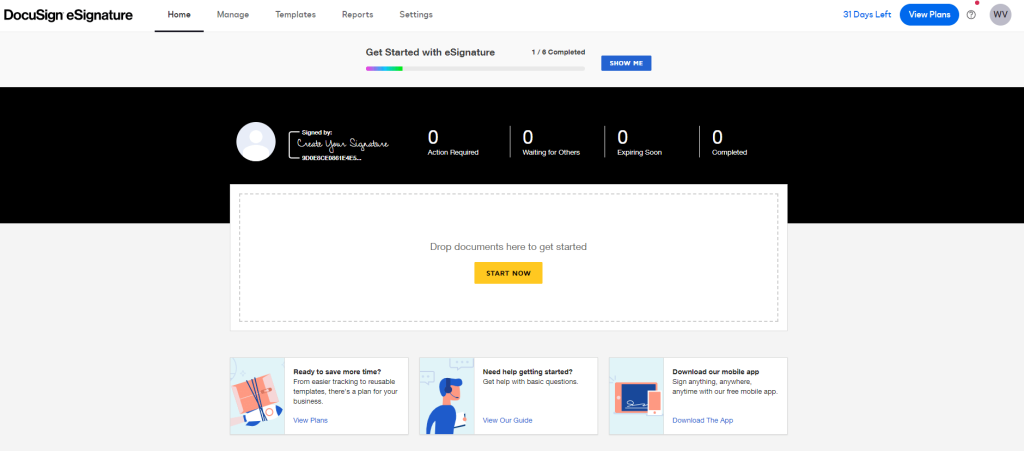 DocuSign Free Trial Features
The important thing to note here is that there is no limitation in the free trial periods. You can access all the features available on the DocuSign Personal Premium using its free trial.
In the DocuSign platform, you can use the auto-generated signatures for your name, you can draw your signature, or even upload your sign as a file.
If you are professional, you can add your company logo to your account.
You can easily track your envelope and send documents for signature.
To ease the process, you can create a template and save all your documents.
If you want, you can also upload your photo.
How to Cancel DocuSign Free Trial
There is no need to cancel the free trial. If the free trial period ends, you won't be charged by DocuSign. As you are not submitting any card details and payment information while signing up, you don't have to be worried. If you are too concerned about your signatures and documents that are saved on your DocuSign account, you can cancel the free trial by deleting the account. Before getting into the steps, download all the important files on the DocuSign account to your offline library.
1. Go to the DocuSign website and sign in with your account.
2. Click the Settings icon on the Profile menu.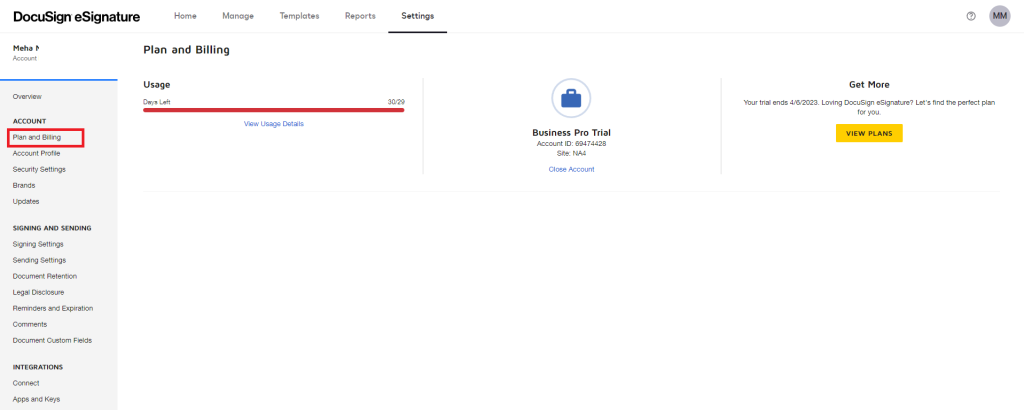 3. You will get your usage statistics. Click the Plan and Billing button.
4. On the next screen, tap the Change Plan option.
5. Now, click the Close Account button to delete your account.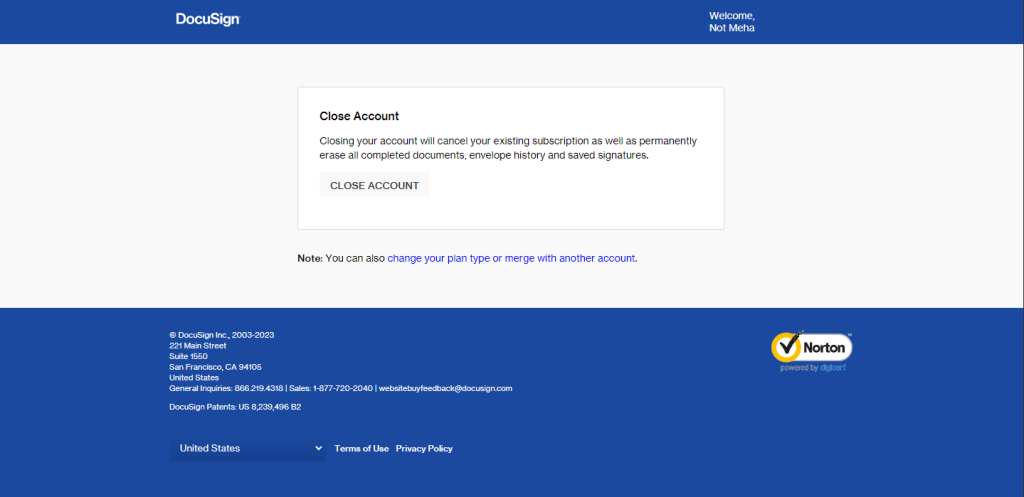 6. Go through all the confirmation pop-ups and your account will be deleted within 24 hrs.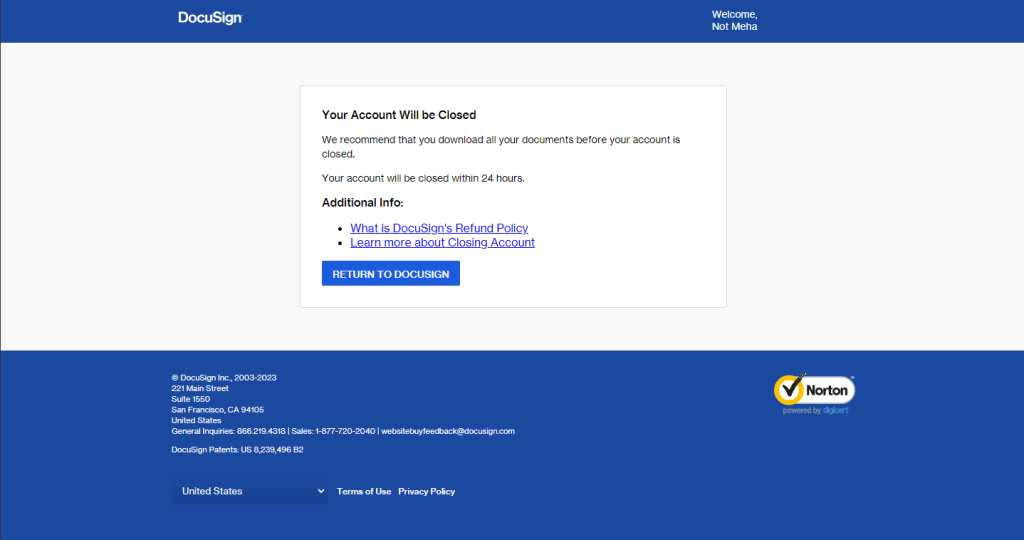 DocuSign Subscription
If you are about to complete your DocuSign free trial and want to continue the service, you can go for the subscription. DocuSign offers four plans.
Personal – $15 per month or $120 per year
Standard – $45 per month or $300 per year
Business Pro – $65 per month or $480 per year
Realtors – $35 per month or $240 per year
The features available on these plans will differ. You can check all the features on the DocuSign website. Buy any of these plans from the website and get the premium features.
Does DocuSign Have an Official App?
Yes, the official application of the DocuSign app is available both on Google Play Store and on App Store. Get the app on your smartphone from the respective app stores.
DocuSign – Pros and Cons
| Pros | Cons |
| --- | --- |
| It is easy to use in the sales force | Changing a sign or an existing signer is difficult |
| DocuSign is mobile-friendly | It is difficult to transfer bulk envelopes |
| It helps to set up a template | The tech support is slow in DocuSign |
| You can save contacts easily | It has a poor storage management |
| DocuSign provides privacy when it is needed | DocuSign has no flexibility and it gives poor responses |
FAQ
Is DocuSign customer support avaible with free trials?
Yes, you can use the live chat or FAQ section for any queries.
Is DocuSign offering any Student plans?
No, DocuSign is not offering any Student plans or discounts.
Was this article helpful?