Key Highlights
Browser: Skillshare website → tap on Get Started for Free → Choose the Sign Up method → Enter the account credentials → Choose the payment method → Get the free trial.
Skillshare is an online educational app, especially for creators. It gives creative ideas and encourages learners with creative classes of different categories. It has dozens of inspiring online courses by world-class masters with desired innovative tools. Skillshare is a premium-based app that gives 30 days of a free trial for its new users. With a Skillshare Premium subscription, you can download the classes to watch them offline.
The Skillshare app has 27,000 classes and 2000 classes for free. Those classes are already pre-recorded, and the instructor gives you instructions about the class you are about to learn. It even offers high-in-demand skills like graphics, coding, UI/ UX, and animation. The videos last from 30 to 60 minutes.
Subscription Plans
You will get two different subscription plans in Skillshare. Each plan offers a 30-day free trial.
Skillshare Premium Monthly Plan – $32 per month
Skillshare Premium Annual Plan – $165/year ($13.75/month)
[1] Using your web browser on Windows or Mac, go to Skillshare Website.
[2] Click the Get Started for Free button.
[3] On the following page, choose any of the Sign-Up methods.
With your Facebook Account
Using Google Account
Using Apple ID
Provide your Email Address and Password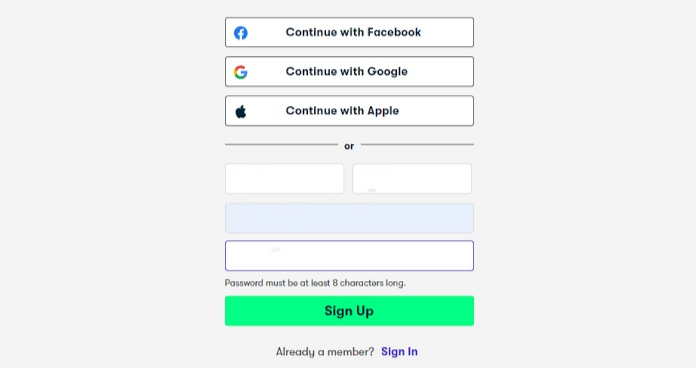 [4] Next, choose the payment method and provide the necessary payment details.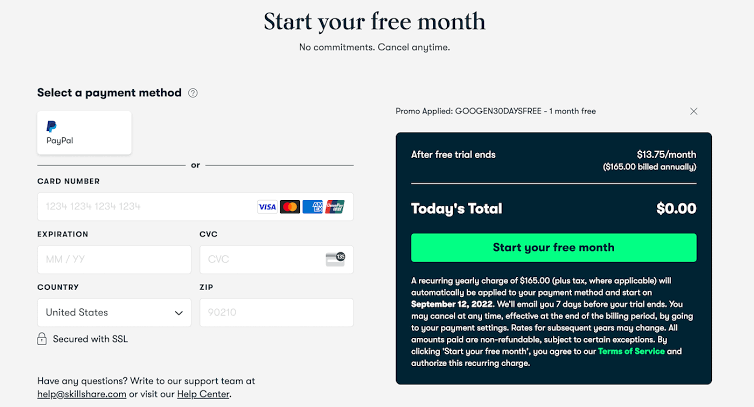 [5] After confirming the plan, click Start your Free Trial, and you are now eligible to access the app for 30 days free.
You can cancel the Skillshare subscription at any time. But make sure to cancel your Skillshare subscription before your free trial ends to avoid charges.
[1] Visit the Skillshare website from your web browser.
[2] Navigate to the top corner of the screen and click the Sign In button.
[3] Select the Account Settings option.
[4] On the left side of the menu, you will see the Payment option. Click it.
[5] Now, click the Cancel Membership option and follow the on-screen prompt to successfully cancel your Skillshare subscription.
Tips! Get a 14-day free trial on LiveBarn and stream Baseball, Basketball, Football, Volleyball, and much more for free.
Frequently Asked Questions
Is there anything better than Skillshare?
The best alternative for Skillshare are:
-> Udacity
-> Pluralsight Skills
-> Udemy 
-> Masterclass
-> Coursera 
-> CBT Nuggets
-> LinkedIn Learning
What happens if you cancel Skillshare?
If you cancel the Skillshare before the free trial, you won't be charged. If you cancel it in the mid of the subscription period, the refund will not be processed, but you can use the app till the expiry date.
Was this article helpful?