For hockey fans who are unable to enjoy the game due to restrictions, such as lack of space, lack of materials or basic skills, video games can be a perfect alternative. These digital simulations create the perfect opportunity for players to immerse themselves in all the details and nuances of hockey, and to feel the adrenaline rush from mastering them.
No matter the impossible task of attending a live game, you can still engage in exhilarating hockey with these top five PC games. All the intense emotion and pro-level action will transport you to the ice right from the screen in front of you.
VR Hockey League
The VR Hockey League brings the idea of constructing your hockey squad and tracking NHL odds in a fantasy league to fruition. Made possible by the Oculus Rift headset, this captivating hockey game provides gamers with four distinct seasons of play – from indoor skates and outdoor ice to multiple international field venues.
Immerse yourself in this one-of-a-kind hockey game which combines smooth mechanics and visuals that bring an unparalleled level of realism to the game. With realistic sound effects, you'll be able to fully indulge in the feeling of slaying the ice right in the comfort of your home.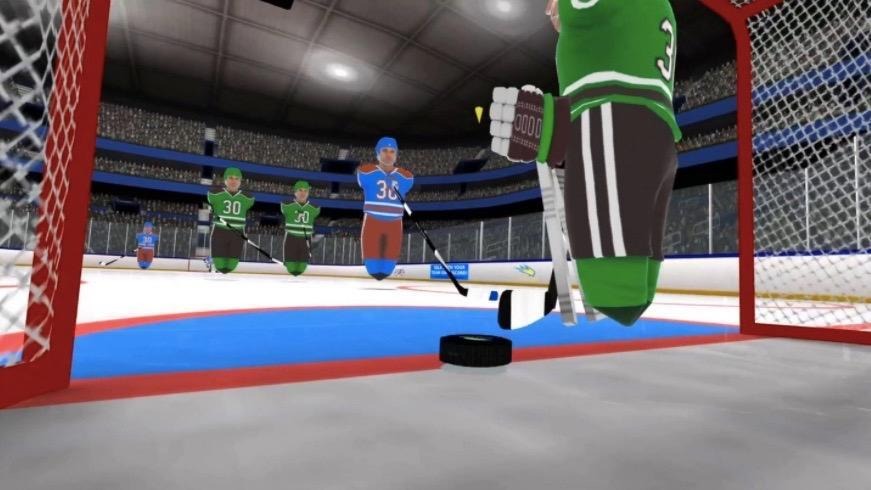 EA Sports NHL 09
NHL 09, released in 2009, remains one of the most beloved hockey video games ever developed for PCs. It captures every detail of the excellent on-ice experience, encompassing the excitement of competition, the distinction of donning a Maple Leaf jersey – a visual symbol of Canadian pride – all within Madison Square Garden – the historical home to the Rangers and multiple classic hockey battles alike. Step into NHL 09's unique story mode and enter an extraordinary virtual tournament in a renowned arena.
NHL 09 has made strides to provide an accurate and thrilling gameplay experience. The visuals are truly remarkable, allowing for a mesmerizing hockey experience. Additionally, the sounds in the game have been perfected to provide dynamism and unleash a feeling of realism. All these elements work together to create a captivating gaming experience, albeit with some small hiccups.
Bush Hockey League
Bush Hockey League is an immersive game with five-on-five action that throws all notions of safety out the window. Despite its somewhat grainy graphics, this fast-paced experience is brimming with color and nostalgia for avid hockey fanatics. Take part in full-contact matches and throw yourself into the dirtiest tactics you can imagine.
Equally interesting is that it is possible to utilize every tool to secure a victory, including:
throwing elbows
executing shoulder, cross, and hip checks
tugging at opponents' clothing
engaging in brawls
delivering knockout blows
resorting to smacking adversaries with your hockey stick
With that being said, frequent injuries and lack of endurance eventually lead to dropping morale, leaving the team no other choice but to succumb to defeat.
Mini Hockey Champ
This game has been tailor-made for one-on-one match-ups, letting you dive into an action-packed experience tailored to all ability levels. You can explore the range of game variations and personalize the rules in friendly exhibition matches, plus join in an adrenaline-pumping Championship tournament against top players from around the world for a truly exciting challenge.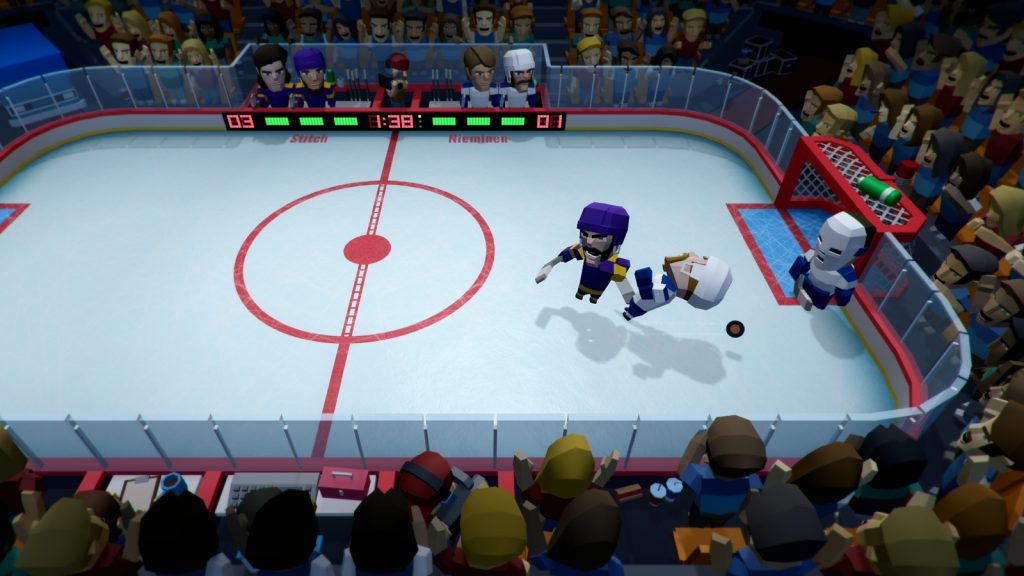 Mini Hockey Champ sparks the flame of competition with its scoreboard mode, rewarding players for their impressive stats and helping them boost their skills even further. Plus, the game can be enjoyed in a local multiplayer atmosphere, allowing gamers of all levels to get together to share in the fun.
Eastside Hockey Manager
Eastside Hockey Manager is a top-tier PC hockey organizing game with affiliation from UK's Elite Ice Hockey League (EIHL). Offering a broad list of international and domestic clubs, players, competitions, and championships, you are provided with an all-encompassing hockey management experience. Whether you want to have a solo pursuit or opt for engaging in an online multiplayer mode (up to 30 participants), it is up to you.
With your major decision to take the helm of either a club or a national hockey organization, you are taking charge of your own story. Complex and intricate, the world of managing a hockey team puts you in full control over the process of recruiting players, coaches, therapists, and scouts. You also have the option to put yourself as head coach or appoint one – possibilities are endless.
With a bird's-eye view, Eastside Hockey Manager gives you the opportunity to micro-manage each game as it unravels. Step into the manager's shoes and experience that rare feeling of being at the heart of a unique, strategic adventure.
Honorable Mentions
There are so many options for online hockey games, perfect for a PC gaming experience. We've highlighted a few of the top titles, although other noteworthy contenders should not be overlooked. Others worth considering include:
Lair Hockey
FaceOff Hockey
Puck Buddies
Trivia Vault: Hockey Trivia
Tropical Air Hockey
No matter which device you opt for, make sure to explore the available options and enjoy your gaming experience – either on your personal computer or an Nvidia Shield.
Was this article helpful?