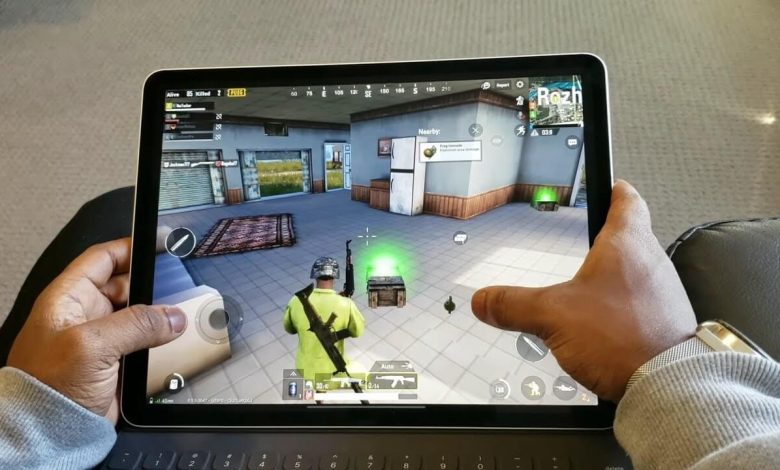 iPad is a touchscreen tablet powered by Apple's iPadOS operating system designed with advanced technological features. Its functions are similar to the iPhone when it comes to playing games and additionally, you can add a wireless keyboard or a game controller to play on this big-screen device. iPad has a faster processor which makes it an ultimate gaming tool to play games in full-screen mode. There are a huge number of games specially developed for iPad devices. Gaming in a big screen gives a great gaming experience and engages you to stay with the game. iPad is perfect for racing, action-oriented and many other genres. From the huge catalogue of the best iPad games, few high-quality games are outlined below.
Best iPad Games
Our shortlisted games to play on any iPad device like iPad, iPad Pro and iPad Mini are as follows.
Fortnite
Fortnite Battle Royal is a free video game software that you can download from the App Store. This app requires a standard internet to play. It is regularly updated with new gameplay modes, new looks for your avatar, weapons and many more. However, it is a free to play gaming app included with subscription at $39.99 to play with advanced features. You may shape your battlefield in such a way you like and start the battle in your desired zone. You can easily make a squad with your friends from different countries across the world. Overall it is a perfect game to play on an iPad.
Dead Cells
Dead Cells is an amazing game available at an affordable cost. It is really a fun-filled and addictive game where your character's death doesn't end the game. It is equipped with a wide range of features for interactive gaming. The Roguevania features allows you to explore your progression on different levels of the interconnected island. Kill your enemies to unlock new levels and every time you die, you have to start from the beginning again. Additionally, it is available with custom game controls and touches controls to change the controller's position and size in any way you like. It is entirely a subscription-based gaming app available at $8.99.
Invisible Inc.
Invisible Inc. is an excellent game with exciting features designed specifically for iPad. The latest version of the app added a cloud saving feature and supports high-resolution gaming. It is entirely a surprising and thrilling game as even a single move may change the entire game. Invisible Inc. offers five different game modes along with several customization options. Every player will go for the game in any way they like. You need to pay a premium cost of $4.99 to access Invisible Inc. on iPad.
Figment: Journey Into the Mind
Figment: Journey Into the Mind is a musical action-adventure game provided with puzzles and mind games. Enjoy your game with music and animation visuals that fill your mind with deep thoughts and keeps you stress-free. Figment is an adventure and action mixed battle app that comes on both free and paid versions. Where the free version allows you to play only the first two chapters. Once you get the subscription ($4.99) for Figment, you can unlock the entire game and its features. The subscription cost may vary with countries.
Minit
Minit is a tiny adventure game to be played within 60 seconds. The visuals of the game look like a classic map to find objects and secure quests within the time-lapse. It is built-in with user comfort, countless secrets, dangerous foes, unusual folk and many thrilling aspects. Once you reach your target within 60 seconds, the saved seconds will be used for the next round of play. Minit is a cost-effective gaming app available at $4.99.
Samorost 3
Samorost 3 is an attractive and challenging game that offers adventure and puzzle games. The animation and sound effects are incredible to play the game and with these, you never feel bored. During the game, you have to visit nine alien worlds with colourful creatures, visuals and also has different challenges to reach your target. It is a cost-worthy adventure gaming app available at $4.99. Overall it is a well-supported iPad game available on the App Store.
Superbrothers: Sword and Sworcery EP
Superbrothers: Sword and Sworcery EP is an action-adventure game, where you can battle and evoke sworcery to solve the mysteries. It is provided with enough pixel-art atmosphere buried with several surprises and challenges. It is an all in one gaming app with music mixtures, swordplay and many more exciting things. The game is integrated with Twitter, so you can team up with your friends on twitter to complete missions. To get this game on your iPad you need to pay $3.99 as a subscription fee.
Red's Kingdom
Red's Kingdom is one of the best challenging puzzle game for kids provided with awesome actions and adventures to make the gameplay interesting. Your target is to reach the kingdom to save your father and golden nut. Discover hidden secrets, collect nuts, unlock special powers and there is something new to discover every time. Red's Kingdom really looks amazing, as it takes you to the new world where you can find an alternative path to reach the kingdom. Though you can get better gaming with plenty of suspense elements at every stage, you have to pay $2.99 to access Red's Kingdom on your iPad.
Ticket to Earth
Ticket to Earth is a well-designed gaming app with attractive graphics and different style of artwork on iPad. The landscapes and gaming backgrounds are filled with different effects and colours. Moreover, you can team up other players online and position them around the battlefield. You can fight against the corrupt government and collect matching tiles and get special powers to destroy the enemies. Ticket to Earth will kill you if you are not careful, and you can find your own path to accomplish the mission. The Ticket to Earth on the iPad is priced at $4.99.
Badland 2
Badland 2 is a brilliant adventurous gaming app crafted with stunning designs. It holds immersive audio and visual gaming effects. Internet connection is not essential for single-player gaming and you can challenge your friends in the global community. You can survive through new elements such as liquids, flamethrowers, water, volumetric burning light and many more. The game will sync your gaming achievements across all your iOS devices. You will have to pay $0.99 to get the app on the iPad.
The Room: Old Sins
The Room: Old Sins is a challenging 3D puzzle adventure game that has dozens of hidden objects to discover. You will get better gaming effects with hunting soundtracks and dynamic effects. Once you enter the game, you will be carried to a place where tactile exploration meets exciting puzzles and an interesting story. It contains unimaginable puzzles to explore complex dollhouse which transforms at your fingertips. Every new room is a pursuit with stunning effects and visuals which makes you feel the object like real in the gaming environment. The Room: Old Sins is well integrated with iCloud and you will be able to share your performance with multiple devices. The Room: Old Sins has a price tag of $4.99 on the iPad.
Vectronom
Vectronom is an amazing iPad game with stunning graphics and fun-filled gameplay. It provides more than 100 3D puzzles with attractive colours, hypnotic soundtracks to excite the players. Vectronom puzzle-solving is highly intuitive and seems to be difficult, it keeps you stay within the game for a long time. Every higher-level challenges are trickier with rhythmic soundtracks and dynamic art design. These features encourage you to keep going and stimulate you for one more try. However, it comes with a cost of $3.99.
Power Hover
Power Hover is a hoverboarding action-adventure game comes with beautiful themes and landscapes. It is furnished with multiple levels with a lot of surprises and challenges to beat. Power Hover is entirely a fun game built-in with challenge modes and with this, you can compete with your friends and other players on online. Furthermore, it has the original soundtracks and good-looking visuals. Enjoy the freedom of riding a hove-board at $3.99.
PUBG Mobile
PUBG is a very popular free to play online multiplayer battle game. It has a version exclusively for mobile gamers and is well compatible with iPad devices. Once you defeat your enemies, you can collect their weapons and move forward. It eliminates the hassle of getting weapons and you can also get the directional feedback and alert if there is an enemy near you. Gamers can stay on track by healing easily and quickly, as the healing button will suggest you the suitable healing item at the situation. PUBG on iPad is entirely free with in-app purchase at $9.99.
Asphalt 9: Legends
Asphalt 9: Legends is an excellent racing game that comes with easy to use interface with modern graphics and different game modes. You can easily customize your ride through amazing speed controls. Playing Asphalt 9: Legends will never get your bored, as it has different locations to choose and each location is filled with countless thrilling elements. It is a perfect racing iPad game with dazzling visuals and customization. Additionally, it has an online multiplayer mode, where you can compete and collaborate with other games across countries.
To Conclude
These are the highly-rated iPad games to meet your expectations and get the best gaming experience. Owning the right game with an easy UI and customization will keep you entertained without any lag. All the above apps don't have any boring elements and repetitiveness. It is up to you to choose a game from your favourite genre as we have included games from all categories. Comment below which game you chose and your feedback on it. Follow us on Facebook and Twitter for more updates.