How To
How To Delete a VSCO Account Easily in 2 Ways
All you need to know about deleting your VSCO account.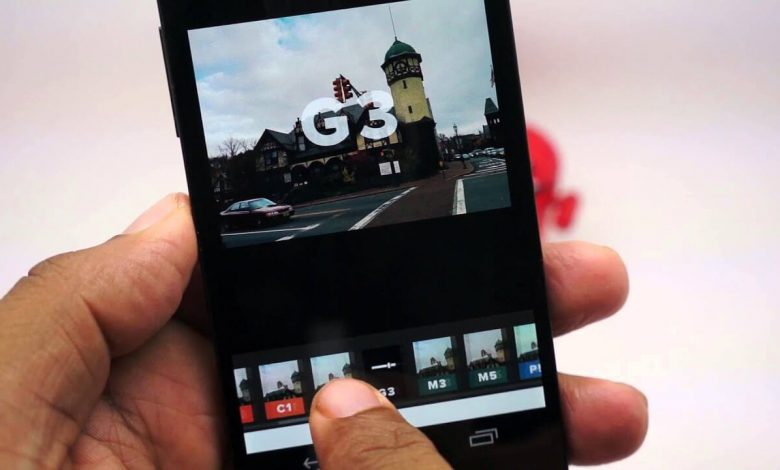 VSCO, also known as VSCO Cam is a Photography app and website made especially for those serious professional photographers. The platform emerged in 2012, in which one can upload pictures, edit, apply filters, share them with your fellow VSCO community or other social media sites. VSCO might seem similar to Instagram with the short description given above, but it is not. The main difference is that there is no likes, comments and followers. Seriously? Yes. VSCO is unique and lets people exhibit their talent in photography without being judged. To add to it, there is a membership fee of $19.99 leaving the casual users behind. So after been using it for a while, if you had decided to jump to another site or if you feel that VSCO no longer suits your style, you can leave the site. In this article, let us the ways on how to deactivate or delete a VSCO account permanently.
How To Deactivate Your VSCO Account
If you don't want to permanently delete your VSCO account but want to get rid of the platform, you can deactivate it.
#1 Log in to your VSCO account.
#2 Click this link to go to the VSCO deactivation page.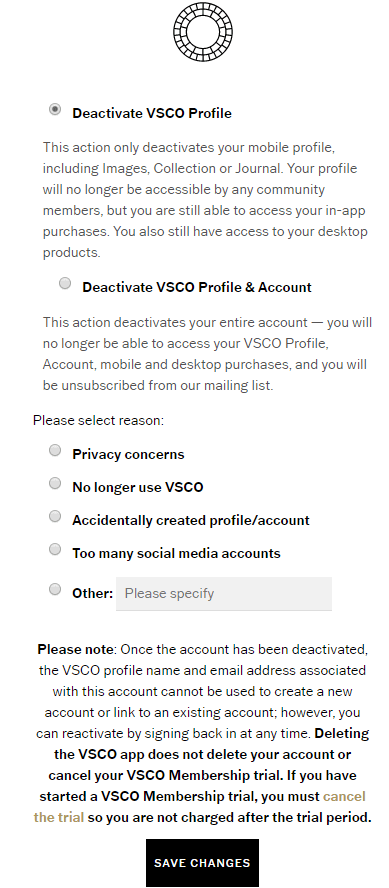 #3 Click the first option to deactivate the profile alone. This deactivates only your profile with images and you can access your in-app purchases.
#4 Click the second option to deactivate your profile and account. With this you have no access to your account as it goes dormant.
If you change your mind anytime later to reactivate your account, you can simply log in to your account and it reactivates it.
How To Delete Your VSCO Account
To delete and close your VSCO account permanently, simply follow the below steps.
#1 Log in to your VSCO account.
#2 Tap the Settings icon (round icon with dots) on the top right.
#3 Scroll down to the bottom and click the Delete my Account button in blue colour.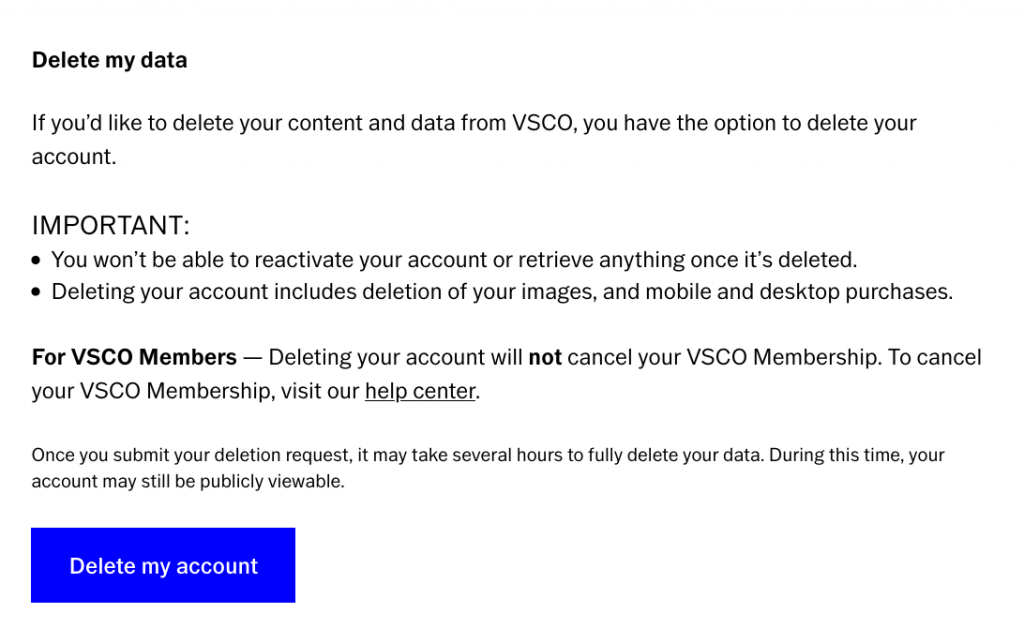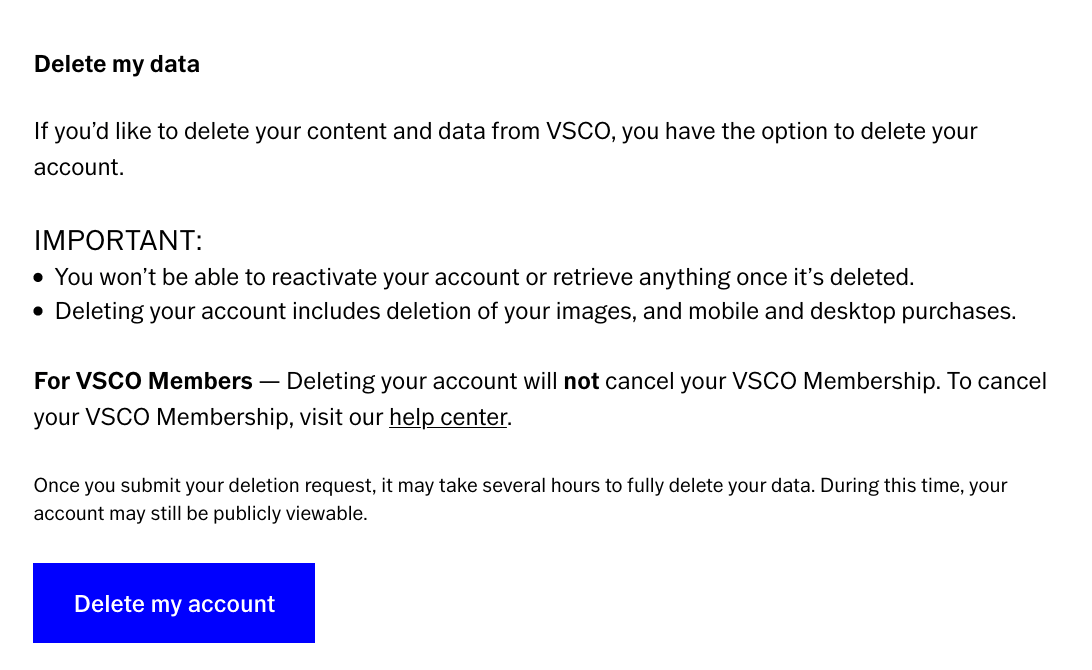 Keep in mind that that the delete VSCO account feature takes some time as long as several hours to completely delete and remove data from it.
Note: Those users who have an active VSCO subscription will have to cancel it beforehand. As deleting your account will not cancel your subscription and you may be charged.
How to Download a Copy of My Personal Data on VSCO?
VSCO allows you to maintain ownership of your data with an option to download your photos and other data as a Snapshot. A snapshot is nothing but a ZIP file with all your data that can take upto 2 hours to create and is available for the next 7 days to download. To do it,
#1 Go to vsco.co and sign in to your account.
#2 On the top right of the screen, tap on Settings icon (round icon).
#3 Scroll down until you find the Access snapshot button.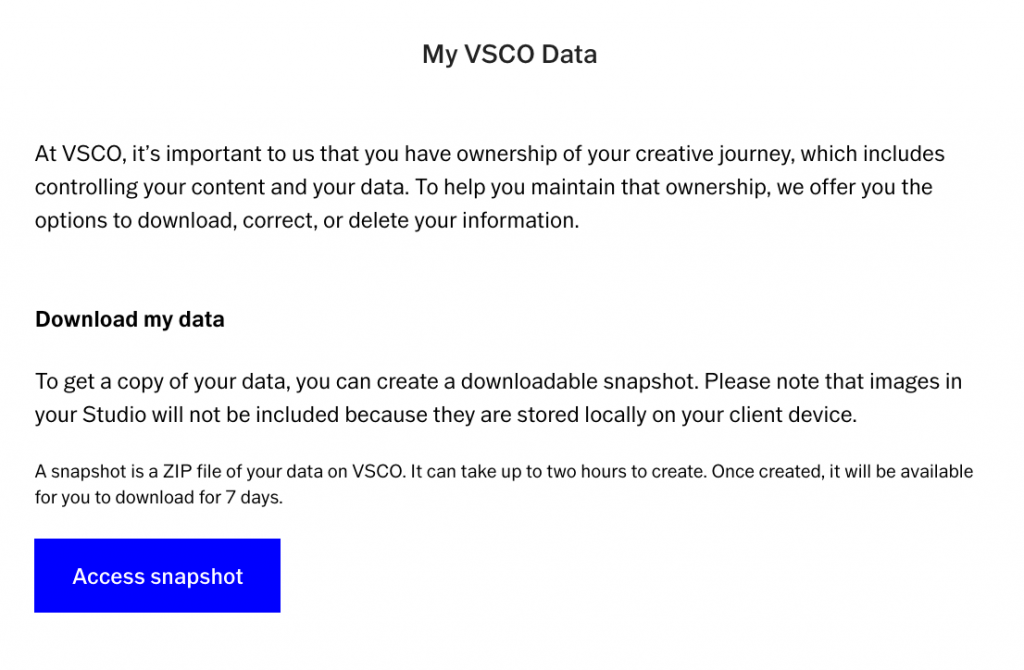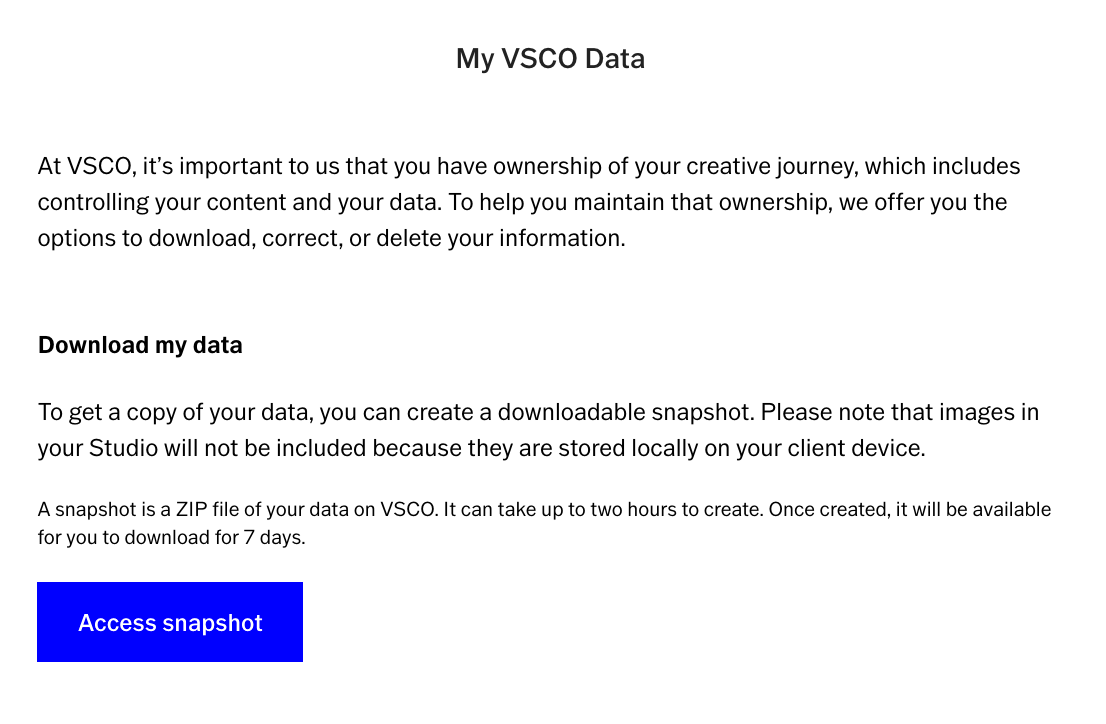 To point out, images in your Studio will not be a part of the Snapshot as they will be stored on your device already.
Our opinion
You can delete the VSCO account by yourself from your account page. If you can't do it or if you face any issues while deleting your account, you can contact the VSCO support. Also remember that, once you have deleted your account, there is no comeback. You cannot take back your decision once your account and the data associated in it are deleted. So think twice before you know how to delete a VSCO account.
You might also read how to Delete Instagram Account Permanently or Temporarily
Comment below if you have something to ask or share. Do follow our Facebook and Twitter accounts for more related tech updates.
Was this article helpful?