Microsoft Xbox One consoles had let its users get a new level of gaming experience. In addition to 4K gaming, it is also preferred for 4K entertainment. They have been designed to be the most powerful console to play games from the past, present as well as in the future. Xbox One is getting better with updates and improvements. Despite these pros of using Xbox One console, it doesn't mean that it is free from issues. Any Xbox One console user would have noticed their console turn on automatically at some point of time. Although it seems to be a simple issue, it is probably the most annoying issue. When you aren't sure why Xbox One turns on itself, then this will help you out.
Why Xbox One Turns On by Itself?
The reason for your console to turn on automatically may be due to any of the following issues.
A sensitive touch power button
HDMI CEC feature
Check if it is due to the controller
Look for Instant-On feature
Cortana might have misunderstood and responded
An automatic update
Ways to Fix Xbox One Turns On by Itself Issue
Whenever your Xbox One turns on by itself, then it can be fixed by any of the following solutions.
Check Power Buttons
Those Xbox One consoles with capacitive buttons seem to be more sensitive than the physical button. Just like touchscreen phones, it senses your finger and turns on automatically. The chances are high for your Microsoft console to turn on by itself when kids or pets come into contact with it. So, it is better to let your console sit a little higher than the usual place. Also, make sure you use a soft cloth while cleaning it to ensure it doesn't turn on by mistake. This issue is more common in the original Xbox One. However, ensure that the One S and One X physical buttons aren't stuck with any obstacles.
Check Xbox One Controller
The modern Xbox One consoles can be turned off with the wireless controller itself. So, ensure the power button on the controller isn't pushed by any means. To fix this, it is better to remove the batteries from the controller. Otherwise, keep the controller in a safe place where it can't be disturbed frequently.
Turn Off Instant-On Feature
Xbox One will turn on quickly from a sleep state when Instant-on mode is enabled. This may also be the reason for the console to power on. Just disable it and set it to Energy saving. Go to Settings > Power & startup > Power mode & startup > Power mode > Energy Saving > restart console. With this, the console will shut down each time and it will turn on only if you press the Xbox button on the system or controller.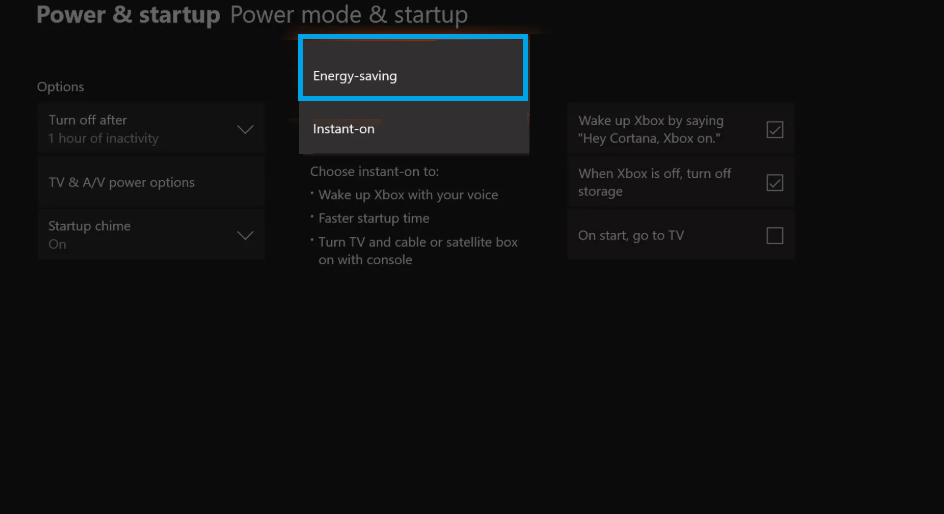 Automatic Update Settings
With the Instant-On feature, the console will get auto-updated whenever a new version gets released. This setting might seem comfortable and time-saving but it may also be the cause for Xbox One to turn on by itself. Turning off the automatic update settings will resolve certain issues. Press Guide button > System > Settings > System > Updates & downloads > uncheck Keep my console up to date box.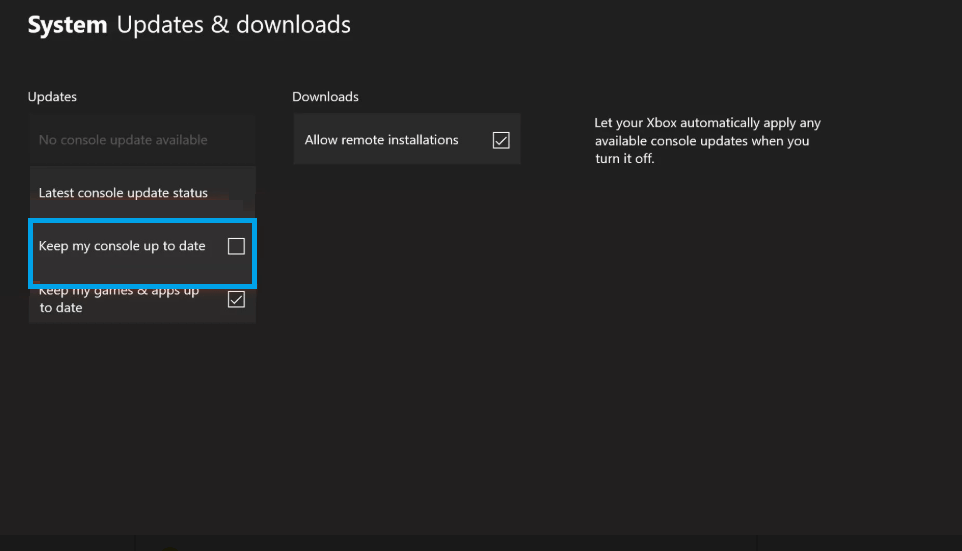 Turn Off HDMI-CEC
HDMI-CEC is a feature used to control HDMI devices like the console, etc. Your console will turn on accidentally due to the HDMI-CEC feature on your TV. It even lets the devices like Xbox One to choose the correct input port. To get rid of this issue, you should indeed disable the HDMI-CEC settings on your TV. Just check out your TV manual to find the procedure to turn off HDMI-CEC.
Issues with Cortana
Xbox One supports Microsoft's Cortana, the virtual assistant. Just by voice commands, the console can be turned on. Cortana works with a Kinect or a headset. When it is activated, it might listen to your conversation and turn on the console by mistake. If it is the cause for Xbox One to turn on by itself, then plug out the Kinect to disable Cortana. You can connect it back when you use the console to let it listen to your commands.
Our Opinion
These are the possible chances for Xbox One to turn on by itself. I hope any of the fixes have resolved the issue efficiently. If the problem still persists, then you shall look for the Xbox Support page.
Share us the cause for your Xbox One to turn on and the fix you tried to resolve it as comments. Visit us on Facebook and Twitter to read more such useful contents.
Was this article helpful?