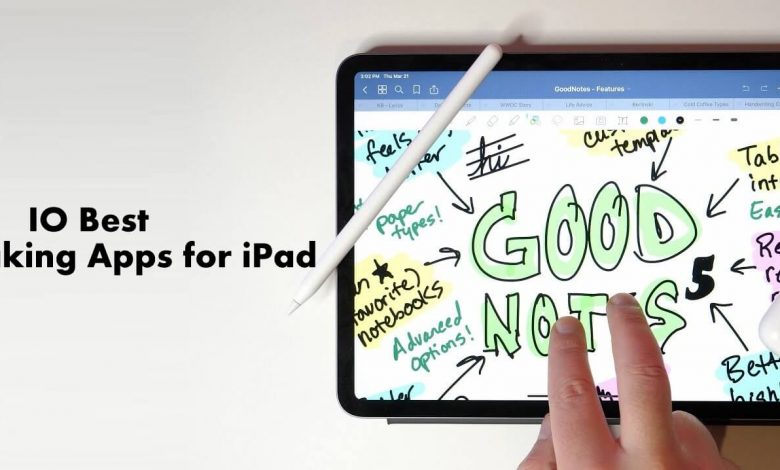 Tend to forget something important? Or you don't like carrying a note and a pen to make a quick note of it? Or finding difficult to write notes during the lecture? Let it be anything and even worse. It is still possible to stay productive with an iPad, iPad Pro, and Apple Pencil in hand. Just forget the pen and paper as we recommend you install the best note-taking app on iPad. It will essentially help you take notes on the go. So, just jot down something important even if you are in a hurry with the help of a note-taking app.
While the Apple App Store has listed several numbers of note-taking apps, it isn't that simple to select the right one. Each of our needs differs and preference differs. But you may not confuse much as the article covers the list of best note-taking apps for iPad/iPad Pro. Above all, each of the best note-taking app for iPad listed here holds its own features, price, plus and minus. Sounds good? Head down then.
Table of Contents
Best Note-Taking App for iPad

Notability
GoodNotes 5
Microsoft Nebo
Notepad + Pro
Microsoft OneNote
Evernote
Noteshelf
Google Keep
Bear
Whink

Conclusion
Things the Best Note-Taking App for iPad Should Have
Consider the following key points before you download and install a note-taking app for Pad Pro/iPad.
It should convert your iPad into a digital paper.
Must have an easy and user-friendly interface.
Able to read what you have written.
Should support writing as well as drawing.
Lets you find your digital notes on any device.
Should support documenting, organizing, and managing the notes.
Lets you import and share the notes with others conveniently.
It allows you to create presentations, documents, PDFs, etc.
Best Note-Taking App for iPad
Apple iPad and iPad Pro are masterly note-taking devices. Although Apple Notes comes pre-installed on any iOS device, there is a lot more to take advantage of note-taking. So staying protective with the iPad wouldn't complete without the best note-taking app. The best among the dozens of them are as follows.
1. Notability
Notability is one of the easiest and best note-taking app for iPad Pro. It will take your productivity to the next level while at school, home or work. Notability app supports creating a note using handwriting and photos. It lets you scale, rotate and re-edit your sketches for an unlimited time. Like most note-taking apps, Notability also supports converting handwriting into text on iPad Pro. You can type anywhere as it has fully-featured, left-aligned typing with word count. Writing notes over Apple Pencil's second generation seems to be more responsive.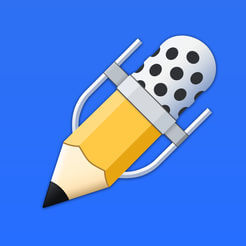 Notability Exclusives:
It helps you secure and locks your notes using touch or face ID.
Has a wide range of note-taking and sketching tools.
Supports adding and annotating PDF's.
Drag and drop support available for moving files, photos, GIFs, text, etc.
Stay up-to-date and organized with your notes with iCloud support.
You can import and share PDF, Word, PPT, GIF, images, etc.
Plus:
Provides streamlined workflow.
Lets you work with two notes simultaneously.
Auto backup and iCloud support.
Supports recording and playing audio.
Share notes over Google Drive, Email, AirDrop, and Dropbox.
Minus:
Price:
2. GoodNotes 5
GoodNotes 5 is the top-rated, best note-taking app for iPad available on App Store. It uses a vector ink engine and thus your notes will look completely natural as you have written on the paper. It supports selecting and customizing pen color, style, thickness, etc. With OCR tech, searching for the notes from the library is easy on the iPad. With GoodNotes 5, the users can add images, draw perfect images, select objects on the page and move them.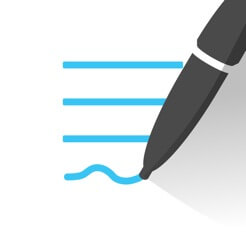 GoodNotes 5 Exclusives:
Supports converting your handwriting into text and the notes can be shared over apps.
Type with keyboard, drag and drop anything, unlimited undo and redo, etc.
It lets you customize your notebooks by choosing covers, paper templates, etc.
Write notes using Apple Pencil, Logitech Crayon, capacitive styluses, and your fingers.
Plus:
Annotate PDF, word, powerpoint, photos, etc.
Effortless document management.
PDF hyperlinks work on imported documents.
With iCloud support, your notes will be sync across the devices.
Minus:
Price:
GoodNotes costs $7.99 one-time payment.
3. Microsoft Nebo
Microsoft Nebo is a uniquely designed professional note-taking app for iPad. Taking notes is easy and Nebo supports structuring them using headings, paragraphs, bullet lists, etc. It supports writing notes using a keyboard, Apple Pencil, Logitech Crayon as the input mode. Nebo features the most powerful handwriting recognition engine that will convert your handwriting into text effortlessly.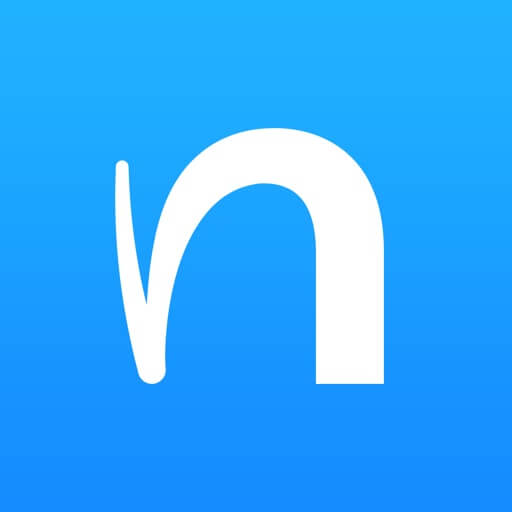 Microsoft Nebo Exclusives:
Users can add and annotate interactive diagrams, editable equations, sketches, etc.
Supports converting notes into DOC, TXT, PDF, or HTML file.
Organize and manage your notes as pages, notebooks, and collections.
The powerful search feature will find anything on handwritten ink, text, and diagrams.
It supports converting your handwriting into the typeset text.
Plus:
Features a smart layout and the page expands when you write.
Contents are re-sizable and it adapts to iPad screen size.
Sync notes to iCloud, Google Drive, and Dropbox.
It is responsive and gives optimal readability.
Supports 66 handwriting recognition languages.
Share notes on the web with anyone or limit to certain contacts only.
Minus:
User-interface is available only in 11 languages.
Price:
Buy Microsoft Nebo at $6.99
4. Notepad+ Pro
Notepad+ Pro is an exclusive digital note-taking app for iPad users. Its users can take notes on-the-go, draw and make sketches easily. There are a wide range of pens, colors, and highlighters available on Notepad+ Pro. You can experiment with your creativity by scribbling your ideas, write memos, knowledge, etc, using colorful marker pens. It supports switching between handwriting and typing.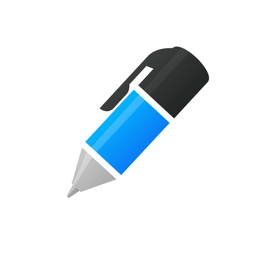 Notepad+ Pro Exclusives:
Just tap and hold to simply adjust settings, move or delete the notes.
Supports sharing notes via email, Dropbox, Evernote.
Make your notes emotional and catchy with icons, smileys, etc.
Notepad+ Pro has pre-installed with eight templates like games, sports, education, etc.
You can create notes by importing and editing files as Excel, PDF, PPT, Pages, Word, etc.
Plus:
With Quick Search function, you can find important notes in seconds.
Supports adding notes and captions to the photos in Photos app.
Hide sensitive info with one tap using Blur option.
Provides maximum portability while using the smart keyboard of iPad Pro.
Available in 12 different languages of the world.
Minus:
Quite expensive than the top-tier note taking apps.
Price:
Get Notepad + Pro at $19.99.
5. Microsoft OneNote
Microsoft OneNote lets you take notes right on your iPad and iPad Pro. It is a helpful tool for the teachers to organize lessons easily and share it with the students. OneNote is very useful to the students as they can use it as a platform for handwritten notes and sketch diagrams. Use your finger or use the stylus to draw images and annotate the notes. With Office Lens, you can save photos of whiteboards, photos, etc.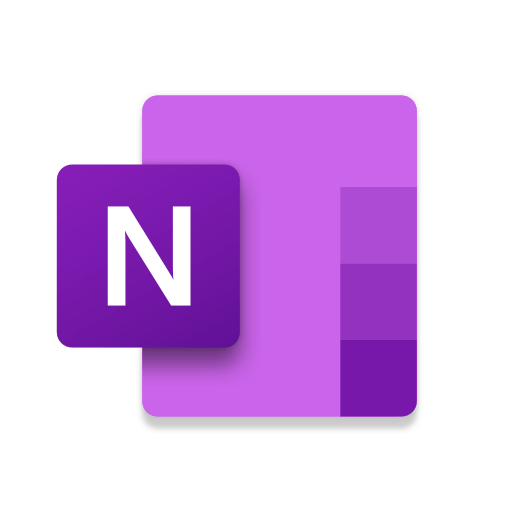 Microsoft OneNote Exclusives:
Supports a wide range of pen colors and settings. So, you can create beautiful handwritten notes and drawings.
You can create to-do lists to track your daily activities easily.
It supports recording audio notes, adding online video to notes, etc.
Access your notes from any device by sync it with OneDrive or SharePoint.
It supports sharing ideas, collaborating and working together in a shared notepad.
Plus:
Organize your ideas as smart sticky notes on iPad.
It features powerful organization tools.
Supports securing your notes with a password or touch ID.
Save contents with one-tap using OneNote Clipper.
Minus:
Lacks private encryption.
Price:
Microsoft OneNote is available for free of cost.
6. Evernote
Evernote is the best note taking app for iPad Pro that lets you take better notes. It has tools that are required to keep your work organized. The users of Evernote can write searchable notes, checklist, notebooks, to-do-lists, etc. It can be used to write or create notes easily in different formats like text, sketches, photos, audio, image files, and more. With Evernote, the iPad users can easily organize notes by topic, date, project, etc.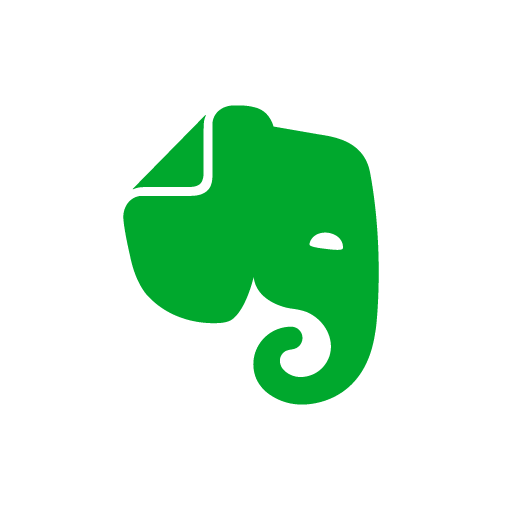 Evernote Exclusives:
Manage projects, clients, deadlines, and meetings from one place.
Supports clipping web pages, articles, and PDFs into your notes.
Notes get sync and it can be accessed from any device with Evernote.
It's easy to search for text, PDFs, images, PPT, etc, with the premium plan.
Plus:
Supports adding tags, remarks, editing titles, and saving it.
Create better notes instantly with easy-to-install note templates.
It identifies about 28 typewritten and 11 handwritten languages.
Supports scanning your important papers like insurance, invoices, etc.
Minus:
Collaboration support is available only in the premium version.
Price:
Free/Buy Evernote Premium at $ 4.99/month.
7. Noteshelf
Noteshelf is yet another digital note taking app for iPad users. It can be used by students, professionals, and journalists. With Noteshelf on iPad Pro, you can take handwritten notes just like taking notes on paper. It supports typing notes as well as using a wide range of pens, pencils, and highlighters. With Noteshelf, the users can personalize your notes using covers. Use the bookmark feature to mark important pages and access it with ease.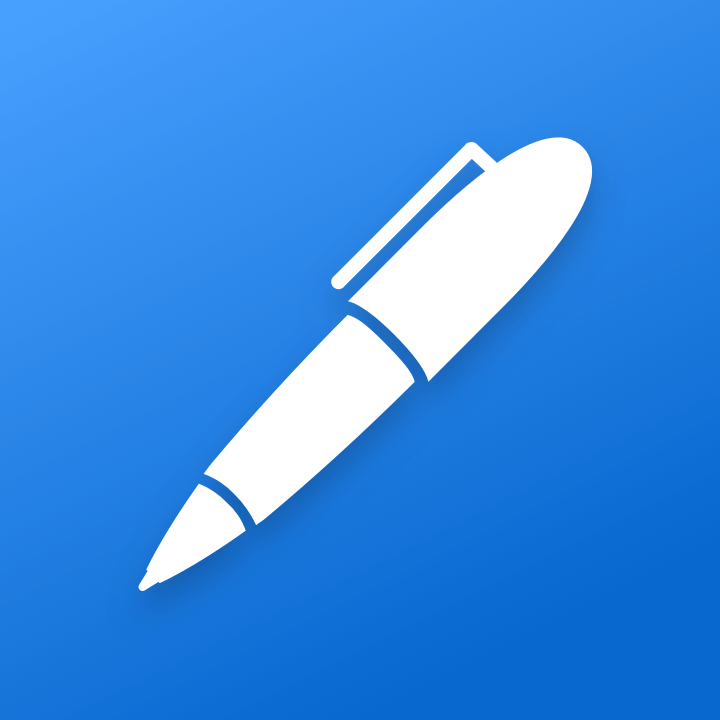 Noteshelf Exclusives:
It helps you search for handwritten notes and convert them into text.
With Noteshelf, it is easy to import PDF, MS office documents, etc.
Choose styles and add formatting options like checkboxes, bullet or numbered lists.
Supports auto-publishing your notes into Evernote.
Plus:
Supports about 65 handwriting languages.
Audio notes recording is ideal for recording lectures.
Open multiple windows and work on all of them simultaneously.
It will auto back notes to OneDrive and Dropbox.
Secure notes with touch or Face ID.
Minus:
Available only for iOS platform.
Price:
8. Google Keep
Google Keep is one of the best note taking apps for the iPad Pro/iPad. It will let you create notes, edit and organize them on-the-go. You can use this note taking app to add lists, photos, and audio to your notes. Finding notes on Google Keep is made simple as it supports filtering them based on color or attributes like shared notes, audio notes, list with images, etc.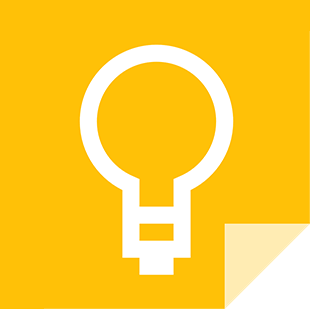 Google Keep Exclusives:
It lets you organize notes using labels and colors.
Record a voice memo and Keep will transcribe it automatically.
Plus:
Supports location-based reminders.
Notes and lists on Google Keep will be sync across all your devices.
Share your thoughts as notes with friends and family on Keep.
Minus:
Fewer features when compared with its rivals.
Price:
Google Keep for iPad/iPad Pro is available at free of cost.
9. Bear
Bear app is one of the best and most flexible notes taking app available for iPad Pro/iPad. It lets the users write notes in their own style using a wide range of tools. Whether you want to create quick notes or write essays, Bear for iPad is all you need. Choose themes and typography to make your notes look great. With Apple Pencil, the users can draw, sketch pictures effortlessly. You can easily add style to tasks, headings, journals, and more using emoji autocomplete.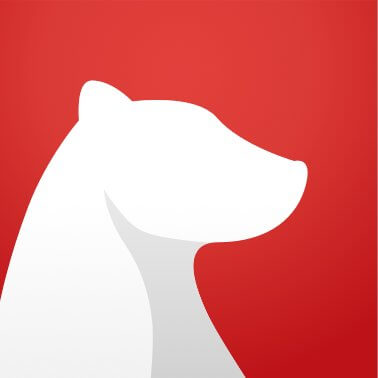 Bear Exclusives:
The editor shows the word counts, converting PDF and docs.
Add hashtags to your notes to find and organize them quickly.
It supports exporting notes as HTML, PDF, DOCX, MD, EPUB, etc.
Keep your notes hidden with Focus mode.
Plus:
Supports iOS and Siri shortcuts.
Advanced markup editor supports 20+ programming languages.
Supports adding custom markup shortcuts.
Search notes using Spotlight or keyword highlights.
Supports sync notes via iCloud and is accessible from other devices.
Minus:
Sync works only with the Bear Pro version.
Price:
Free/Buy the Pro version at $1.49/month or pay $14.99/year.
10. Whink
Whink is a simple-to-use yet feature-rich note taking app for iPad. Whether you are at school, at work or at home, it gives the best of note-taking experience. You can handwrite or type to create beautiful notes on the go using ink gel. Just tap on the page to start typing notes instantly. It supports audio recording notes or you can insert voice recordings in the PDF files.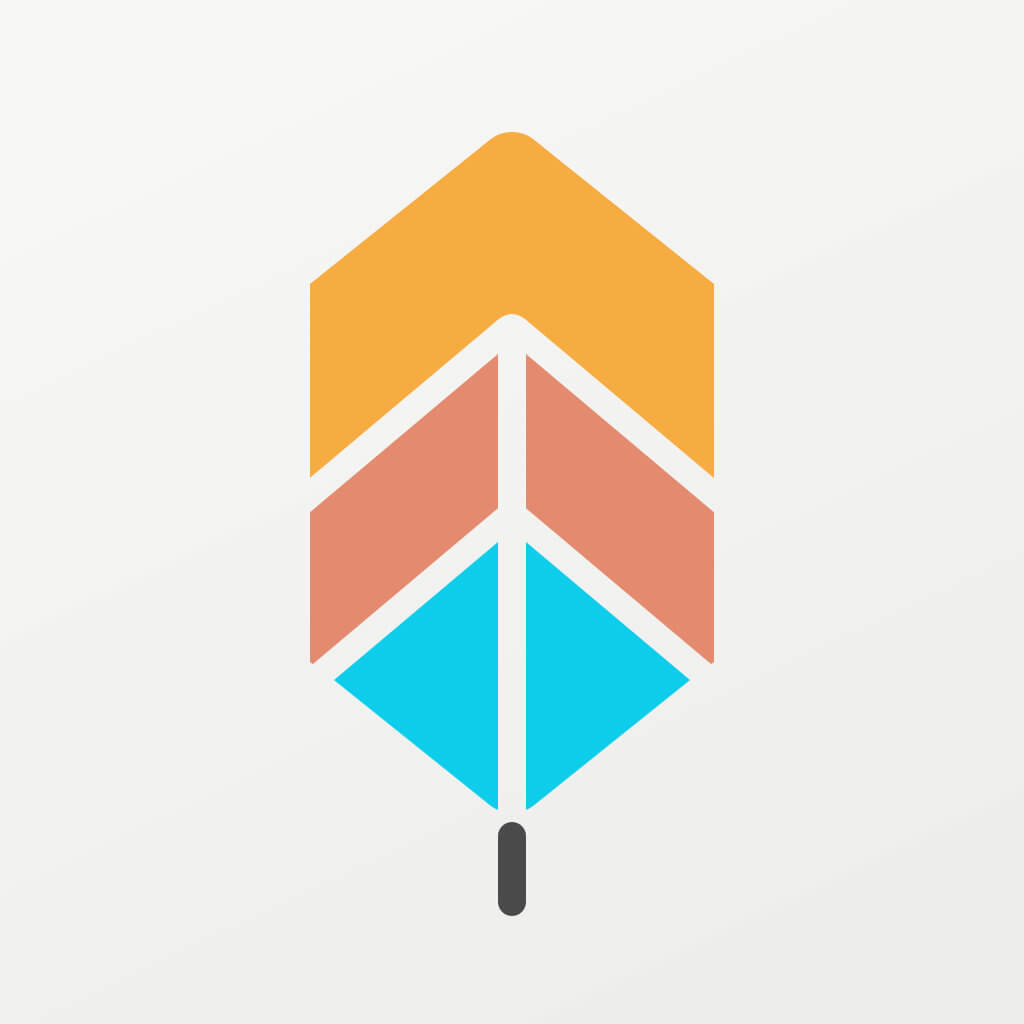 Whink Exclusives:
It lets you add photos, geometric shapes, voice recordings, drawings, etc, to your notes.
Sketch, add or edit shapes to the notes which is useful for making the geometric figures.
Import PDFs with Email, Google Drive, and Dropbox.
Whink note-taking app, you can easily fill up forms, sign, printing contracts, etc.
Plus:
Add hashtags and label them to quickly find relevant notes.
You can insert PDF documents into the notebook anytime.
Share notes with others via email, Dropbox, etc.
With iCloud backup, you will never lose your notes on any device.
Write smoothly using the styling ink gel pen with unlimited colors.
Minus:
Lacks cloud integration support.
Price:
Conclusion
All of the note taking apps for iPad Pro/iPad mentioned here in this article is highly notable and popular. They are affordable and you can take notes on the go instantly. We have left the choice of picking up the best note taking app for iPad to you.
Do we still miss any note-taking apps that work the best of its kind? Then let us know it as comments. Also, do share with us your favorite note taking app for iPad. Follow us on Facebook and Twitter for regular updates.
Was this article helpful?