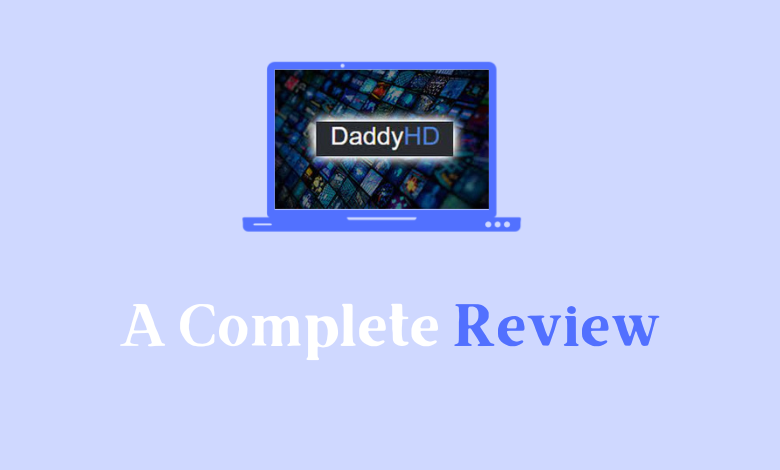 In recent days, there have been numerous streaming platforms available to stream live TV channels online. Besides all, only a few platforms will satisfy the user's needs. Among them, DaddyHD is one of the best streaming services offering more than 130 live sports and entertainment channels.
This platform is free and doesn't require any subscription plan or sign-up procedure to access the content.
DaddyHD is also regarded as one of the alternatives for USTVGO, a popular streaming which was shut down recently.
Disclaimer! We don't have any affiliation with DaddyHD, and the following guide is only for educational purposes. We aren't responsible for any issues that arise while using this website. So use the site at your own risk.
DaddyHD – Site Design
Visit the DaddyHD website [https://daddylivehd.sx/] from a web browser on your PC or smartphone to stream content. The interface is user-friendly and makes it easy for a user to surf content. Being one of the reliable live-streaming websites, you can watch all the upcoming TV shows and sports events in a specific format. This website also has a separate list of TV shows and live sports content.
As for TV shows, a list of content specifies the show with timing followed by the name of the TV show, season, episode, and platform that streams the content [Ex: 02:00 Chopped – Season 52, Episode 26 – Grand Finale Food Network (CH-384)]. Moreover, it also indicates the channel number to watch the TV show from the respective platform.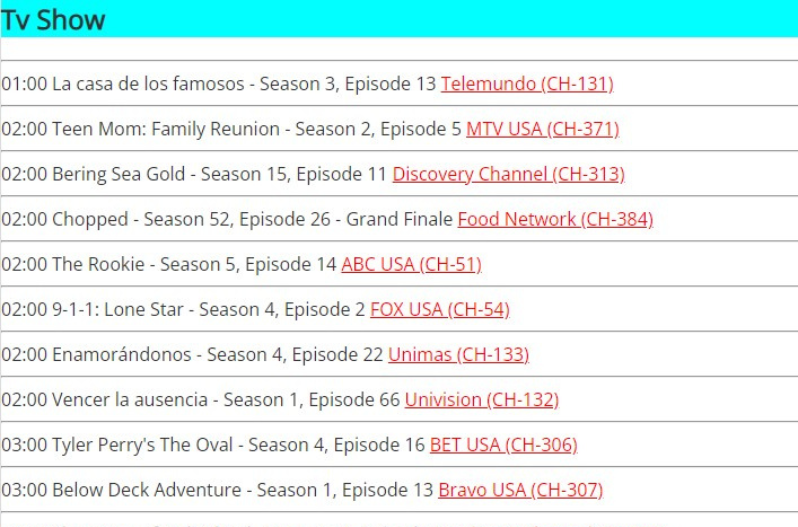 When it comes to Live TV events, it separates the sports according to popularity and views. The interface displays information about sports events like Soccer, Cricket, Tennis, WWE, Basketball, Cycling, Handball, Horse Racing, Ice Hockey, Volleyball, and others.
As for the sports content, it displays timing followed by the event name, opponent teams, and streaming platform [Ex: 12:00 Portugal U23 Relegation Round: Portimonense U23 vs. Sporting CP U23 Canal 11 Portugal HD (CH-9)].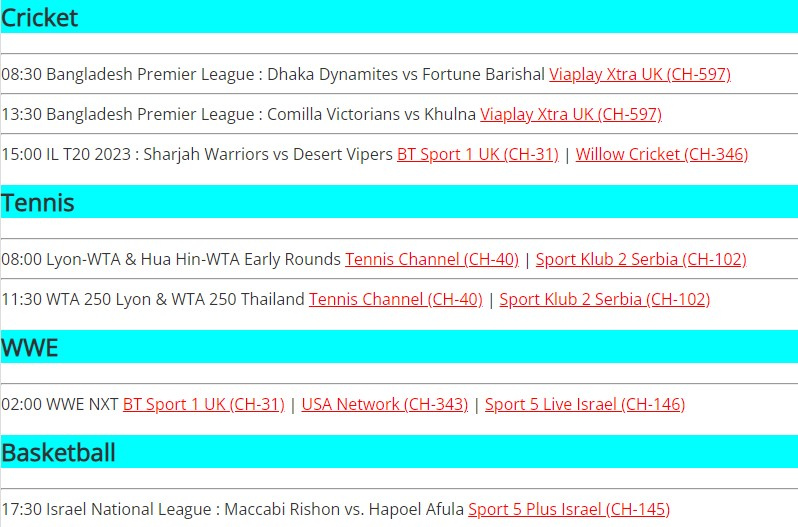 After selecting the required channel, it will immediately redirect you to the respective live stream. From there, you can watch live TV content without any interruption. Before streaming content on DaddyHD, make sure to connect your device to a stable WiFi network for a fast and reliable connection.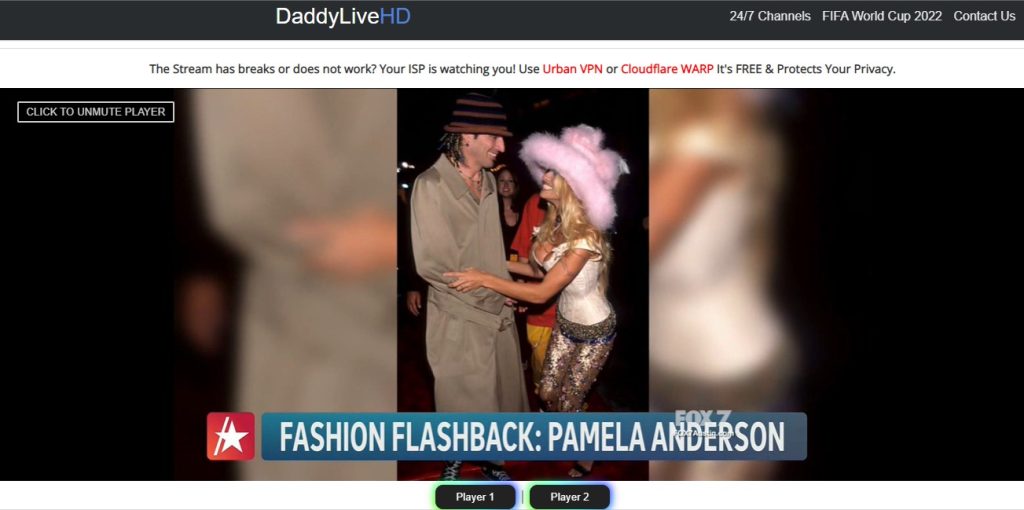 Moreover, DaddyHD allows users to play videos in HD resolution. It also features built-in closed captions (CC), the ability to increase and decrease volume, and a full-screen mode for users to enhance the experience.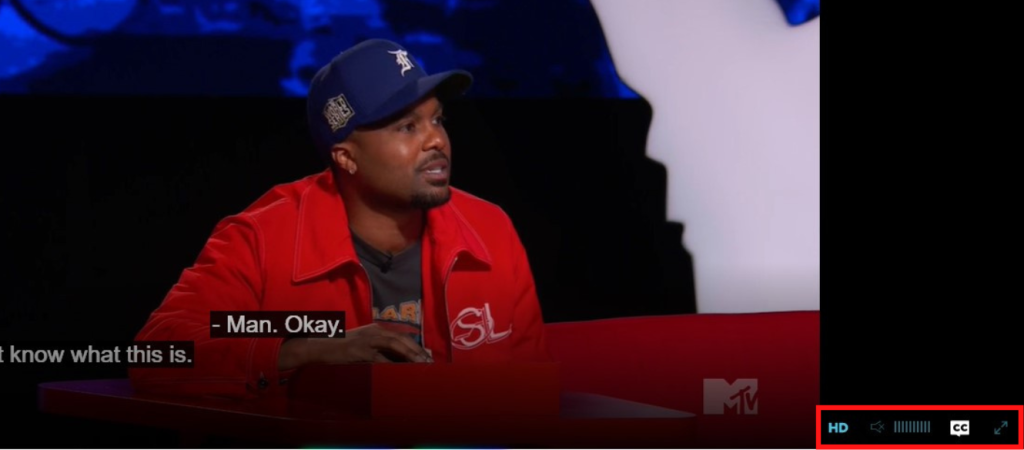 DaddyHD – Supported Devices
DaddyTV is only a web-based platform. So, there is no official app available for download on your Android and iOS devices. You can get access with web browsers like Chrome, Edge, Firefox, and Brave installed on compatible devices. You just need a stable internet network to stream DaddyHD content.
How to Watch Live Channels on DaddyTV
Streaming content on DaddyHD is easy and straightforward.
[1] Open a browser on your device.
[2] Move to the URL bar and visit the DaddyHD website [https://daddylivehd.sx/].
[3] Once the home screen displays, you can view the entire events listed accordingly.
[4] Search for your favorite TV show or live sport and click the respective channel.
[5] Finally, you can watch the live content from the selected channel.
List of Popular Channels on DaddyHD
| | | | | |
| --- | --- | --- | --- | --- |
| BT Sport 1 HD | Sky Sports Premier League | Fox Sports 1 USA | Tennis Channel | ESPN USA |
| Sky Sports F1 UK | beIN Sports 1 Turkey | WWE Network | Movistar La Liga | TSN1 |
| TSN2 | NBC USA | CW USA | Freeform | A&E TV |
| AMC TV | Animal Planet | Bravo TV | CBS Sports Network (CBSSN) | CNBC |
| Comedy Central | Discovery Life | Discovery Channel | Disney XD | The Hallmark Channel |
| HBO USA | History TV | NICK JR | Paramount Network | Starz |
| TBS | TLC | TNT USA | Cartoon Network | MUTV |
Visit the official site to view the entire channel list.
Is DaddyHD Legal & Safe to Use?
No. DaddyHD is illegal and not safe to stream content. All the live content on DaddyTV is available for free to stream online without holding a proper license. All of the content on this site is not strictly monitored and doesn't comply with any copyright laws.
Do I Need a VPN to Stream Daddy HD?
As Daddy TV isn't legal to stream, it's recommended to use a VPN service. VPN is a private network that is specifically built over a public infrastructure. It allows users to send and receive data security over the internet by establishing an encrypted connection. In addition, it also enhances online security and protects against cyber threats.
Some of the recommended VPNs are:
DaddyHD Review
Pros
This website is free and doesn't need any sign-up procedure to stream content.
The interface is user-friendly and simple to use.
It offers a wide variety of live tv events to stream online.
You can stream DaddyHD content from any web browser.
Cons
It doesn't provide any on-demand content for users.
You can't watch DaddyHD on devices that don't support web browsers.
Users can't watch any offline content on DaddyHD.
Some of the Live TV channels may require a VPN to work properly.
If you aren't concerned about privacy issues, DaddyHD is one of the reliable streaming platforms to watch live TV channels online without interruptions. After accessing DaddyHD, you can get live TV channels across genres like entertainment, TV shows, and sports.
Was this article helpful?