Do you anxious about your sleep? No more stress about your sleep schedule. Now, you can track your sleep easily with a Fitbit watch. You can enable sleep mode on Fitbit to monitor your sleep time, range, and phase of your sleep. In addition, you can see your weekly and monthly average sleep time. It includes hours slept, sleep score, sleep schedule, and sleep stages. It is possible to enable or disable the sleep mode feature at any time on your Fitbit device. But remember that Fitbit will track your sleep if you wear the Wristband while sleeping.
Features of Sleep Mode
Following are the features of Fitbit Sleep Mode.
Provide the sleep goals
Schedule your sleep time
Set the Alarm to wake you
Adjust Noise sensitivity
Track your sleep stages.
Reduce the screen brightness
Mute the Notification
Stop vibrating while getting notifications.
How to Detect Your Sleep Duration?
Fitbit monitors your sleep with the help of your heart rate variability (HRV). Your heart rate differs when you take a nap. There are three phases of sleep that will be tailored to your Fitbit device, and they are listed down.
REM Sleep: Rapid Eye Movement (REM) sleep occurs when you have a deep sleep. You will dream when you sleep deeply, and your eyes will move fast, which increases your heart rate.
Deep Sleep: Indicates that you have a good sleep for a few hours.
Light Sleep: When you take a power nap. It means you took a light sleep for a short period of time.
Sleep Mode Vs Do Not Disturb
Sleep Mode on Fitbit disables the call and text message notifications, dims the screen light, and turns off the Auto-On Display. It will not cause your Fitbit device to vibrate.
Do Not Disturb (DND) possesses the same function as Sleep Mode. The only difference between the DND and Sleep Mode is that sleep time monitoring. But DND doesn't monitor your sleep. Keep in mind that you cannot enable both DND and Sleep Mode at the same time.
How to Enable Sleep Mode on Fitbit
If you have Fitbit Inspire 2, Fitbit Charge 3, Fitbit Charge 4, or Fitbit Charge 5, you can follow the steps given below to enable or disable sleep mode.
1. Initially, Wake up your Fitbit screen.
2. Swipe left to find the Settings and then click on it.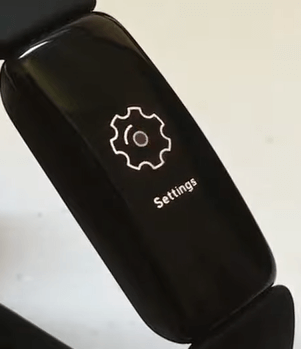 3. Under Settings, scroll down and select the Sleep Mode option.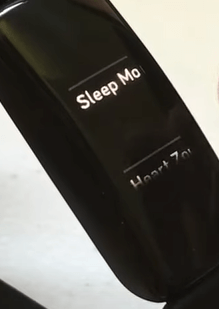 4. Toggle On or Off the switch next to the Sleep Mode option.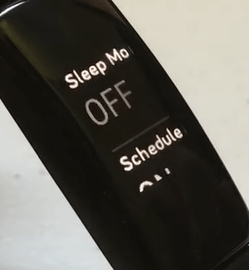 Enable Sleep Mode on Fitbit Sense and Fitbit Versa 3
1. After waking up the Fitbit screen, navigate to Settings.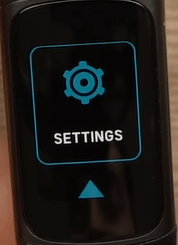 2. Then tap on the Quiet Modes option.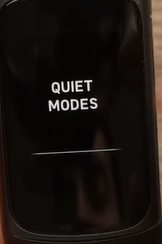 3. Click on the Sleep Mode option.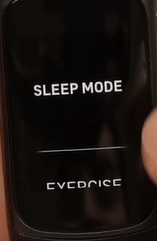 4. Turn on the switch to enable Sleep Mode. To disable the Sleep Mode, turn off the toggle switch.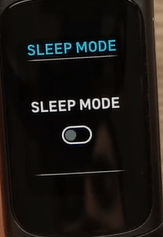 Fitbit Versa 2: Press the Left button on your Fitbit to launch the notification panel → Swipe down and select the Quick Settings option → Sleep Mode → Toggle it On or Off.
Fitbit Versa Lite: From the home screen, swipe up to bring the Status Panel → Hit on the Sleep Mode icon → Tap on the Schedule mode option → Turn it on or off.
Fitbit Luxe: Open Settings → Select Quiet Mode → Swipe down and tap on Sleep Mode → Hit the Schedule button → Enable or disable the switch by toggling it on/off.
Alternate Method to Turn on Sleep Mode on Fitbit
Wake up your Fitbit screen and swipe left. Hit on the Sleep Mode icon (Moon or Crescent Moon icon). Thus, you can now easily enable the Sleep Mode on your Fitbit Sense and Versa series.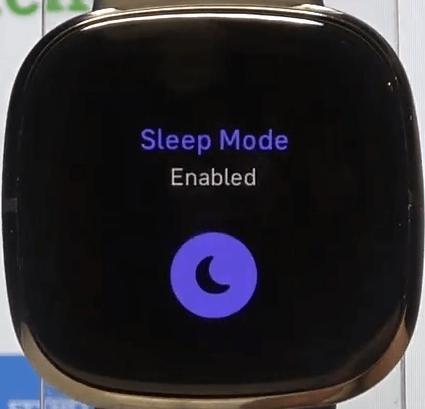 How to Schedule Sleep Mode on Fitbit
You can also schedule your sleep time on your Fitbit to have regular sleep practice. To do that, follow the steps given below.
1. On your Fitbit watch, navigate to Settings.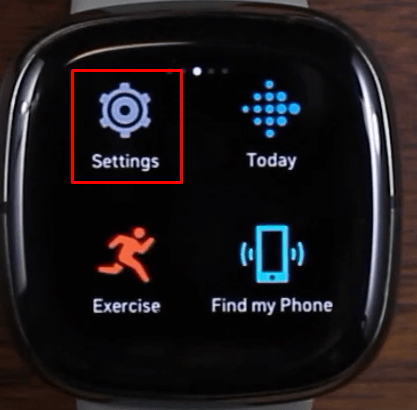 2. Scroll down and tap on the Quiet Modes option.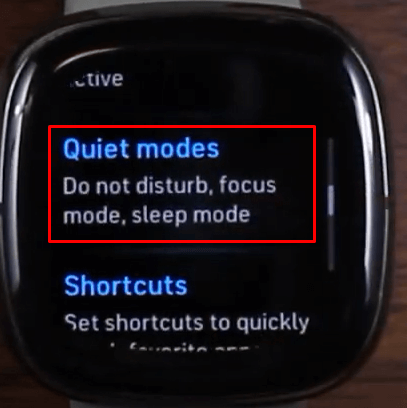 3. Again, scroll to the bottom of the screen and tap on the Schedule Mode button.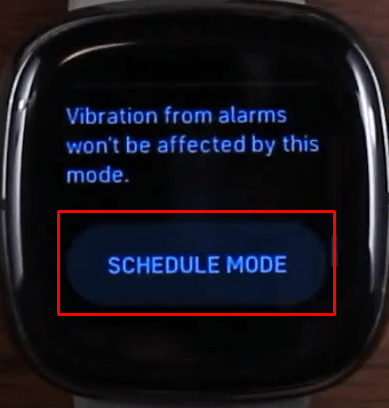 4. Under Schedule Mode, toggle on the switch next to the off-hours option.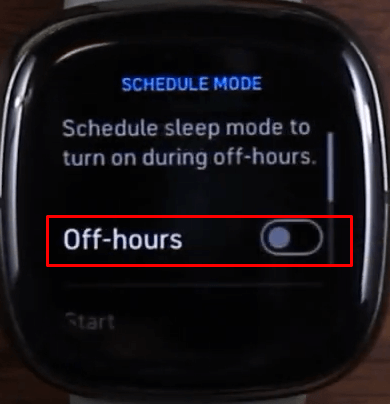 5. Now set the Start time and End time.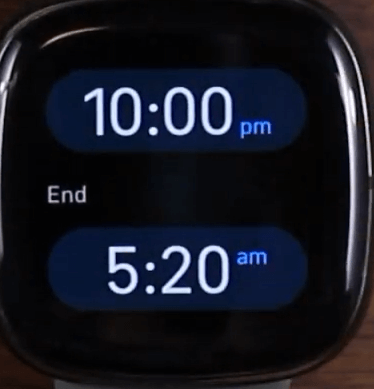 Once done, your sleep mode schedule on your Fitbit device will be scheduled. In case your Fitbit displays the wrong time, you can change the time on Fitbit instantly.
How to Find Whether Your Fitbit is in Sleep Mode?
You can check if your Fitbit is in sleep mode or not by using the following steps.
Raise your wrist to wake up the screen. If the Sleep mode is enabled, it automatically disables the Always-on Display (AOD) mode. So you cannot wake the screen.
Launch the Quick Settings panel and check if the sleep mode icon is disabled or enabled.
FAQ
Is the Fitbit sleep tracker accurate?
Yes, Fitbit tracks your sleep more accurately with additional data for better clarity.
How to fix the Fitbit Sense sleep tracking not working issue?
If Sense Sleep is not working on your Fitbit, follow the below-mentioned troubleshooting techniques.
– Check the Fitbit battery level and connect it to your charger.
– Check if the sleep mode is enabled or not.
– Change the time settings on Fitbit.
– Update your Fitbit OS to the latest version
– Restart your Fitbit device
– Reset your Fitbit device.
After each technique, check if the Fitbit Sense sleep tracker is working or not.
Can I keep a record of my sleep on Fitbit?
Yes, install the Fitbit app from Play Store or App Store on your smartphone. Pair it with your Fitbit device, and you can access your sleep records.
Was this article helpful?