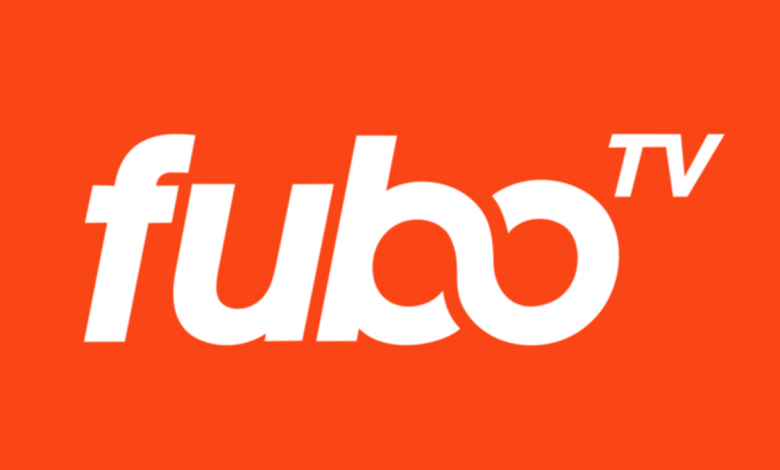 In the past, cable TV was the only option to watch movies, TV shows, news and sports on TV. But now there are many streaming services available to watch all your favourite programs, movies, web series, documentaries, live TV shows and many more over the internet. One such service is FuboTV which primarily focuses on live sports NFL, NBA, etc. along with television programs and movies. In this article let us get to know completely about FuboTV and what does it offer.
TOC
What is FuboTV?
Features of FuboTV
FuboTV Premium Cost
FuboTV Free Trial
FuboTV Supported Devices
Channels Available on FuboTV
How to Change the Basic Plan?
How to Install FuboTV app on Android, iOS and Amazon Fire devices?
Is FuboTV Worth Buying?
What is FuboTV?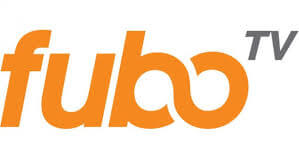 FuboTV is an over the top internet television streaming service. It allows to stream live TV channels from various countries. It mainly focuses on live sports events. It has been rapidly adding a wide range of non-sports channels to its packages. FuboTV contents are organized under the different categories like movies, sports, TV shows and many more.
FuboTV offers more than 30000 sports events per year, which includes games from NFL, NHL, NBA and more. It allows it's premium members to stream more than 18 live and on-demand channels including CBS, FOX, NBC, Cartoon Network, CNN, Discovery, Food Network, TLC, TNT, TV Land, and more.
Features of FuboTV
It is provided with 100+ live TV channels and 130+ other events, which are available in 4K resolution. It permits the user to stream simultaneously on 2 screens. Some other special features are follows
Cloud DVR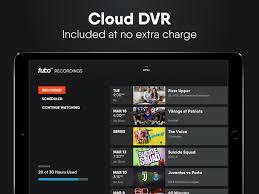 By default FuboTV allows its subscribers to get access to 30 hours of Cloud DVR recording space for free. The stored programs can be watched on any of your FuboTV supported devices. This feature helps the user to save and watch their favourite programs whenever they are free. If the 30 hours space is not enough, the user can get an additional storage space up to 500 hours by making a payment of $9.99 per month.
On-demand and Lookback
FuboTV not only streams live TV, but it also streams on-demand media contents like movies, sports events, news and many more. The Lookback feature helps the user to watch anything that has aired on the service in the past 72 hours. While streaming lookback contents, the user need not use the forward and rewind option. You can stream on-demand and lookback media contents with ad-breaks.
TV apps
You are allowed to use the FuboTV login to access some other TV apps like Bravo Now, Syfy, VICELAND, FX, and Univision. These are the few TV networks that let users use the FuboTV login to stream its programs.
FuboTV Premium Cost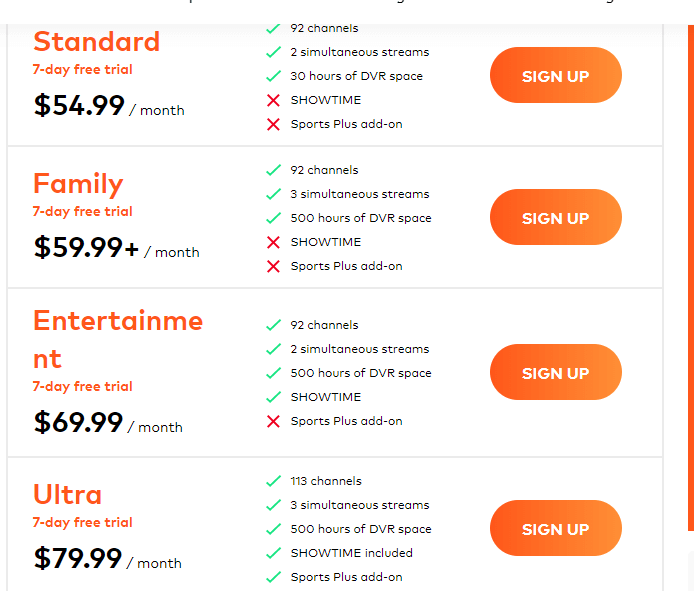 FuboTV basic plan – $55 per month for 90 channels
FuboTV Family- $59.99 per month
FuboTV Ultra – $79.99 per month
Latino Quarterly – $19.99 per month
FuboTV Extra – $60 per month for 110 channels
FuboTV add-on package – $8.99 for sports plus channels like NFL RedZone, Fox college sports, GOLTV, Pac-12 Network.
FuboTV International sports package – $5.99 per month
FuboTV NBA league pass – $28.99 per month
Six pack of cycling channels – $11.99 per month
FuboTV Extra package ( non-sports channels) – $5.99 per month for 30 channels
FuboTV Free Trial

Free trial is available only for the new customers. When new user signup for FuboTV, it offers 7 days free trial. Your first premium payment will be charged only after the free trial period. You can cancel its service before the free trial period to avoid recurring payment charge.
FuboTV Supported Devices
FuboTV is available on multiple platforms including computers, Browsers, Mobiles, Tablets, Streaming devices and Smart TVs.

Android Mobiles – Google approved android mobiles and tablets (Android OS 4.4 kitKat or higher).
Android TV – Google approved Android TV with Android Version 5.0 (Lollipop) or higher.
Apple TV – 4th Generation or newer (tvOS v 11.0 or higher).
iPhone/iPad/iPod – iPhone 5 or newer, iPad 4th Generation or newer, iPod touch generation 6 or newer.
Browser – Chrome, Internet Explorer and Safari (latest version).
Amazon Fire TV – All Fire TV devices (Android OS 5.0 or higher).
Chromecast – Chromecast, Chromecast Ultra and TVs with Google cast built-in. Casting through Android mobiles, iPhone, iPad and iPod.
Roku – Roku model 3600X and higher. Functionally support on model 3500X and lower.
Channels Available in FuboTV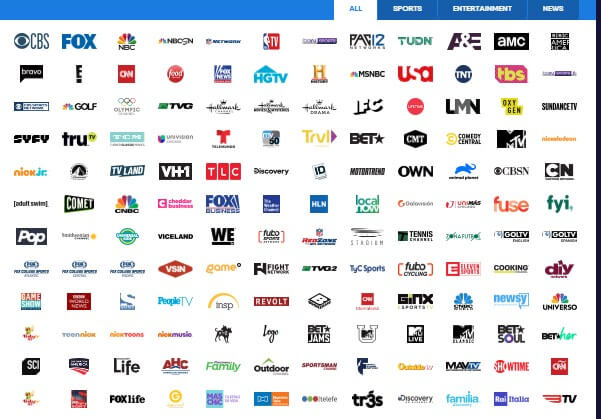 FuboTV service is available only in United States. Now its service is available in Canada and Spain also. Programs available in Canada and Spain are not the same as the United States.
Adventure channels: Mav TV, Outdoor channels, Outside TV, Sportsman channels
Entertainment channels: Antena 3, Brandmax, De Pelicula, De Pelicula Clasico, NTN24, Ritmoson,Telehit, Univision Tlnovelas
International Sports Channels: Elevan Sports Networks, Fox soccer plus, GolTV English, GolTV Spanish, Tyc Sports, Zona Fotbal
Latin Channels: Baby TV Esponal, Discovery en Esponal, Discovery Familia, El Gourmt, Fox Life, Telefe, Tr3s
Portuguese channels: RTP International, GolTV Spanish
Showtime channels: Showtime Family, Showtime Extreme, Showtime East, Showtime Beyond, Showtime Next
Sports plus Channels: Fight Networks, Pc-12 Networks, VSiN, TVG2
How to Change Basic Plan?
Step 1: From the My Account screen select Subscription and Billing.
Step 2: Click on Manage Plan.
Step 3: Click the + icon beside the Plan you would like to change and the + icon will become a checkmark.
Step 4: Review your changes to see if there will be any immediate payment to make the change, then click on the Update Subscription.
Step 5: Click on YES, UPDATE MY SUBSCRIPTION to confirm your subscription change.
You have to follow the above steps to change your subscription plan.
How to Install FuboTV app?
FuboTV is an official app available in the Play Store and App store.
Android and iOS
Step 1: Open the Google play store or Apple App store.
Step 2: Navigate to search bar and search for FuboTV app.
Step 3: Click on Install or Download to get the app.
Step 4: When the download is completed, click on Open to launch FuboTV app on your device.
Amazon Fire devices
FuboTV is a legal streaming service available on Amazon App Store.
Step 1: Launch the Firestick/Fire TV.
Step 2: Type FuboTV on the search bar.
Step 3: Select Fubo TV app from the Apps and Games section.
Step 4: Click on Get to download the app.
Step 5: Click on Open to launch FuboTV app.
Is FuboTV Worth Buying?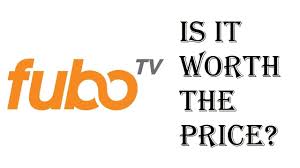 FuboTV is a subscription-based OTT app to stream live TV and TV channels. It mainly features a fair number of sports channels at a low cost. It also features some entertainment channels that you have to pay a much higher amount. The on-demand content streaming facility helps many users to watch their favourite programs and event whenever they want. Streaming of shows and events in 4k and HDR resolution gives better streaming experience to the users. It is worth buying, for those who love to watch sports events from all over the world, along with on-demand content.
Comment below your feedback on FuboTV app. Would you buy its subscription? Follow us on Twitter and Facebook for more tech updates.
Was this article helpful?